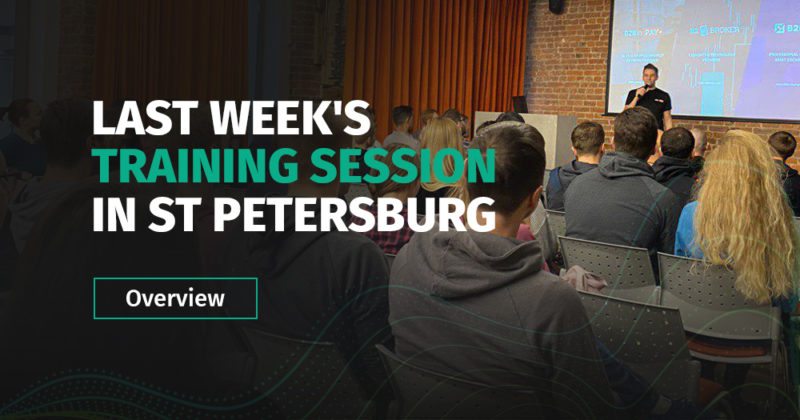 کارمندان B2Broker برای آموزش های تخصصی در سن پترزبورگ حضور خواهند داشت
Last week, B2Broker embarked on a full day's intensive training course for its employees who all arrived at Yasnaya Polyana, a hi-tech St Petersburg co-working space, for a series of educational, technical and practical presentations. The presentations were designed to bring everyone up to date on the company's range of products and services and included discussion sessions and inter-departmental meetings.

Covering a wide scope of B2Broker's operations, the presentations centred around topics such as B2Broker Marketing activities, key metrics and plans, Business Development, including an overview of the sales process, Customer Support including building partnerships with clients, Technical Support and improving support all company products.

In terms of the company's products and services, no stone was left unturned as C-level members of the team, sales and product management discussed all aspects of, and future plans for the company's products and services including Liquidity, Trader's Room, B2BinPay (new API and personal wallet), the company's Cryptocurrency Exchange Business, HighLoad Systems Development, B2Trader and MarksMan. And last but not least, employees were given the complete lowdown on PAMM software, the system for improving you brokerage.

After all the presentations, the B2Broker team moved on to dinner and concluded the day with further discussions in a more informal atmosphere.

Founded in 2014, B2Broker has over 120 employees. Its founding team is of the firm opinion that investing in its people not only allows them to strengthen their skills and gain a deeper knowledge of the company's products and services, but benefits the company in terms of increased product innovation and in fostering a more productive working environment.

The company has gone from strength to strength since its inception and is proud of its multi talented team, contributing to a successful company that today stands at the forefront of the industry. Check out some of our photos from our training session!