What you get with
our
Website Turnkey
Web Design
UI/UX
Many clients choose to use our interfaces for their business. You do not need to spend time researching web studios to create high-quality web design for your broker or exchange. We can do it all for you.
Branding
Name & Logo Design
We can offer you a complete solution including a unique name and logo design that will help push your business into the spotlight.
Content
Copywriting
Our specialised FinTech writers can provide you with top quality content that will drive visitors to your website and get you real results.
Development
Front-End & Back-End
We provide front‑end and back‑end development services, working closely with our designers to create world-class digital products.
Benefits

of working
with us
We have the know-how and experience to develop a range of digital marketing implements geared towards helping you build your business. We can put in place a whole range of meaningful products.
Powered by B2Broker. Over the years we have worked closely with Fintech products and gained a lot of experience. Now we can share our knowledge with our clients to help them grow.
Smooth
integration
The integration process of B2Broker's products is much smoother than that of any other studio as we are familiar with the code since it is developed in-house.
Get your own
Website
Have a project to discuss? Complete the form and we'll get back to you!
We have undertaken numerous projects for our many clients, handling assignments both
large and small with professionalism and solid industry expertise.

Prime of Prime Liquidity and Technology White Label solutions provider for Brokerages and Exchanges.
Main tasks
Develop a responsive corporate website in 15 languages integrated with the company's internal products.
Redesign the logo and corporate identity.
Results
The B2Broker website has become a significant resource for brokers, offering an in-depth description of all the company's products, events, a library of webinars and all the latest industry news.
Process
The process started with a page plan and consultations with the product managers. B2Broker Studio gathered the most relevant and useful information.
For several months we were engaged in the design and commissioning of the main aspects of the site. At the same time, we implemented a complex process of translation and undertook proofreading of all content.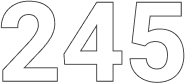 pages
available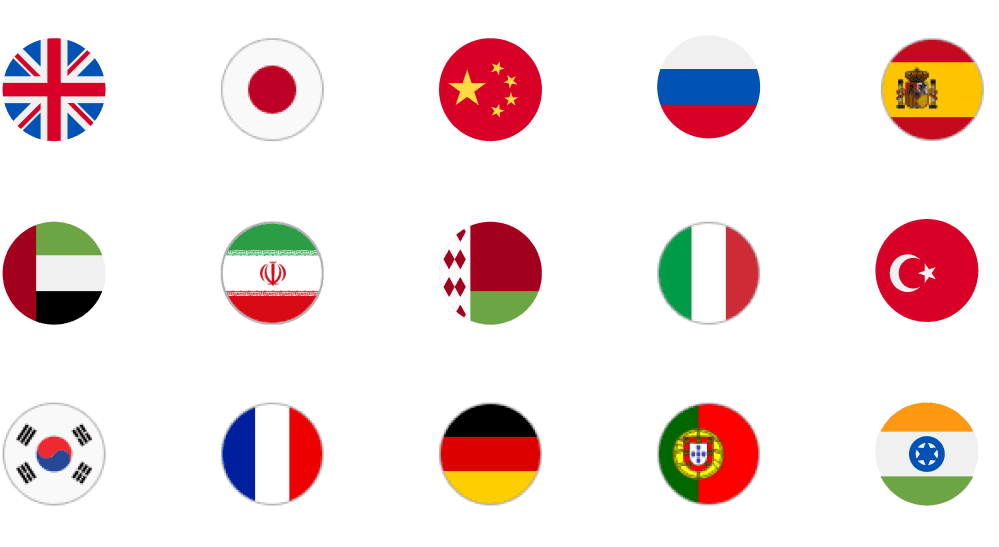 Languages
It was very important to have all the main languages on the website. We have the experience to add any language required and prepare all the content.The design we create will be relevant not just in one region but across the world. We design based on international best practices.
Adaptive & Mobile version
To build on the number of customers, B2Broker Studio is developing a version of the site for mobile devices and tablets. Work is currently underway on a mobile version of the B2Broker website.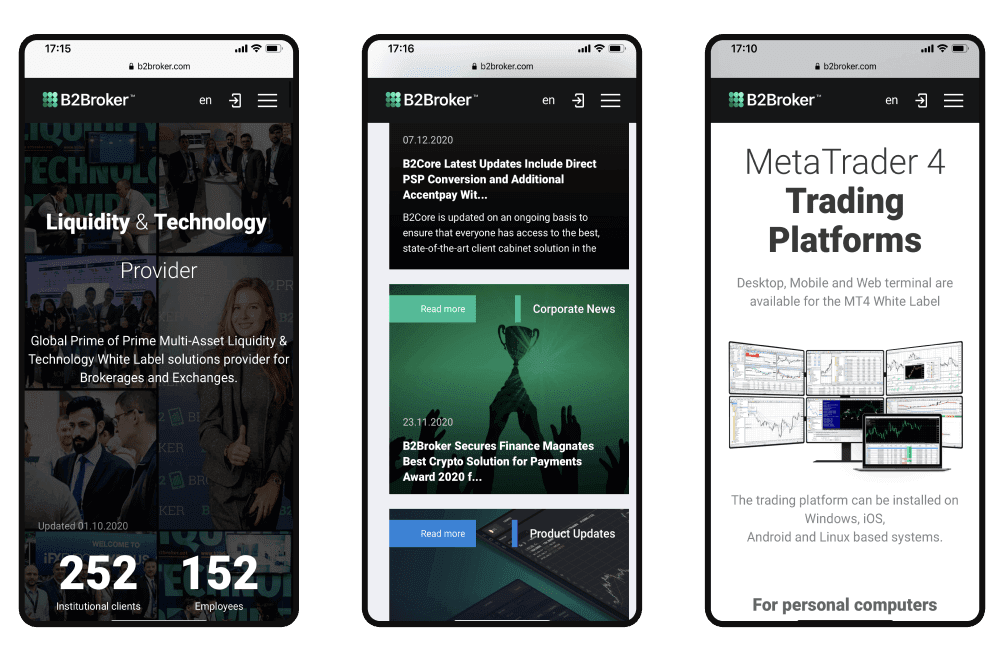 Blog
A convenient blog that is segregated by topic allows the customer to report on the company's different aspects of activity: company news, product updates, events, webinars, media and videos, as well as educational articles.
Webinars
In response to the 2020 trend, B2Broker Studio has added a webinar page to the main company website. For the convenience of users, we have provided the opportunity to add additional links, materials and descriptions to each webinar, as well as many options for registering or subscribing to other events.
B2Broker Studio has successfuly developed a number of modern and professional
websites that stand out from the crowd. We'd love to show you more!
Prime of Prime Liquidity and Technology White Label solutions provider for Brokerages and Exchanges.
Our task
Coinsbuy is an instant cryptocurrency exchange where users can buy, hold, sell and exchange Bitcoin and other leading cryptocurrencies quickly and easily.
Results
B2Broker Studio developed the website from the ground up, providing all the technical and creative know-how, along with content, to create what has evolved into one of the most highly-visited sites for those looking to get involved in crypto.
Widget creation & integration
The website included a large number of widgets which clients can integrate to enhance their user experience. B2Broker Studio is fully knowledgeable with working with technically complex websites and has the capability to create the desired widgets as required.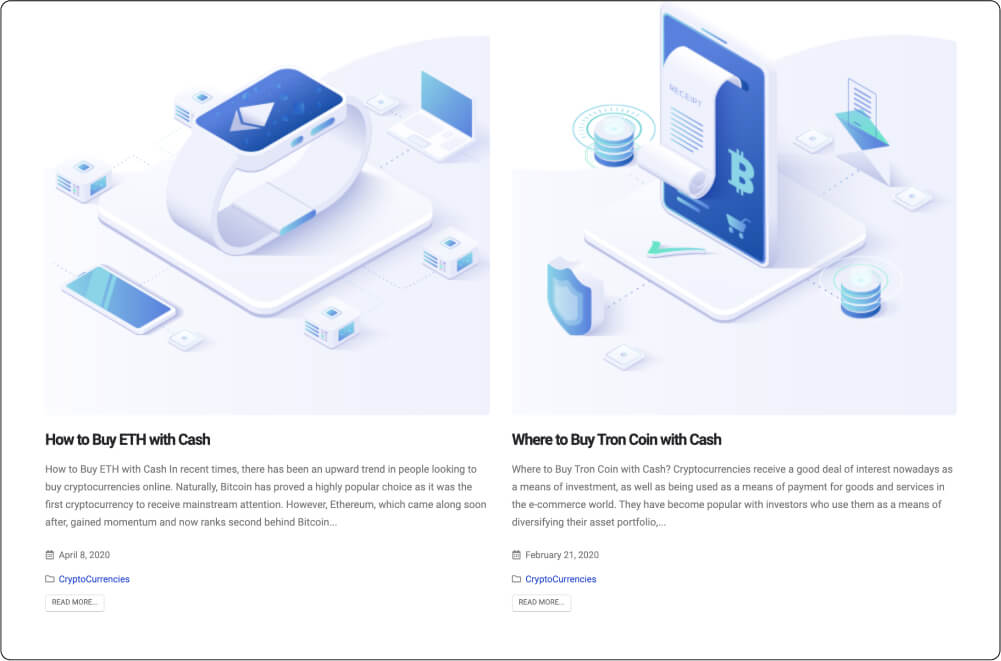 Blog
B2Broker Studio created a blog enabling the company to provide regular information on activities that the company is involved in. Sections included news, updates, media and videos, and a range educational articles for users.
FAQs
B2Broker Studio developed a website that included an extensive FAQ section, covering all aspects of the company's business operations. It provided a conveniently laid out encyclopedia of knowledge which users could easily access with a few clicks.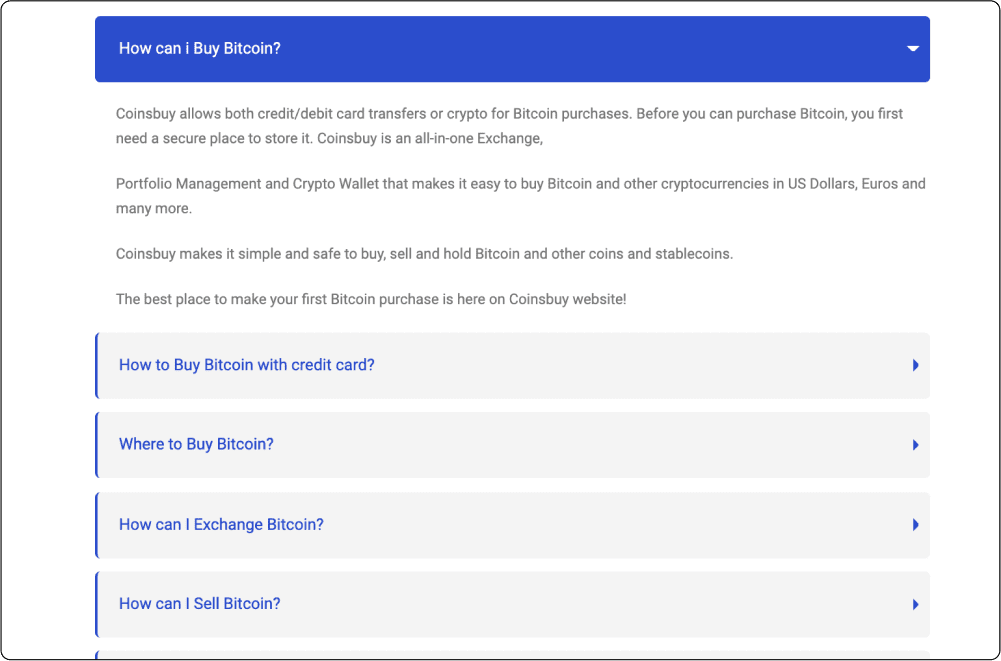 Adaptive / Mobile version
In line with the nature of the business, and to increase its customer base, B2Broker Studio developed a version of the site for mobile devices and tablets.
We have undertaken numerous projects for our many clients, handling assignments both
large and small with professionalism and solid industry expertise.


B2Broker Studio develops websites from the ground up, providing all the technical
and creative know-how, along with content.
1.
Branding
Name & Logo Design
4.
Development
Front-End & Back-End
~2-6 months in total
Brand name development
We create relevant and attractive names for companies and products, combining creative thinking with legal expertise. Brand name development is one of our strongest competencies.
1. Strategy
We highlight the semantics and offer a strategy for positioning the future brand in agreement with the customer. A clear strategy allows you to narrow the search field and create the most accurate criteria and characteristics that the name should correspond with.
2. Search name
We research names that are trending in the market before getting started. During the process, we work out between 50 - 500 name variants which are subsequently filtered according to the objective criteria: compliance with the company's philosophy, uniqueness, euphony, memorability and lack of discrepancies. The variants that pass through the first stage are thoroughly checked for patent purity. Names that do not pass the checks are eliminated. Based on clean and ready-to-register names, we produce a shortlist.
3. Testing
Testing is optional, but a very useful step in choosing a name, allowing you to get objective feedback from your target audience. We conduct online testing to help identify the best names.
4. Producing text and slogans for the new branding
We create a range of suitable text and slogans that can be used as part of the company's promotional strategy as well as offering consultancy on brand positioning in the market.
5. Registration
After choosing a name, we take care of the entire process from preparing an application for patenting and obtaining a certificate for any trademarks.
Content (Semantic and visual)
We have specialist copywriters in FinTech and various other fields who can guarantee high-quality text on specific and complex topics. All text is edited. Information and materials for writing content can be provided by the client or developed by us independently.
1. Determining needs
We draw up a plan for the types of content, for example, website page text, product descriptions, articles, news, etc. We also write reviews, press releases and articles for publication on third-party resources, as well as advertisement creation and e-mail newsletter writing. We help to determine the place of publication (Instagram, Facebook, website, Telegram channel, etc.).
2. Content creation
Our copywriters prepare themes for a client's approval. We determine the number of characters for each type of content and are engaged in its compilation and/or proofreading. The required amendments are made to the text until the client is fully satisfied. On request, we organize the process of the translation of content into other languages.
3. Graphic support
Our designers develop a publishing style and templates for social networks. We select up to 100 images for the content and/or carry out colour-compositional correction of the provided photographic materials.
4. Create a publication plan
We draw up a plan for publications on all the social networks and on the company's website. We define headings, topics, content types and sorting.
5. Support (on request)
We provide content support for the site for 6 months by writing news, articles and preparing product presentations. We post publications on social networks as well as dealing with comments and spam.
Website Turnkeу
Our turnkey website development service can provide you with a new channel to attract your target audience. We create landing pages and product sites, including complex projects, either from templates or completely custom-made.
1. Defining the content
We collect and prepare all materials in preparation for posting on the site. We will create a presentation with the structure of the future site (visual and text blocks) and work on the site navigation, as well as determining the number and length of pages.
2. Prototype
We develop a detailed plan of the future site and draw up the structure of blocks and texts. We will also place the approved content on a schematic page without a design and create feedback forms, menus and a header and footer.
3. Design
We develop an entire visual solution including a design concept for the site. We also select colours, typography and graphic elements, presenting up to three sample pages and include customer edits where necessary before approving the final result.
Development (Front-End & Back-End)
We create a working version of the site using design layouts and create responsive versions. We also set up all interactive services that are required for a fully-functioning website.
1. Front-End
We develop a version of the site according to design layouts using PHP, JavaScript, Python and create adaptive versions.
2. Front-End check
Our designers then review the pages made on the front-end side to make sure that everything is correct.
3. Back-End
At this stage we connect the new website with the server and integrate it with "Turnkey" products from B2Broker, widgets. We also set up all interactive services.
4. Back-End check
We check the final product and make minor amendments if required until we arrive at a smoothly working digital product.
Have a project to
discuss?
Complete the form and we'll get in touch!
Have a question? A source of useful information about our products and services.
What are the starting points for website development? (Technical Specification)
A website should be developed according to a technical specification, i.e. a detailed document providing the key points about product descriptions, pages, and what content to fill the website pages with. Design deadlines, required technical parameters and adaptivity and all other related issues should be discussed well in advance.
How much does the TK Website cost?
Using our website development service, you will get a ready-to-use product at a price starting from 25 thousand dollars. Please check our website for more information.
I already have a website. Should I improve my existing website or set up a new one from scratch?
If you already have a website, try to evaluate whether your website content is still up to date. In this way, you can figure out whether your old website will be of any use while developing the new one or if it is better to fill it with a brand new content.
How long does it take to design and build a new website?
Designing and building a ready-to-use website will take from 3 to 6 months depending on the project requirements, number of languages, etc. Usually, this process can take around 3.5 months.
Do you promote designed websites in search engines?
Unfortunately, we do not arrange advertising campaigns. However, we can initially set up Google Analytics and English SEO.
Which CMS solutions do you offer?
You can choose from a number of CMS solutions such as WordPress, Joomla and Drupal.
Will I be able to edit the ready-made website?
Yes, we have been using WordPress as the main website administration system for some time now. Once a website has been successfully designed, we will provide you with a short and simple guide to content editing.
How many languages can you create a website in?
We can build websites with up to 3 languages including English and Russian.
What information will I get along with a ready-to-use website?
You will get the website source code and access to the website administration system and analytics. You will be able to start using your website at any time.
Do you provide website support and hosting?
Once our work has been completed, we will offer you 1-month website support. This will give you enough time to address any necessary issues. We can locate the designed websites on the client's hosting.
We guarantee that none of the provided information will be disclosed. For this purpose, we include an NDA in the service agreement.
Any other questions?
We are on hand to answer all your questions. Get in touch.
Ask us now