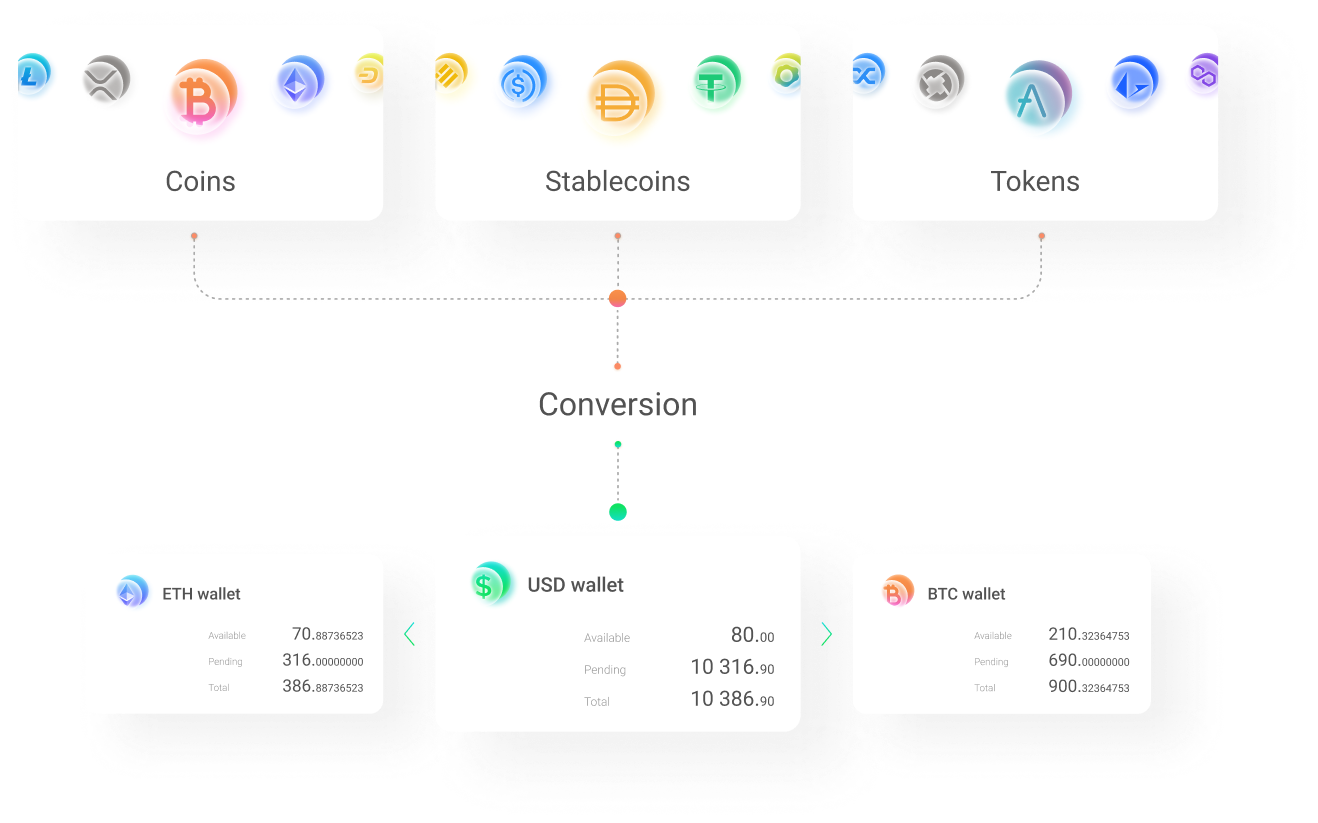 How does it work?
Our Merchant solution is your gateway to the crypto-world!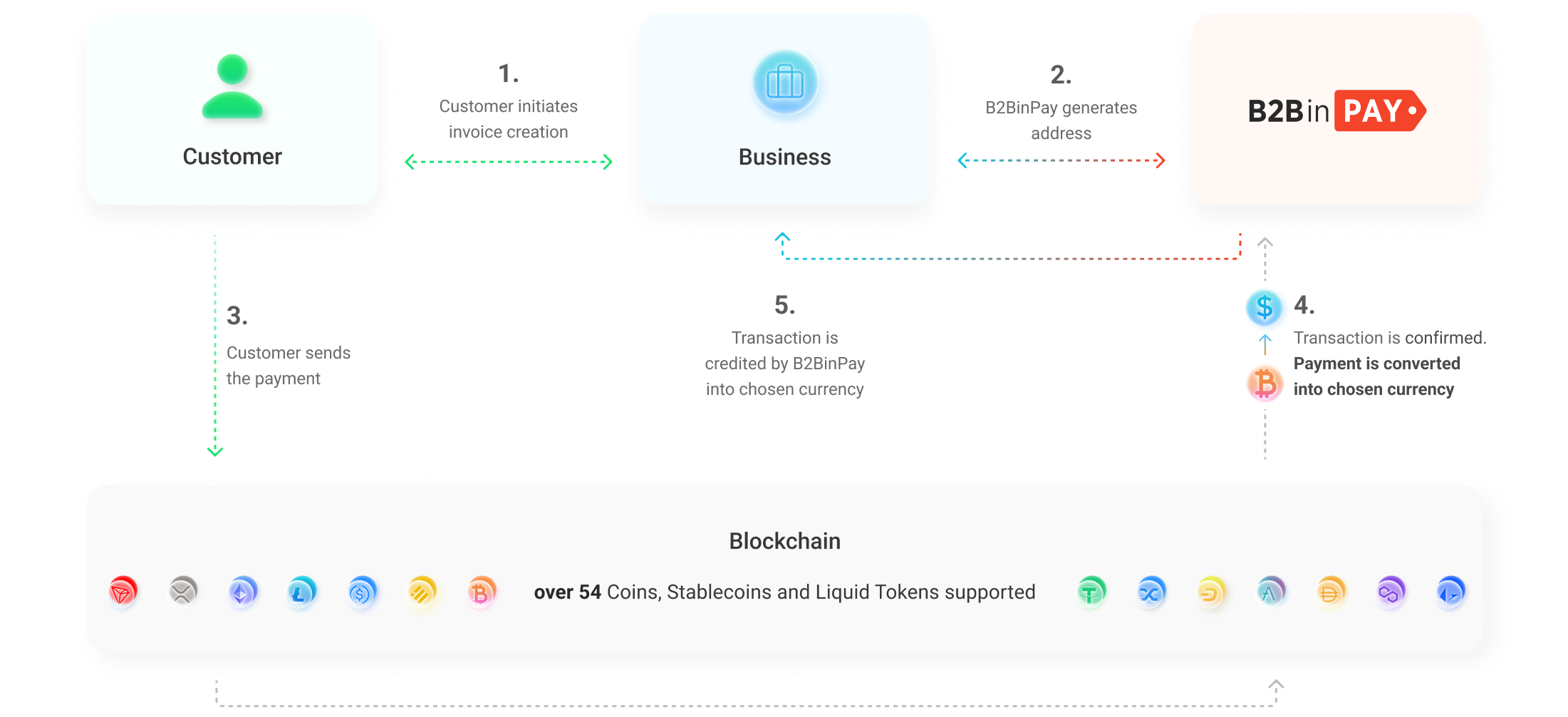 Send
Unlike sending money abroad, you can send Bitcoin or any other cryptocurrency to anyone, virtually anywhere in the world.
Accept
Offer your customers Bitcoin, Ether, Ripple`s XRP, Bitcoin Cash, Litecoin and lots more as a payment option!
Hold
Many customers hold onto their Bitcoin in the hope its value will rise. Store your Bitcoin in your B2BinPay account or transfer it to a private wallet.
Transfer
If you want to send crypto to your own wallet, you can do so whenever you need to, easily and quickly.
Convert
Conversion of Bitcoin is simple. Convert any portion of your Bitcoin balance to another crypto whenever you want.
Payout
Receive settlements quickly and conveniently via digital assets.
Crypto vs FIAT
Crypto payments offer many benefits over traditional Fiat payment methods. Check out the facts and see for yourself!
Settlements
We offer a variety of secure settlement options. Wire transfers in USD, EUR and GBP are available via SWIFT, SEPA and Faster Payments together with settlements in major Cryptos and StableCoins.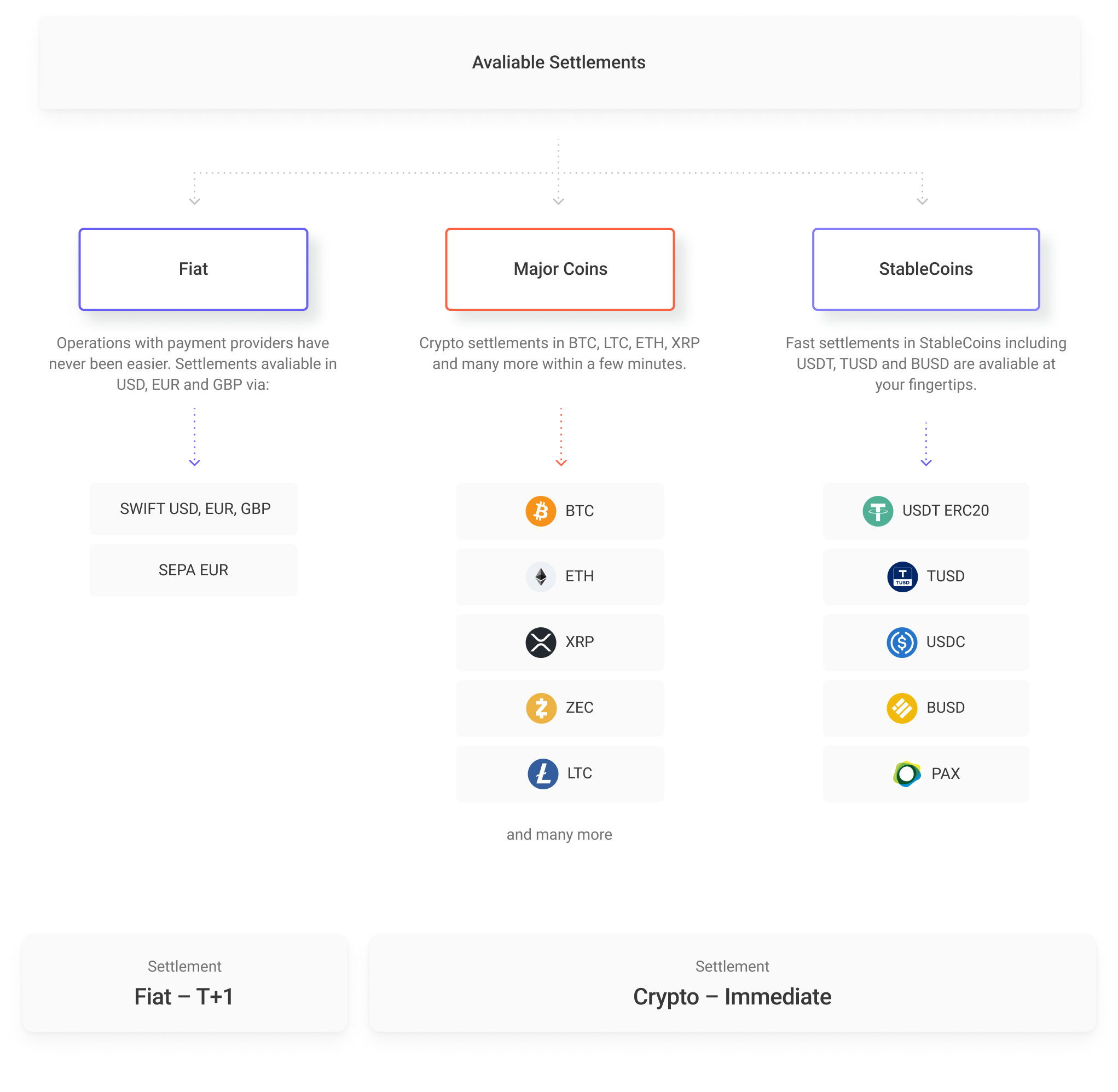 EU Regulated Crypto Payment Service Provider
Send, Receive, Store, Exchange and Accept cryptocurrencies as easily as possible in just minutes with an established and regulated payments provider.
Wallets
A highly secure, reliable and scalable wallets solution for your convenience and peace of mind.
Gateway
Accept cryptocurrency payments easily and securely via an industry-leading cryptocurrency gateway.
Merchants
The quickest and safest integration process is ensured, whatever type of business you're in.
Exchange
Risk-free crypto exchange services with low fees, high exchange limits and quick exchange times.
Fiat
Conveniently turn your cryptocurrency into cash by receiving Fiat settlements directly to your bank account.
Know Your Transaction
Integration of KYT Cryptocurrency compliance service to prevent money laundering and other illicit activities.
Crypto Processing Tailored
for all Business models
Crypto processing fits any business model and can be easily integrated into your existing operations or set up as a new service. From Forex and Crypto brokers to gaming and dating, we have it all covered!
Forex and Crypto Brokers
The crypto market is booming. Offer your clients the possibility to trade and deposit funds in different kinds of crypto.
E-commerce
The world of e-commerce has experienced massive growth. Reap the benefits of the huge online market by accepting crypto payments.
Exchanges
The core mechanism behind every exchange. Our gateway provides the technology to handle all your crypto transactions.
Gambling Industry
The global online gambling industry is worth billions of dollars. Crypto payments are par for the course.
Gaming
Online gaming is massively popular. Payment systems for the gaming industry should ideally offer users the chance to play using crypto.
Marketplaces
There are many platforms used by businesses to sell their products or services. Offering customers crypto payments is now the norm.
Travel industry
The travel industry is a growing sector. With increasing bookings now made online, it makes financial sense to accept crypto payments.
Dating
Online dating has never been more popular. Offering cryptocurrency payments will help capture a wider market and boost your profits!
Hedge Funds
Hedge funds can generate hundreds of millions of dollars in management and performance fees. Crypto payments are an obvious choice.
PSP, EMIs
PSPs and EMIs can increase their client base with crypto processing facilities. More and more providers are now offering this service.
Unique Features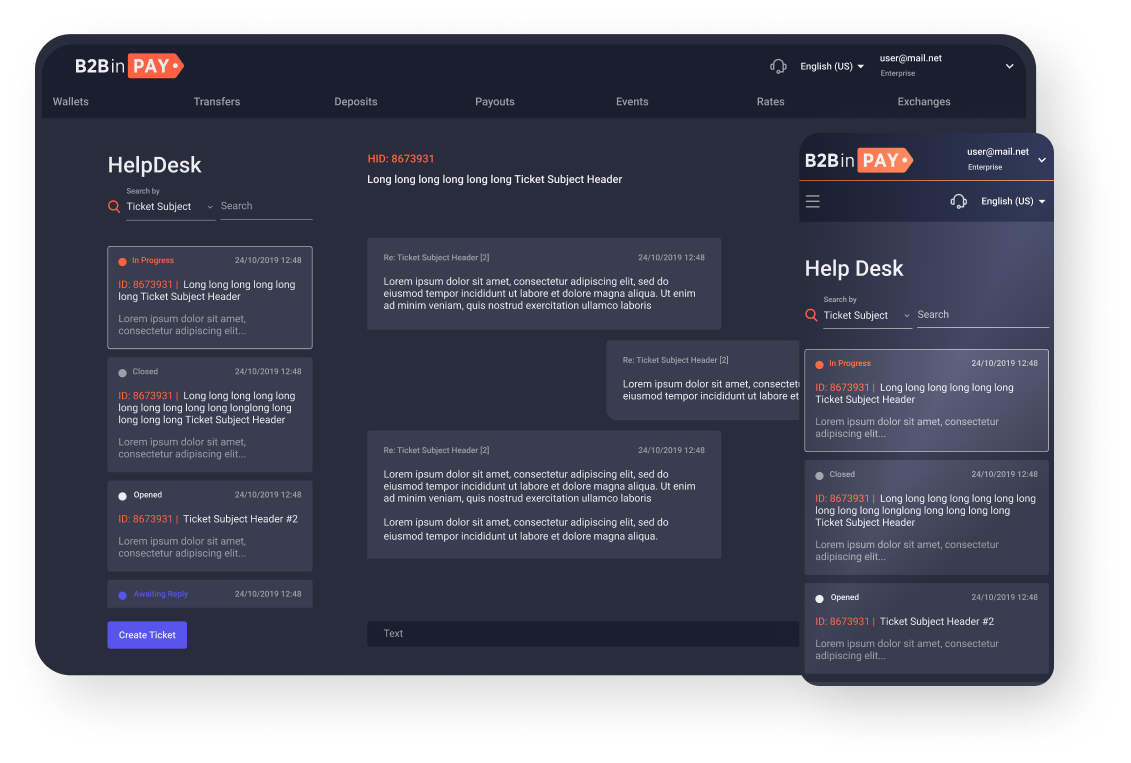 Premium support
Our team of experts is on hand 24/7 to assist with any technical queries and offer practical assistance and guidance whenever you need it. You can create a ticket and follow the status of it directly in the system. For your convenience you can attach photos, videos and files.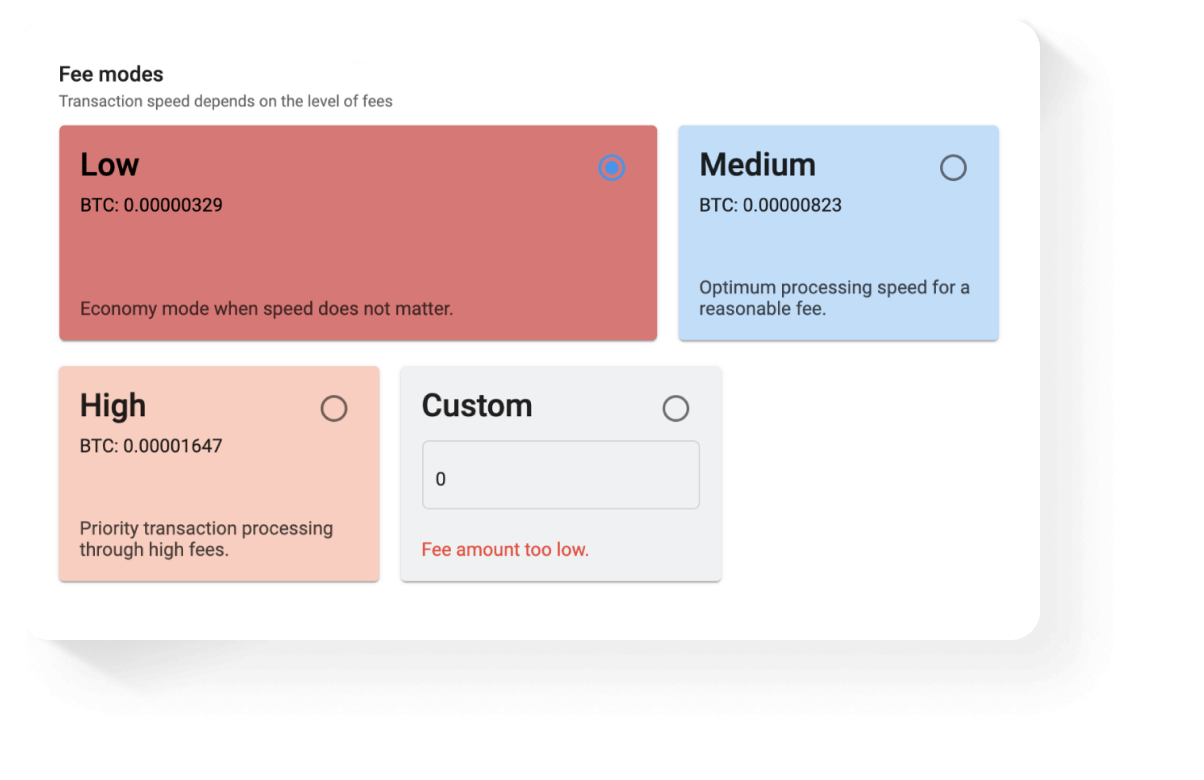 Transaction speed controlled by client
The speed of transactions is under the client's control. The more the fee, the faster the transaction! It is also possible to specify a custom fee.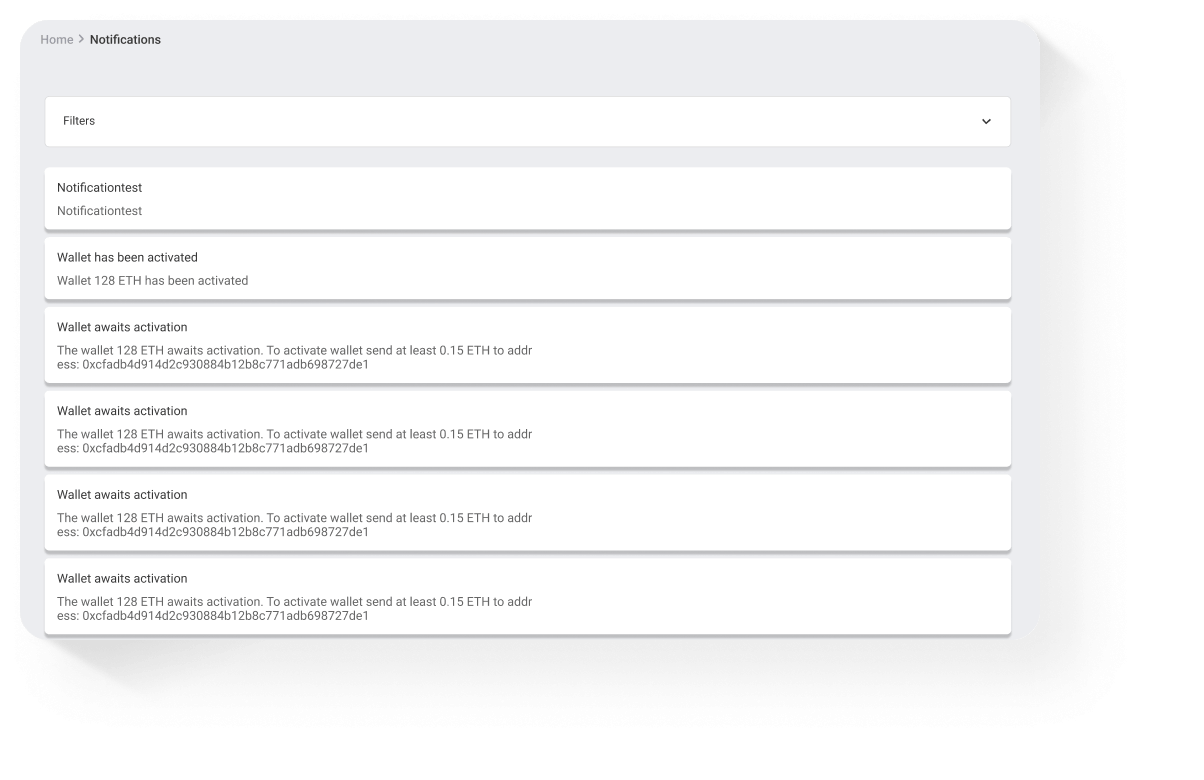 Notification System
A client can receive notifications by email for any transfer in the system by specifying email addresses in the "Notification addresses" field.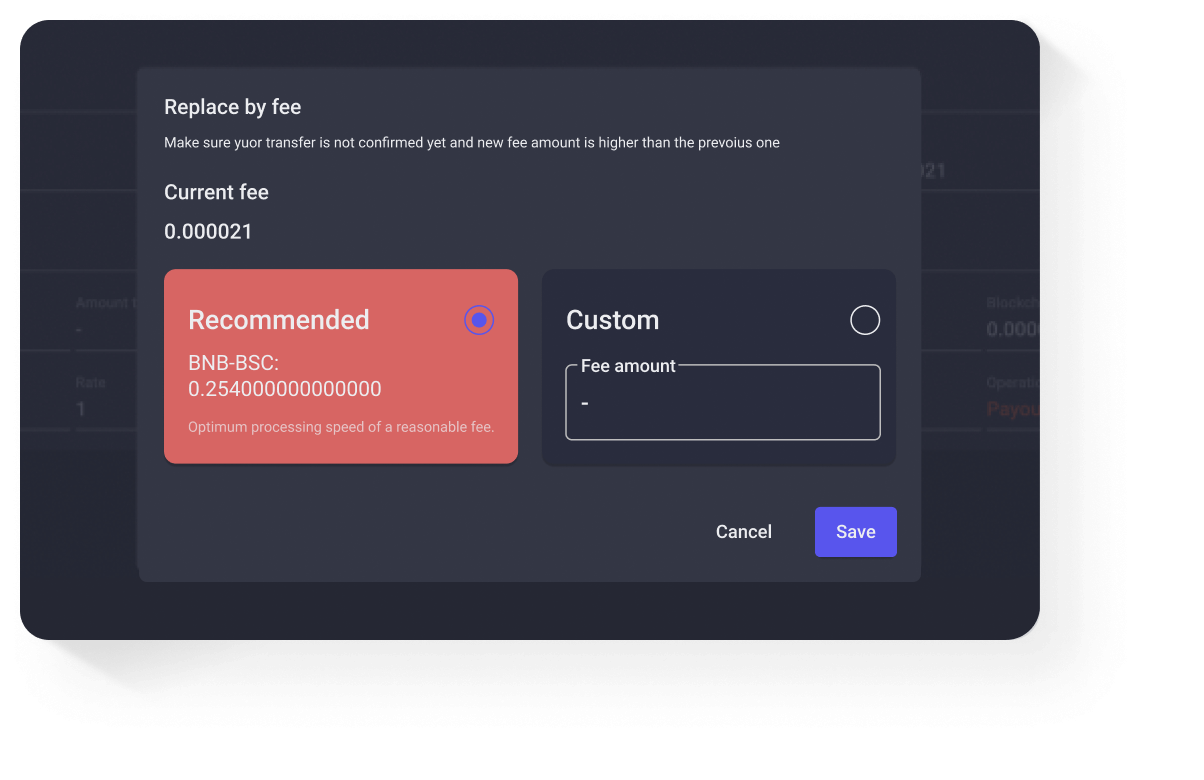 Fee Replacement
In case the fee you have chosen is too small and your transfer is stuck (not yet confirmed) you can replace it with a higher fee. In transfer settings, you will see the "Replace by fee" button where a new fee will be suggested for you which is higher than the previous one.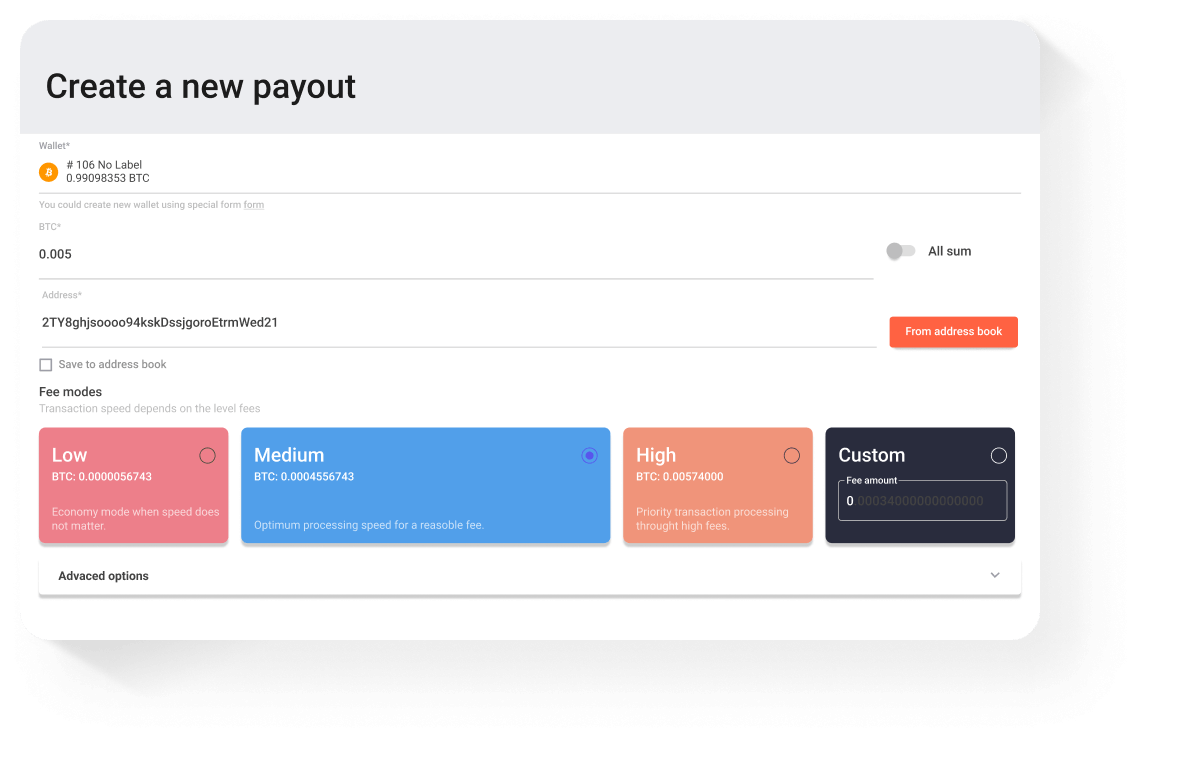 Flexible Payouts
Flexible withdrawals are the core of our system, enabling payouts in various currencies other than the wallet currency.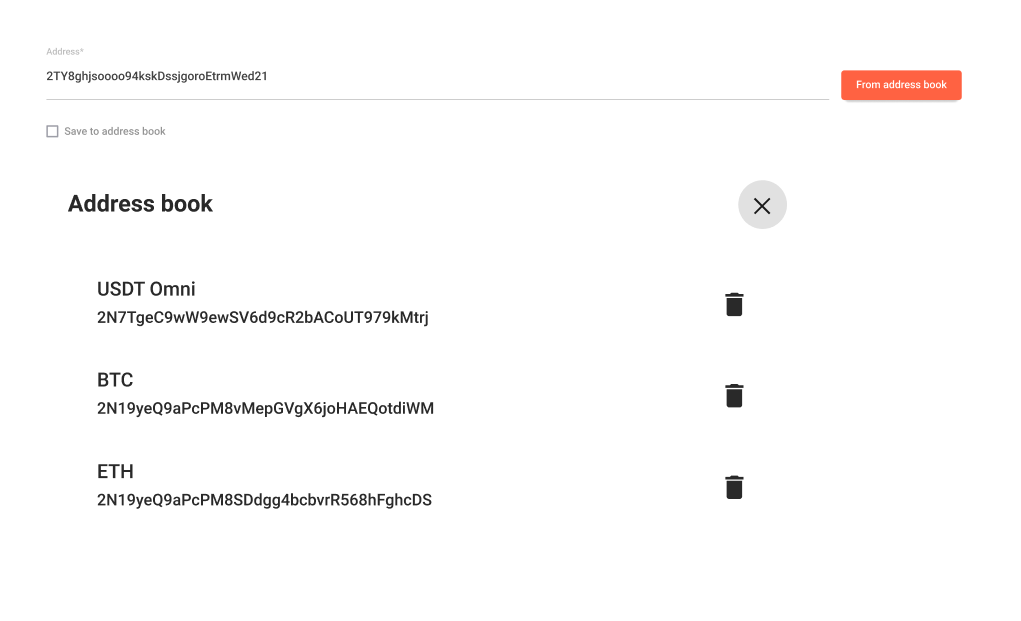 Address Book
A client can save any address and use it for creating faster payouts. After entering a new address, the client needs to tick a checkbox and it will then be saved in the Address book.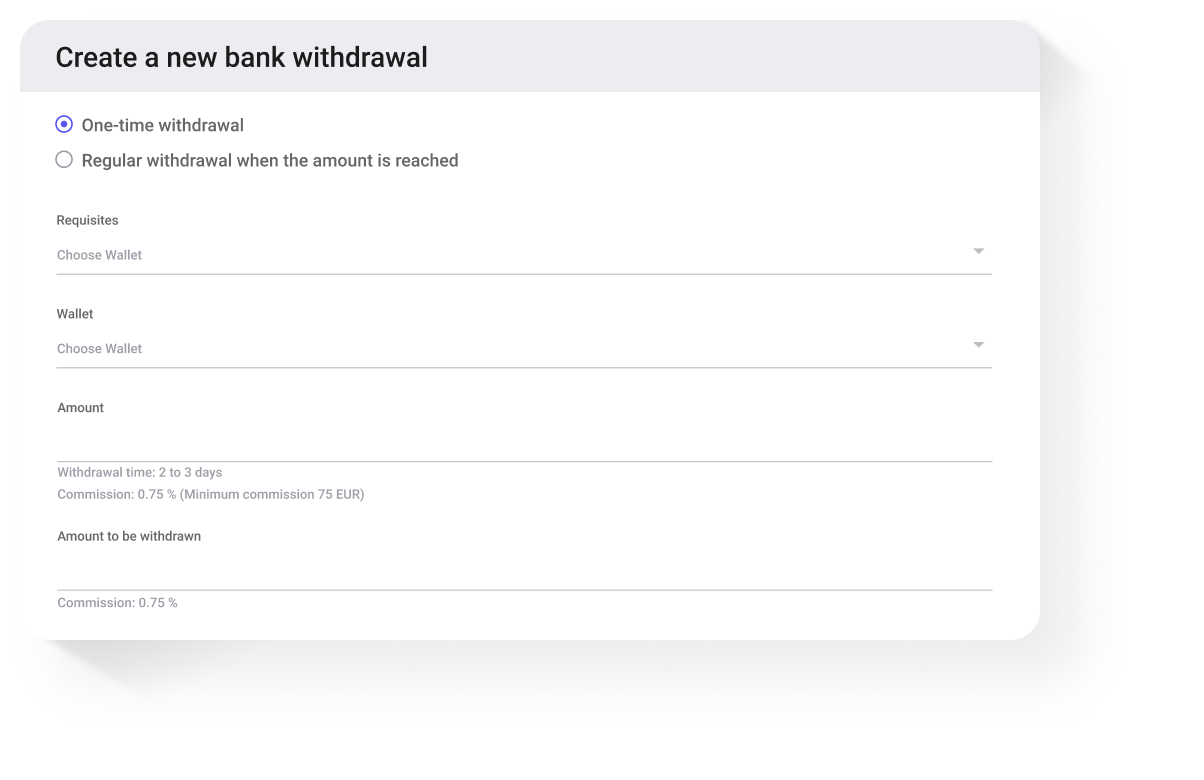 Bank Withdrawal
Conveniently turn your cryptocurrency into cash by receiving Fiat settlements directly to your bank account via Swift and SEPA payment methods. You can find options for one-time withdrawals or the ability to set up regular payouts.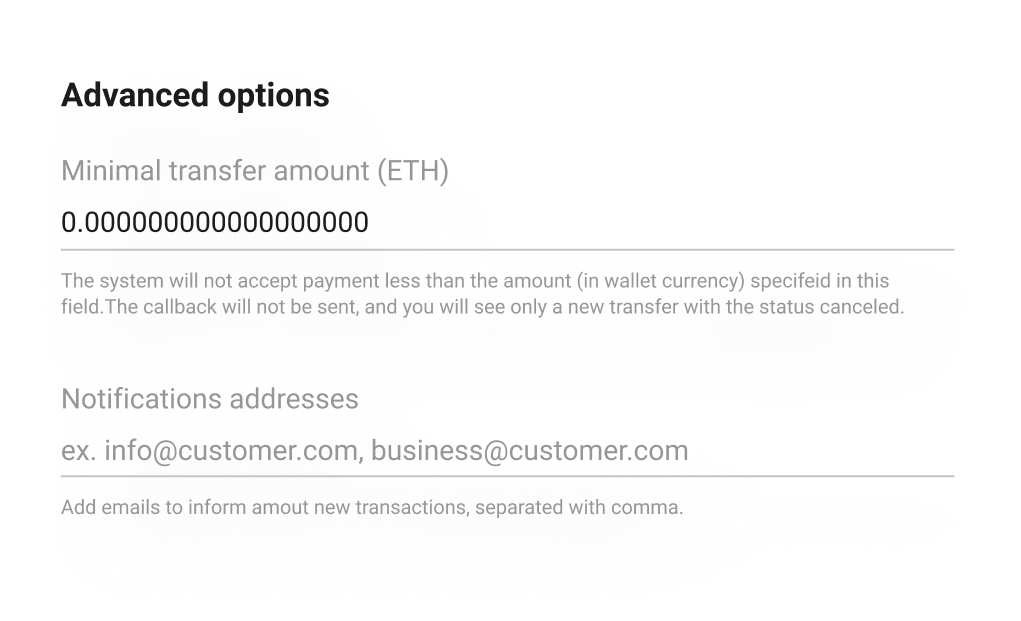 Minimal Transfer Amount
A client can specify a minimum transfer amount instructing the system not to accept payments that are less than the minimum amount.
Global
Send, store, exchange and accept cryptocurrency payments anytime, virtually anywhere in the world.
No Chargebacks
Blockchain transactions are irreversible with no chargebacks and no recurring fees or hidden charges. A straightfoward and transparent service.
Independent
There are no third parties involved in transactions so there is no need to depend on any bank or goverment.
Secure
Protection against DDoS attacks, full data encryption and blockchain transparency, together with secure checkout.
Unlimited
Any amount can be transfered as per your requirements. There are no upper-limit restrictions.
Lightning fast
Benefit from faster, worldwide transactions, which are not possible with regular bank payments.
Volatility free
Quickly exchange an inherently volatile crypto-asset into your chosen StableCoins and avoid any volatility risks.
No rolling reserve
With no rolling reserve, there is no need to freeze a percentage of your money as there is no central authority or chargebacks.
KYT
Integration of KYT cryptocurrency compliance service to prevent money laundering and other illicit activities.
Payment Page
A super-responsive payment page with real-time data. Everything you need to generate and send detailed invoices to your customers.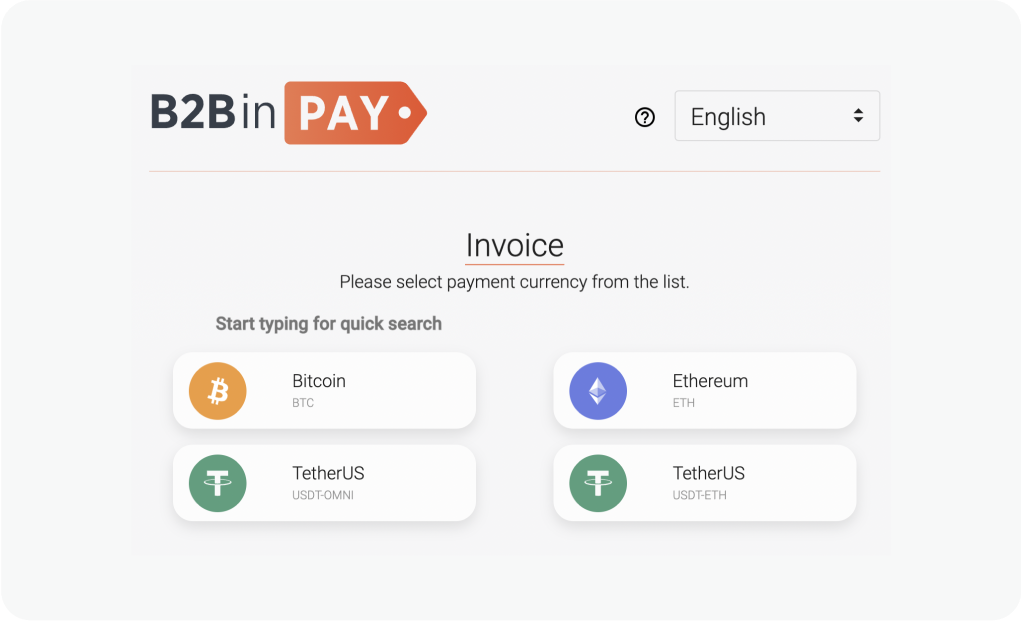 Currency selection
A wide range of currencies are available to each user for payment.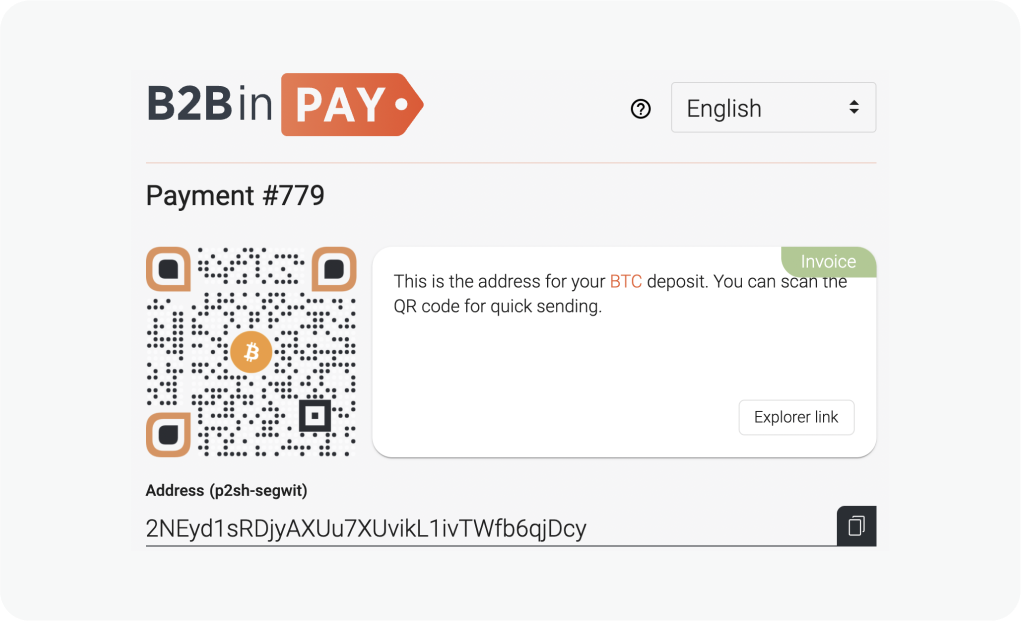 QR Code & Address
A QR code is available to enable fast and hassle-free transfers with ease. Easily copy your address in just one click.
Payment Status
Check your transaction status in real-time. Use your transaction ID to check for confirmations.
Explorer
Detailed information on your transactions are just one click away with blockchain explorer.
Transaction History
A full cryptocurrency report with detailed transactions history is available at your fingertips.
Fully Compliant
with your Regulator!
Track the legitimacy of crypto funds and stay compliant. Crypto analytics enhance due diligence and AML compliance procedures for all businesses involved with cryptocurrency.
Comply with AML/CTF regulations
In-depth case by case investigations
Identify any criminal activity on the blockchain
Monitor and control over risky transactions
Automatically identify high-risk activities
Tracking ransomware payments
AML/Compliance check for your transactions
KYT compliance technology ensures your business measures up in terms of anti-money laundering requirements. Complete data-centric information about transactions helps crypto businesses comply with local and global regulations.
Accept Bitcoin Payments with B2BinPay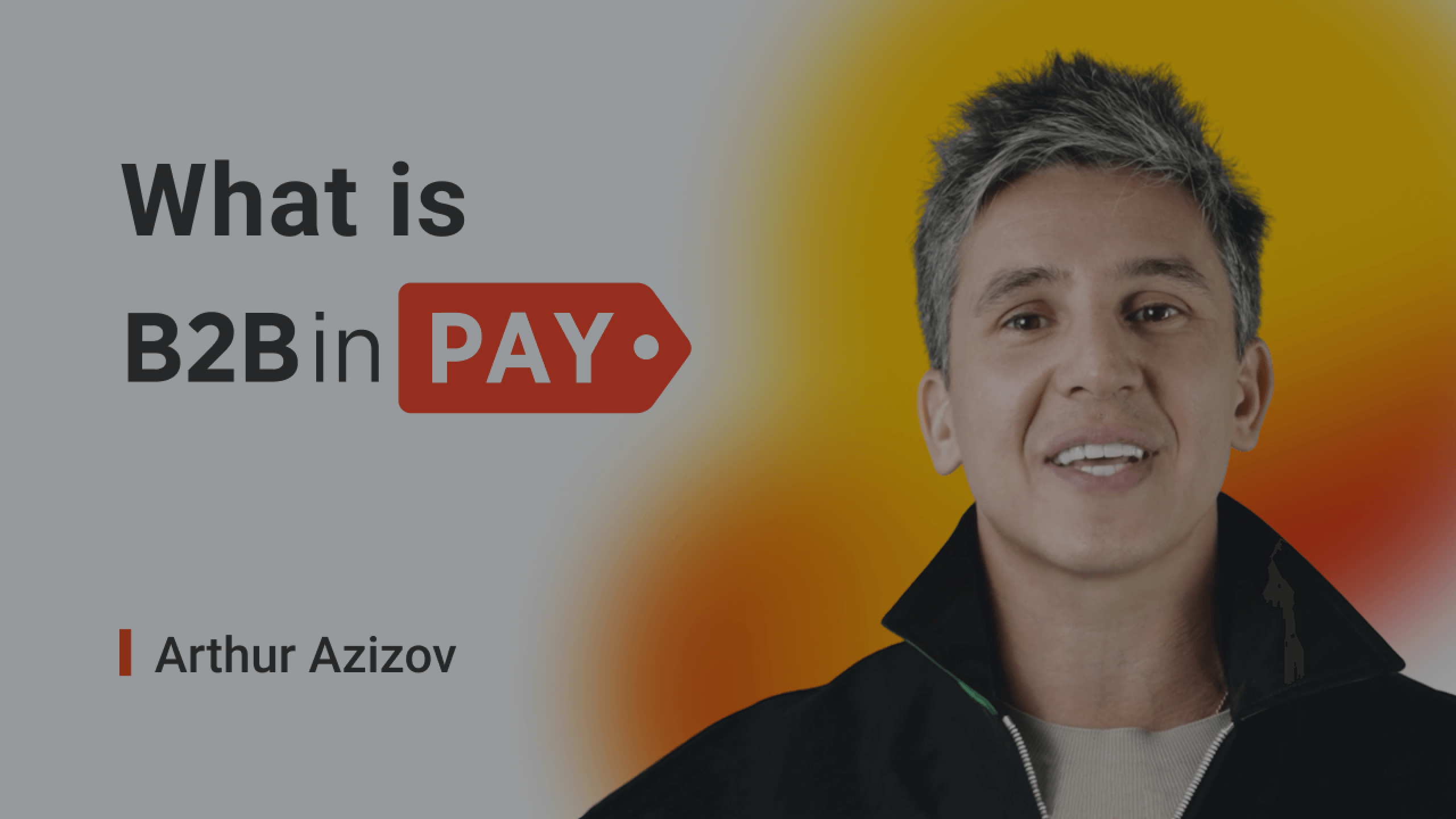 2:47
Accept Bitcoin Payments with B2BinPay
B2BinPay is a global cryptocurrency payment provider for Merchants and Enterprise clients. It allows businesses to Send, Receive, Store, Exchange and Accept cryptocurrency payments online, safely, securely and cost-effectively across the world in a matter of minutes.
Available Cryptocurrencies
A vast range of major coins and StableCoins are available
Back Office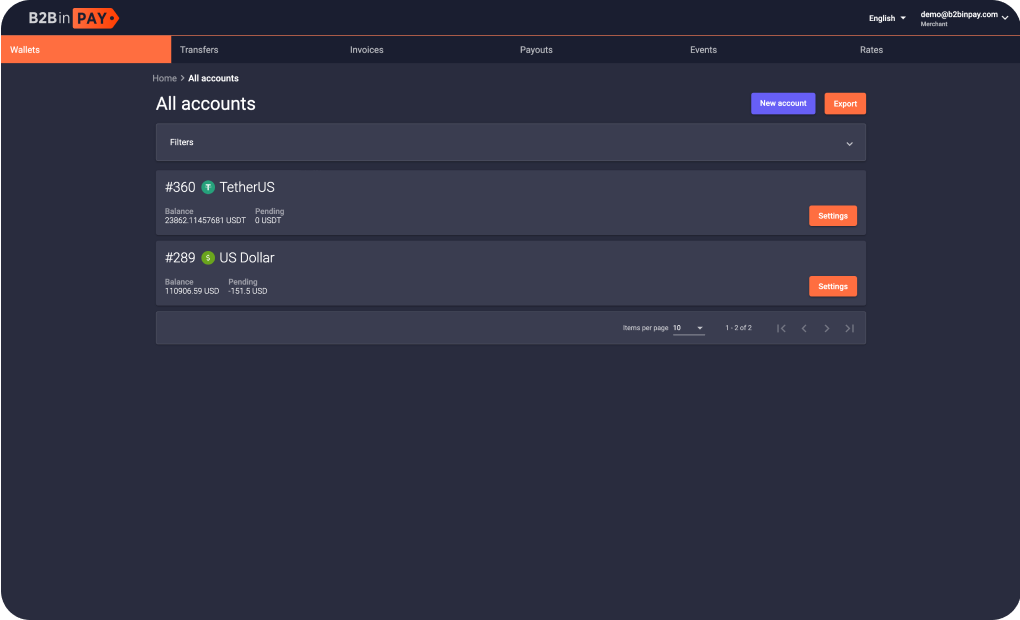 Wallets
Creating new and setting current wallets
Confirmed & pending balances
Access rights for each wallet
Add emails to inform about new transactions
Log for each change in the wallet settings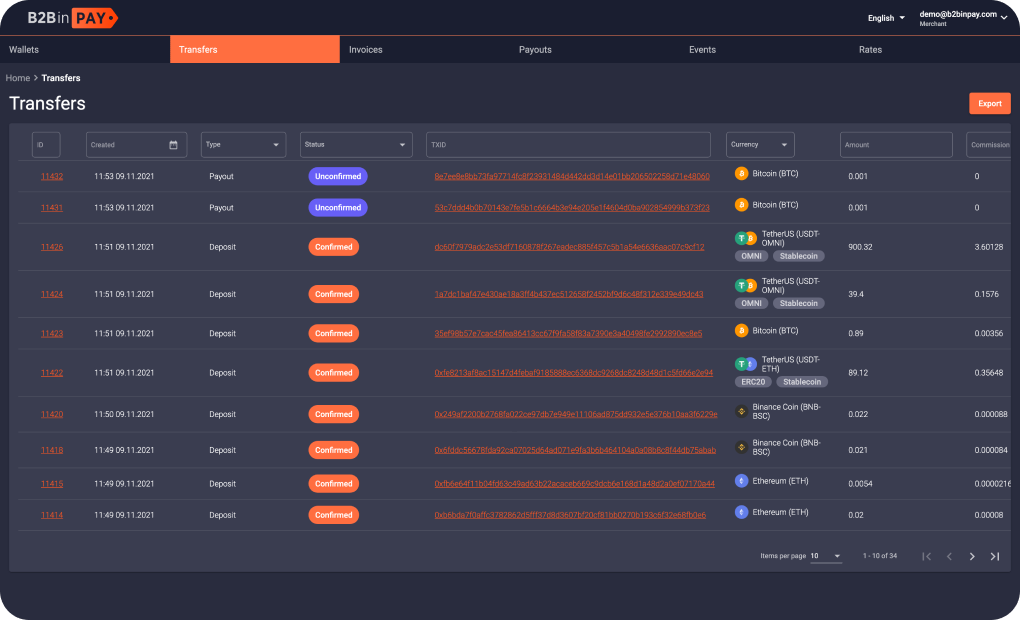 Transfers
Invoice or payout currency
Target amount, commission, rate & blockchain fee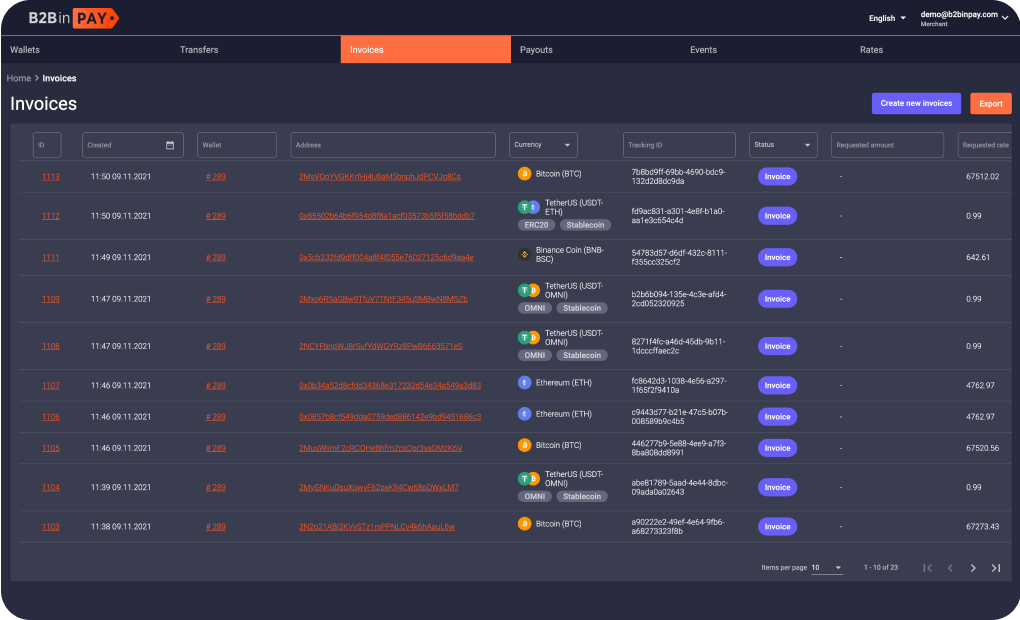 Invoices
Creating new and setting current invoice
Custom of number confirmation block for callback
Custom label, tracking ID & callbacks
Tracking ID & paid amount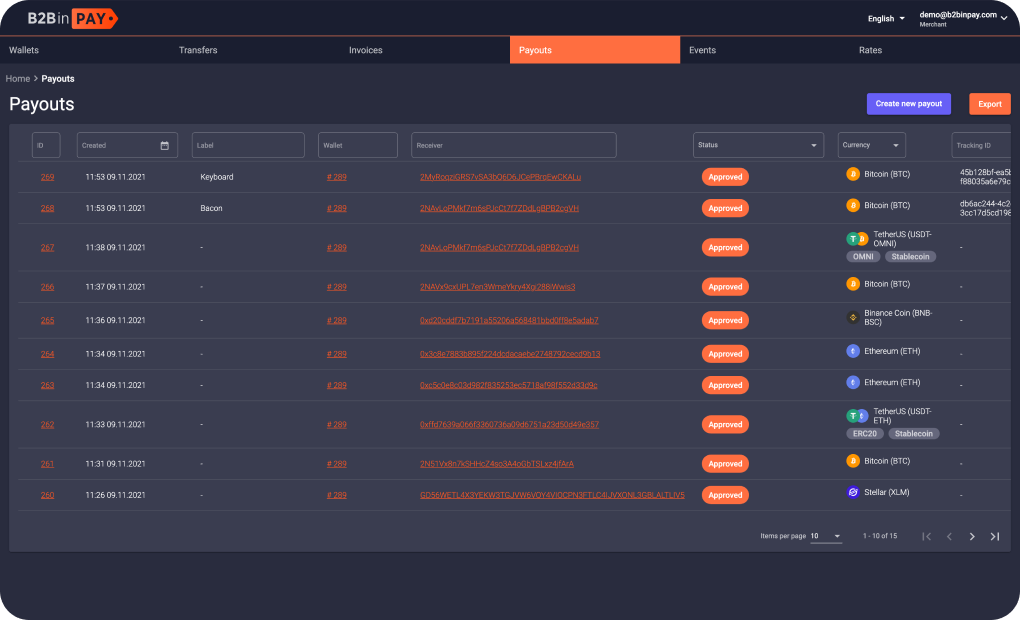 Payouts
Creating new and setting current payouts
Tracking ID & paid amount
Choosing amount of blockchain fees
Custom of number confirmation block for callback
Custom label, tracking ID & callbacks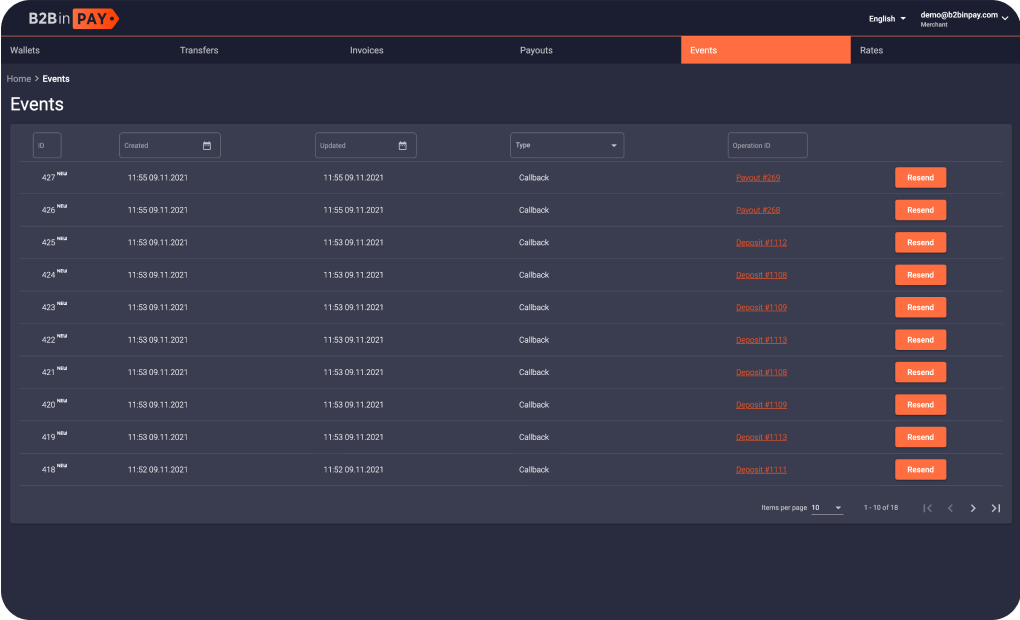 Events
Client can manage actions such as payout approve himself or accept the transfer which is less than the required minimum.
There are following event types are available:
Payout Approve
Approve or cancel payouts created by staff users "Withdrawals with approval" role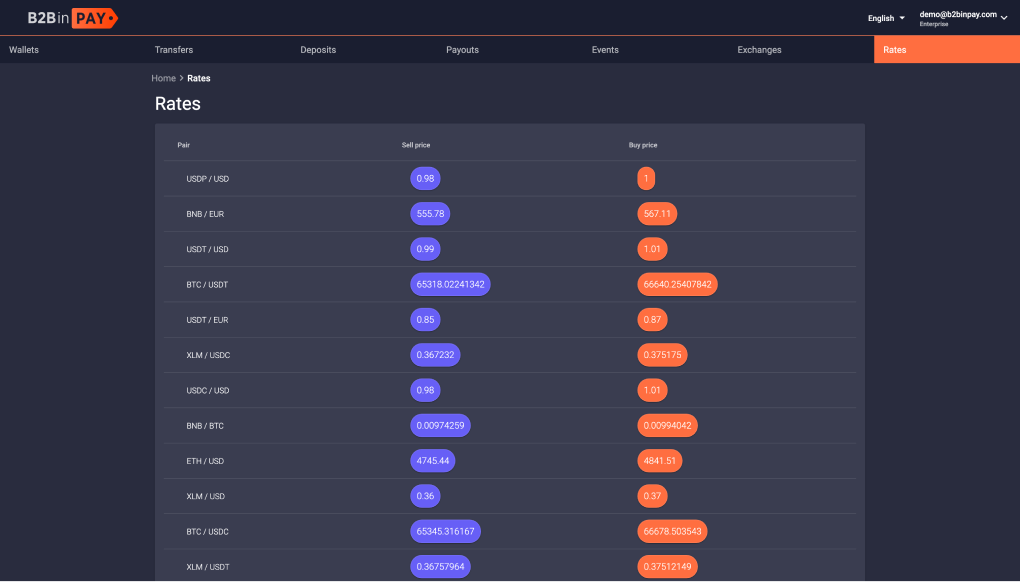 The Ultimate API Solution
Quick and easy integration is possible via Rest API. Our state-of-the art technology allows you to integrate invoicing and deal with acquiring and transfers exactly in the way you need it.