B2Core
Trader's Room, Client's Cabinet, Back Office CRM, Client's Portal
A new generation of professional software that helps brokers and exchanges manage their customers, admins and IB-partners in one place.

FOREX | Crypto | Securities Brokers Spot | Margin Exchanges Wallets
Exchangers | Converters PSPs | EMIs
User Interface
Advanced Trading UI
Money Storage & Conversion
Adaptive User Layout
Trading History & Analytics
2FA Security
Transaction Monitoring
Mobile App
External Integrations
Payment Systems
SMS Services
CRMs
Trading Platforms
KYC Providers
Marketing Tools
Rates Providers
Admin Area
Activity History
Detailed Reports
KYC Constructor
Registration Constructor
Anti-Fraud System
Notification System
Email Templates
Packages and documentation
Get detailed information and our package solution for B2Core so that potential clients can find the best fit for their business.
By owning this solution you get access to every functionality update that will make you a leader in the industry!
We have already onboarded many industry leaders with our cutting-edge technology! B2Core is an ideal solution for all types of businesses.

Crypto CFD Broker
A trading account nominated in any type of cryptocurrency, fast crypto deposits and withdrawals through B2BinPay. Ability to accept funds with internal conversion.

FOREX Broker
Deep integration with the flagship trading plaftorm, MetaTrader. Deposits, withdrawals, instant transfers and everything you need for the ultimate trading experience with B2Core.
Spot Crypto Exchange
A turnkey solution with one of the best Trading UI on the market. Deep integration with B2Trader provides access to a huge variety of technical solutions such as 5 order types, trading API and much more.
Margin Exchange
Margin multi-asset trading including crypto-currencies are included. Advanced dealing and risk management settings are designed to increase the revenue from the trading flow. Dynamic leverage on every order.
Wallet/Mobile App
Allow your clients to safely store their funds. Provide multiple variants of deposits/ withdrawals in your system. Onboard clients not just through the web but via mobile app.
Bank & Hedge fund
Regulate the funds that are being used by the clients in your banking system. Offer reconciliations and easy statements on their accounts.

PSP/EMI
Create a space where clients can easily choose the method of payments, process them and analyse all the ins and outs.
Converter
Offer clients a back office with instant deposits/withdrawals and the possibility to get one currency converted into another with no limits.
Connect

your trading platform

easily
B2Core is already integrated with major trading platforms on the market. All you need is to provide your API access credentials.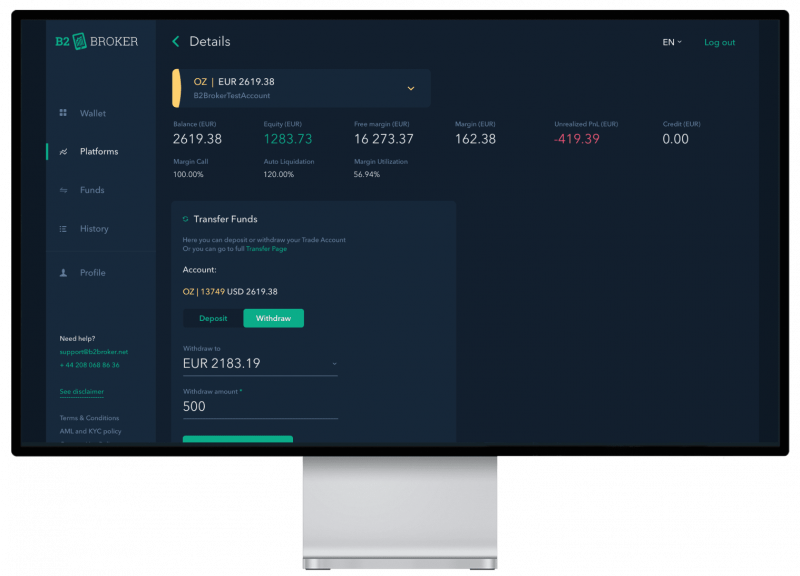 A provider of technology for multi-asset class execution, connectivity, aggregation, distribution and hub.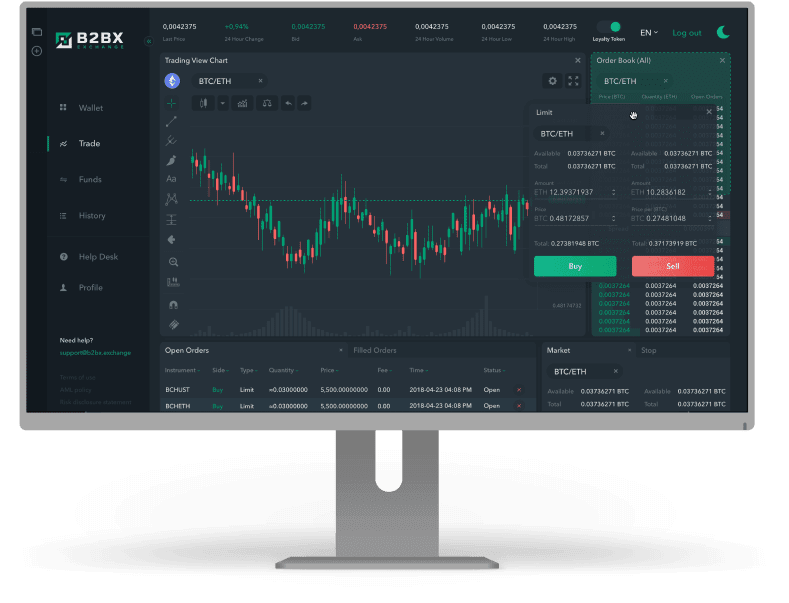 A matching engine platform for exchanges developed by B2Broker that powers up the world's best-known exchanges.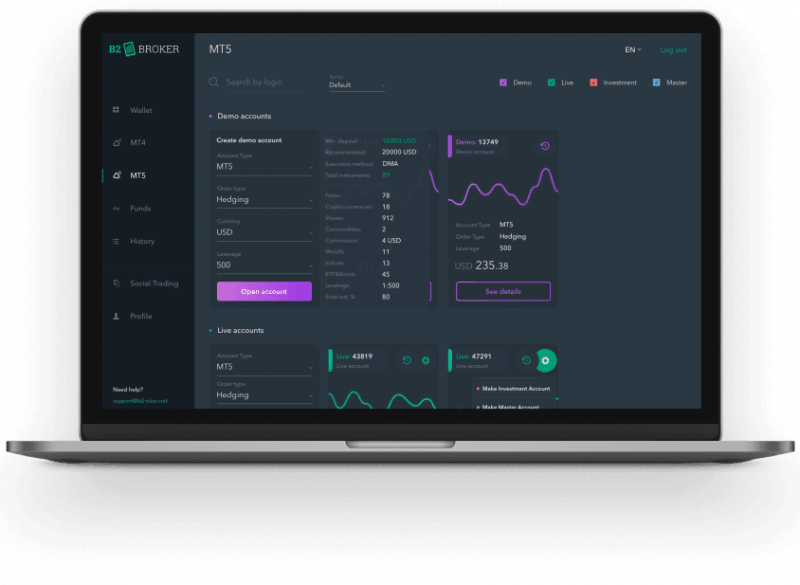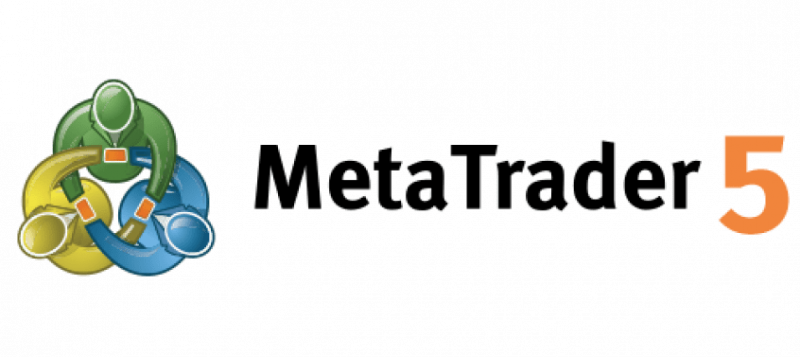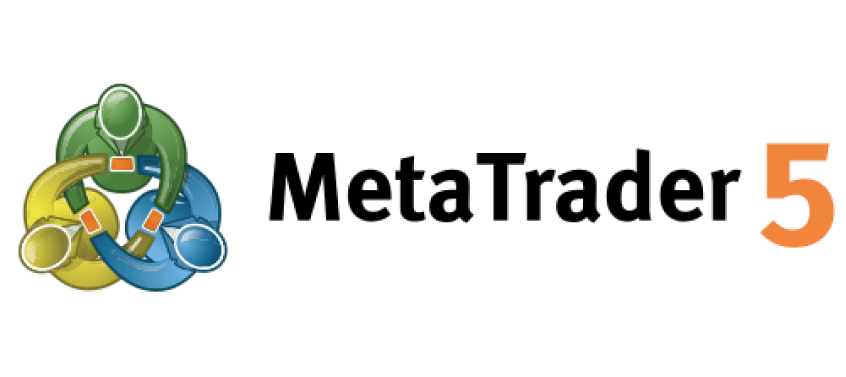 An electronic trading platform widely used by the online retail Forex industry developed by MetaQuotes Software.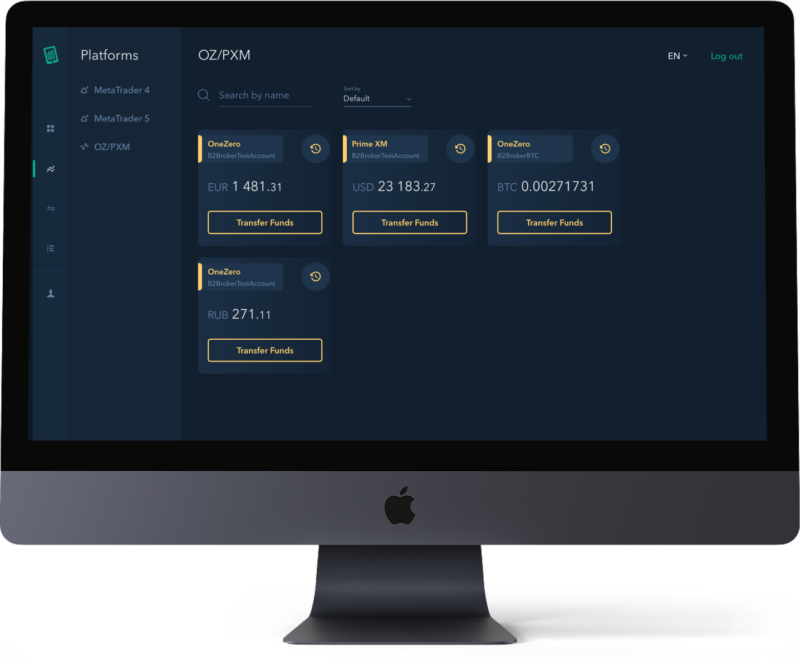 A financial technology provider with cutting-edge aggregation software, ultra-low-latency connectivity, institutional grade hosting solutions.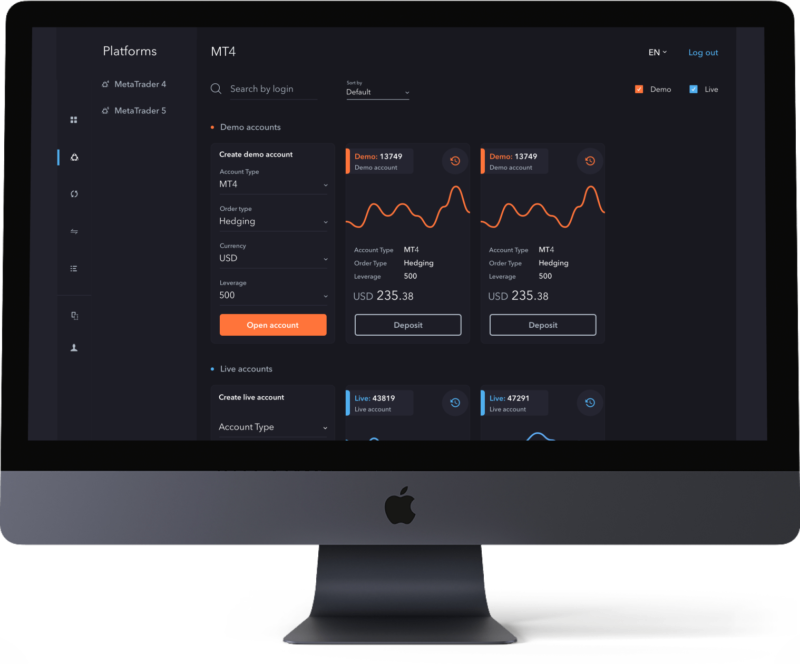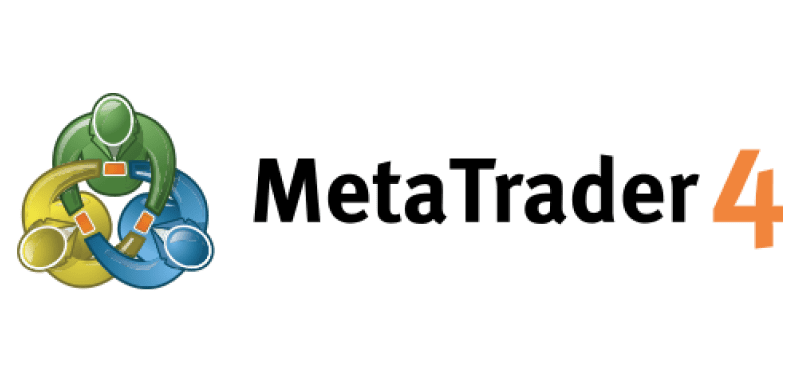 An electronic trading platform widely used by the online retail Forex industry developed by MetaQuotes Software.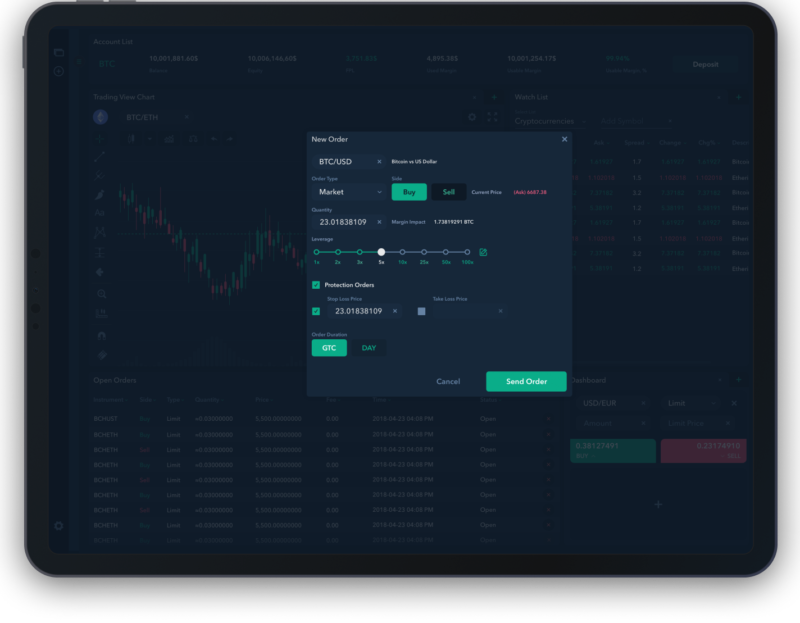 A platform combining the features of margin and spot trading in one system powered by B2Broker.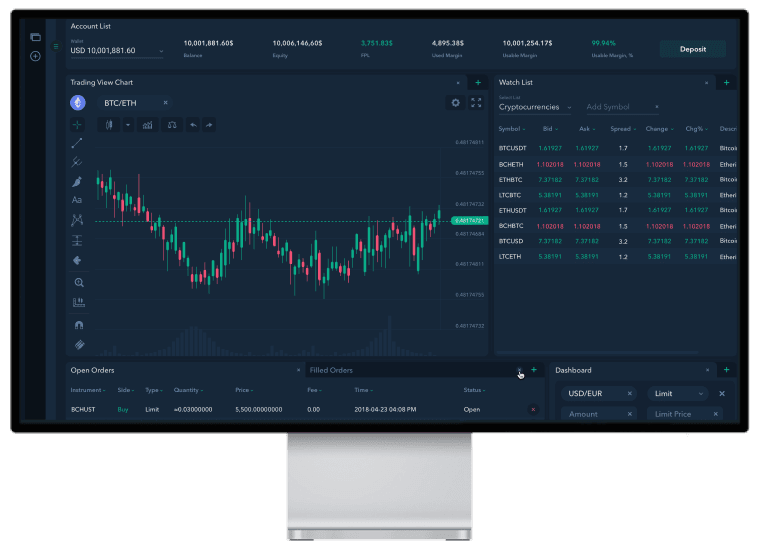 A multi-asset trading platform developed by DevExperts supporting trading equities, ETFs, Futures, Forex, Commodities, CFDs and cryptocurrencies.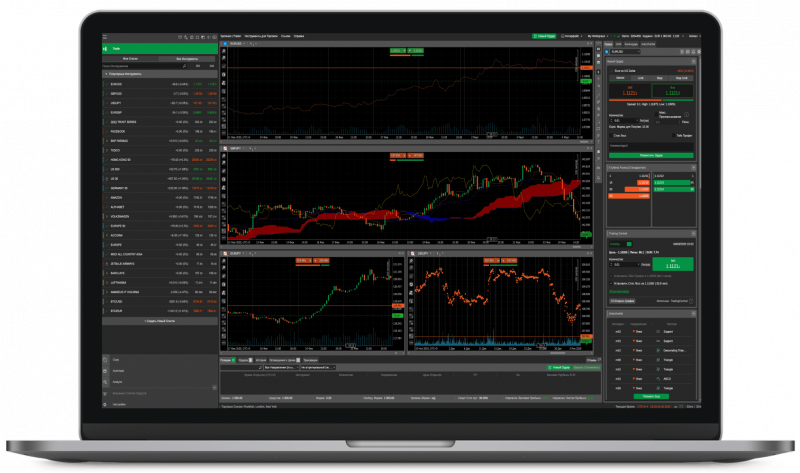 cTrader is Spotware's flagship trading platform solution developed by Spotware and a brand trusted by millions of traders worldwide.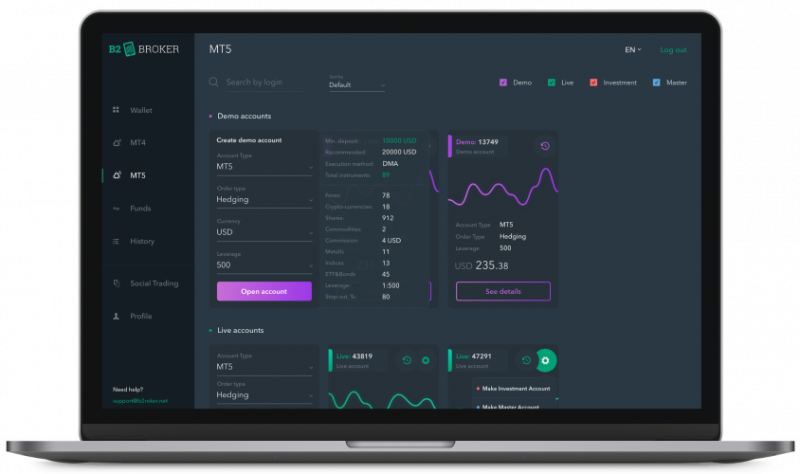 Centroid Solutions is a technology provider specializing in Risk Management, bridging, execution engine and hosting solutions for financial institutions.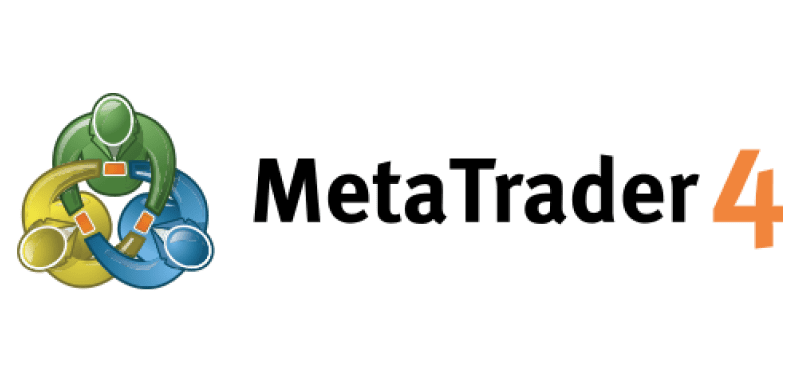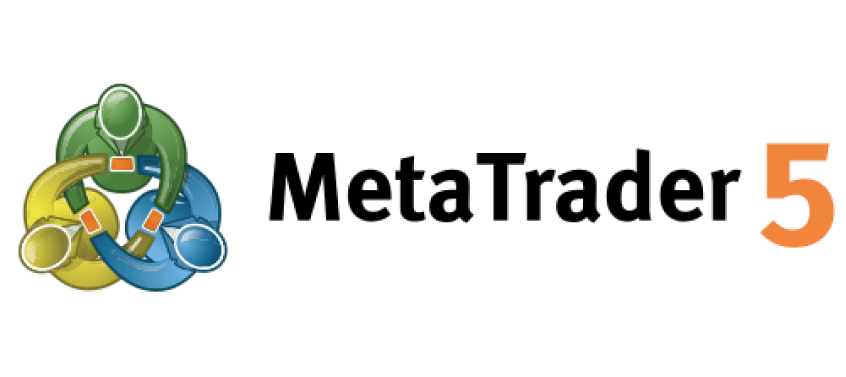 and any other trading platforms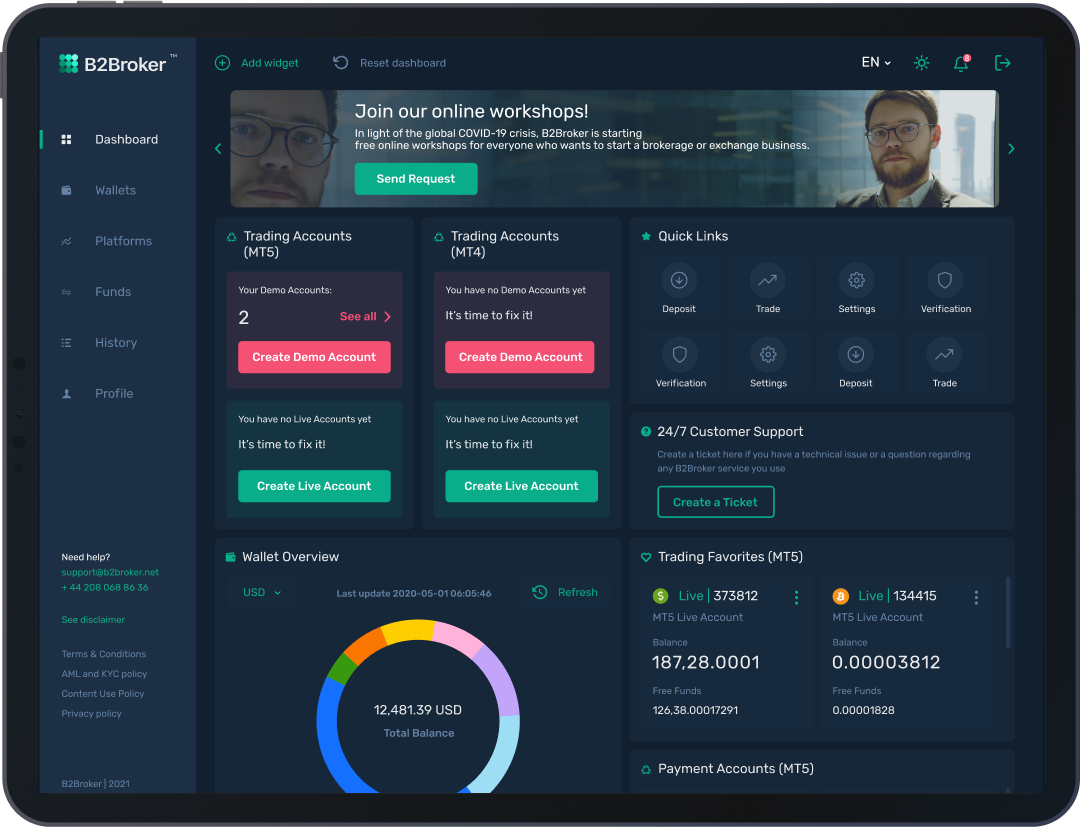 Dashboard
Give your clients an area where they will be able to check all the key information on their activities inside B2Core and easily navigate themselves to the place they need to be at. The dashboard is fully customizable: you can add widgets, move them around and delete them as you like.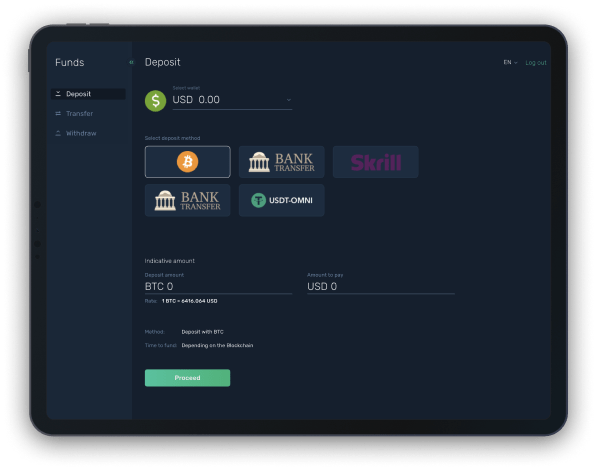 Funds
Instantly send funds to a trading platform in order to avoid margin calls and stop outs thanks to our deep integration with flagship trading platforms.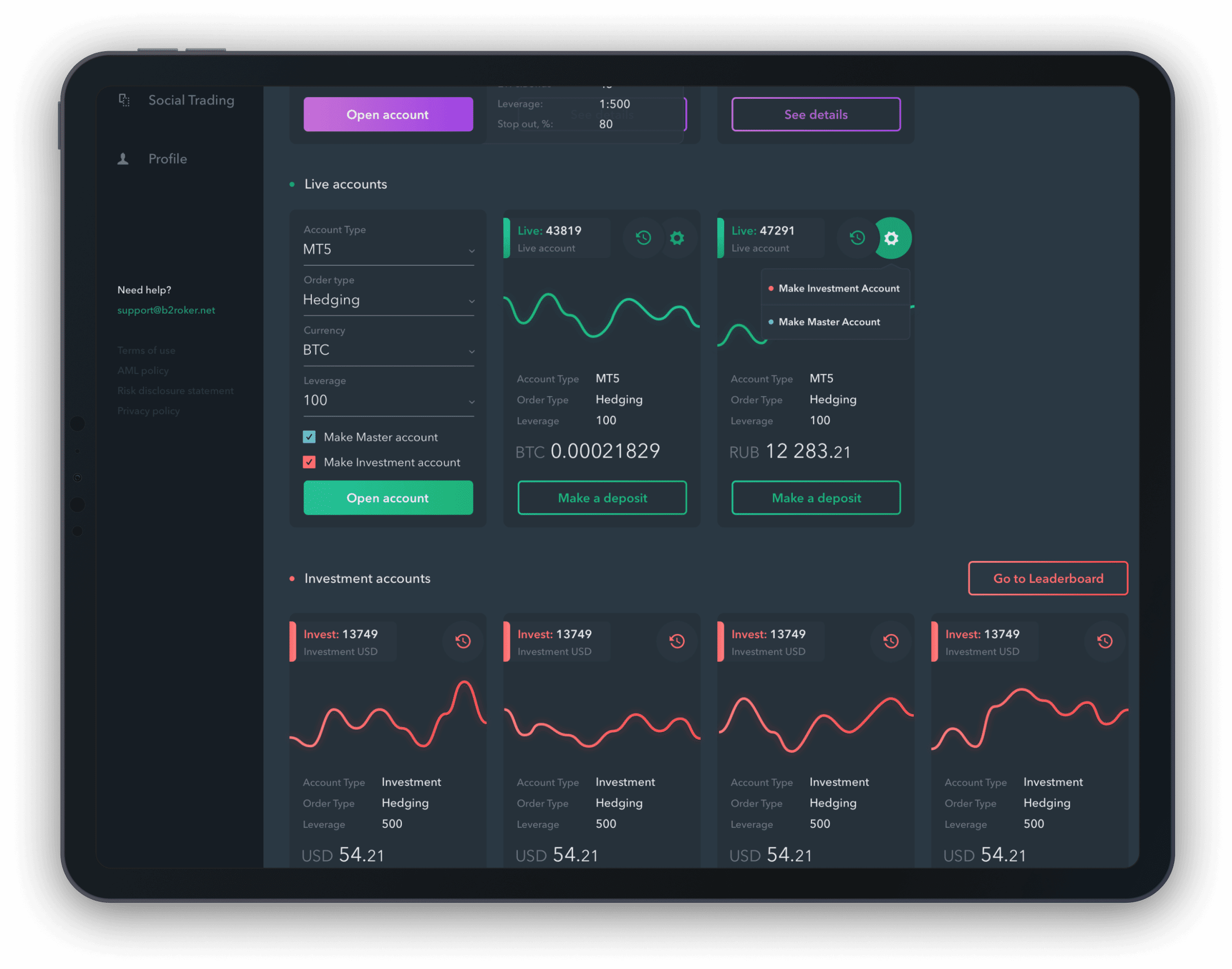 Platforms
Retrieve all your financial records from your financial operations recorded under a user-friendly table inside the B2Core space.
Detailed Account Analytics
Multiple Platforms Integrations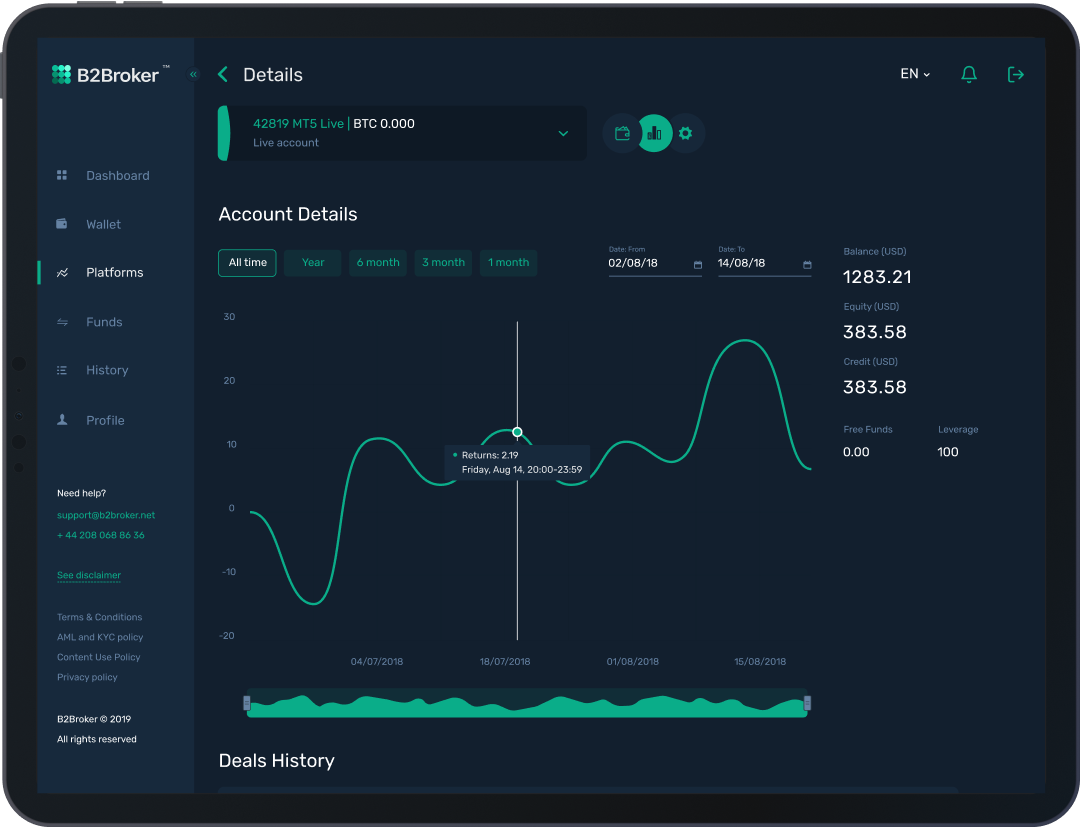 Trading Analytics
Give your clients the opportunity to check their trading activity and analyze the key metrics inside the B2Core trader's room.
Multiple Platforms Support
Simple/Advanced Statistics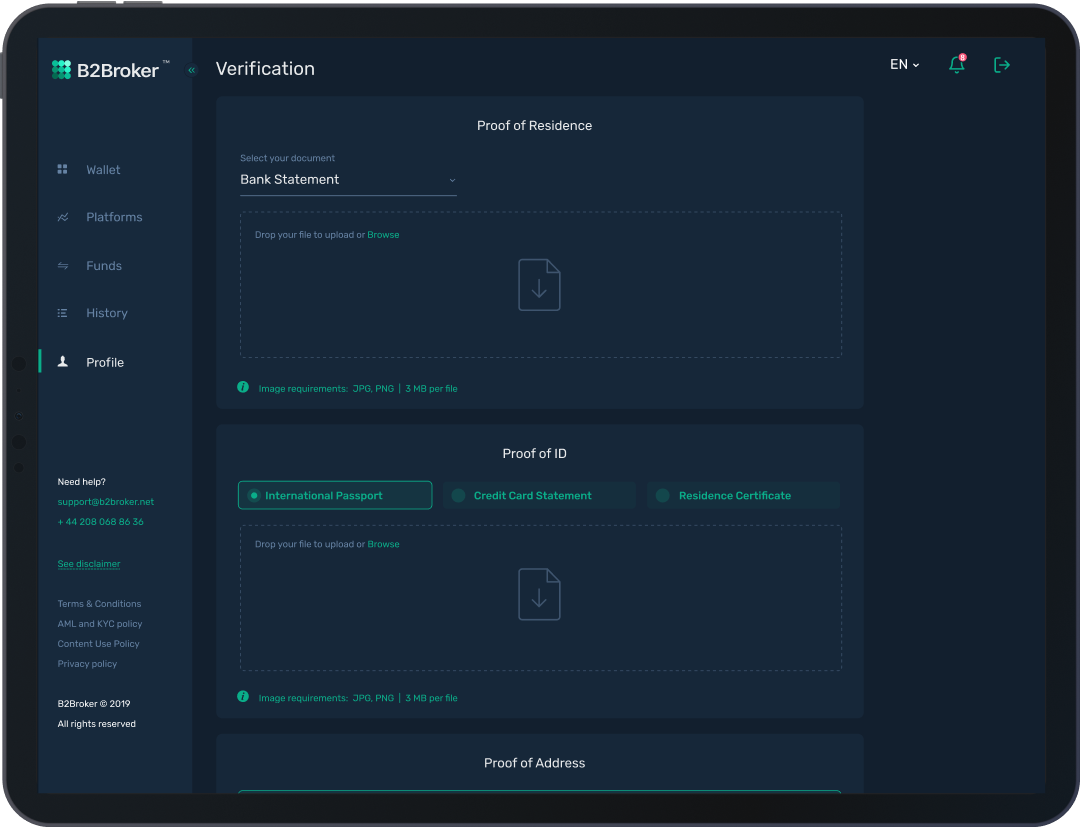 KYC
Allow your clients to verify their accounts before conducting any financial activities on the platform.
We have specifically prepared a range of demo environments so you can try things out. Give it a go now !
Cutting-Edge

Advanced Trading UI
We have committed a lot of time and effort into building the most user-friendly, functional and customisable interface for end-users to make the most of their trading experience, regardless of the platform used!
Friendly UI
The front end is optimally designed and animated to avoid any confusion on the clients' side.
Order Percentage
Fill in the details of your order by clicking on quick percentages in your order widget.
Favorites
Save your most tradable markets and easily adjust all the widgets to these pairs.
Day/Night Mode
Change the mode of the UI so that end-users can comfortably trade 24/7.
Order Book Grouping
Show the trader the true depth of your liquidity with the grouping feature which allows you to check how the order will be executed.
Depth Of Market
In addition to the order-book, end-users can analyse the market by adding the Market Depth Widget to the workspace.
Adaptive Colouring
Provide us with your logo and favicon and we will design the product to fully match your company colours.
Workspaces
Create an unlimited number of workspaces with a different set of widgets to maximise your trading experience.
Dynamic Interface
Customise the trading interface and personalise your trader's room. Your clients will love how scalable your system is!
Watchlist
Choose your pairs to view the key elements and quickly adjust your workspace to a particular pair with just one click.
Easy Navigation
A highly responsive and scalable menu that allows the user to quickly and efficiently perform different actions in their personal trader's room.
Detailed Orders History
Check data including size, side, quantity, price and much more with our orders history widget.
Supported platforms
We have developed a unique User Interface for the platforms shown below and continue to expand our list.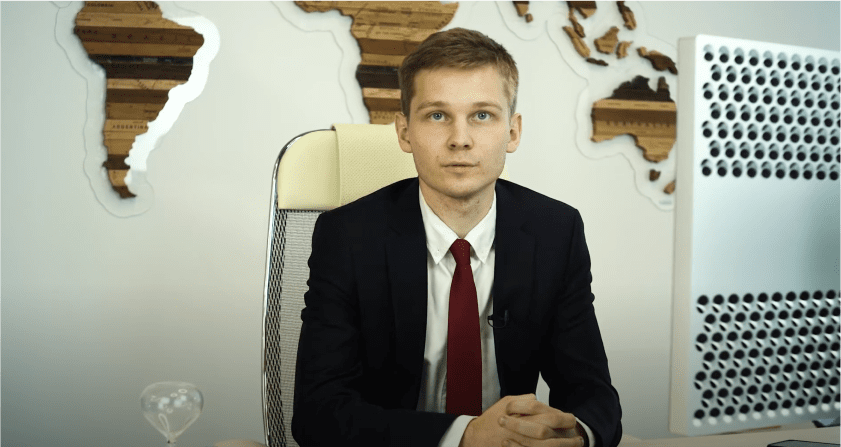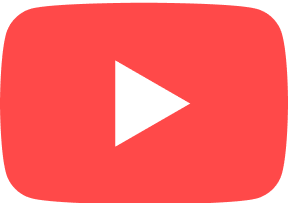 9:27
B2Core: Manage your Business and Promote your Solutions Under One Roof
In this video, B2Core Product Manager, Ivan Navodnyy, talks about one of B2Broker's flagship products, B2Core
Quick launch
in 1 week
We can set up B2Core for you in just 7 days, following KYC approval and contract-signing.
Translate

content

into any language

in 5 minutes
Weblate has a simple and straightforward admin panel that allows you to quickly search for content that you wish to change.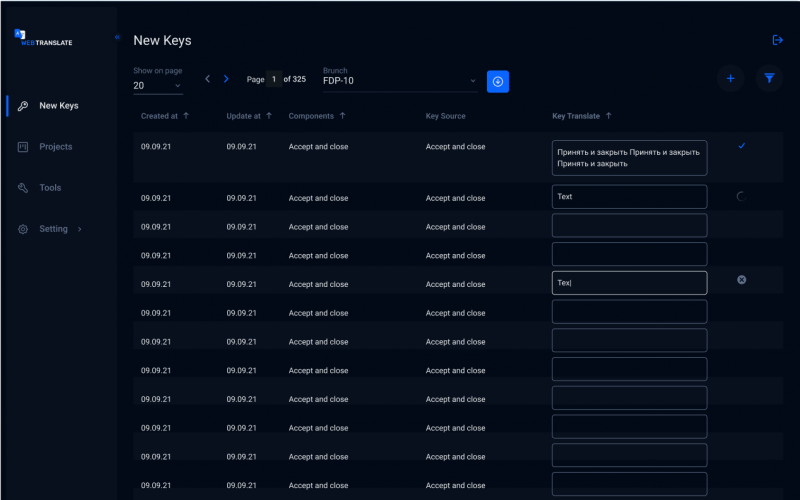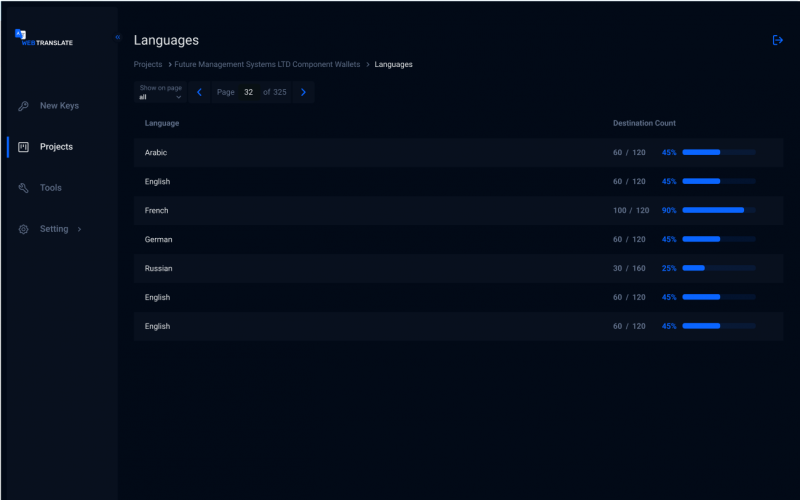 17 languages supported
Weblate currently supports 17 languages but more languages can be added on request.
Import existing translations
Weblate allows you to transfer existing translations from one project to another, so you do not have to do everything from scratch.
Keep your clients up-to-date with your company's latest news and important notifications with our home-made system!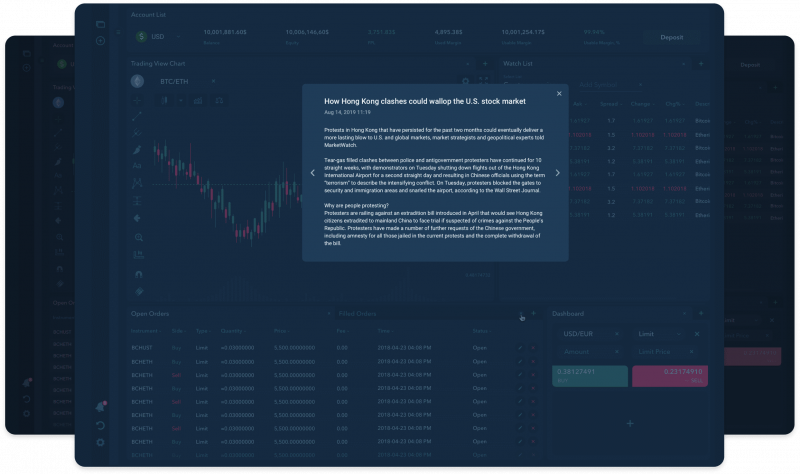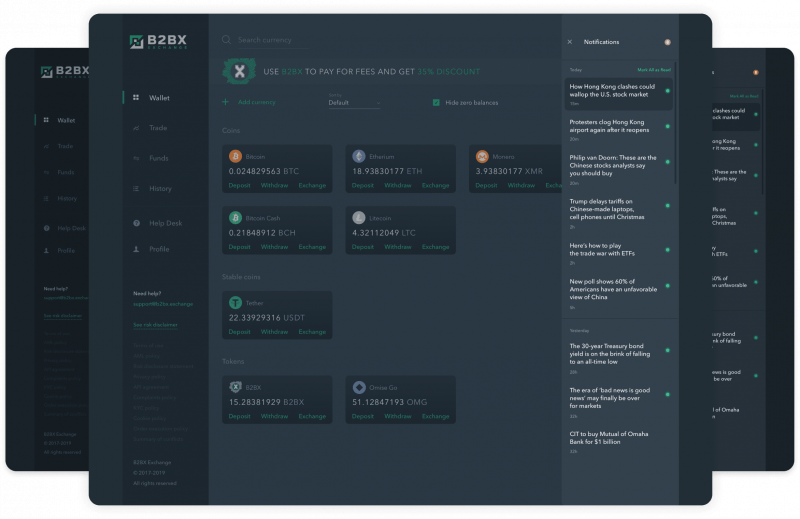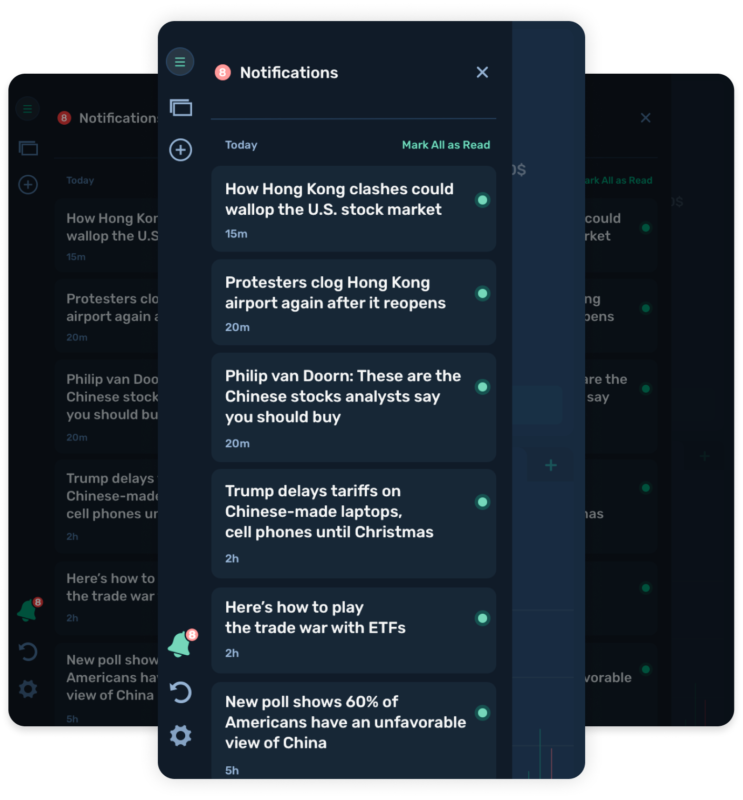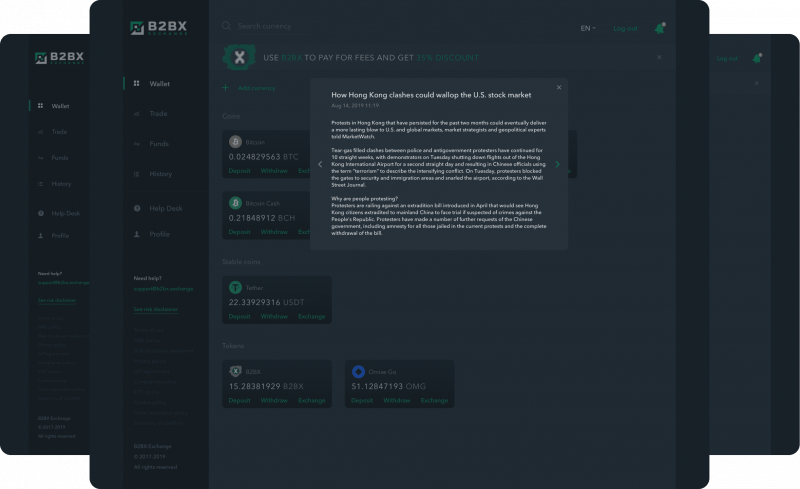 Full Customization
Admins will have access to create these notifications from scratch, starting with the content and ending with attachments.
Required/Optional
Decide on which type you want to use, whether it is information that must be read by all or just an informational notification.
Translations
Inside the admin panel you will be able to translate the notification so that clients will view the information written in their native language.
Targeted Notifications
You can select the users that will receive a notification in order to address certain information to particular people.
Reactions
Check in the admin panel how many users read the notification in order to analyze targeted public metrics.
Give your clients an additional incentive to trade on your platform by offering them an asset back for being loyal to your business!
Bonuses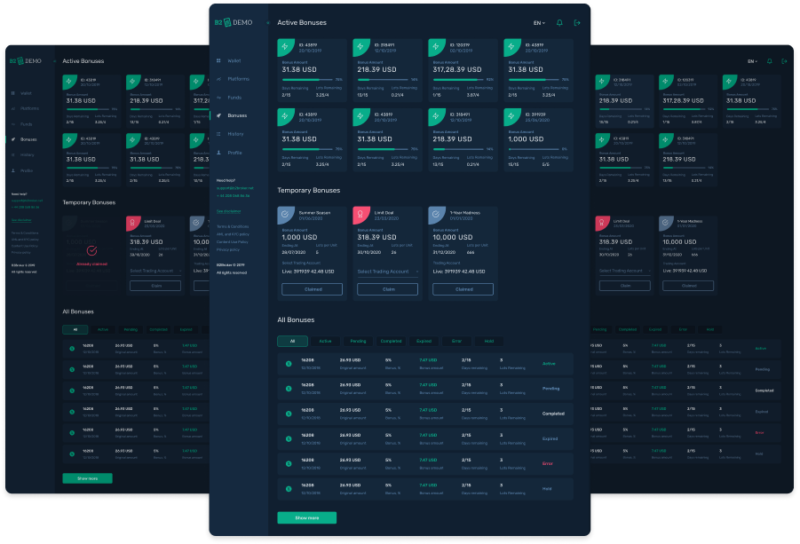 MT4/MT5 Support
Functionality is developed to support both major platforms so as to attract as many traders as possible.
Personal Bonus Setting
Bonus lifetime, excluded groups, lots per unit and other parameters are customizable for every bonus.
Bonus Presets
Save your favorable bonus structures so that you can quickly apply the configuration to any new bonuses.
Temporary Bonuses
Create season specials and limited time offers to boost your traders' activities and offer them something unique on the market.
Friendly UI
View your active bonuses, the remaining amount to trade, claim your bonuses and view the history of all your bonuses all in one page.
Rewards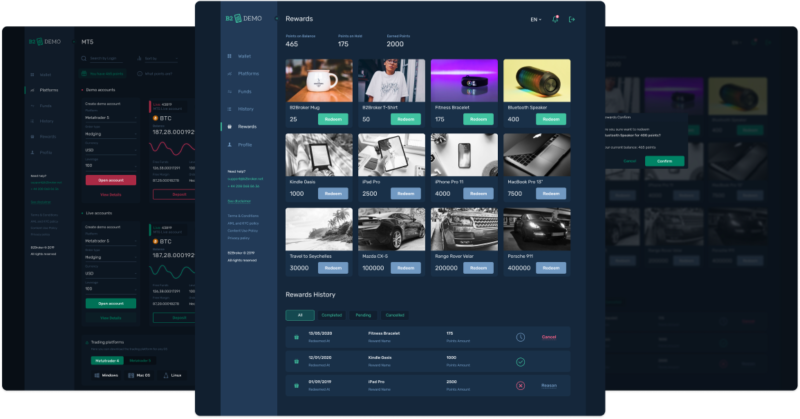 Visuals
View your points on the dashboard, MT page or the main Rewards page. A specifically designed page showing all rewards that provides the friendliest UI on the market.
Multiple Programs
Allow your clients to choose which program they should participate in based on the rewards description.
Custom Points Ladder
Create levels and rewards for each level based on your own requirements.
A Back Office


for your team
A customer management, verification confirmation and ticketing system for your support service which also includes many other useful features.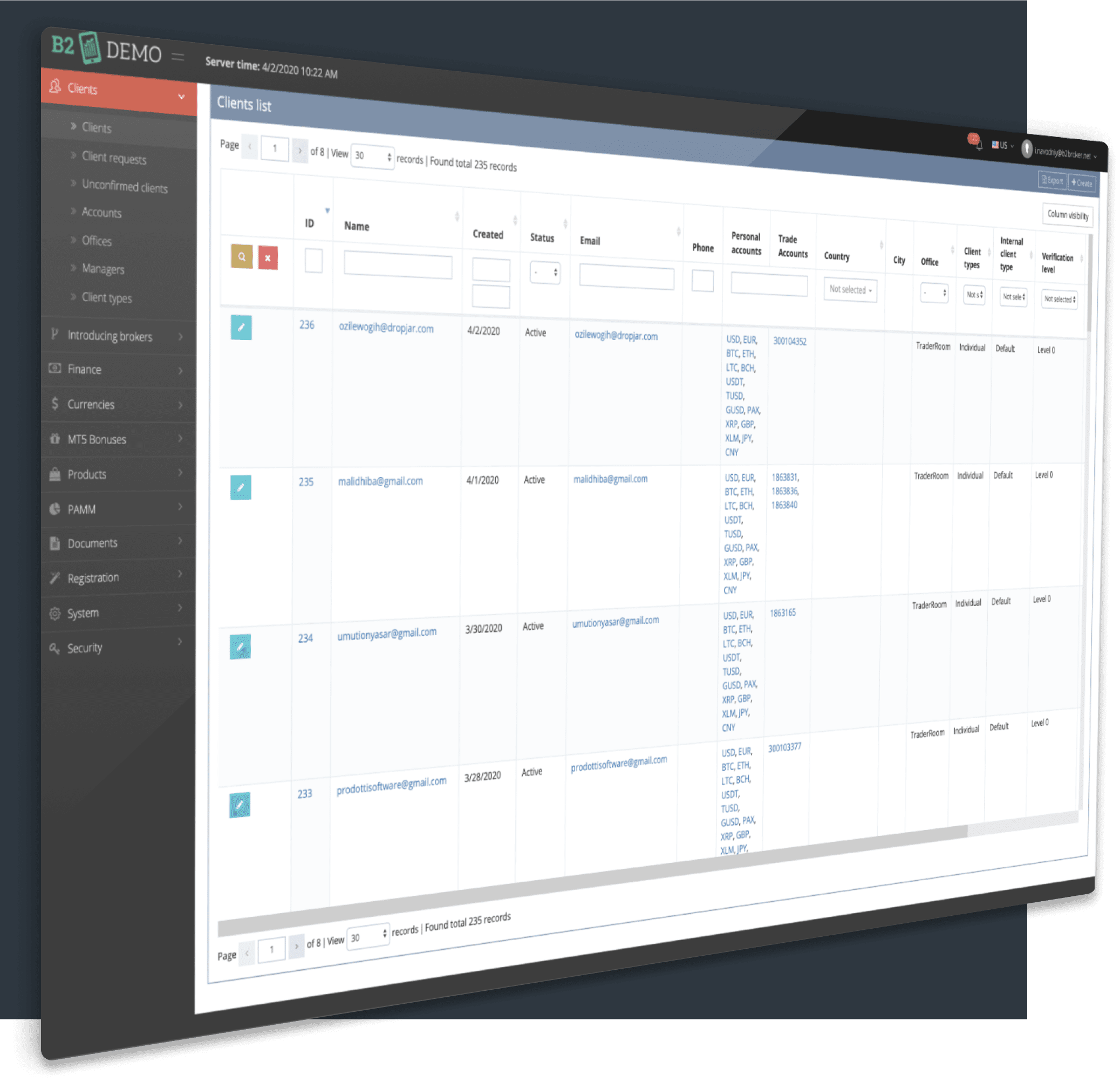 Clients
Registered Users Detailed Data
Client Requests
Request Comments Creation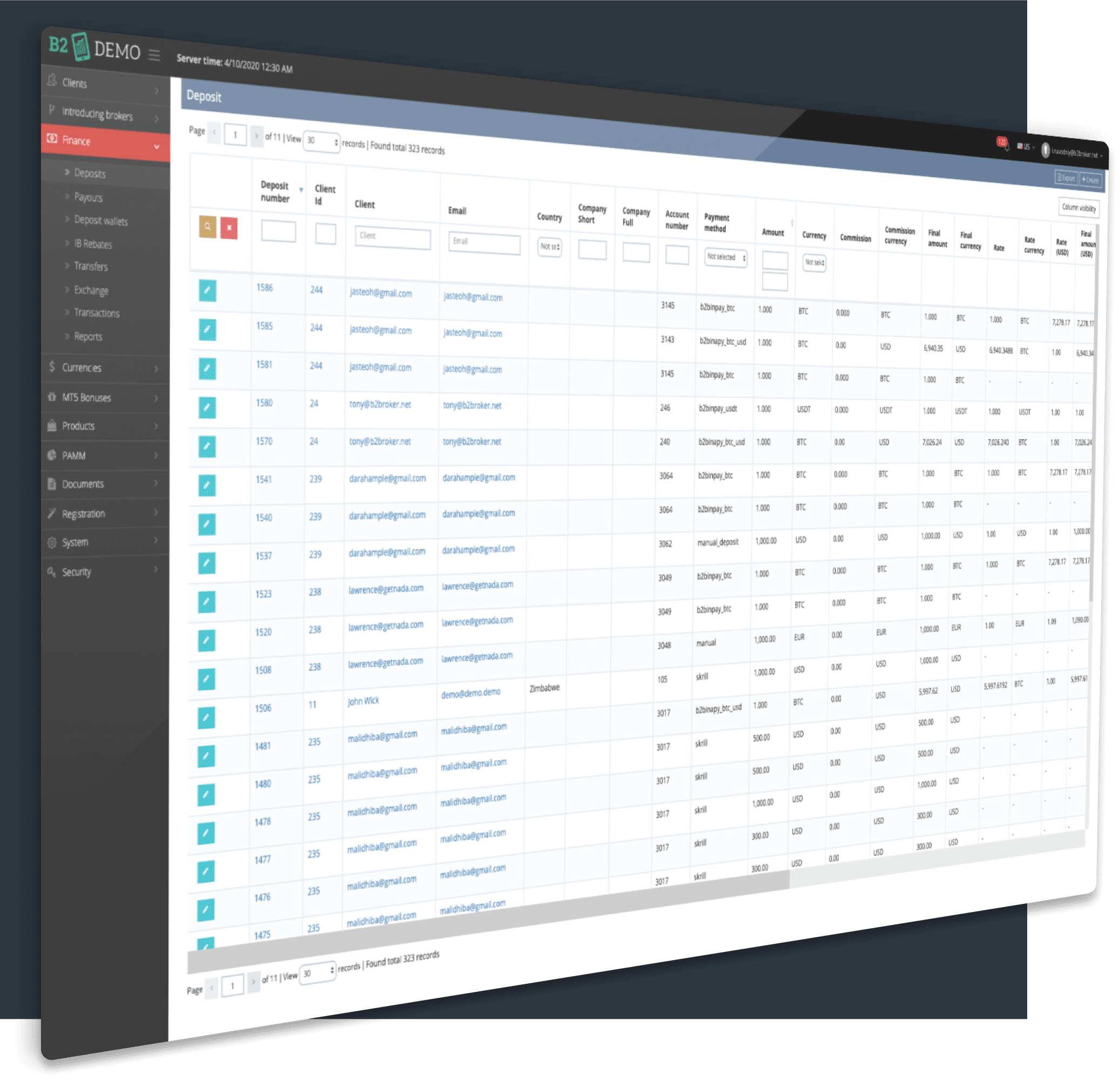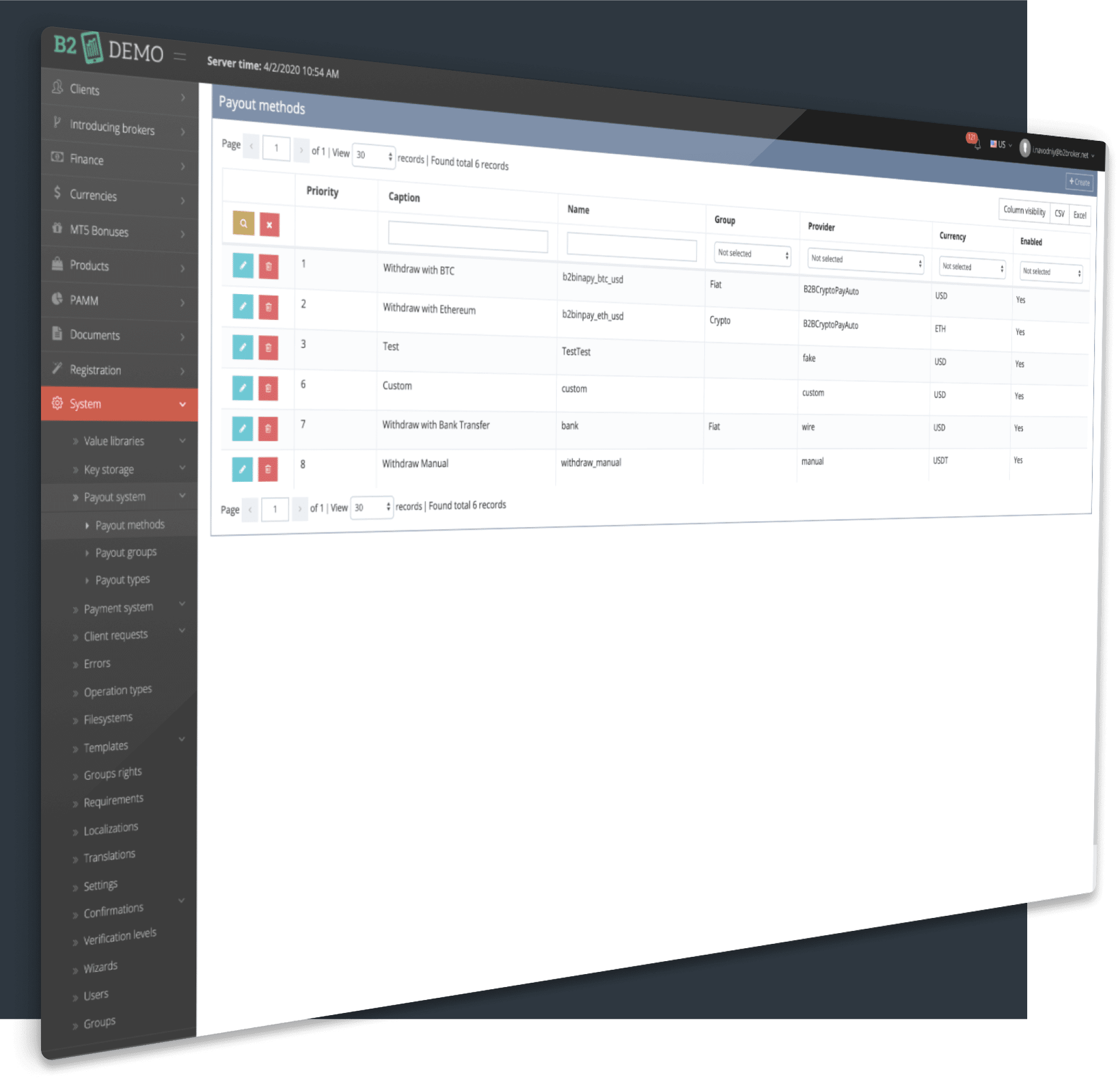 Payouts
Dealing Approved Checking
Payment Status Monitoring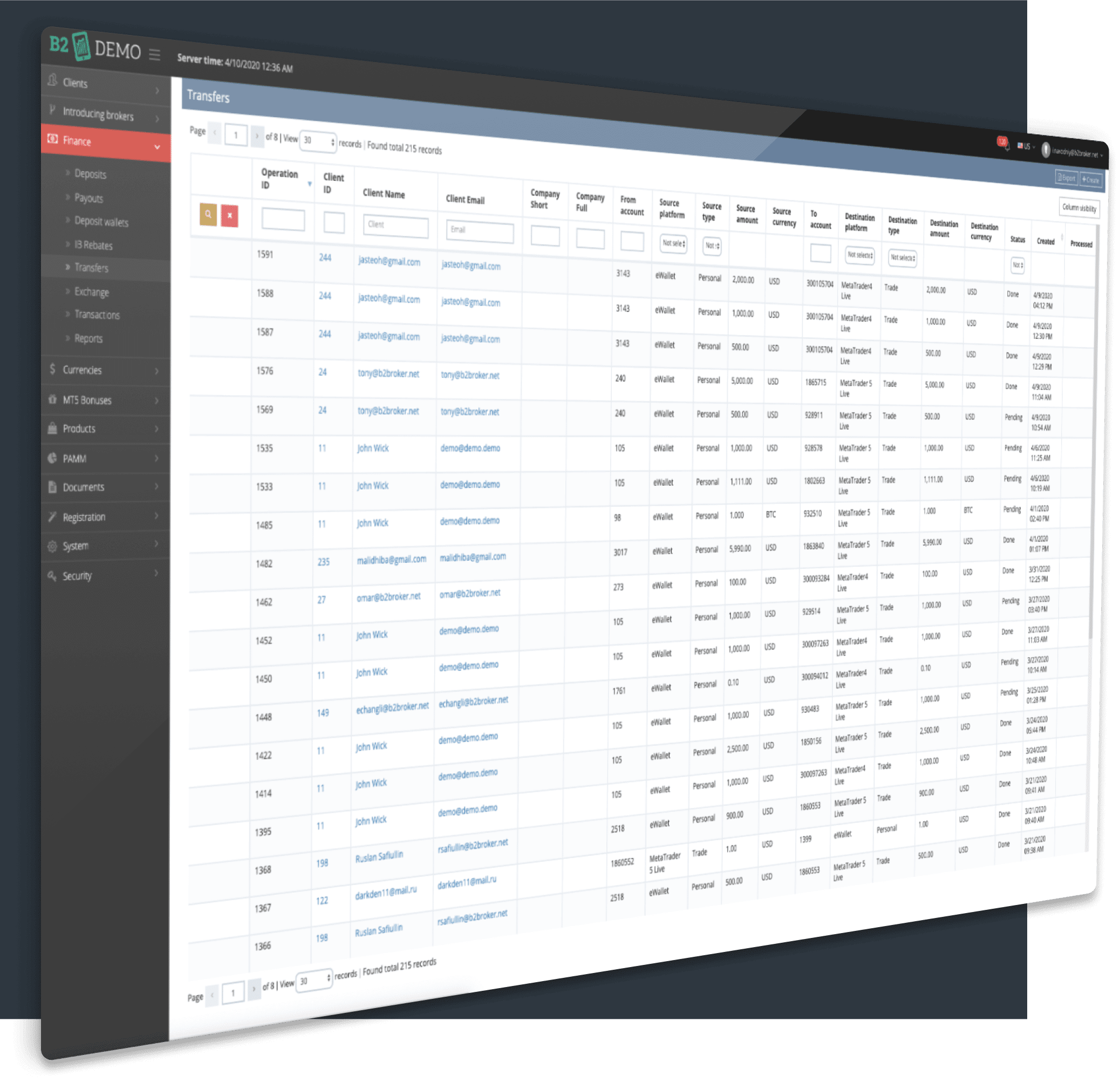 Transfers
Source/Destination Platforms Data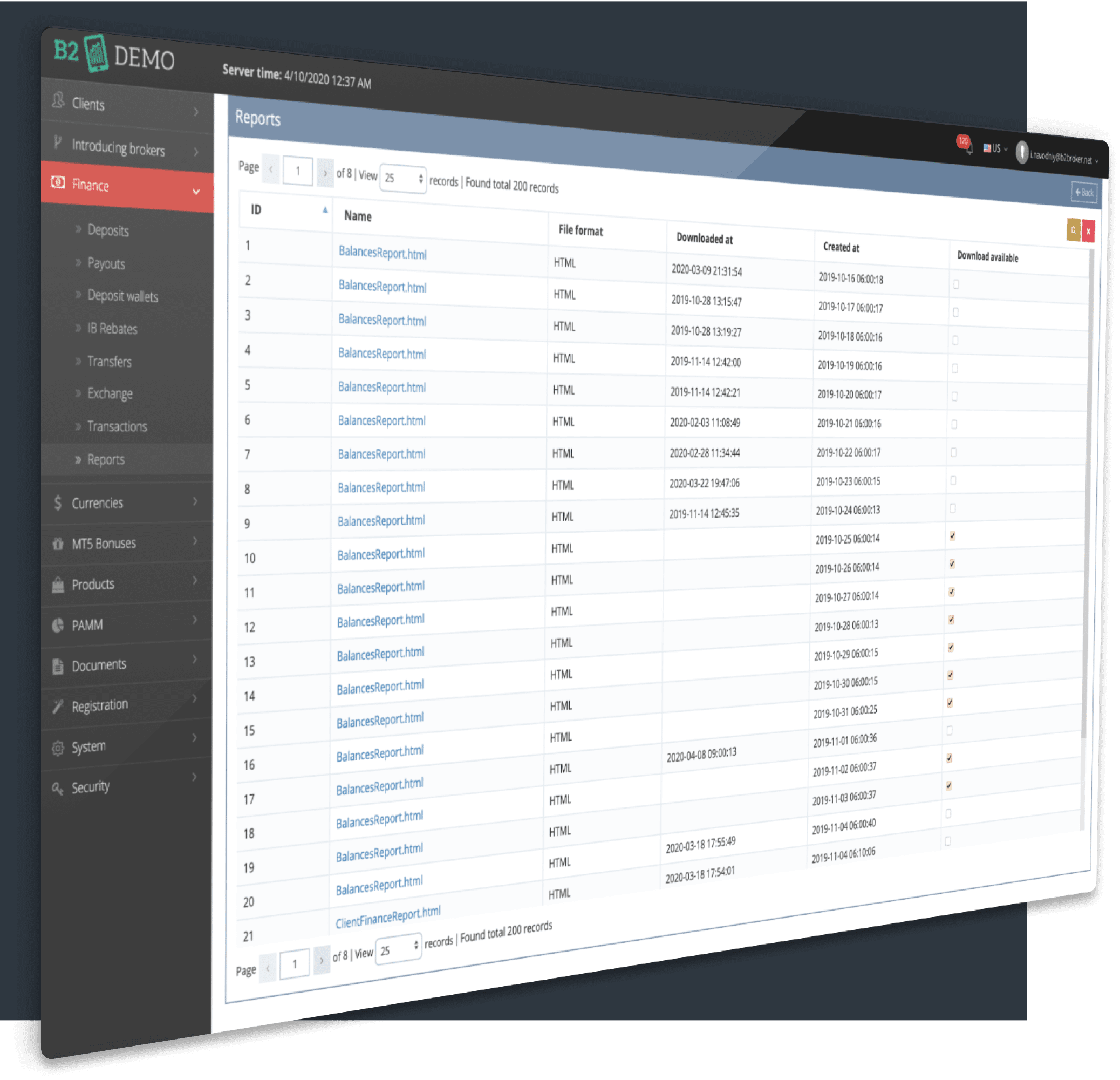 Reports
3 Format Types (HMTL, XLSX, CSV)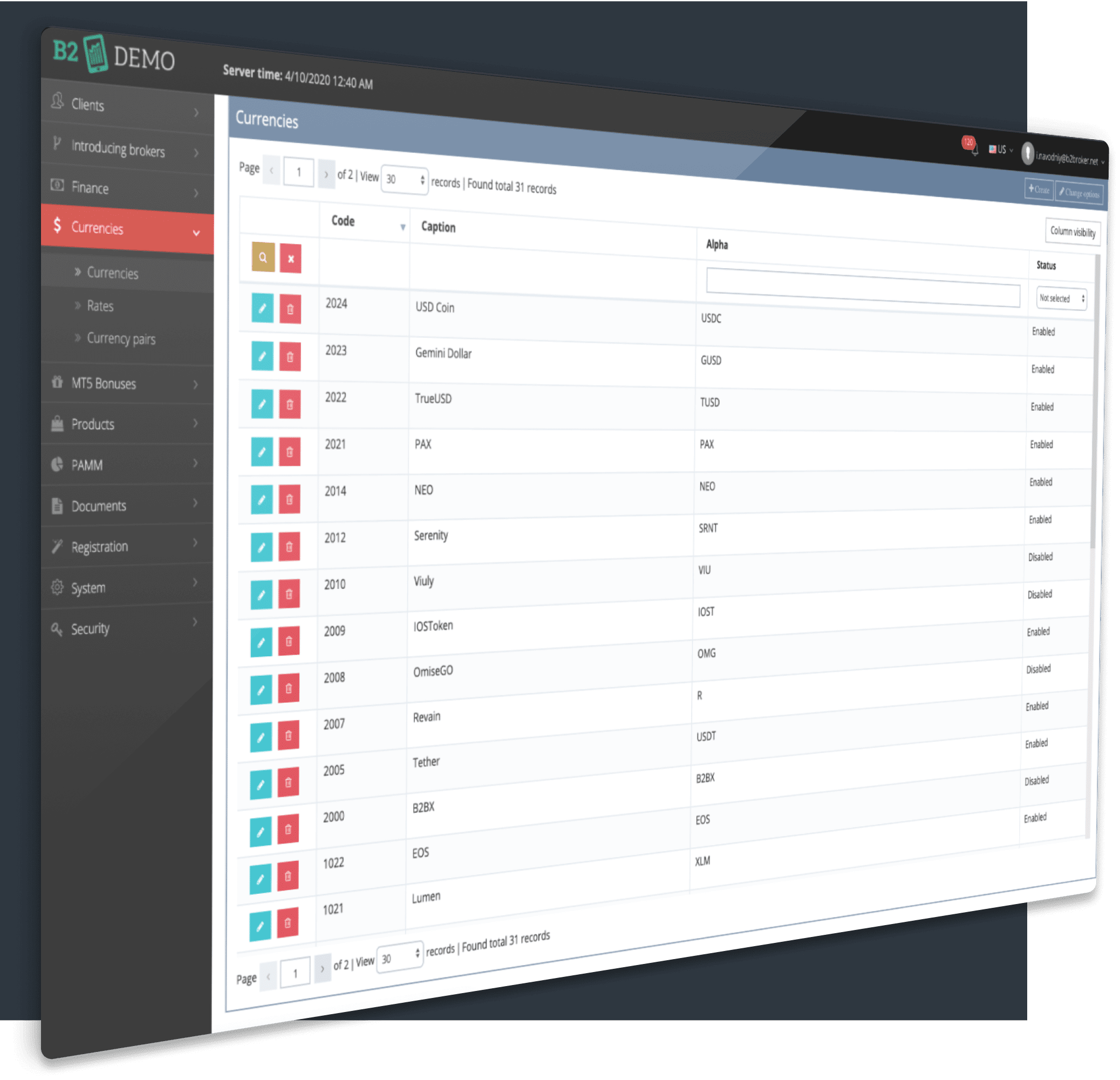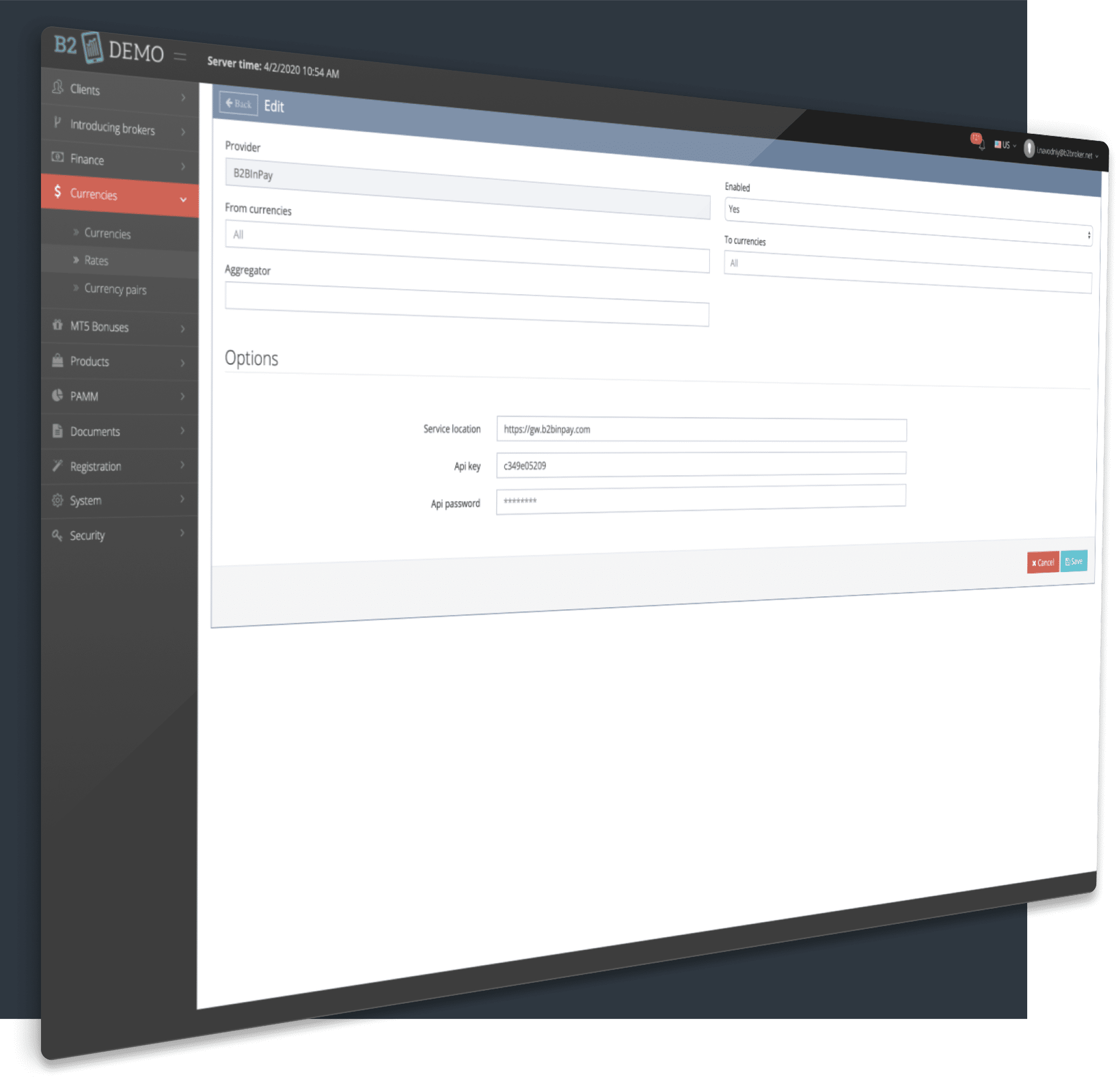 Rates
Conversion Rates Configuration
Currencies Rates Source Division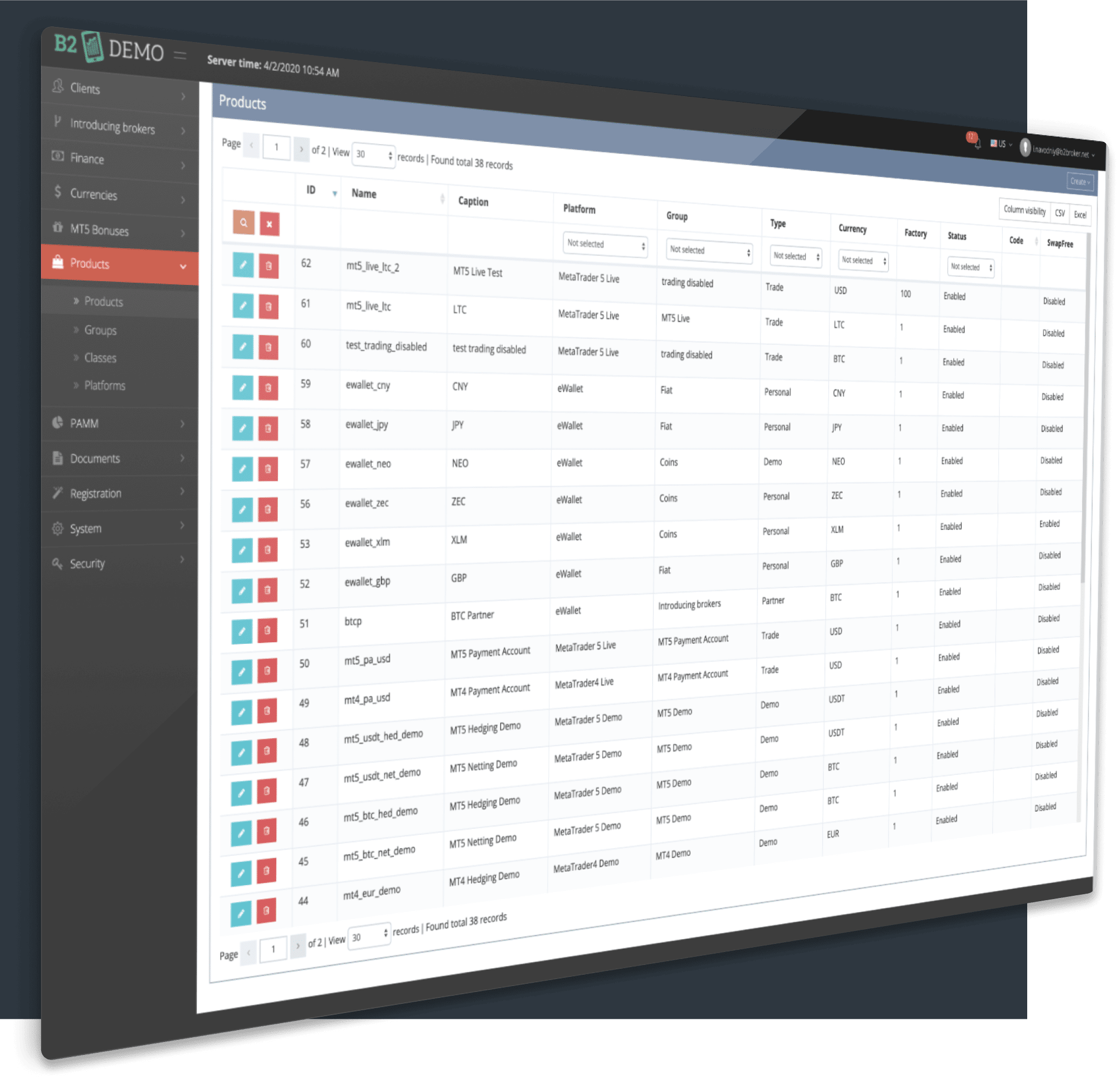 Products
Hide/Show Wallets/Accounts
Customize Product Settings
Restrictions Configuration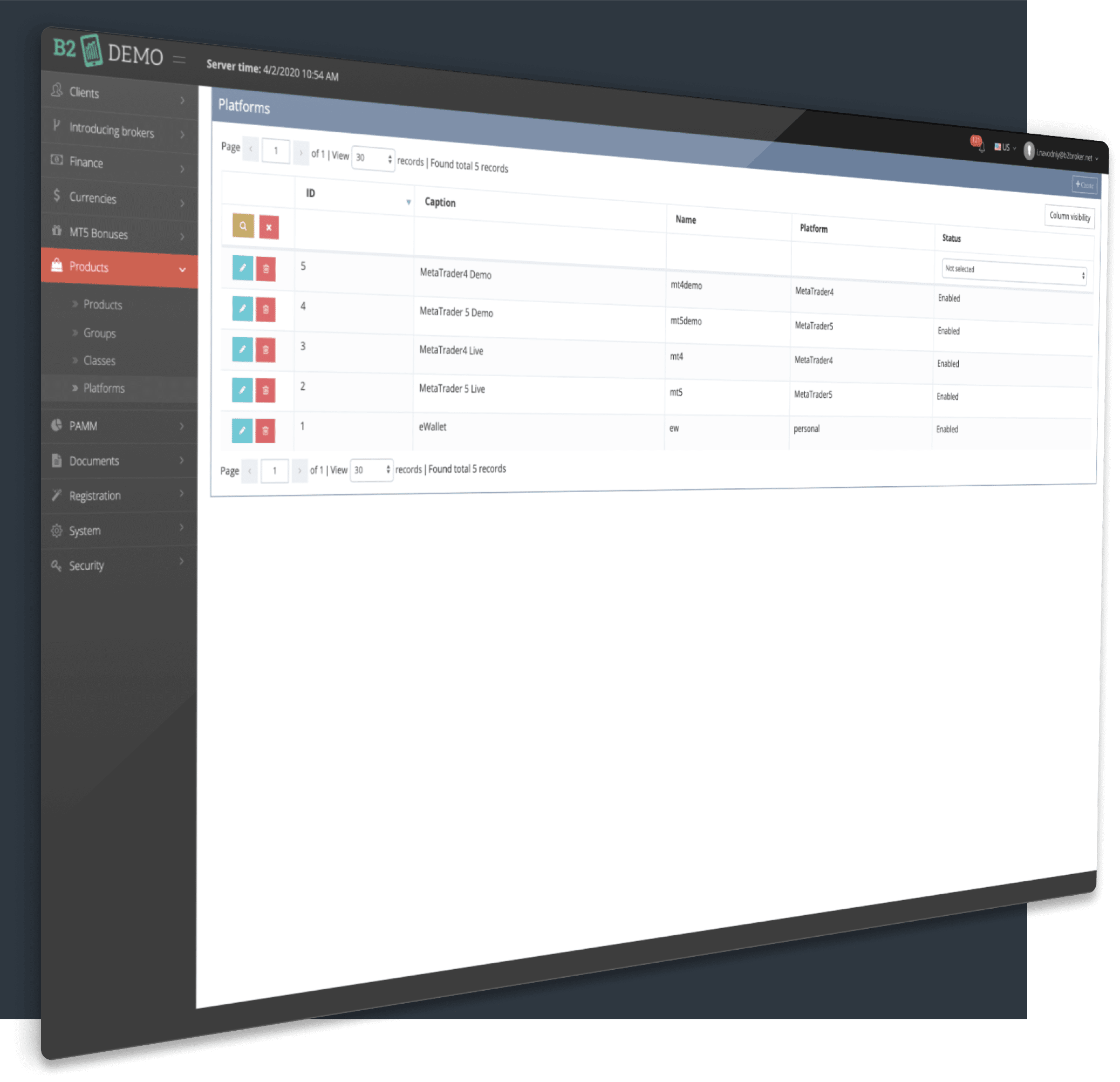 Platforms
Add or Remove Required Platforms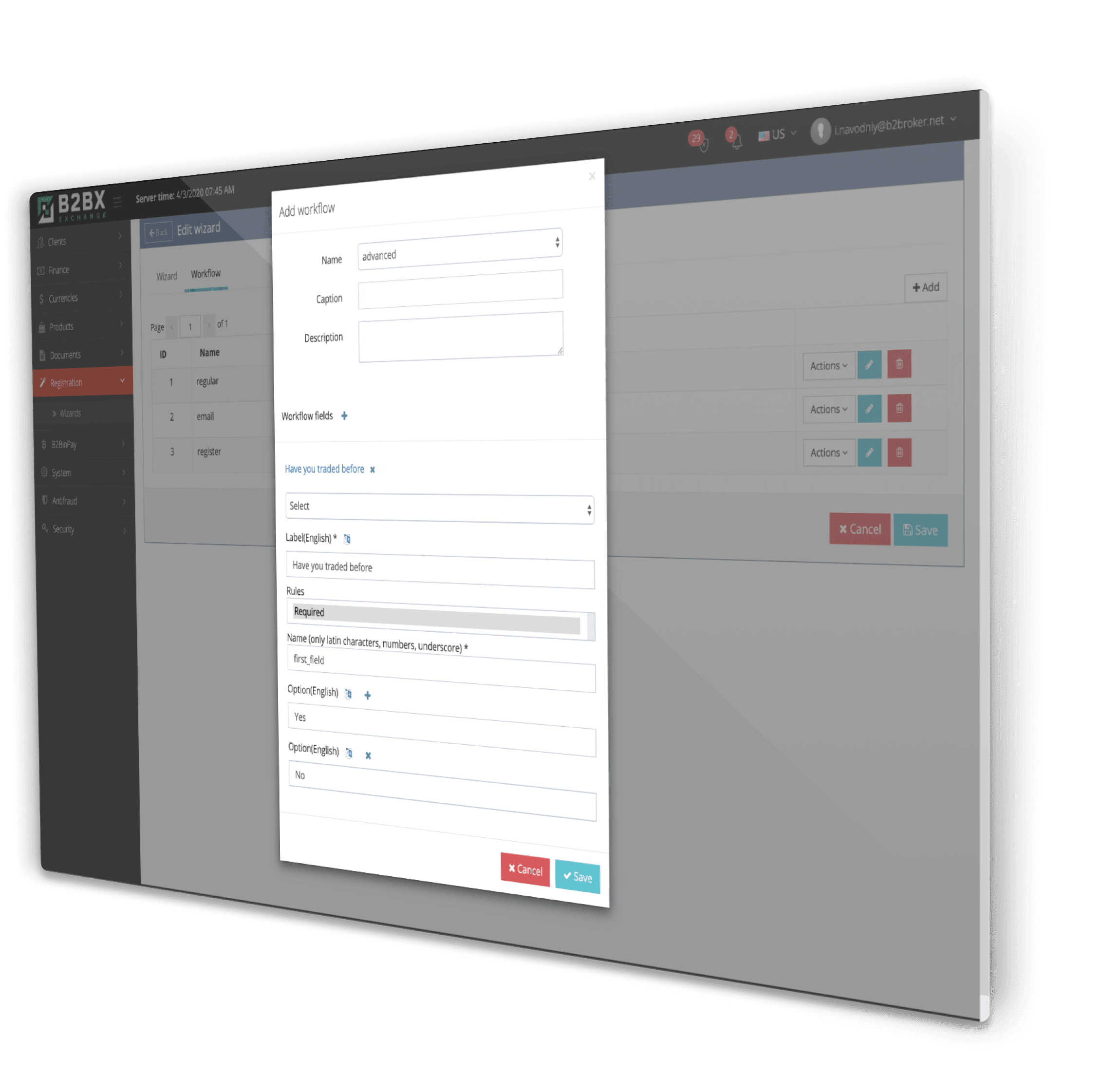 Registration Wizard
Construct Different Fields
Enable/Disable Registration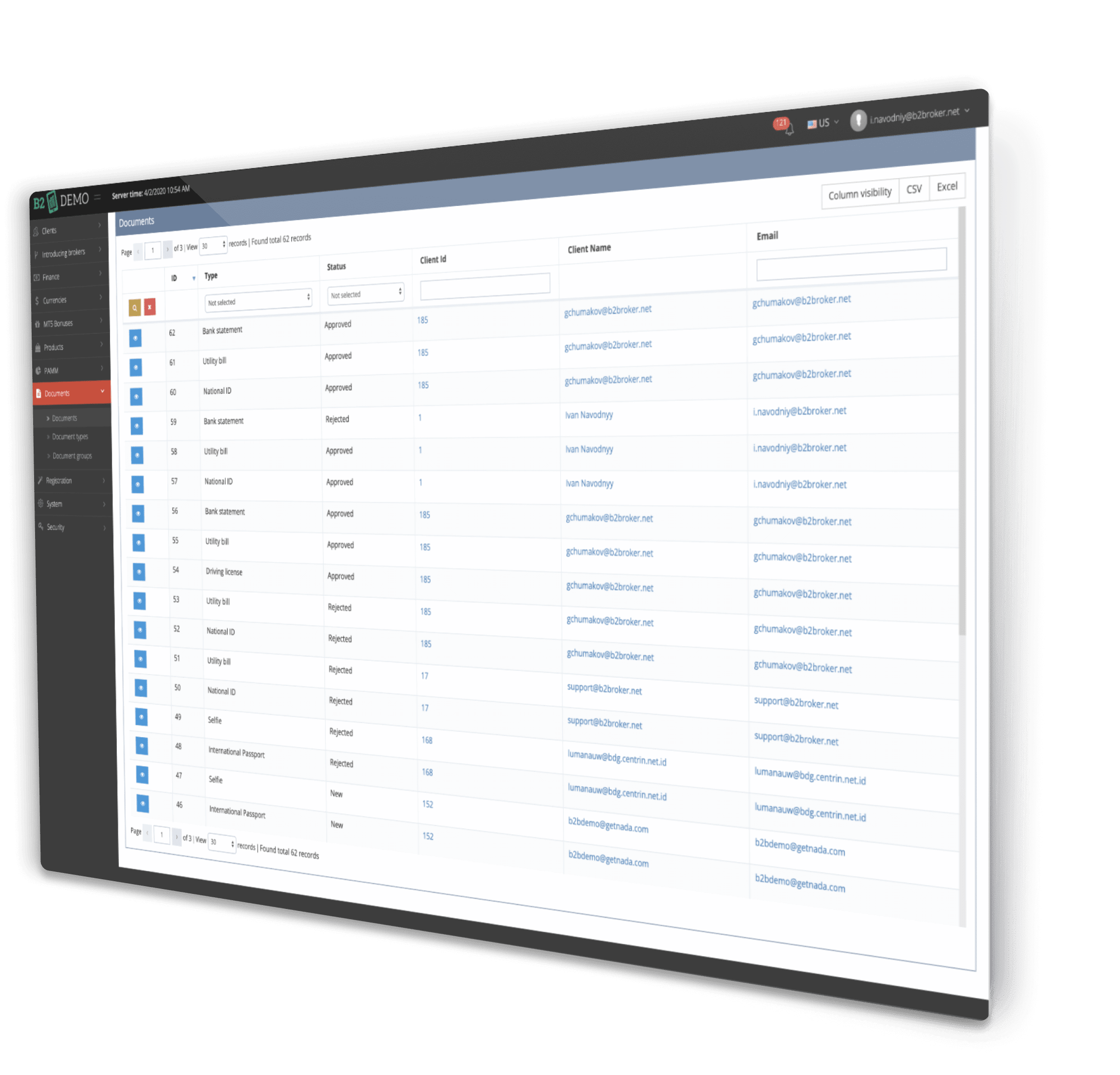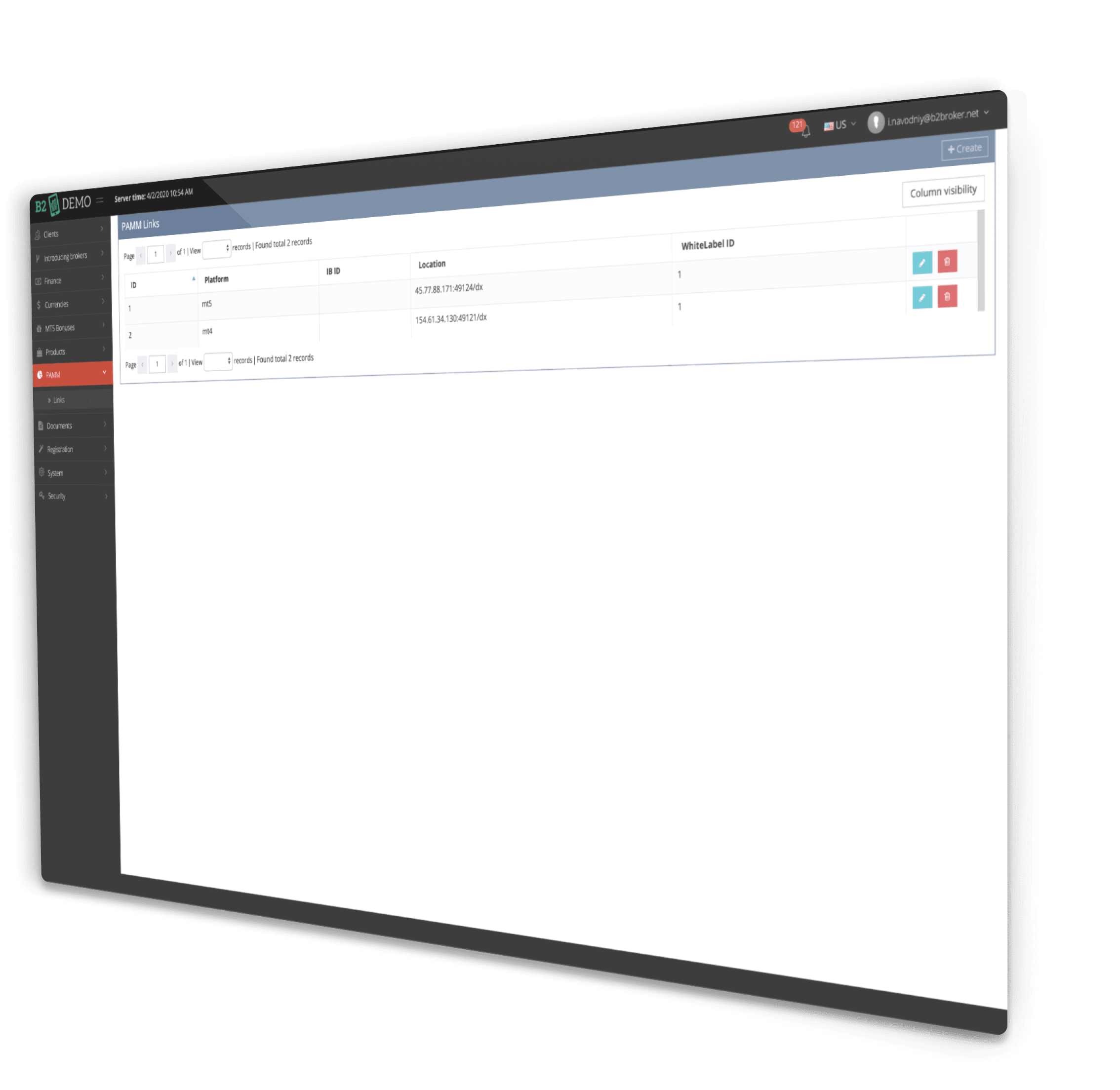 PAMM
Create Multiple Connections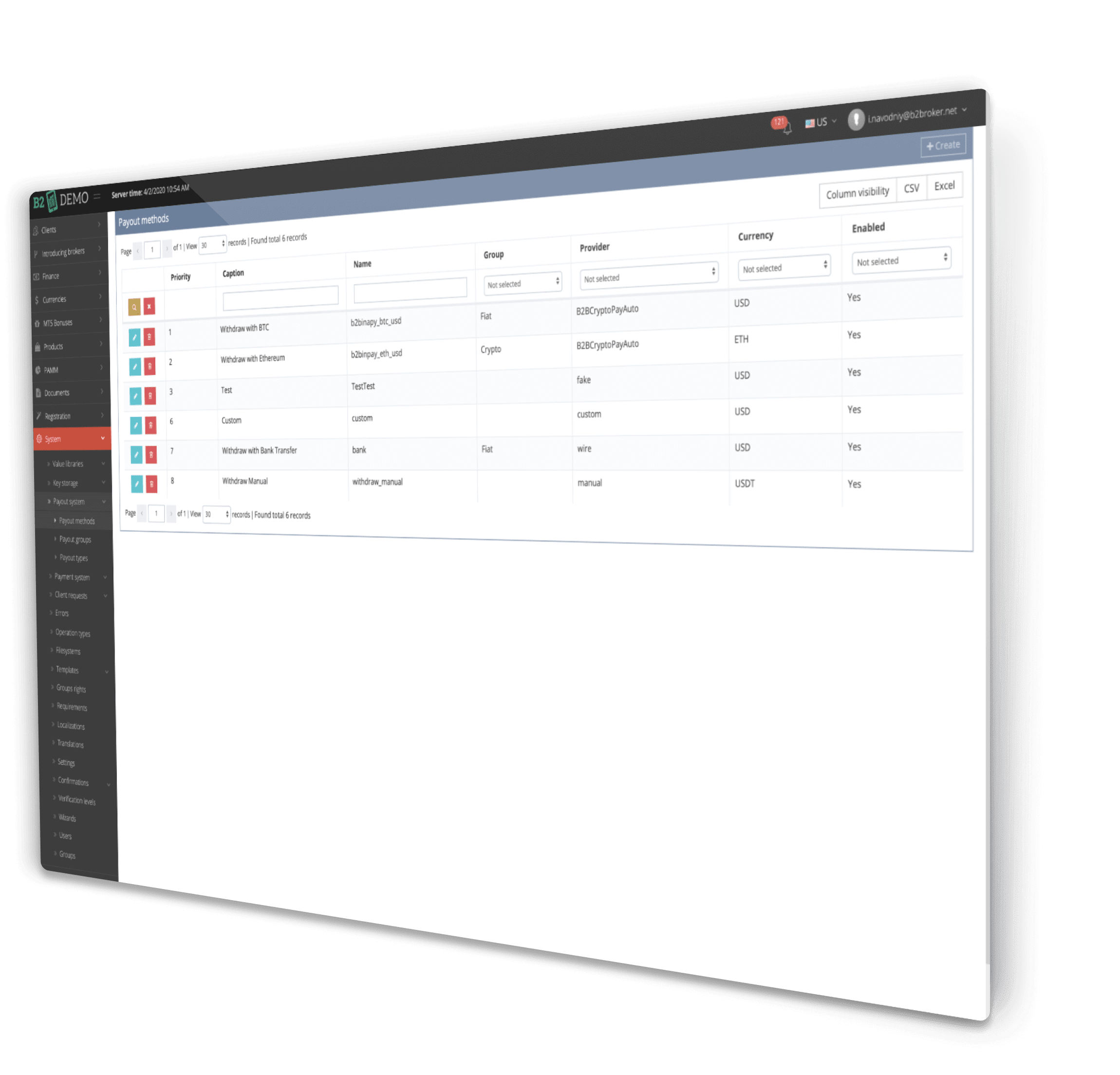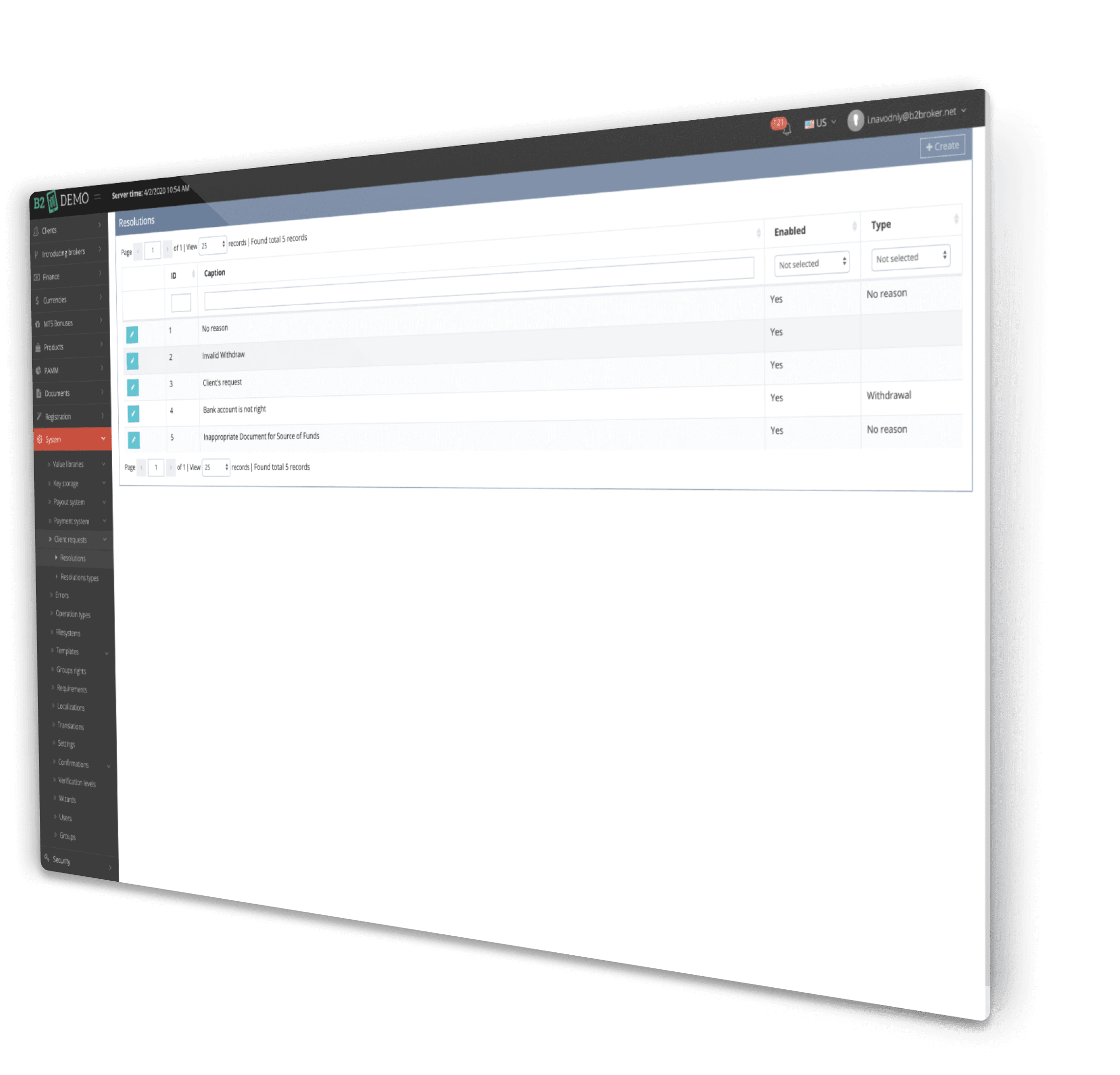 Client Requests Resolution
Enable/Disable Resolution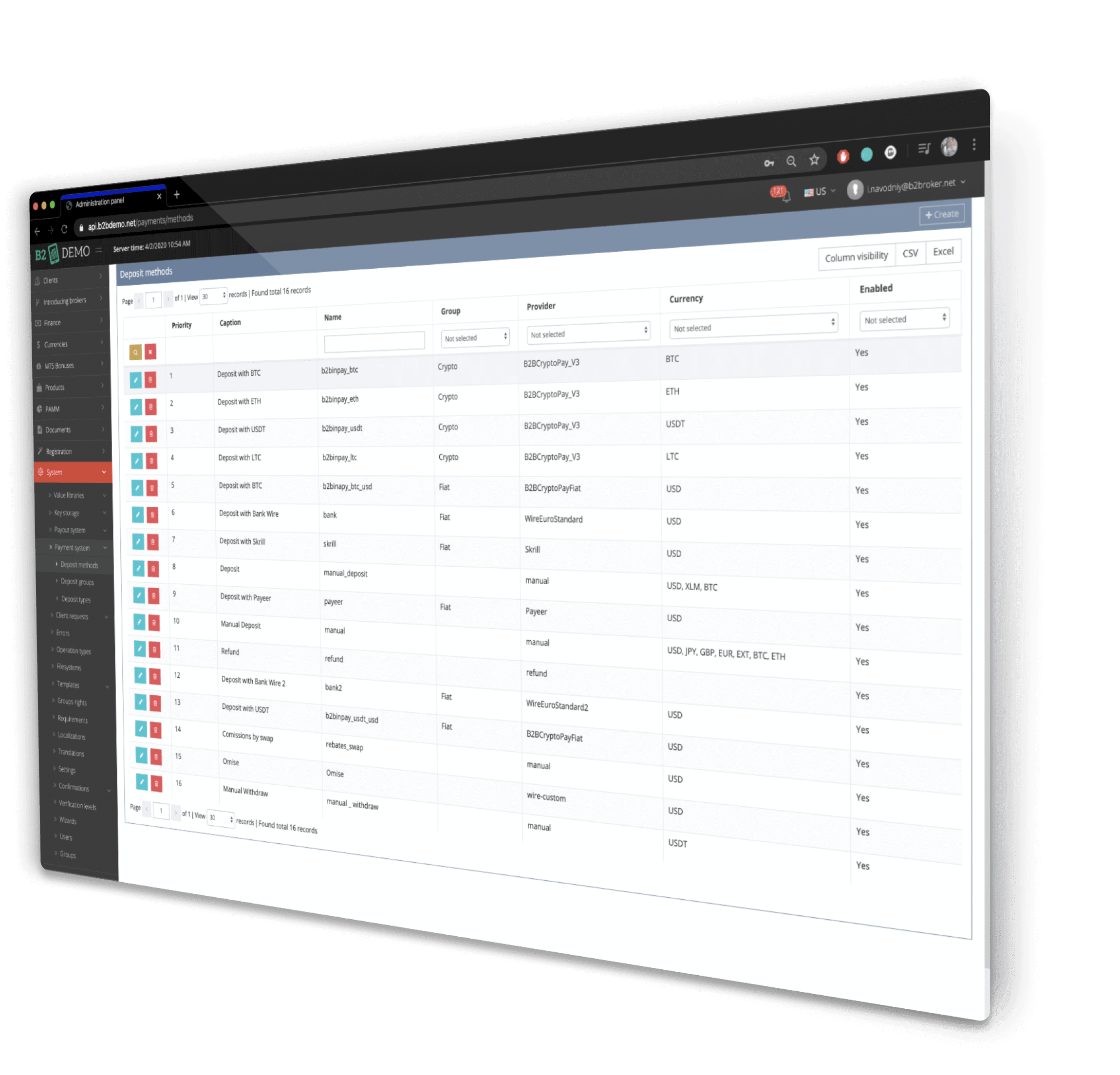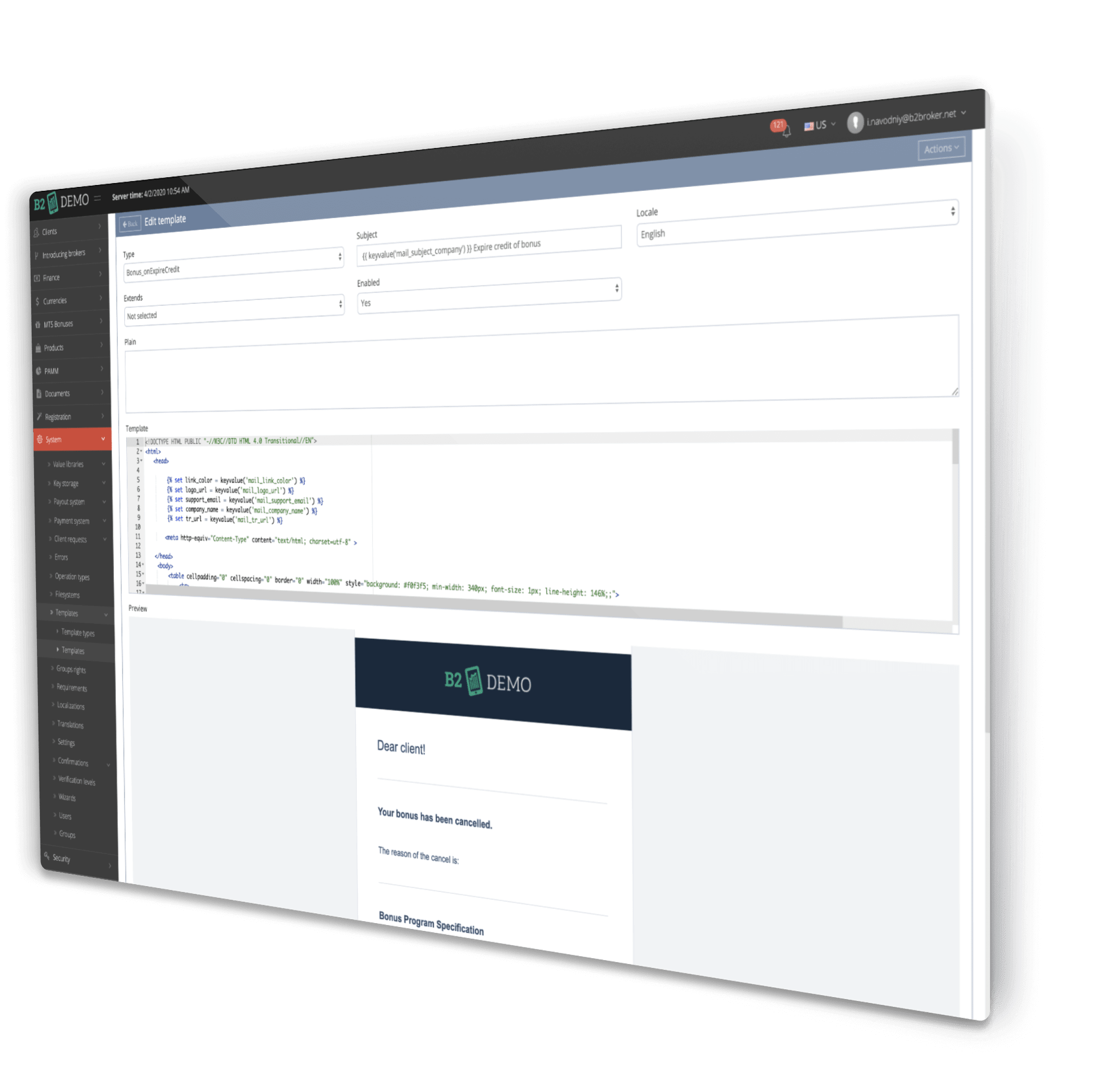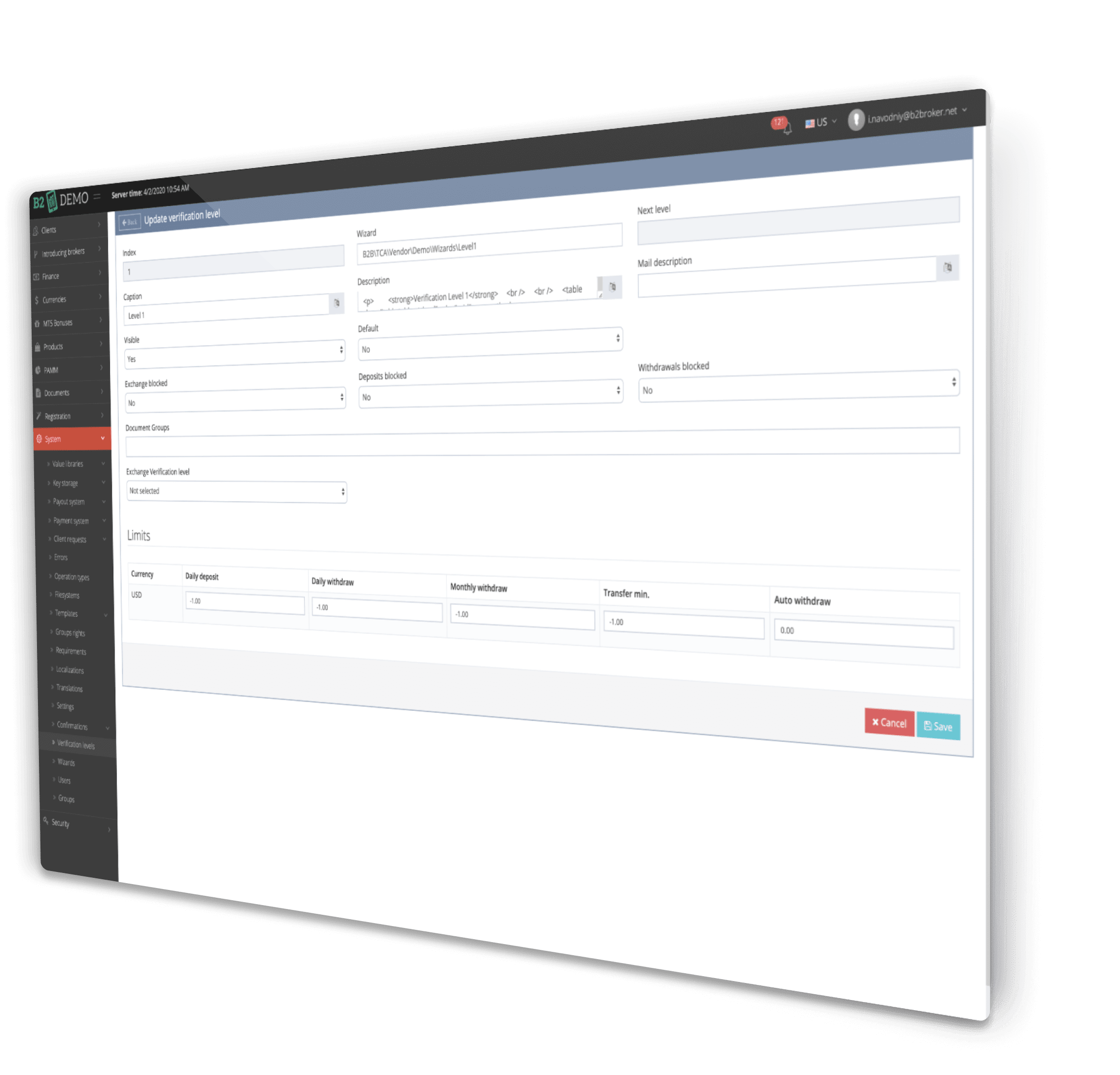 Verification Levels
Create/Edit/Delete Levels
Construct Document Groups
Verification Level Limits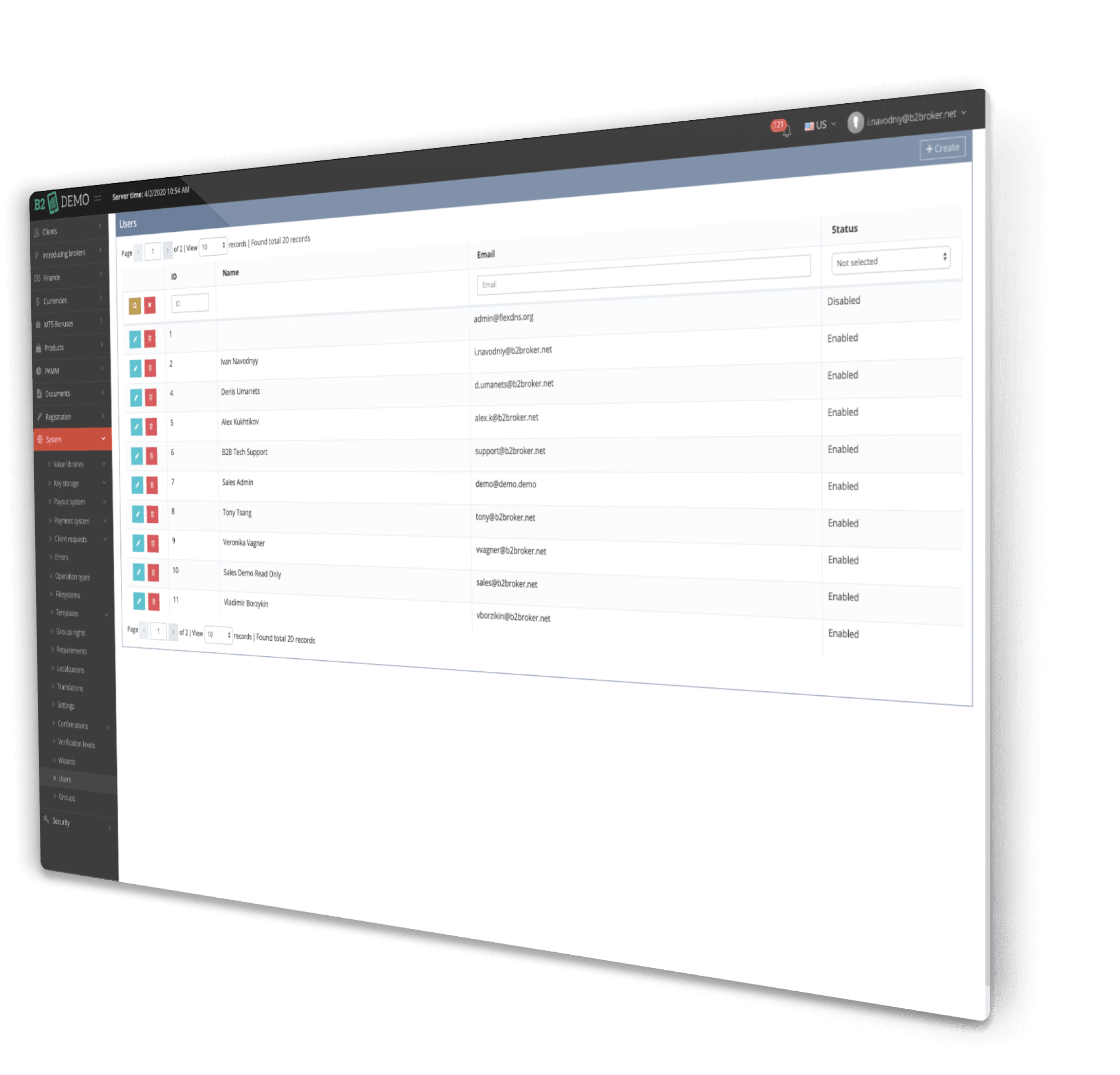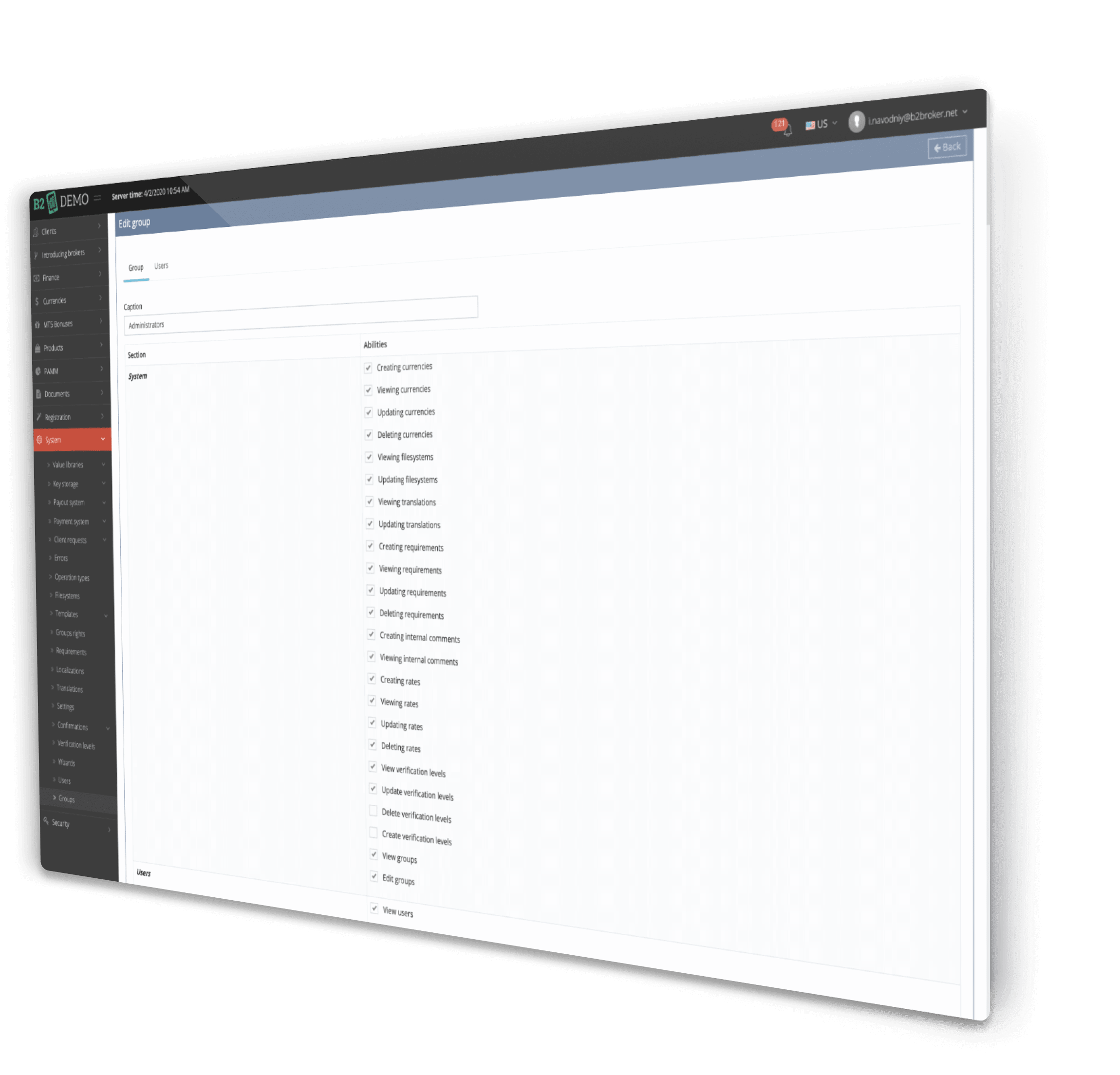 Get your
B2Core
Get your product set in a matter of days. Simply leave your details below
A web interface for a crypto-crypto/fiat-crypto exchange in a few clicks. Full customization, REST API connection to any exchanges and providers. You can do markups, add any pairs and connect it to any liquidity provider or carry out internalisation.
30+ integrated PSPs, EMIs, E-money, Banks and other payment providers can be enabled in under 5 minutes after completing the necessary paperwork.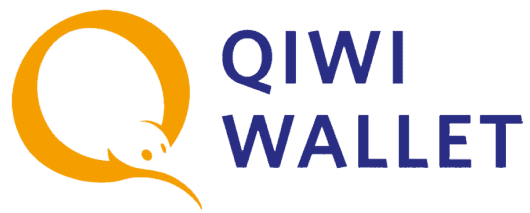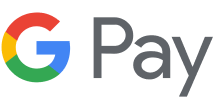 Quick launch
in 1 week
This solution is used by far too many businesses for you to ignore. Get it now!
The affiliate module is the best marketing tool in FOREX and cryptocurrency space. Any trader can become a partner.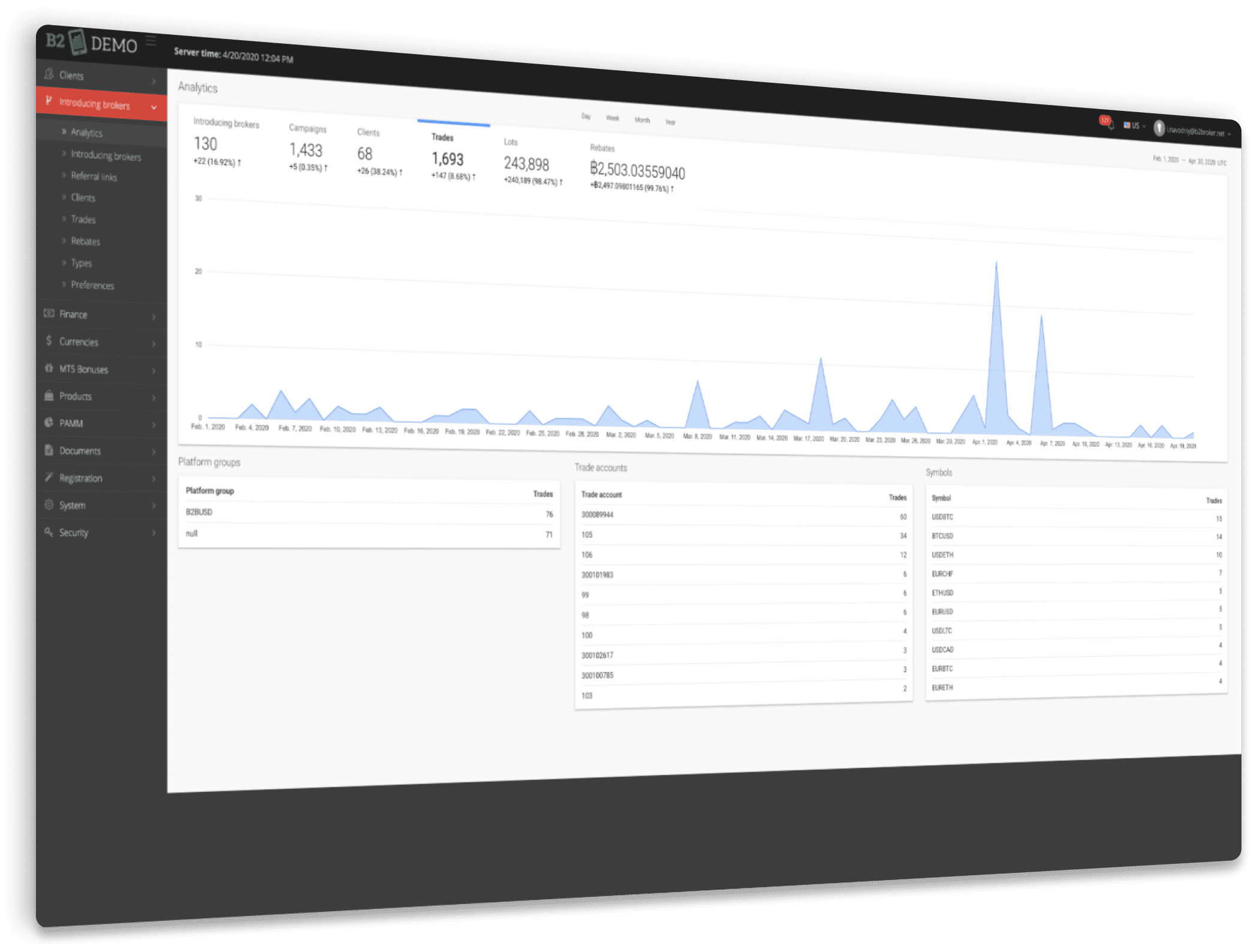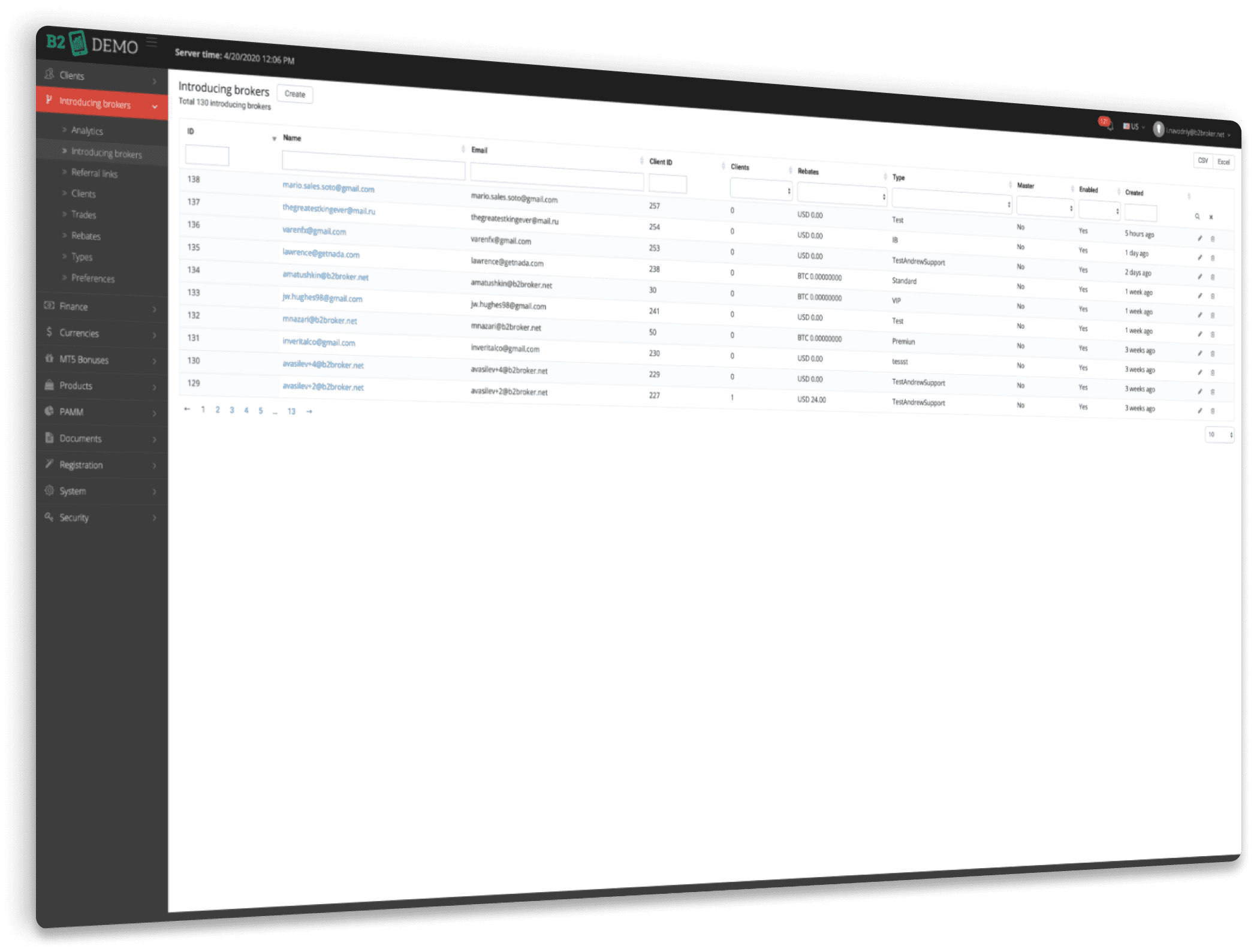 Introducing Brokers
View IB Clients & Rebates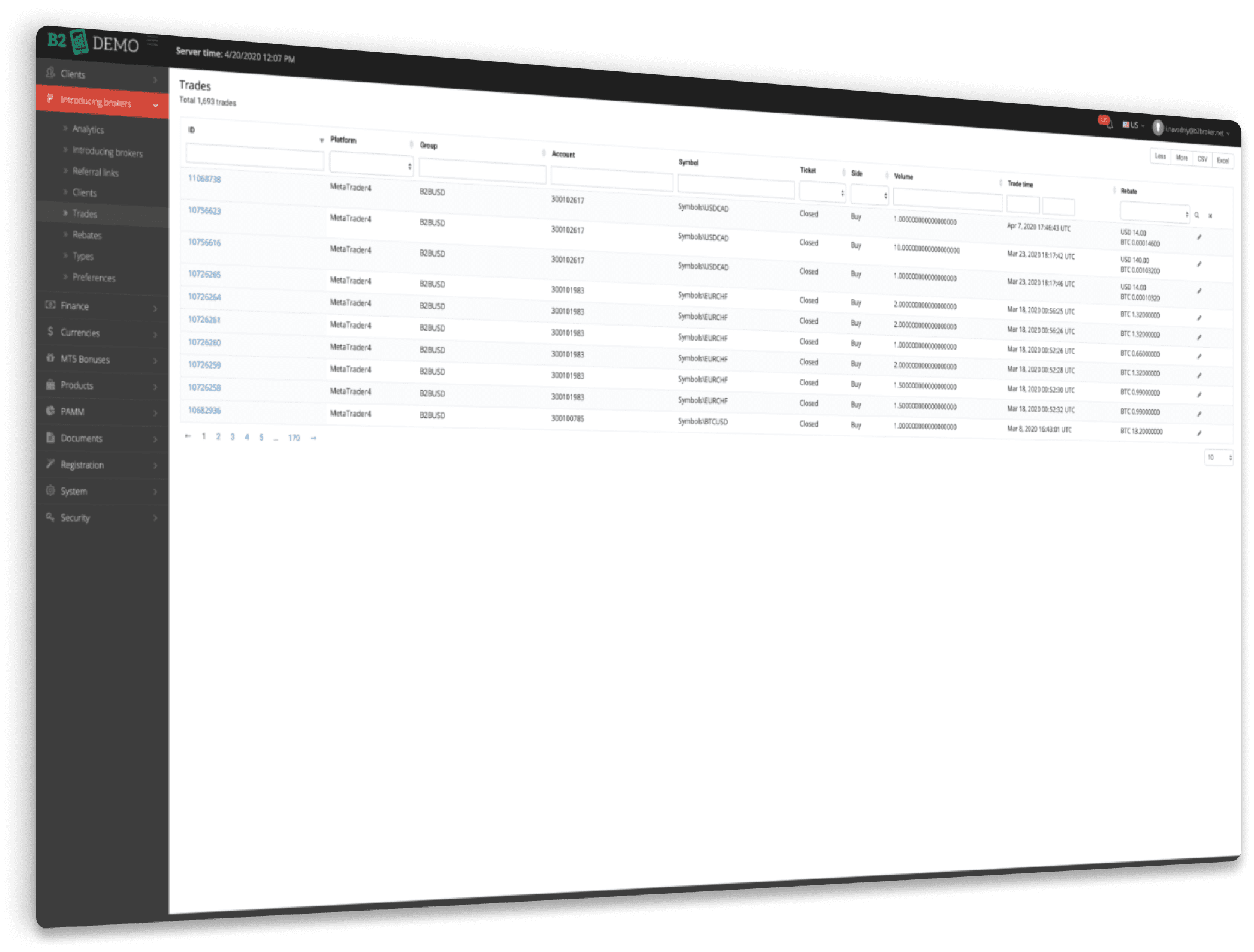 Trades
Trades Data (Group, Symbol etc)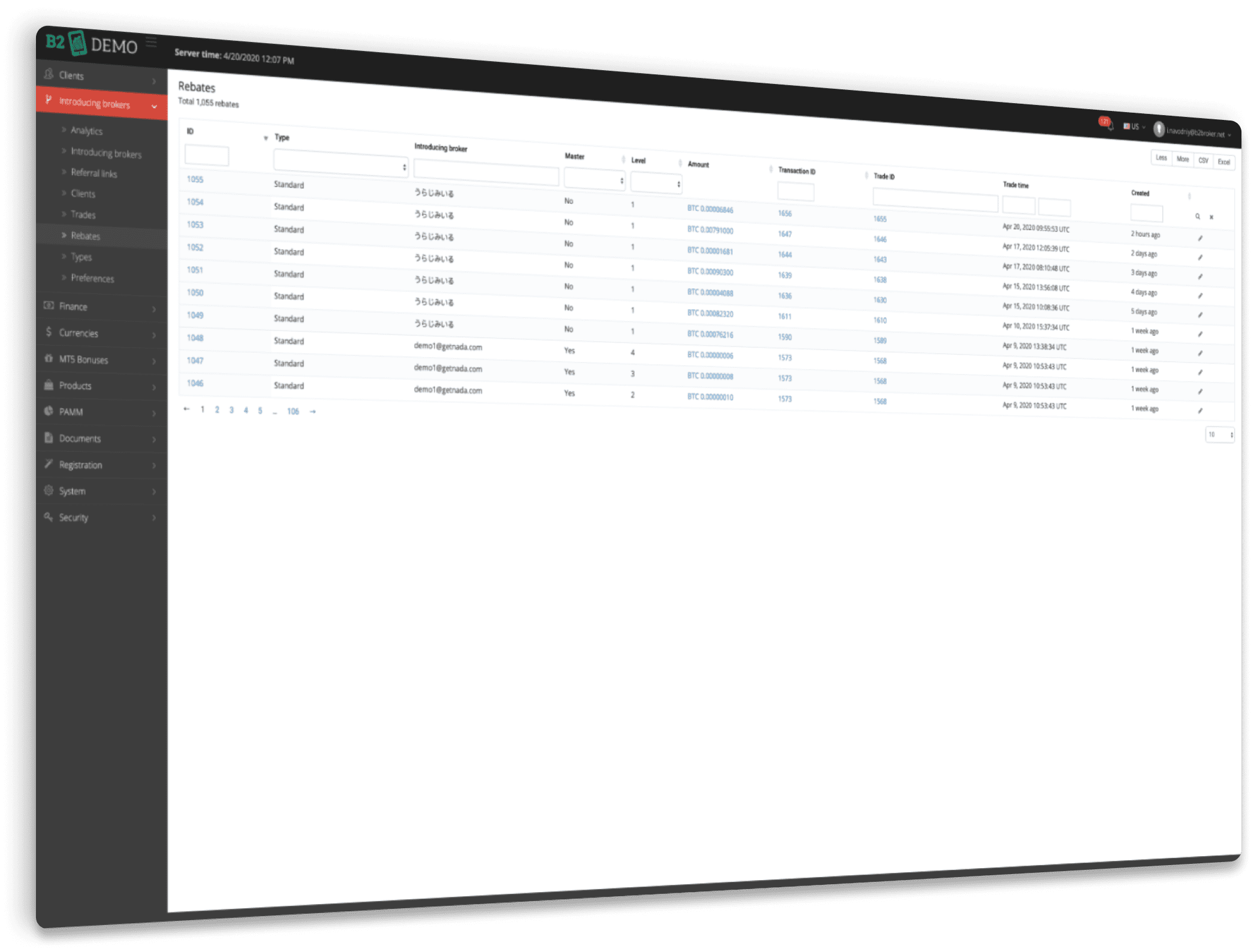 Rebates
Rebates Data (Trade ID, Trade Time etc)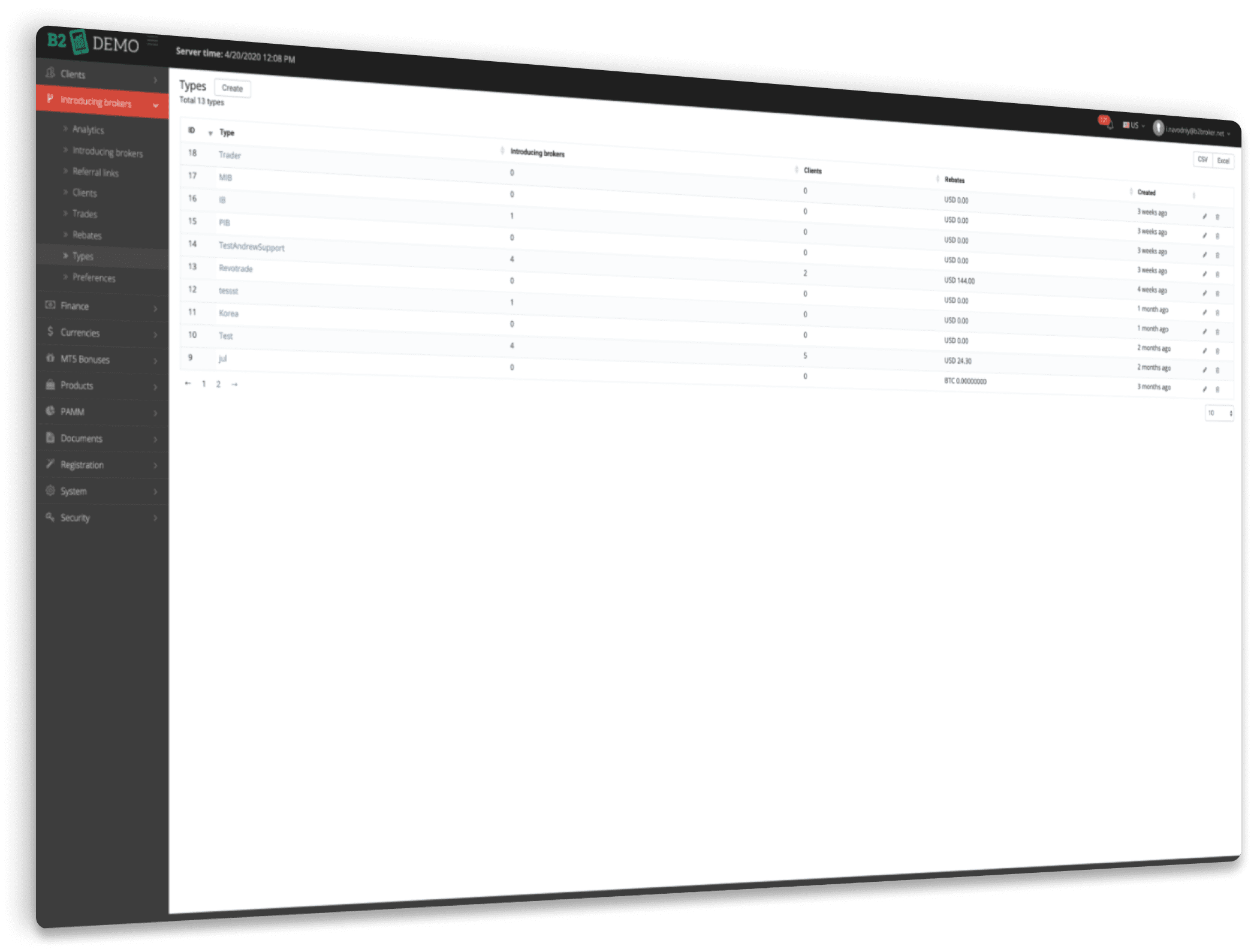 Type of IBs
View Daily Sliced Rebates
Assign Personal Rebates for Each Symbol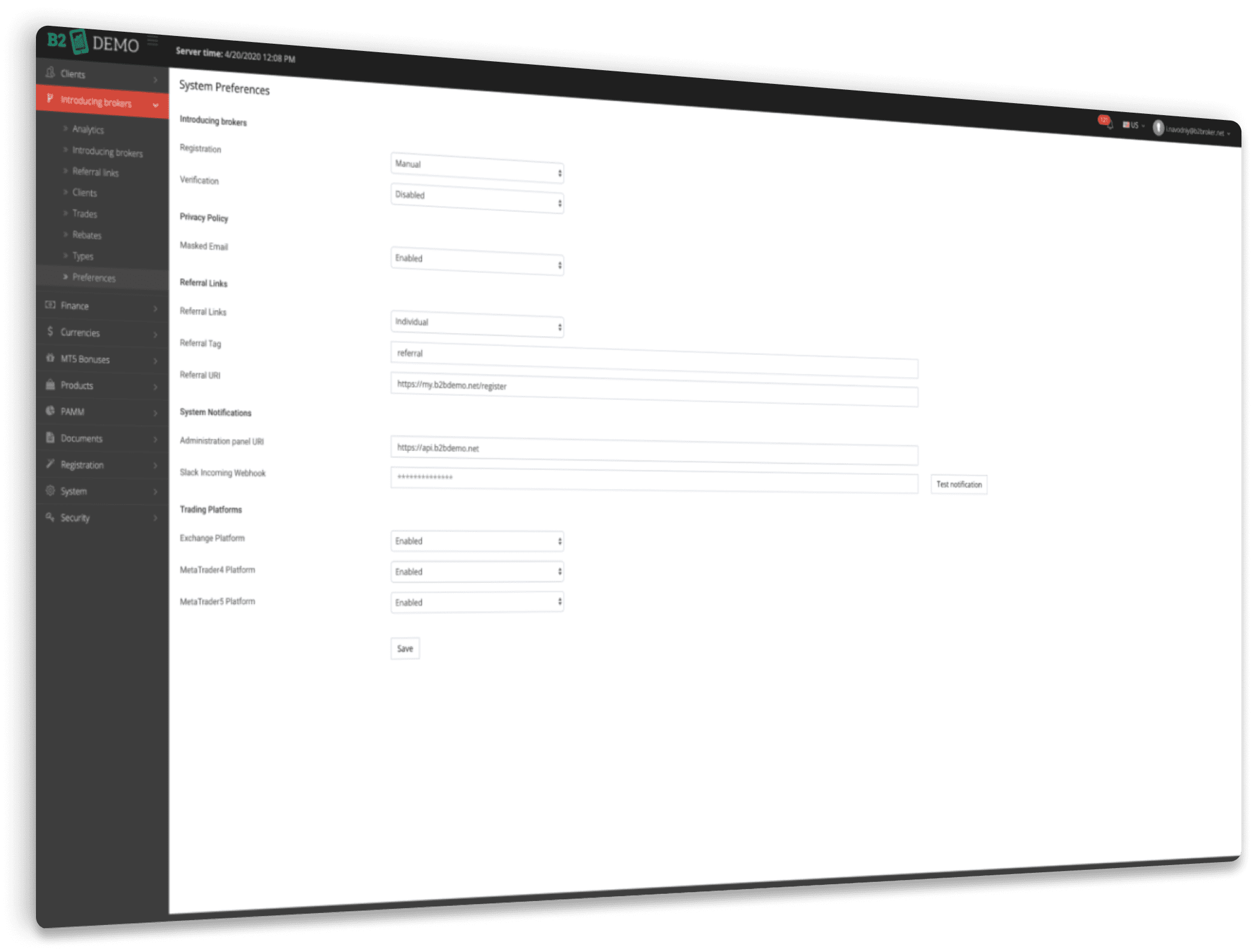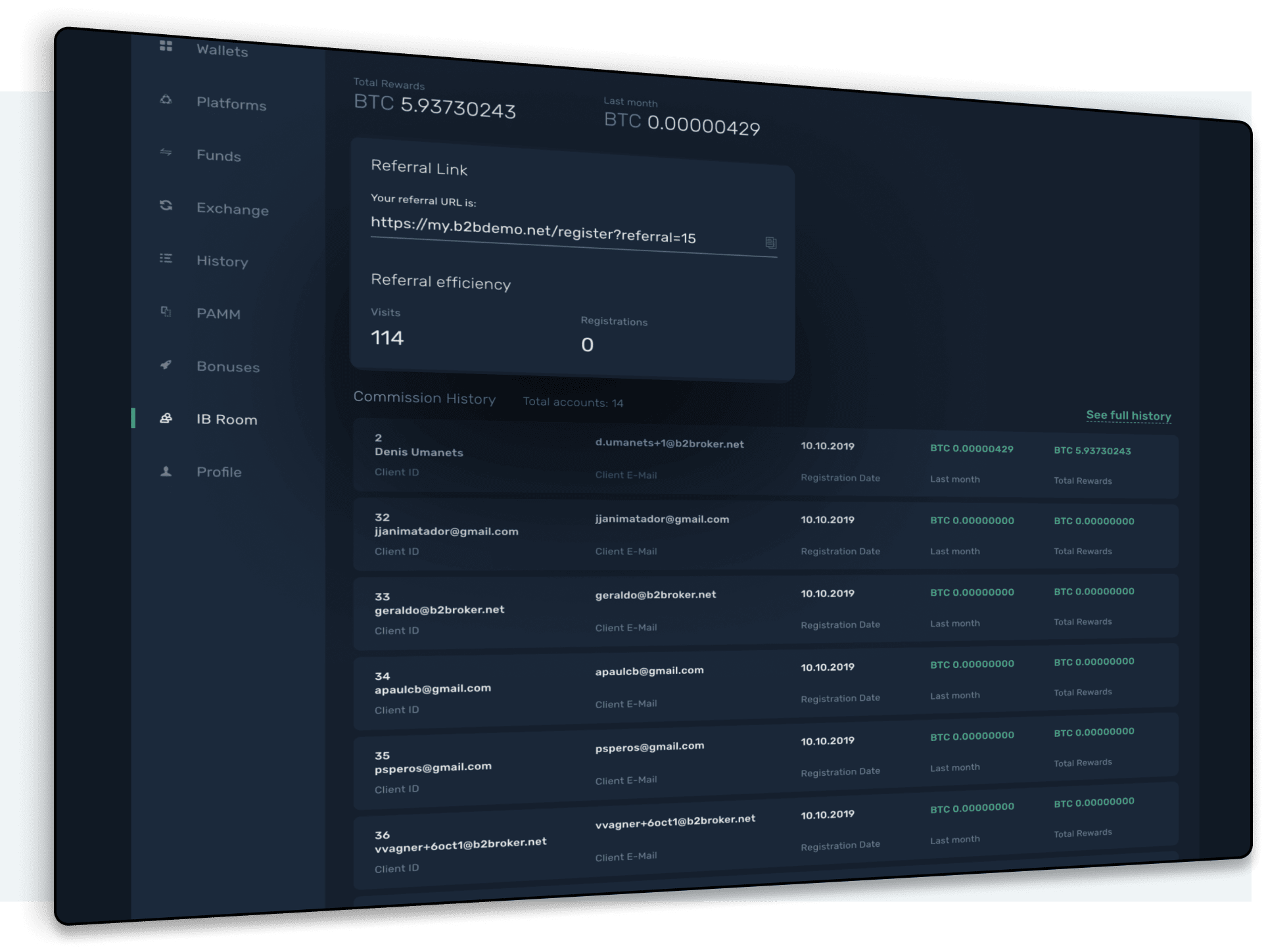 IB Room
Withdraw to Personal Wallets
See Full Commission History
Supported platforms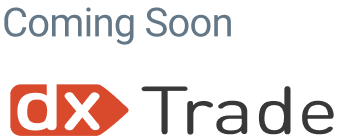 Multiple Business Support
Rebates calculation based on stop trading platforms, marginal trading platfomrs, converters and many more.
Nomination
IB accounts can be nominated in any fiat or cryptocurrency.
Reporting
A detailed reporting system showing rewards and transactions.
Tiers
Add an extra incentive to expand a partner's community by increasing the rebates multiplier depending on their base results.
Data Tables
Quickly search through partners, their clients and all details regarding their trades in a UI-friendly admin panel.
Statistics
View statistics of referral activity together with the number of visits and registrations.
Multiple Calculation Bases
Offer your partners the chance to have dynamic rebates with an adjustable formula calculation. Calculation and accrual of commissions are performed in a personal account.
Levels
Unlimited level-based partners program that rewards not only direct IBs with commission but a much broader span. Multi-level up to 30 levels.
Visualised Analytics
Admins can view all the combined data in the most convenient way and quicklybuild a strategic plan for IB Room evolution.
Know-Your-Customer is an important procedure for any broker and exchange. We offer ready integration with the leading global KYC providers and can integrate any additional ones.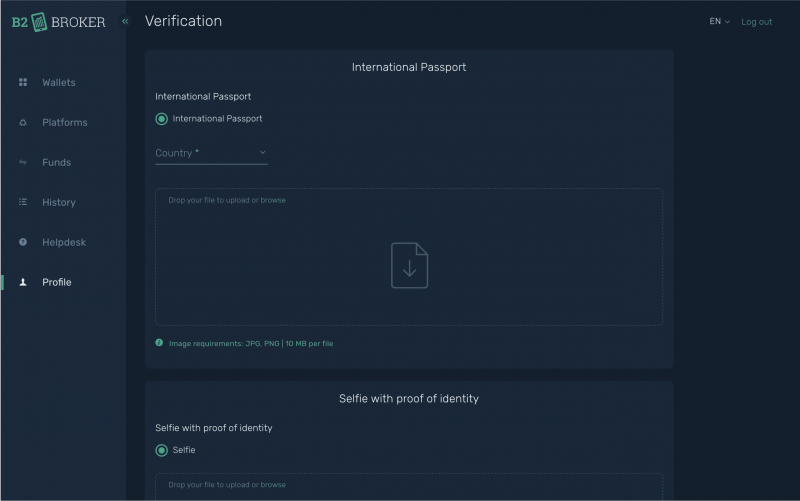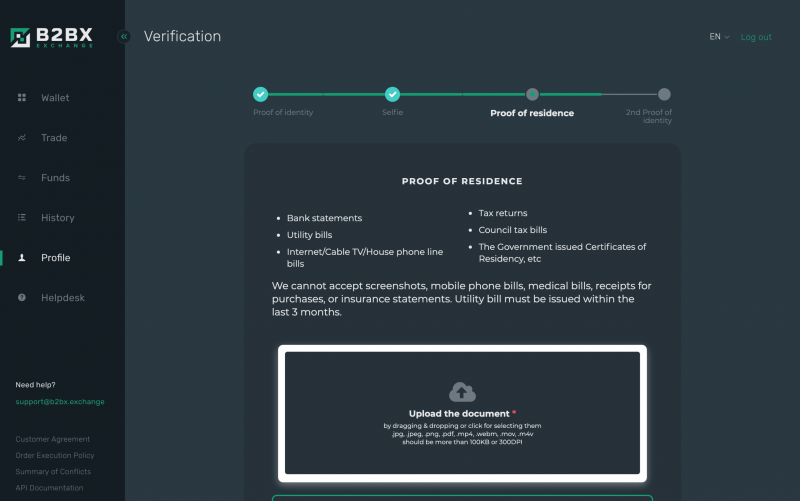 Integrated with

API - integration with the data passed from server to server and the front-end being on the B2Core side.
WebSDK - Sumsub front-end integrated into B2Core front-end and adapted to the client's colours so the flow is as smooth as possible when passing the Liveness check.

API - integration with the data passed from server to server and the front-end being on the B2Core side.

API - integration with the data passed from server to server and the front-end being on the B2Core side.

API - integration with the data passed from server to server and the front-end being on the B2Core side.
API - integration with the data passed from server to server and the front-end being on the B2Core side.

API - integration with the data passed from server to server and the front-end being on the B2Core side.
We have developed functionality that allows admins of the product to make adjustments for a large amount of users in a few clicks. The system already supports 6+ actions and we are constantly working to expand them further.
Change Internal Client Type
Change Verification Level
Security is our priority! We have conducted dozens of vulnerability tests with over 1,000 attempts to hack into our solutions with no success. Based on this experience we have developed functionality that will allow you to predict and avoid any slipups.
2FA
Ensure your account access has only verified accounts with an extra layer of security, supported by phone number and Google Authenticator.
IP Whitelist
Whitelist the withdrawal wallet to receive outgoing funds to trusted destinations only.
Restrictions
Block certain functions to specific clients, countries, verifi-cation levels and much more for effective coordination and organisation in your system.
Anti-Fraud
A homemade anti-fraud system enables vulnerabilities from your end-users actions to be tracked.
Rights-Based Access
Enables you to split access across various departments in order to withhold information from unnecessary eyes.
User Comments
Keep a journal on each of your clients which can be used for different purposes such as dealing, risk, legal, etc.
Documents
Track the history of KYC uploads to check on expired documents and potential fraud, etc.
IP History
Examine all entry points to B2Core in order to establish the potential for attacks to your system.
We have developed a highly scalable alerting system which will allow your managers to receive real-time warnings about suspicious activities in order to mitigate the risk.
Customizable Events
We already have 5+ events which make it easier for the compliance team to monitor any potential breaches in the system activities and are continually developing more.
Recipients Configuration
Add only responsible people as recipients of email notifications regarding a particular event trigger in order to keep your team focused only on relevant matters.
Whitelist
There are always exclusions to the system so for every event we create a whitelist with parameters that should not trigger an event.
Procedures
Create custom procedures for every event type so that after the event has occurred, your team will know what to do and can take immediate action.
Notification Details
For each event that occurs, there will be a detailed view of all account details and the listed procedures of the event.
Procedures Log
Responsible people will be able to work with the procedures by moving them to a different status. Everything will be logged inside the event to keep track of everything.
Get your
B2Core
By owning this solution you get access to every functionality update that will make you a leader in the industry!
More

Interesting

Integrations
SMS-services
Allow your clients to verify their account and consequently secure it using their phone number.
Email-services
Easy connections to email services to quickly analyse data and the ability to send emails to existing B2Core clients.
Google ReCaptcha
Secure your product by connecting it to the system which checks for potential DDoS attacks and fraud.
Google 2FA
Allow your clients to protect their account and all the data there by simply connecting to Google Authenticator.
Marketing Tools
Create events for your user activities to enable your marketing team to base your marketing campaigns on the deepest analytics data.
Trading Reporting
The ability for retail traders to see their true trading costs and compare their execution quality to the market average.
Create your own developer account in Apple Store or use our ready-made account.
Deposit/Withdrawal/Transfer
Open account in trading platforms
External
CRM & Ticket Systems

Integrations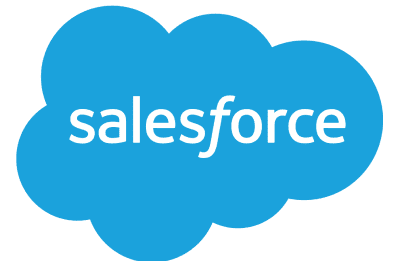 Quick launch
in 1 week
B2Core is compatible with a large number of external systems. A unique offering! Get B2Core now!
MTA
ELK Logs
Queues

Monitoring
DatabaseCluster
Translations
Front-End
Admin Panel
Users
API
IB Module
Web
Trading UI
KYC SDK
Mobile App
Back-End
Core
Production
Access
AWS
Load Balancer
Scaling
GEO DNS
Firewalls
Services
Trading Platforms
PSPs
KYC Providers
Integrations
Trading Platforms




PSPs
KYC Providers
And any other integrations
We have deployed the cloud network infrastructure on the Amazon servers and configured GEO DNS around the world so you can instantly load your services from anywhere in the world.
Education

and

Traning

in

your language
We speak English, Spanish, Arabic, Russian,Chinese (Mandarin & Traditional), Hindi, Urdu, Farci, Ukranian, Belarusian & Turkish.
We provide a whole range of educational materials and documentation and are able to help with in-depth training for your team!
B2Core updates are first deployed to the staging environment for client testing and proceed to production deployment only after approval. This is done to minimize the risk of bugs on production and is a scheme that will make your product the most stable on the market.
Configuration
Changes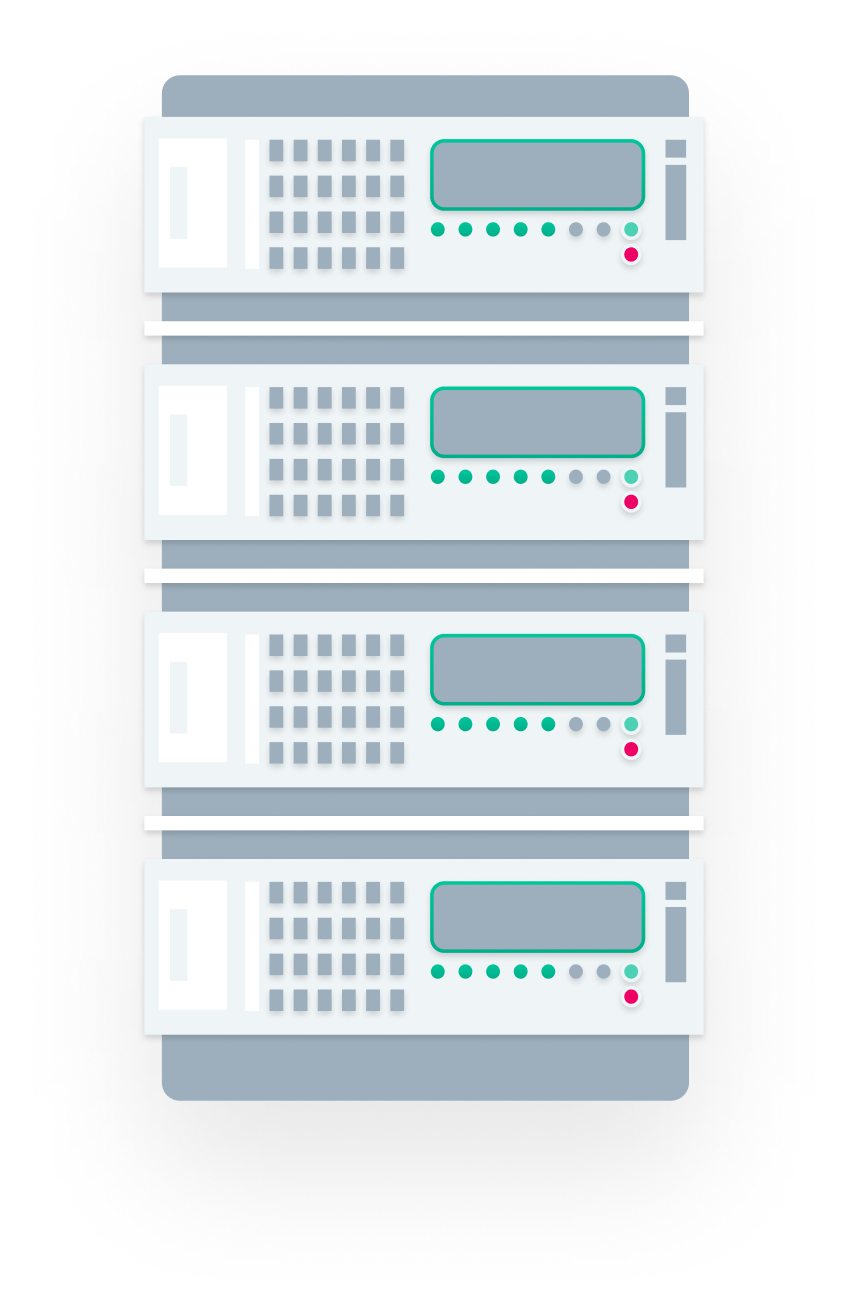 Promote
Changes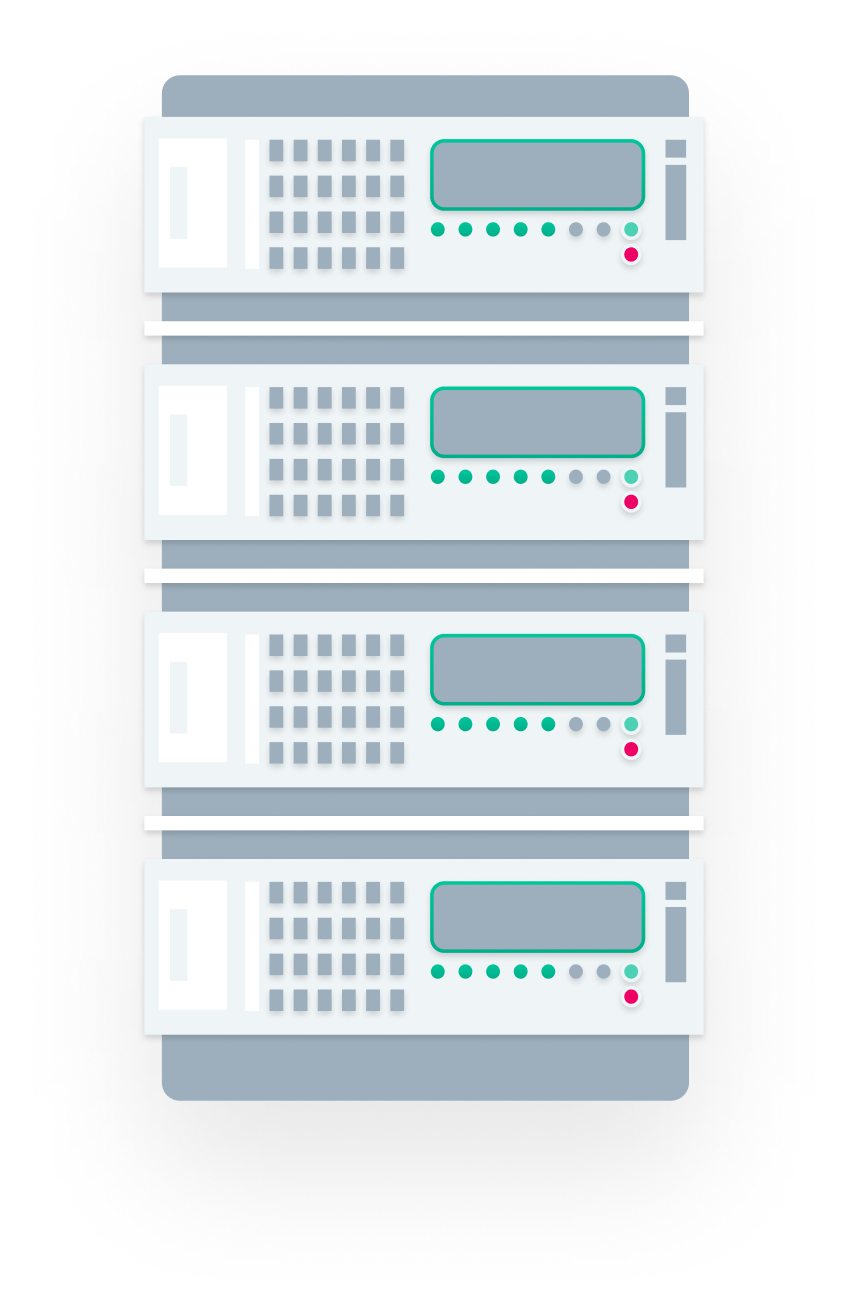 Approve
Changes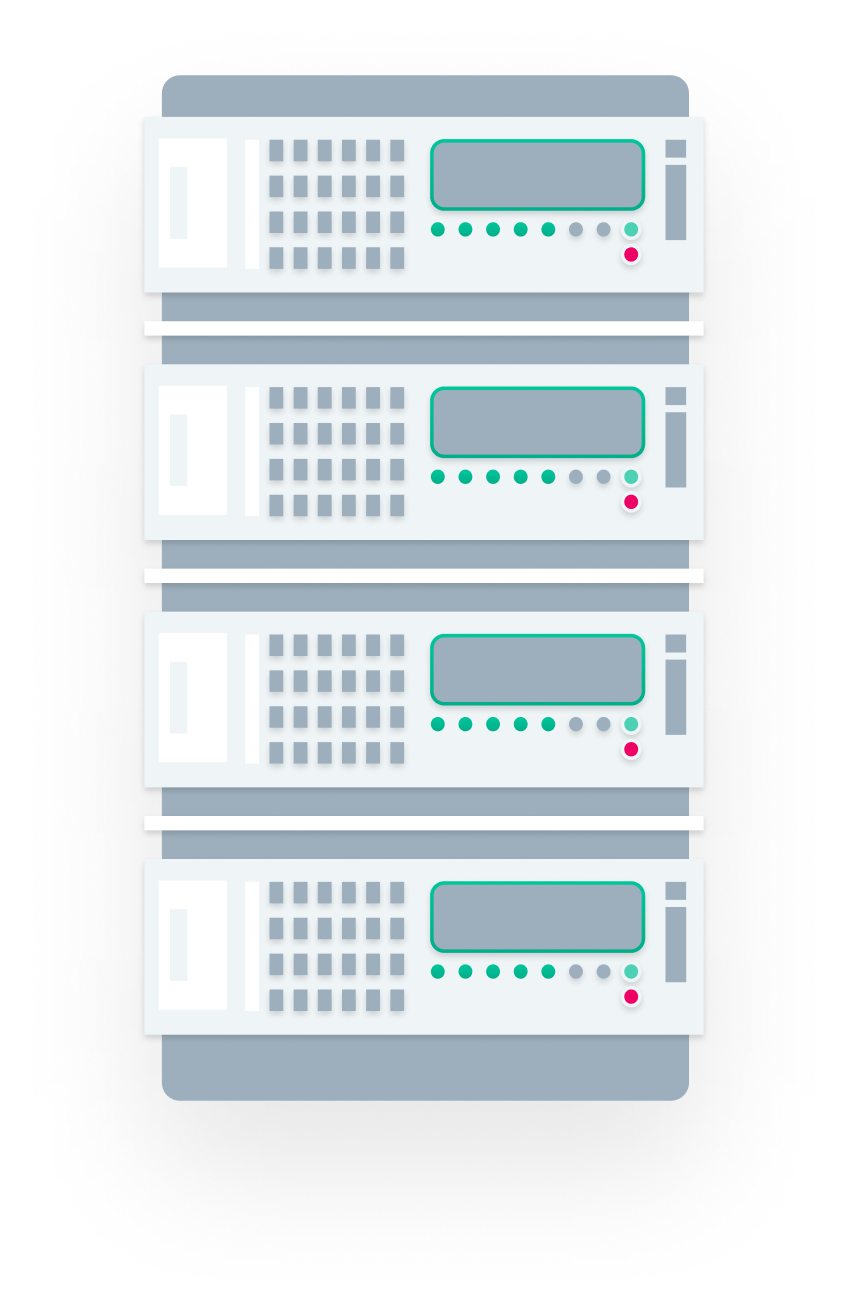 Separate Entity for Internal Testing
Absolute Recreation of the Production Product
Pre-Release of the Features on Staging
Money Management

platform Integrated
Money Management

Wallets
Platforms
PAMM
Funds
Exchange
History
Bonuses
IB Room
Profile
Get connected in 5 minutes via your B2Core
PAMM
MAM
Copy Trading
Get your
B2Core
B2Core is a customer-oriented solution. We always welcome customer development and are open to ideas!
Technical
Support

& Availability
Our professional customer service team is available round the clock to assist you with any queries. Please do not hesitate to get in touch.
How to Get Your B2Core Solution
4
Provide SSL & SMTP creds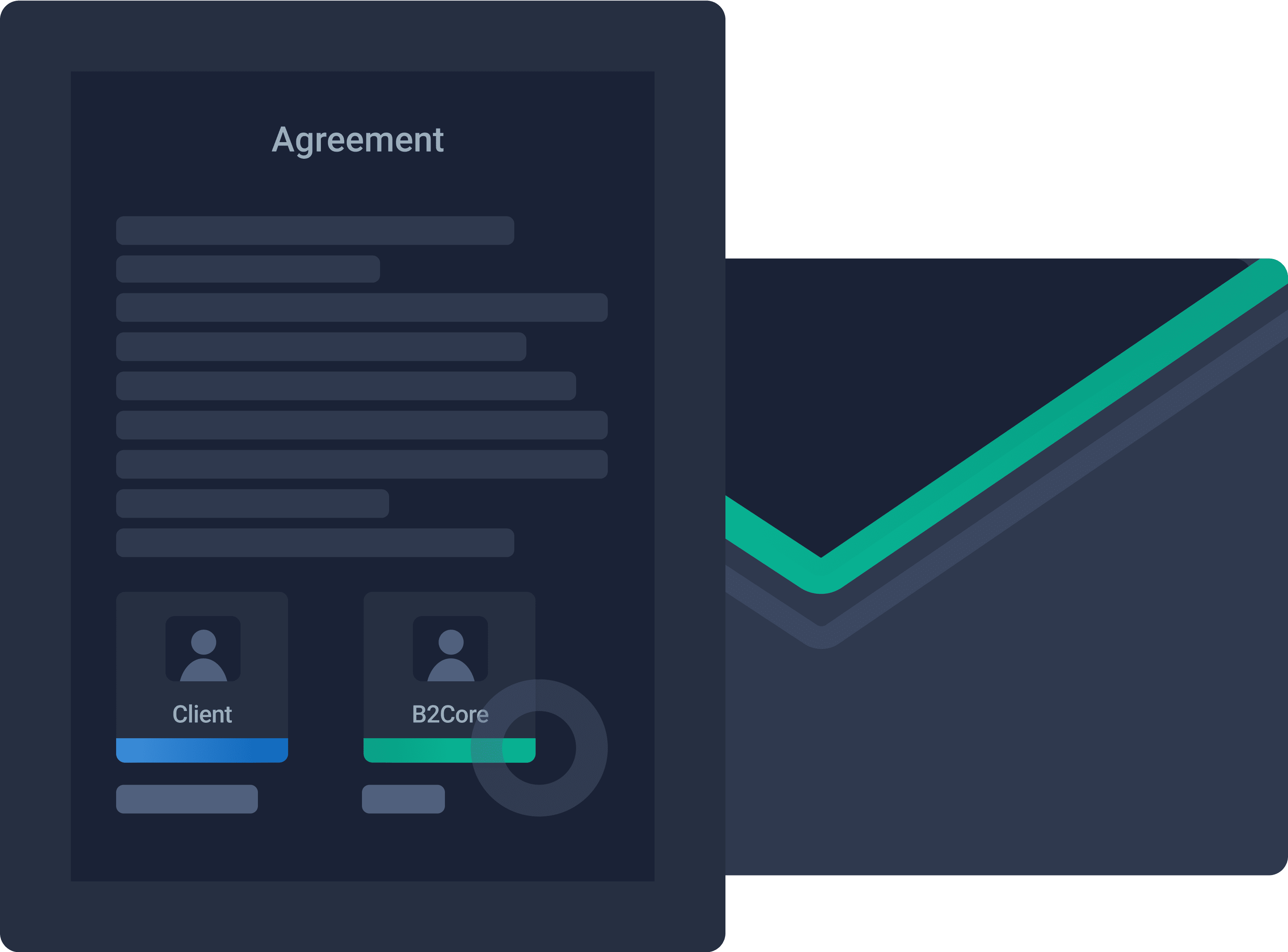 Sign agreement
Our Business Development manager will contact you to take care of all the legal details and will send you a detailed contract for B2Core services. Sign the agreement in order to proceed with onboarding and to access a personal account manager who will assist you in any way.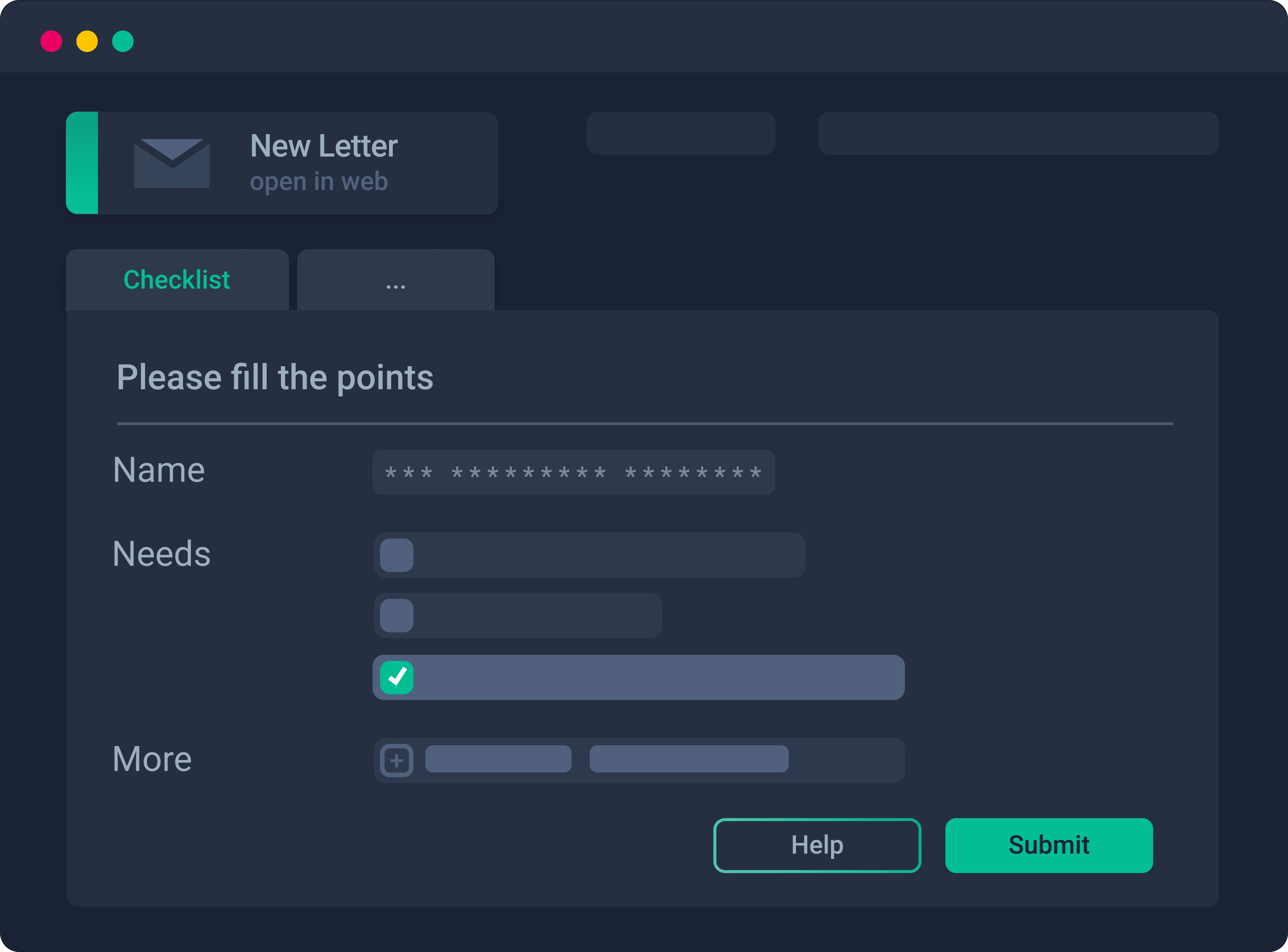 Complete checklist
This will allow us to have a better understanding of the end product and set it up correctly. An account manager will be on hand to assist you.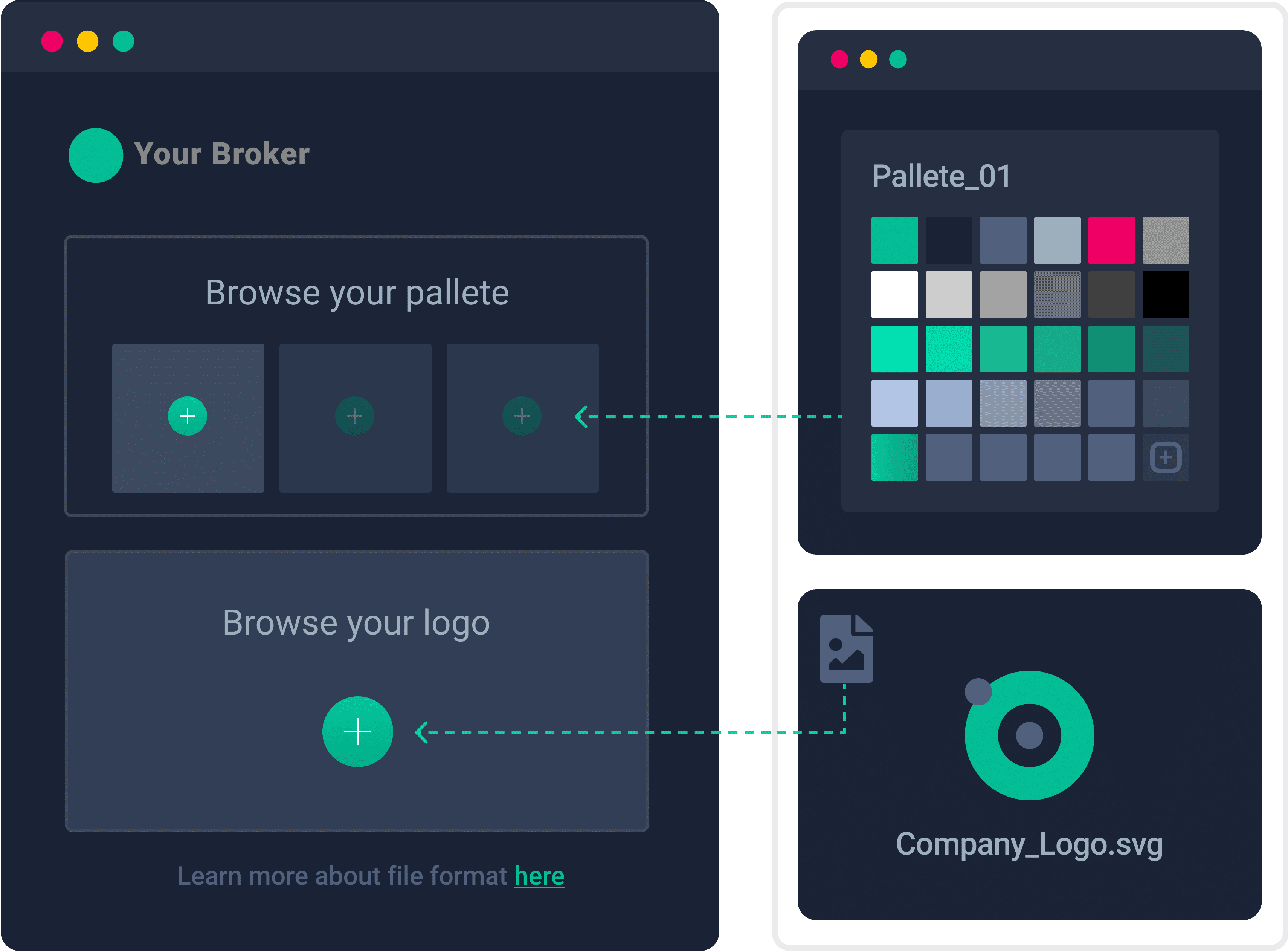 Provide Color and Logo
You will indicate us the desired colors in addition to the logosin order for us to create a solution of your dreams.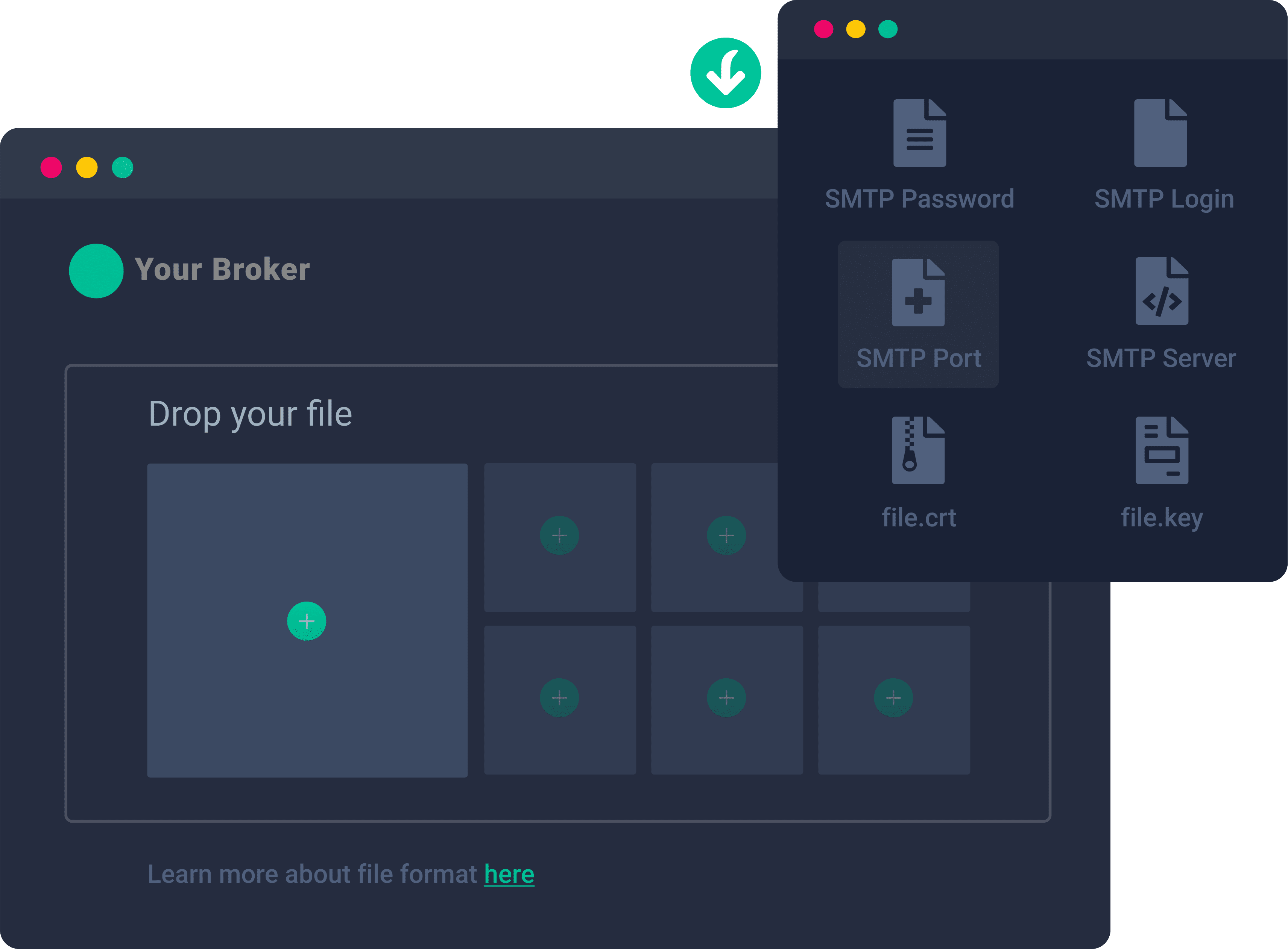 Provide SSL and SMTP credentials
B2Core will be based on a subdomain of your main domain name. We will provide you with detailed instructions on what needs to be done in order to send us these details.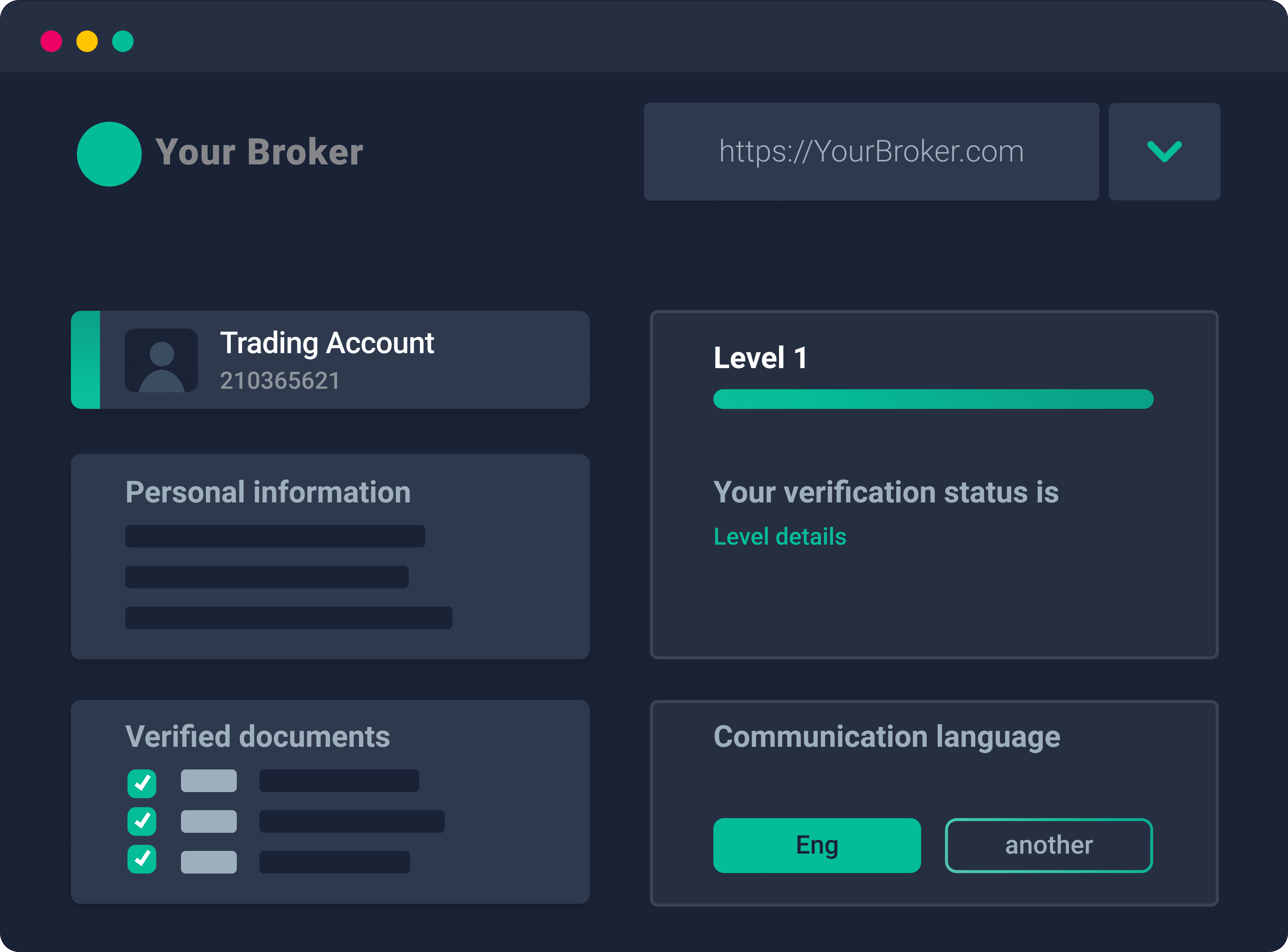 Start working
After B2Core completion, we pass you the admin credentials, details of your solution and will give you a personalized training of the functionality.
Have a question? A source of useful information about our products and services.
What if I want to import the users from my previous solution ?
We support any type of data import, we will customise the script under your specifications and will make a migration so that all the data is safely transferred to B2Core.
After the purchase how can I familiarise myself with the product functionalities ?
We have built a strong onboarding procedures. You will have a personal account manager that will provide you with all the necessary documentation on the product possibilities. In addition, we will schedule a call with the product manager that will walk you through the functionality and will answer all of your questions.
What if I need something extra development for my B2Core solution ?
We have a team of 30+ dedicated developers that are working on B2Core improvements and new features and we are always open for client wishes. All you will need to do is to give us a technical description of what you want and our team will take care about the implementation and your personal account manager will keep you posted about the release dates.
How do I report any issues regarding the product ?
In case you find a bug in the product, we have a 24/7 Helpdesk system with 20+ Support specialists behind it. Your personal account manager will walk you through it so that once you face a problem you can quickly report it and our support team will immediately start working on the fix.
How can I connect the payment system that is already in your integrated list?
It is as simple as creating a method in your admin panel for deposits and withdrawals and entering the API keys in order to connect to the platform, this can be done in a matter of minutes.
What if I have a lot of managers and they all need different access rights to the admin panel?
Specifically for that we build a right-based User groups, where you will be able to assign to the users only the sections that are specifically needed for his/her department. In addition, we launched a tag system, that will allow your admins to monitor only the clients' data that are "tagged" to them.
How do I upgrade/downgrade from one package to another ?
In order to upgrade to a higher package you just need to inform the account manager about your decision and it will be taken care of from there. However, in order to downgrade from one package to another, you need to inform our team 2 month prior.
A Customer Relationship Management platform helps businesses manage everything related to their customers, from contact information and customer support inquiries to financial data and payment processing. In the Forex industry, a CRM is a tool that brokers can use to manage everything related to their clients' accounts, from Know-Your-Client (KYC) compliance to wallets and payments. In other words, it is a complete software solution that helps businesses in the Forex industry streamline their operations and improve their bottom line. This all-in-one solution can make it easier for brokers to keep track of their clients' needs and provide them with the best possible service.
Any other questions?
Don't hesitate to contact us using the form below if you have any questions not covered by our product page and FAQs section.
Ask us now
Get your
B2Core
We offer a large range of products and services to enhance your business operations. Check them out here...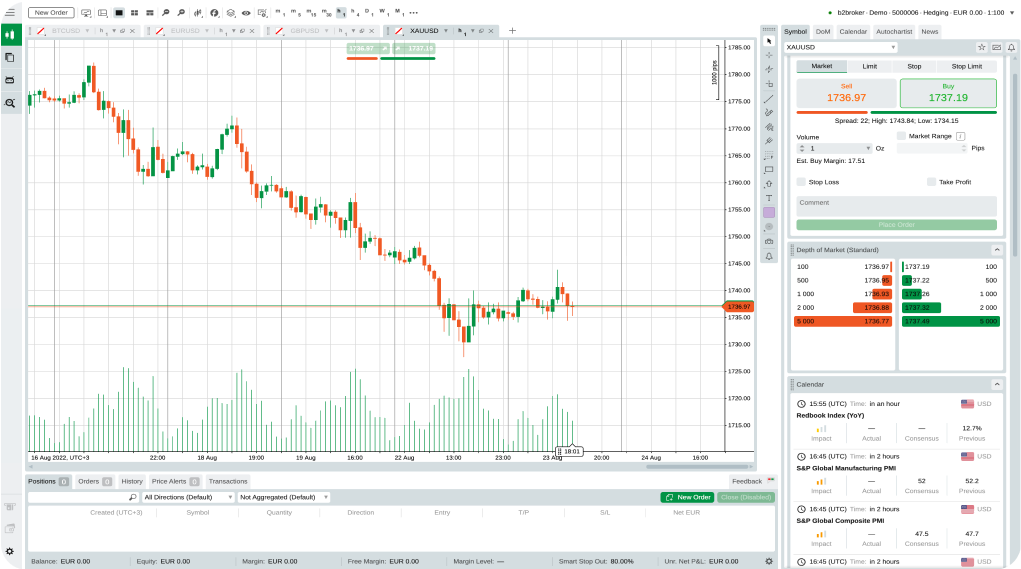 White label - cTrader
Full-featured brokerage infrastructure used by institutional businesses and retail broker dealers worldwide. By utilizing our white label solutions, brokerages can get up and running quickly.
Branded, fully-customizable ready made package
Advanced trading capabilities
cTrader Copy to copy trading strategies or become a strategy provider
Configuration and support of the server structure 24/7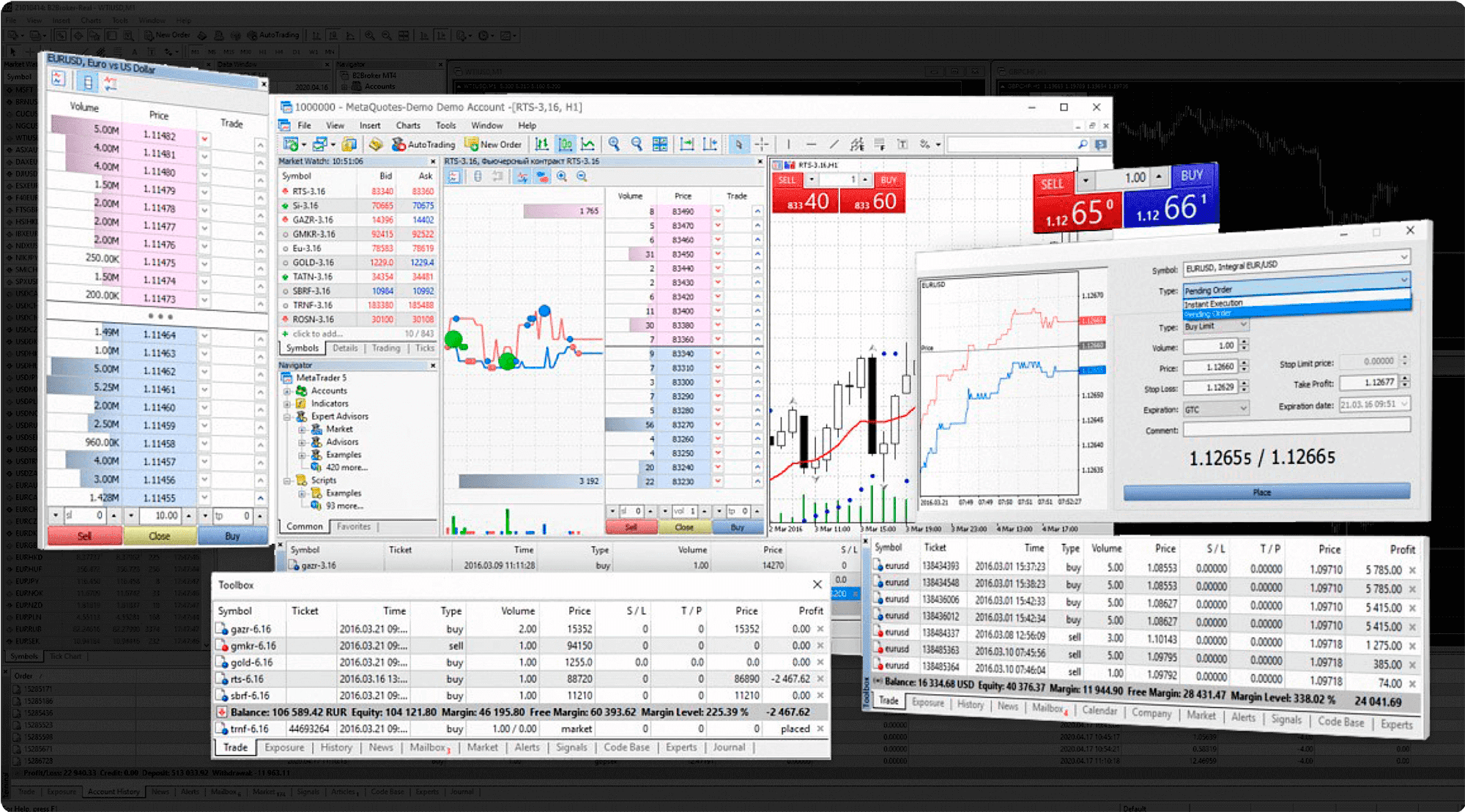 White Label MT5
The best and the most popular professional Forex/Crypto trading platform White Label solution tailored specifically to your brand.
Various nominations for accounts even in Cryptocurrencies
Fully-customised solutions
Professional 24/7/365 support
Hedging and Netting models support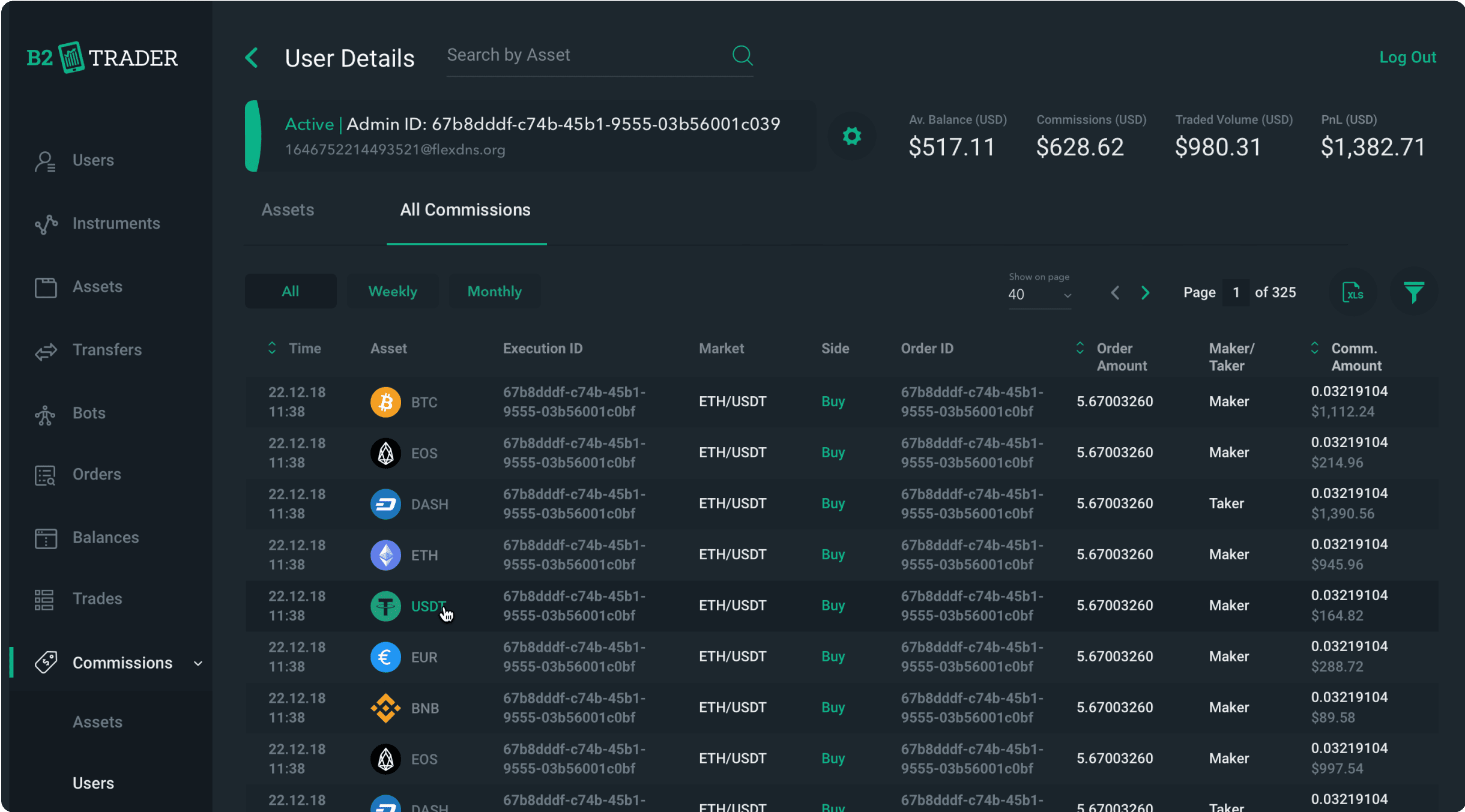 B2Trader (Matching Engine)
A feature-rich matching engine developed by B2Broker for high-loaded exchanges with a large number of clients.
Fulfill up to 10000 requests per second
Order execution less than 5 microseconds
Loyalty token with commission discount for end-users