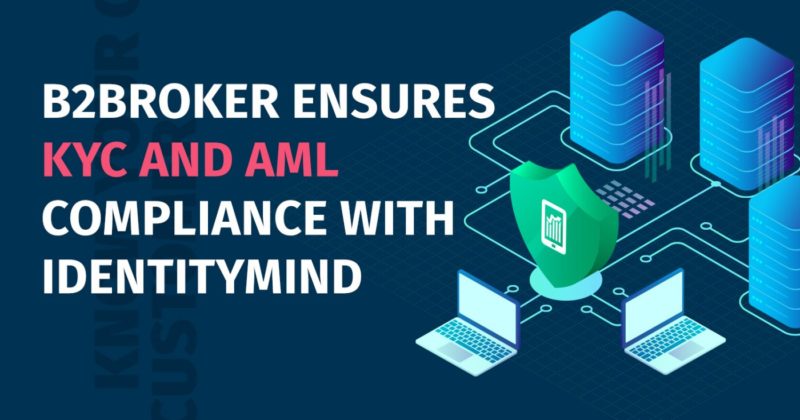 B2Broker از انطباق KYC و AML با IdentityMind اطمینان حاصل می کند
KYC (Know Your Customer), the process of a business verifying the identity of its clients and assessing any potential risk of illegal intentions for the business relationship, is an important process for any broker and exchange.

KYC has become standard business practice globally in the era of regulation in the financial industry. All stakeholders must be protected which is in the best interest for all parties concerned, especially where a lot of money is at risk. By complying with policies, financial entities reduce the financial risks of their business arrangements with their clients.
To adhere to its own strict operational and regulatory standards, B2Broker selected IdentityMind SaaS-based, Trusted Digital Identities platform for risk and compliance to meet its KYC and AML (Anti-Money Laundering) compliance requirements, both for itself and its clients across the globe.

It was imperative that B2Broker adopted a fully reliable way of performing KYC and AML compliance requirements, together with identity proofing, risk-based authentication, regulatory compliance, and the prevention of identity fraud. As a recognised partner for virtual currency exchanges, payment service providers, payment processors, money transmitters, money service businesses, retailers, businesses performing initial coin offerings (ICOs) or security token offerings (STOs), e-banks, banks, broker/dealers and credit unions around the world, IdentityMind was the go-to partner.

"KYC and AML are extremely important in our line of business," commented Evgeniya Mykulyak, COO, B2Broker. "Our business, and that of our clients, is dependent on the tightest procedures to perform the required client checks and to ensure full compliance in accordance with regulations in different global markets. With its automated customer onboarding process and global online identity verification service, IdentityMind offered the best KYC and AML compliance solutions available to match our strict requirements."

The partnership goes back to the launch of B2BX Exchange, one of the first projects that integrated IdentityMind to automatically check client IDs and 'selfies'. Prospective clients will be pleased to note that B2Broker has since integrated all its services through IdentityMind's standards-based API. The whole KYC procedure takes just 3 minutes and provides a smooth and efficient experience for both parties concerned i.e. company and client.