What is a
Cryptocurrency exchange?
A cryptocurrency exchange or a digital currency exchange (DCE) is a business that allows customers to trade cryptocurrencies or digital currencies for other assets such as conventional fiat money or other digital currencies.
Benefits of a cryptocurrency exchange based on B2Broker technologies
This is a sophisticated cryptocurrency exchange solution with a focus on super-fast and stable matching engine performance and reliable crypto security. It offers a sophisticated user experience for traders and brokers, providing a technological edge for crypto trading and all necessary crypto activities.
No matching fee. No hidden fees.
You only pay for technical support and hosting. No hidden payments or fees for trading volume.
Сustomizable user interface
The whole user interface is built from widgets. An administrator is able to choose any combination of widgets that can be made available to clients and create a unique default workspace for them. Color schemes and all wordings inside the UI are also fully customizable. UI Day/Night modes are available.
Trading is executed on advanced software by TradingView, a charting platform and social network used by millions of traders and investors. Detailed interactive charts, multiple tools and customizing features will let users make the most of technical analysis and get an accurate picture of crypto markets. Whether you trade Bitcoin or other crypto, TradingView is here to help make informed decisions and winning deals.
TradingView charts allow traders to perform detailed technical analysis. The advanced user interface will satisfy even traders with the most sophisticated strategies.
Backoffice with a wide range of functions
We have created a backoffice interface to maintain the advanced functionality of the matching engine, check the balances in the context of currencies or in USD equivalent and see the list of users and their activity.

You can also monitor commissions paid by users, calculate PnL, check all order details and roles in one place, make an online trade and arbitrage monitoring.
Trading APIs
The B2Broker digital asset exchange features multiple, full-featured trading APIs spanning key trading functions while providing familiar points of access for different trading styles and types of customers:
REST - Support for secure authentication, order entry, execution reports, market data queries
WebSocket - Support for secure authentication, order entry, execution reports, market data queries, market data feed subscriptions.
For your clients or market makers. Connect price streams.
High Capacity Matching Engine
The Matching Engine can process 30,000 requests per second. It works 24/7 with extremely small maintenance intervals around the clock of the crypto markets without any breaks, including weekends.
Integration with CoinMarketCap
You are provided with 5 required endpoints for listing at CoinMarketCap and most of the other listing websites: Summary, Trades History, Ticker, Assets, Order books.
Components of a cryptocurrency exchange business
A crypto exchange is much more than just technologies alone. It comprises several parts and different aspects that each business owner needs to take into consideration when getting started with this type of operation i.e. Legal, Marketing, Sales, Operations, Finance, Liquidity and Technology.
Licenses & Regulations
AML & Compliance
KYT System
Bank Accounts
Policies, Terms, Conditions
Legal Part
Contracts AND Compliance
Search Engine Marketing
Referral program
PR
E-mail Marketing
Product Management
Marketing
Advertising and Product
Calls
CRM
Customer acquisition
Partnerships
Promotions
Sales
initial sales AND Retention
Internal Liquidity
Market making
External Liquidity provider
Bridge to other exchanges
Marksman Hub
Liquidity
Deep liquidity pool
Сryptocurrency exchange
Operations
Support AND Management
Account Management
Project Management
Technical Maintenance
Dealing Desk
Client Support
Finance
PSP, Banks AND Audit
Deposits/Withdrawals
Banking Operations
PSP/EMI Operations
Risk Management
Cold & Hot Wallets
Technology
Backend & frontend of brokerage
API for integrations
Trader's Room / CRM
Matching Engine
Mobile Application
Enterprise Wallets
Security
Prevention frauds and attacks
Cold Wallets
Backend security
Arbitrage protection
Anti-Fraud System
DDoS Protection


Position yourself in a growing market
Today more than 1,000 cryptocurrency exchanges are in operation according to tracking websites. Crypto-Fiat are the most popular and profitable for their owners but it is harder to launch them due to legal and payment questions.
There are also a fair number of crypto-crypto exchanges, but these are less popular nowadays due to the shrinking token markets. But the launch of such exchanges requires no serious investments of time and money in legal questions and amount of such exchanges is still growing.
The main factor for the growth in number of exchanges from 2020-2025 is global digitalization and the acceptance of cryptocurrencies, especially stablecoins by both individuals and governments. We are soon likely to see stablecoins issued by governments which will be traded on multiple exchanges. For this reason, we can expect an explosive growth in the number of exchanges in next 5 years of up to 10,000 worldwide.
Number of Cryptocurrency exchanges in 2009-2021
Estimated number of Cryptocurrency exchanges in 2025
The best time to start a crypto exchange business is today. This will allow you sufficient time to gain expertise, build your brand and have an established business ahead of the full adoption of cryptocurrencies.
Build an antifragile company resistant to crises like COVID-19
A brokerage business is resistant to most crises as it is a business that can be run with a fully-remote team and has been proven during the COVID-19 pandemic in 2020. Our clients reported growth compared with the months pre-COVID-19 as people started using their services more during the lockdown period.
Crypto Spot Exchange

A Crypto Spot Exchange is a company where customers are able to trade without leverage and exchange crypto assets on stablecoins or fiat currencies and vice versa.

Based on B2Trader
Crypto Broker


A Crypto Broker offer its clients margin trading services with leverage on multiple markets: Forex, Cryptocurrencies, Metals, ETFs, Indices, Energies and CFDs on other instruments.

One of the main differentiators of a Crypto Broker is that accounts are denominated in cryptocurrencies and the opportunity to trade long and short positions on crypto assets and receive profit in the currency of the account.

The business model can be realised with two trading platforms: MetaTrader 5 and B2Margin .
To maximise marketing results, we recommend the use of both platforms.
Crypto Broker
MT5
Crypto Broker B2Margin
Crypto Spot Exchange
Order Book
This is a fully functional DOM. Limit orders are shown in a widget.
Market Depth
This is indicative L2 depth of market. Limit orders of clients are not shown in DOM.
Order book grouping
Summarizing volumes on each order book level
Market Making
78 currency pairs available
Time and Sales
List of all trades
Custom Leverage per Order
Clients can choose custom leverage not just for their whole account but for each position separately
Margin Trading
Using borrowed funds to trade a financial asset
24/7 Trading
Only for cryptocurrencies
Leverage Trading
A broker can provide any leverage options to its clients
Partial Order Fills
Execution of placed orders according to real available liquidity
Crypto CFD / Derivatives
100 Cryptocurrency pairs
Crypto Spot / Cash
18 major crypto assets against major FX
FX Margin
78 currency pairs available
FX Cash
You can offer deliverable FX exchange
Indices
12 CFDs on indices, including UK FTSE100, S&P 500 Index and Hong Kong 50 Index
Metals
13 Metals, including XPTUSD
Energies
3 CFDs on energies, including WTIUSD and NGCUSD
CFD on Shares
400 CFDs on equities, including Apple, Amazon, Facebook and Tesla
Adaptive coloring
Layouts can be coloured according to your brand guidelines
Day/Night mode
All end-users have optimal visual experience while using our product
Customizable Layout
Your clients can drag & drop windows with charts and market watch, etc and create a workspace as required
Multiple Workspaces
Different workspaces can be used
Desktop Platform
Advanced functionality of MT5 such as strategy tester available only in desktop app
Web-Based Platform
A convenient way to trade from any device
FIX API
Electronic communications protocol for financial information exchange
Support of Money Management Platform
Includes Copy Trading, PAMM and MAM. A tool for increasing the LTV of clients
Multi-level IB
Coming soon
Coming soon
Set up different levels of IB rebates and profit sharing.
Denomination of accounts in cryptocurrencies
Includes Copy Trading, PAMM and MAM. MetaTrader 4 & 5 are supported.
Acceptance of deposits and withdrawals in cryptocurrencies
A convenient and easy way for deposit/withdrawal.
No chargebacks.
Cryptocurrency wallets in Trader's Room
Ability of end-users to keep funds in cryptocurrencies
Compatibility with simple converter
Offer your clients a spot cryptocurrency exchange inside your Trader's Room
Cryptocurrency Exchange
Technology Flow
Technologies required for running a successful brokerage can be divided into

7 main components

:
MAIN MARKETING TOOL
Website
MARKETING HOOK
Liquidity ticker widget
CRM / CLIENTS' AREA
Trader's Room
PAYMENTS IN CRYPTOS
Blockchain Wallets
Enterprise Wallet Solutions
TRADING PLATFORM
B2Trader
API
Order Management System
Matching Engine
Market Making
Internal organic liquidity
External liquidity provider
BRIDGE TO ANOTHER EXCHANGE
Marksman hub
There is no need for a start-up company to develop any of these components as B2Broker has a full-package of products that are built to work together.
Links
Components
How your clients use it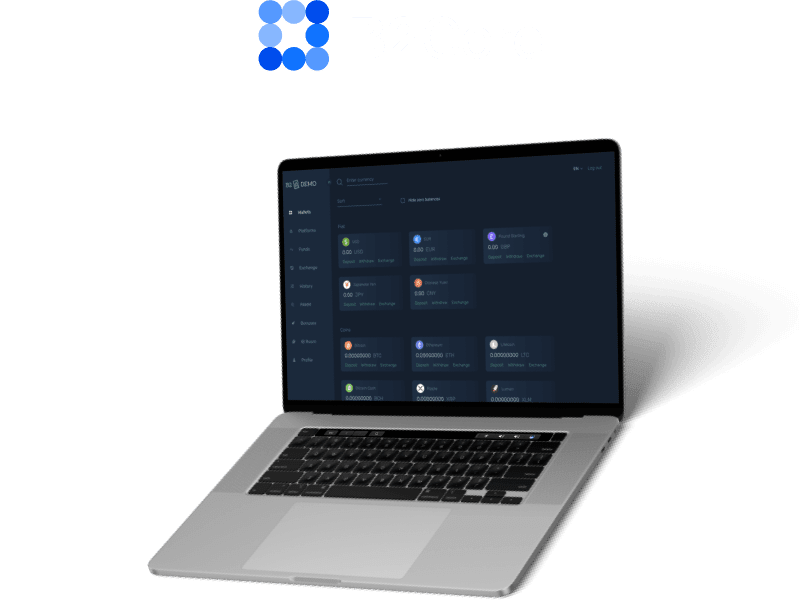 Trader's Room / CRM
B2Core is a broad and multifunctional cabinet solution suitable for every type of financial business.
The solution is based on cutting-edge technology and a thorough analysis of market needs. It is now acknowledged as the industry's leading trader's room software.
Everything you need falls under one roof with B2Core, including many integrations: payment services, platforms, support systems, KYC providers and marketing tools.
In addition, the solution features a high level of homemade functionality, such as Banners, Announcement System, IB Room and Anti-fraud to provide you with the widest range of features available that you can utilise to maximize your business operations.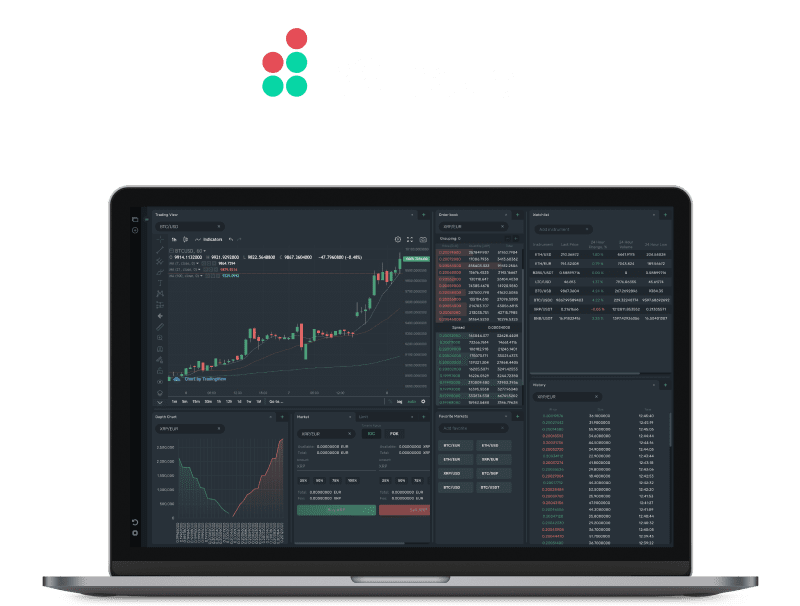 Matching engine with UI for trading
B2Trader is the trading core of a cryptocurrency exchange
A Matching Engine is the core mechanic of a digital exchange which matches up bids and offers to execute trades. The algorithm keeps a record of all open orders in a market and generates new trades if the two orders can be fulfilled by each other.
The advanced user interface can satisfy the needs of the most sophisticated traders and investors.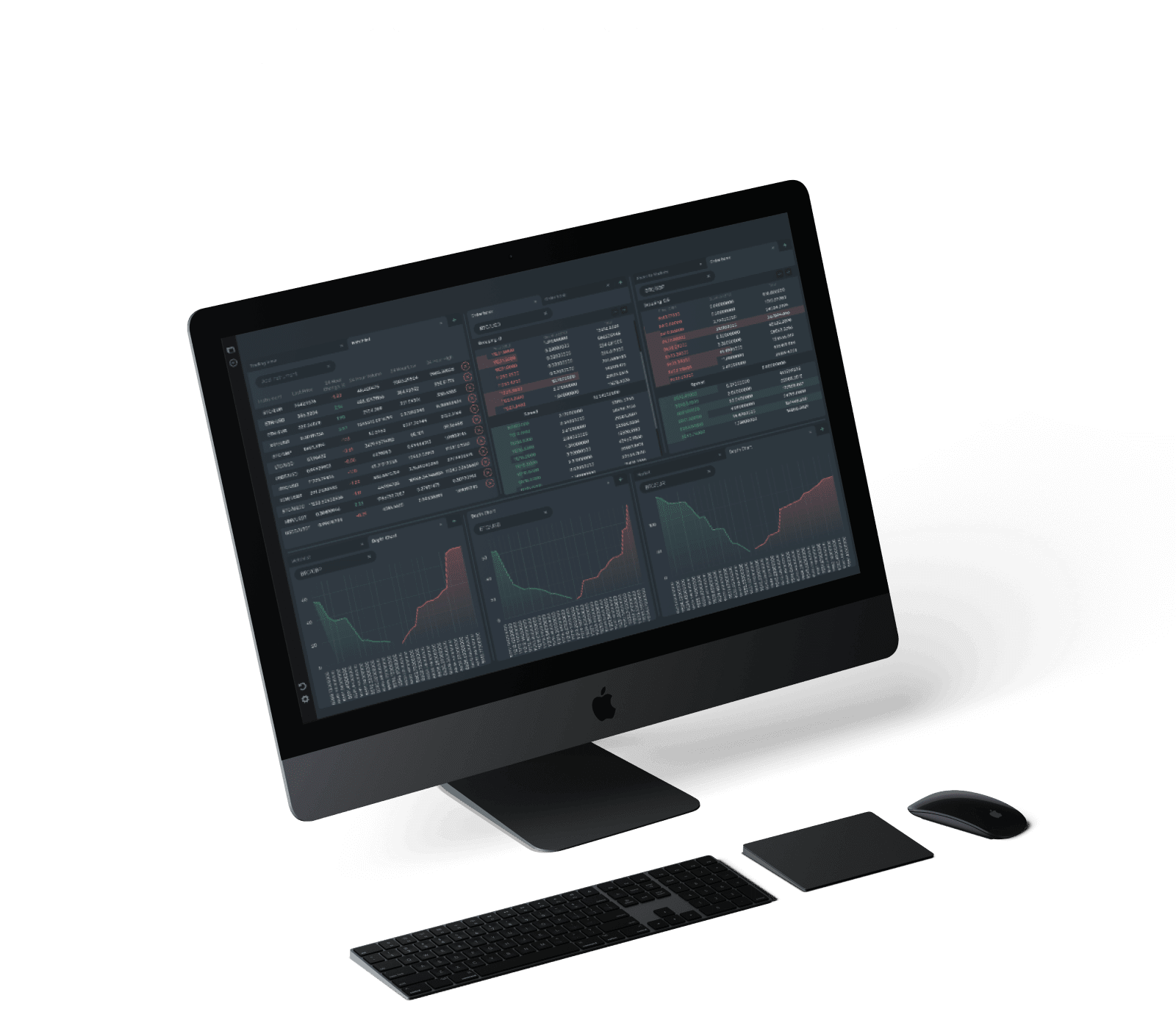 Crypto Spot Liquidity
If a trading terminal is the heart of trading, liquidity is the life-blood. You have multiple options on how to get a deep liquidity pool.
It is virtually impossible to attract clients to an exchange without sufficient liquidity. With B2Broker this is not a concern. You can be connected to B2BX aggregated liquidity pool or other exchanges and liquidity providers.
You can also attract market makers who can connect to your exchange via API that will create a sufficient amount of limit orders for comfortable trading.
Above all, the best liquidity for your exchange is organic liquidity created by your clients' orders in the order book. You will not be charged any fees for this.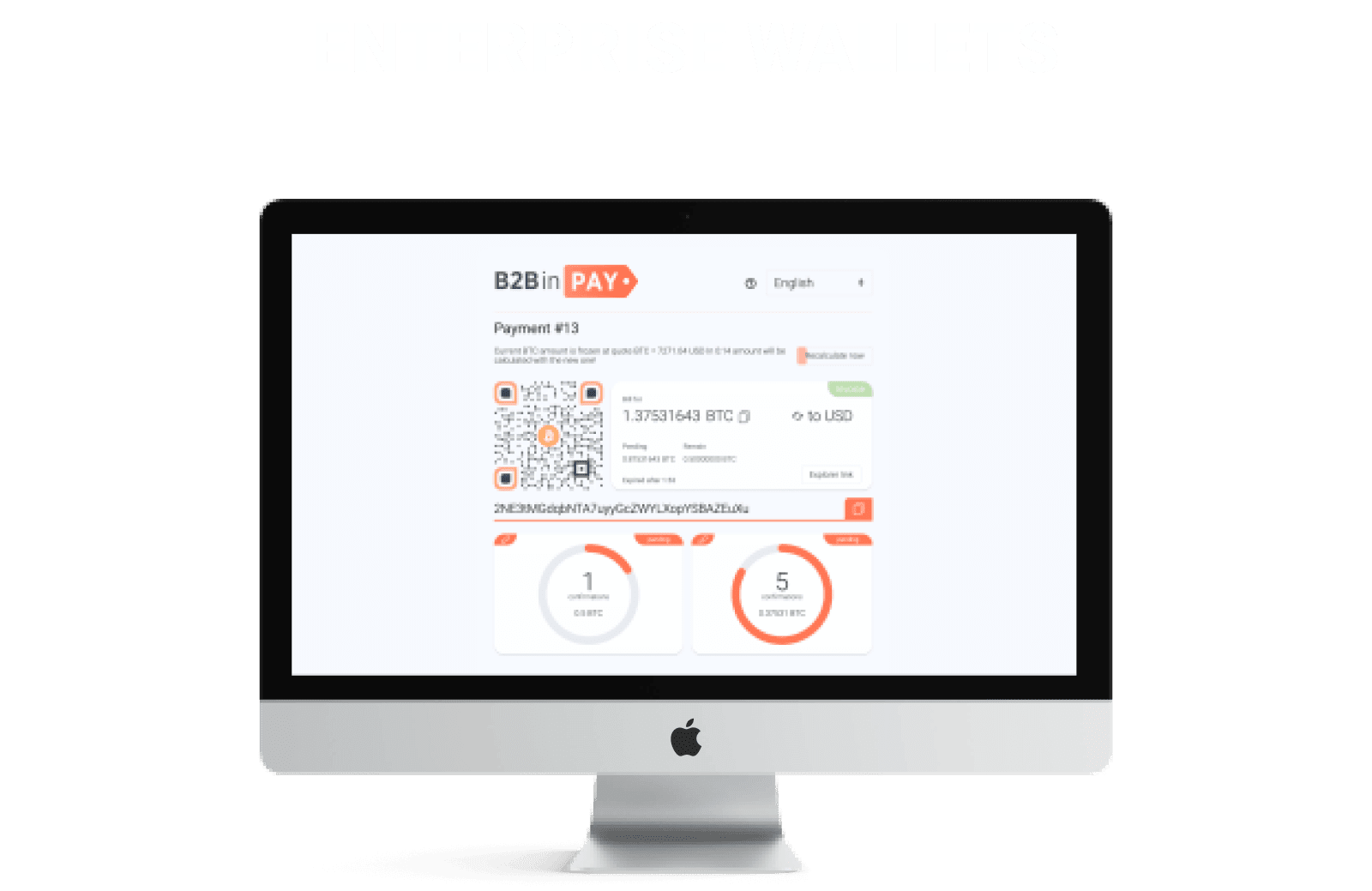 Enterprise blockchain wallets
B2BinPay`s Wallets Solution is a highly secure, reliable and scalable multi cryptocurrency wallets solution for exchanges.
Enterprise Wallets Solution allows businesses to Accept, Store and Withdraw digital currencies such as Bitcoin, Ether, Ripple's XRP, Tether and many more automatically using API or manually
We offer 24/7 technical support, education and more. Everything is designed with your comfort in mind to maximise your experience with us.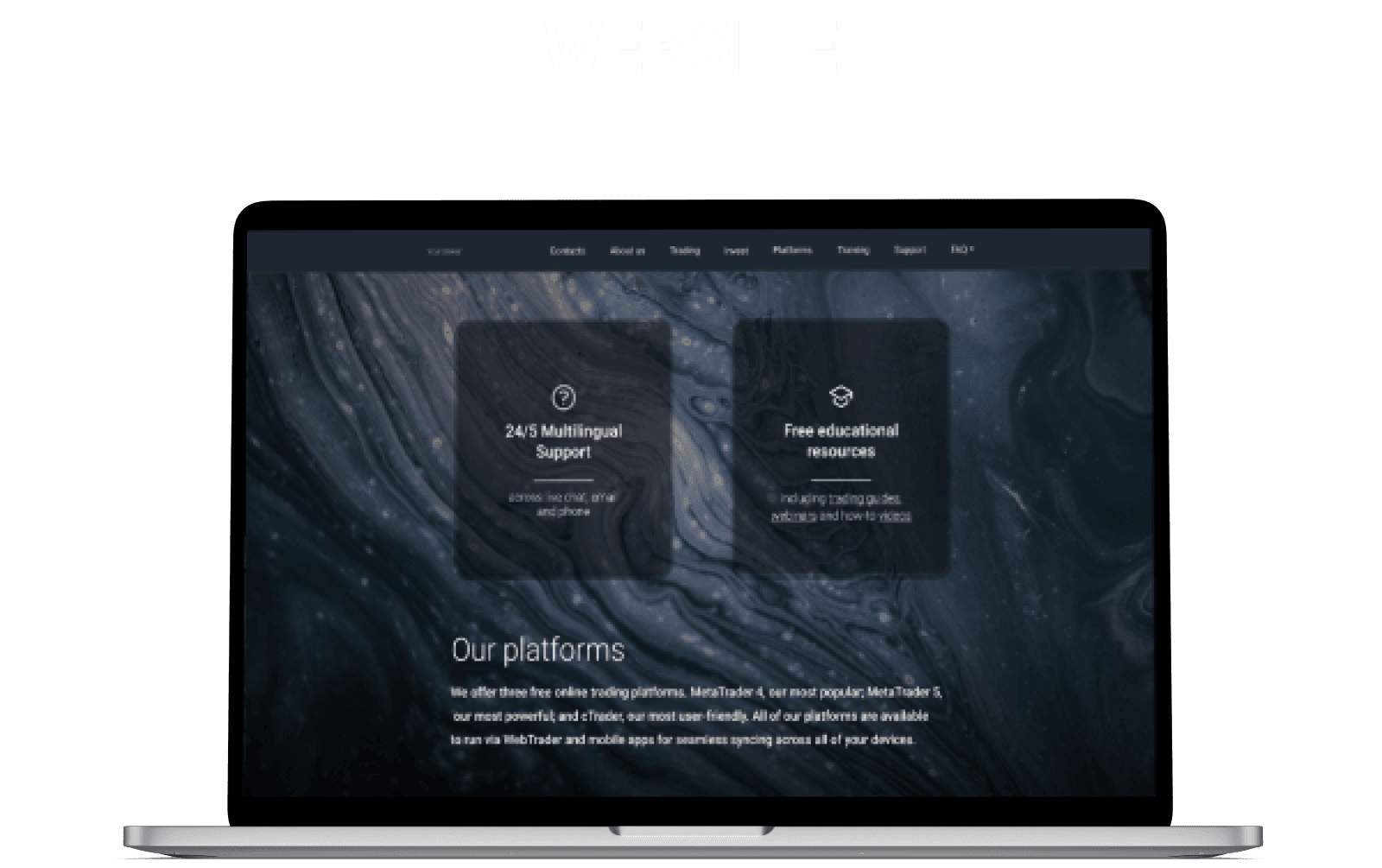 B2Broker Studio can create a new website for your company
with content and promotional pages.
A website is the showcase of a company to its clients and the most important marketing tool.
If you don't have enough time and staff to create a website, B2Broker Studio can do it for you.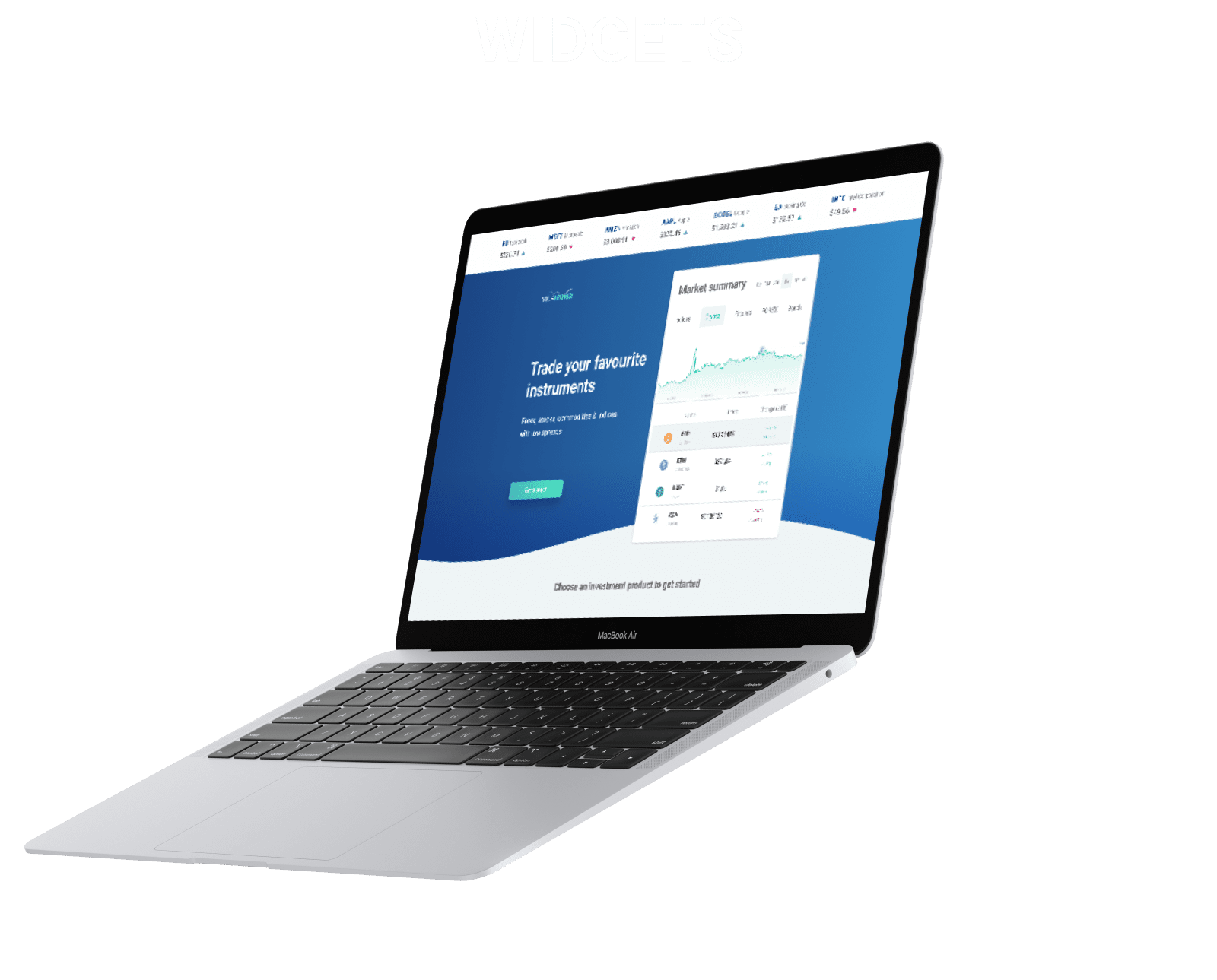 Ticker Widget
Fast and convenient
Get the ultimate marketing tool for monitoring market data with the widest range of instruments available (FOREX, Metals, Indices, Energies, Crypto CFD and Shares CFD). Everything is in one place so you can keep an eye on liquidity directly from the website, choose one of the examples, or create your own.
Start your
Сryptocurrency Exchange
Accеss B2Brоkеr's decade-long expertise in its field. We use advanced solutions and the best opportunities in the industry to save brоkеrs' time and mоnеy.
Turnkey Package
Advantages
A Turnkey cryptocurrency exchange is a great choice for getting started. Simplicity of maintenance and assistance along with cost-effectiveness are just a few of the many benefits available.
A super cost-effective solution
A cryptocurrency exchange turnkey solution is a super cost-effective and time-saving solution as it is a based on a White Label of B2Core and B2Trader. You can save more than
$900,000
on setup costs and around
$25,000
on ongoing monthly costs for development, extra office space and a technical support team. As well as huge cost-savings, you can launch more than one year faster which is crucial in today's fast changing environment.
Initial investments
Cost of development of own platform
Turnkey exchange setup price
Monthly payments
Burn rate of team of developers
Technical support monthly fee
Time to launch
Development of a new platform
Setup of turnkey exchange
Don't waste your time and huge budgets on the development of your own cryptocurrency exchange. Boost your chances of success by launching your business more than 1 year faster and spend the money you save on marketing and legal services. Remember, it's never too late to start your own development once you have confirmed demand from real customers.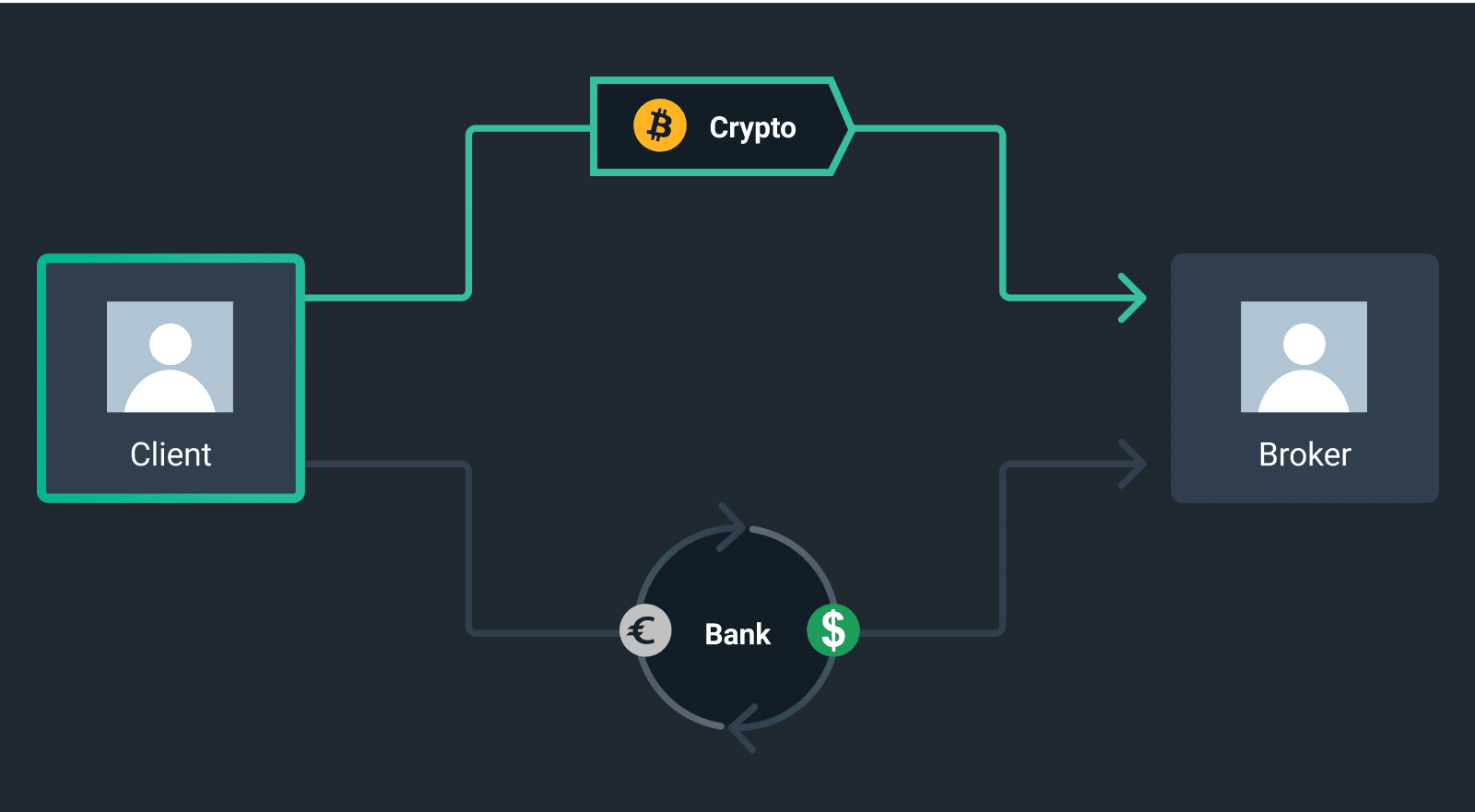 No Banks and No Chargeback Fraud
Simplicity of acceptance and ease of international transfers are two good reasons to integrate cryptocurrency payments. There's no need to open a bank account which can be a lengthy process without having a respected licence.
Accepting deposits and making withdrawals via cryptocurrencies is many times cheaper than any other fiat payment systems, giving you the opportunity to offer additional bonuses or benefits to your clients.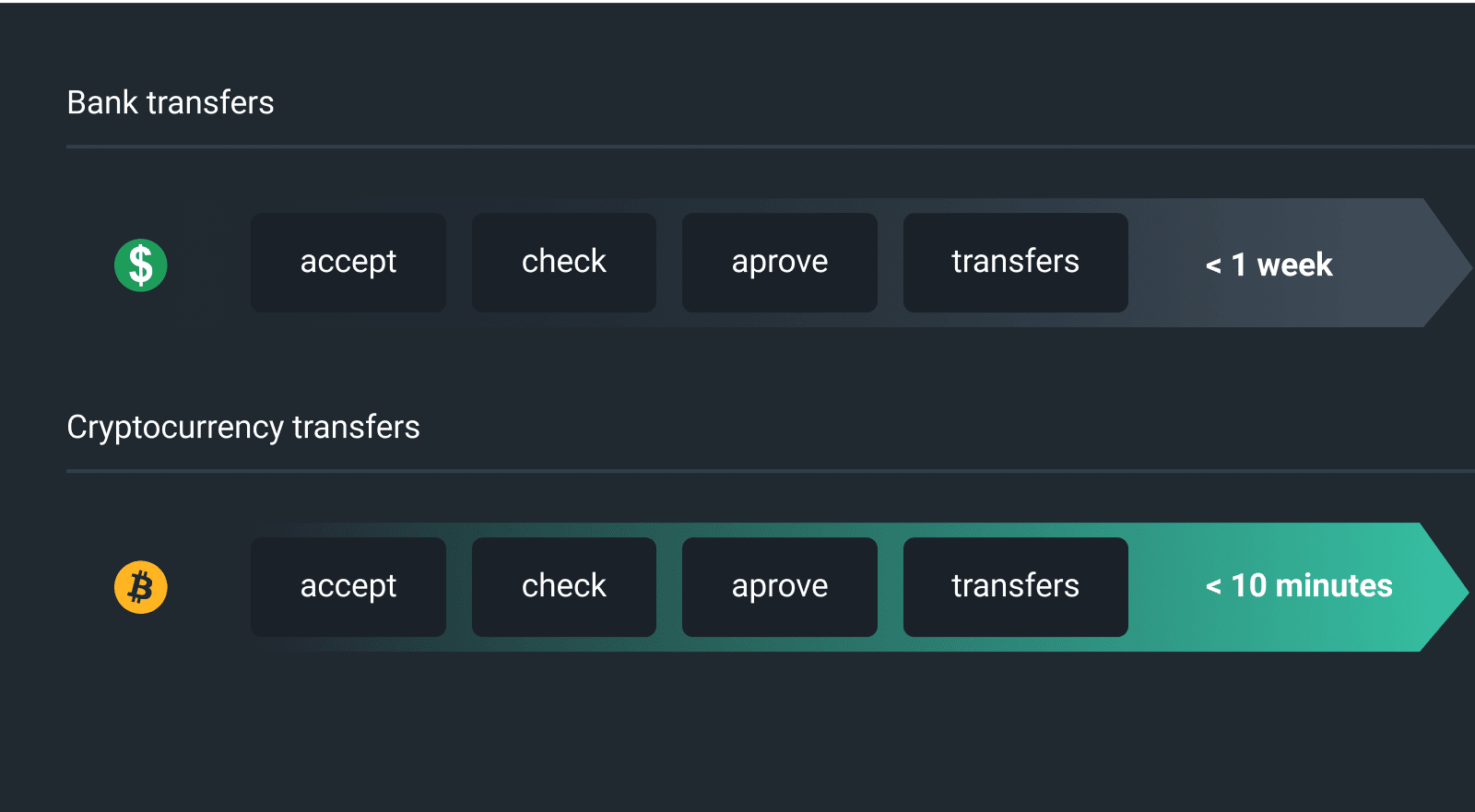 Get a higher ROI with faster and cheaper money transfers
Cryptocurrency transfers are not just cheaper than bank or card transfers, but much faster. Your clients' money is not held up in a bank payment system or similar for days or weeks, but is available for them on their trading accounts in as little as a few minutes.
This has the added benefit of greatly decreasing the time period from when your client first saw your advert and the time that he starts trading.
Activity and financial reports for owners
Customised reports including deposits, withdrawals and trading activity. Automated delivery to your email or reports sent directly by API.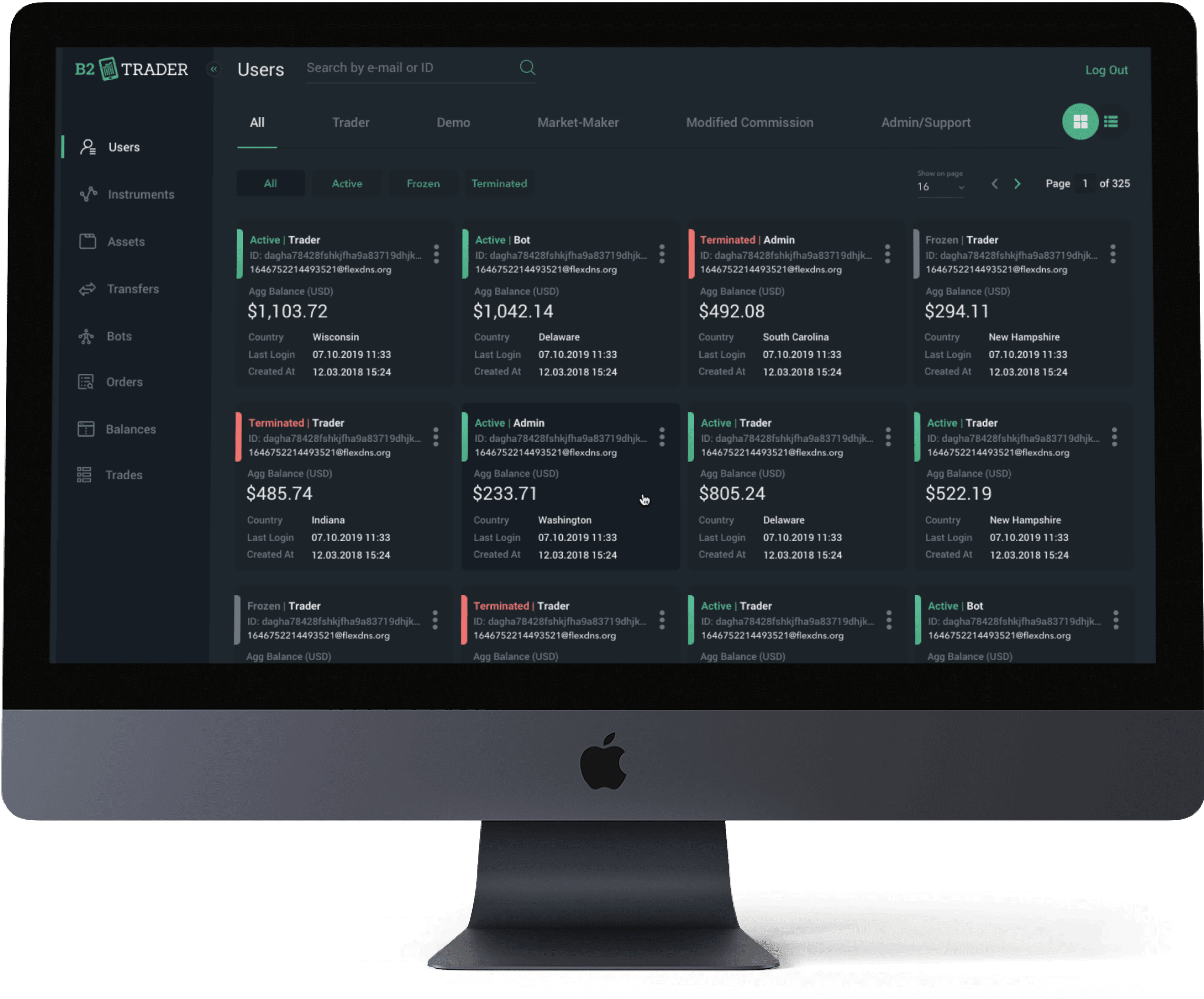 Color visualization of user status
Viewing user's role, status, balance and last login in one place
Table and grid displaying options
Cryptocurrency Exchange Structure Diagram
A cryptocurrency exchange is a complex IT solution combined from several components. The frontend is integrated to the B2Core module which is connected to B2Trader via Web API.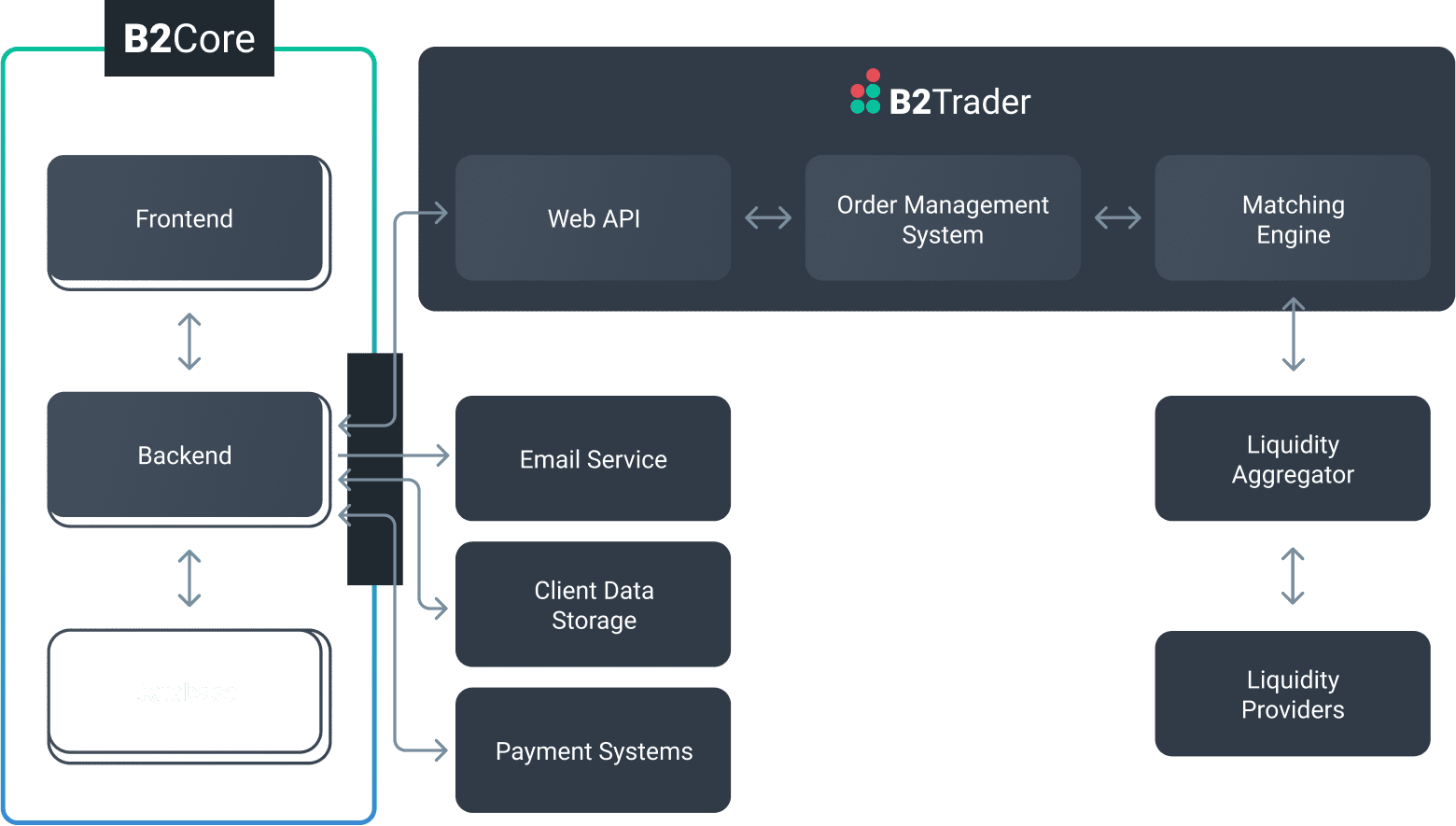 Secure connection between components
All parts of the solution are customizable
The matching engine can work with internal and external liquidity
Multiple Security Layers
Security is all important for crypto exchanges and should never be compromised. We have developed an advanced security system to help prevent losses as a result of fraudulent activities and attacks.
Security of funds
Security is the most important concept in crypto trading and our exchange was designed with sophisticated safety measures as almost all tokens and coins are held in cold storage. Cold wallets are highly secure hardware wallets that are not connected to the internet. Programmed algorithms regularly transfer client funds into cold storages thus providing the necessary level of safety.
Data Security
2 modes of data backup
Data backup takes place in two modes: Real-time replication and scheduled once a day with a snapshot of the current state.
2FA Authorization
To access the admin panel of both B2Core and B2Trader, 2FA is used which is implemented as a confirmation link and sent immediately to the user's e-mail with a token so as not allow entry to the back-end of the system by unauthorized persons.
Limited Access by IP
Wherever it is technically possible, a login-password (or key) to a specific IP-address can be incorporated. In this way, for example, B2Trader Exchange can get access to the payment system only from a pre-specified IP-address.
Encrypted Database
Client personal data is stored in a database located on an encrypted partition. Even direct access to the server does not give any access to client data.
Secure replication of database
Database replication proceeds over SSL to exclude MITM (man in the middle).
Secure access
Secure data exchange with external systems
Data exchange with all external systems (payment systems,etc.) proceeds over HTTPS using authentication key and verification of signature on each operation.
SSH Keys
To get access to the server B2Broker personnel use the SSH key. Access is limited to a number of persons, each of them having a computer with an encrypted disk. For example, laptop theft as one of the threats of a data breach causes no data leakage.
Safety of documents
No client documents are stored in our database. B2Trader Exchange uses a third-party solution to handle data in a cloud. Third-party KYC providers store all client documents on a contract basis.
Monitoring of changes
Monitoring of any changes in crucial data (i.e. a file with a password hash) takes place in real time with notifications over two different communications channels.
Logging of access
Each access to the database server is restricted and logged.
DDoS Attack protection
Our servers are protected by a high-grade cloud-based DDoS mitigation solution. This prevents disruptions caused by bad traffic, while allowing good traffic through, keeping websites, applications and APIs highly available and performant.
If according to the KYC procedures on the Exchange, users have to mention the sum of their deposits per some period of time and afterwards they exceed this sum by a certain predefined amount, then the alert will trigger for the compliance officer to check the particular case
If a user makes deposits and withdrawals but doesn't trade, it is the main sign that he is involved in money laundering so a system spots it and makes alerts
When a user sends a request to make a withdrawal to a wallet that has already been used by another user of the Exchange, it is a solid sign of a double accounting that should be checked by responsible person from security department
All the history of phone number changes of all the users is stored so if some other user will try to use same phone number as the other person the system will trigger an alert
When a user logs in his Client Area with the same IP like the other customer of the Exchange, the system sends an alert with the list of these users, their details, IP address, login dates and other info for further investigation
If a user is noticed in a frequent HFT trading activity, it may be a sign of using some exploit and has to be additionally checked to verify that his trading is fully legitimate
A strategy treated as toxic by both Forex and Crypto Exchanges could be spotted by this module of Anti-Fraud system so an alert will trigger when a user is spotted with using it
All the history of e-mail changes of all the users is stored so if some other user will try to use same e-mail as the other person the system will send an alert
It is possible to detect the users that make a big number of deposits that is usually treated as suspicious activity and has to be checked by finance or compliance team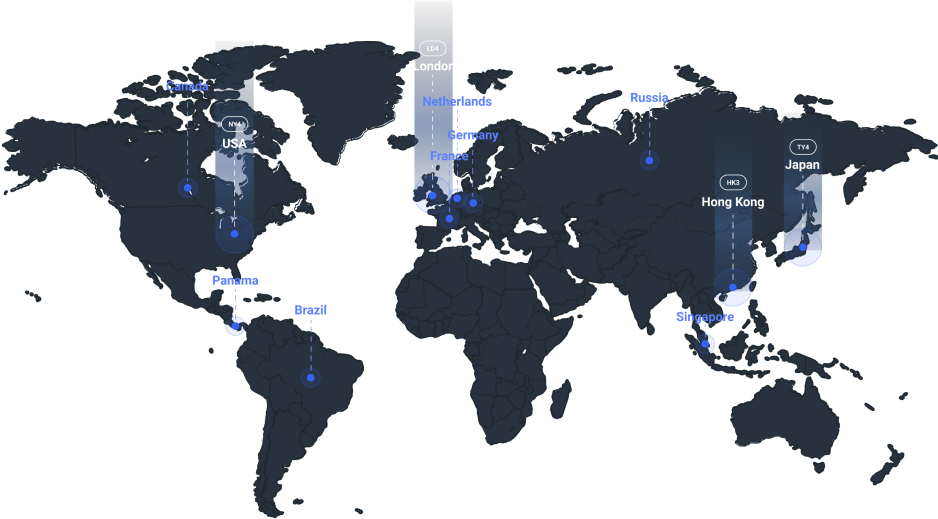 Reliable and Scalable Hosting for Exchange in AWS
B2Trader uses hosting solutions that dynamically scale resources as the client base grows and supports the most demanding and highly loaded projects.
We prefer Amazon Web Services (AWS) hosting because it offers high levels of availability, scalability and performance, requiring higher amounts of management and administration that we organize entirely on our side.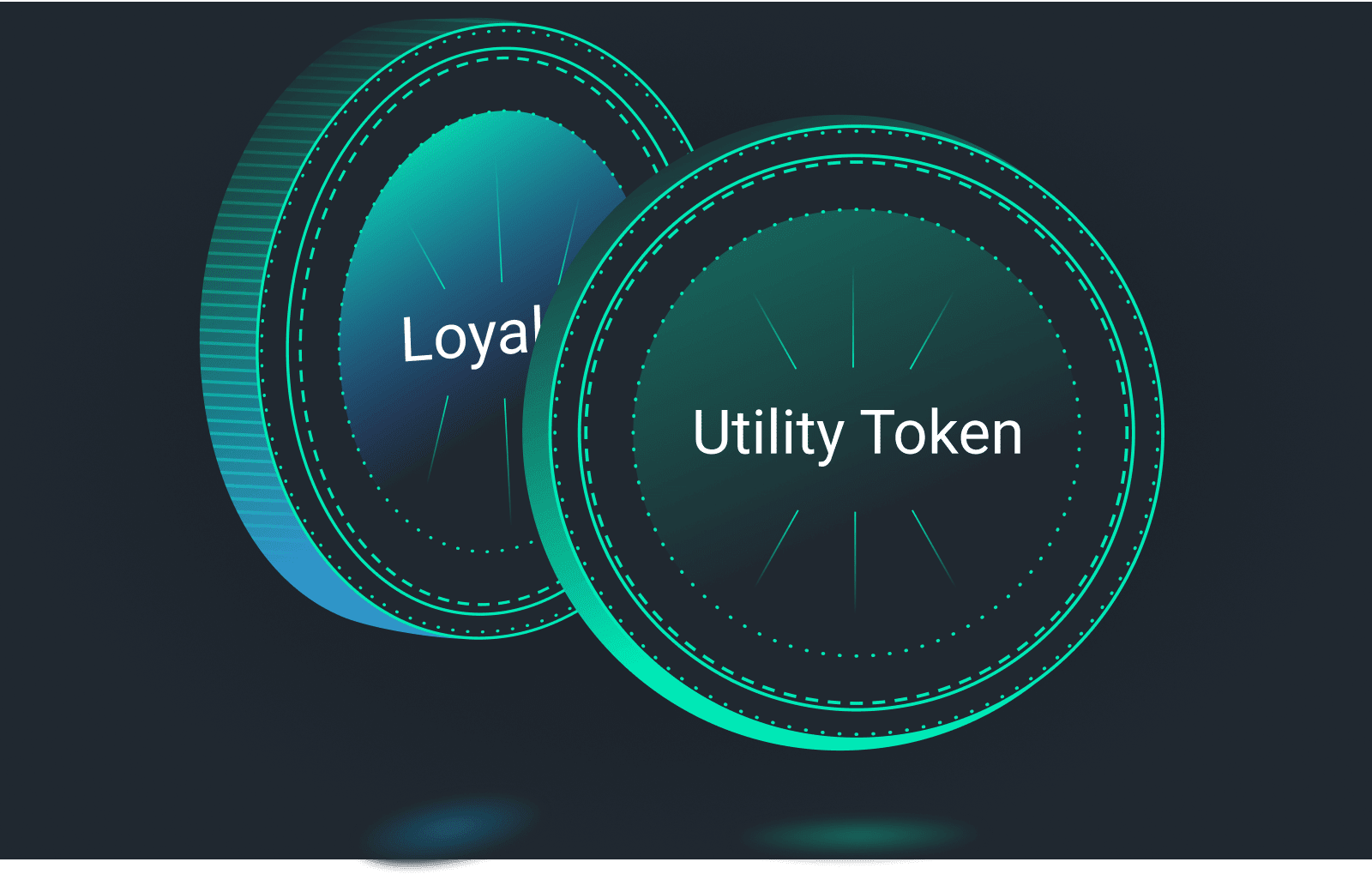 Utility (Loyalty) Token
The ability to issue a utility token and give it functionality. For example, a token may allow a discount on trading commission.
A professional, correctly developed token increases the capitalization of your exchange.
Attractive to users.
Time for IT infrastructure setup
Setup of components from different vendors
Turnkey Setup from B2Broker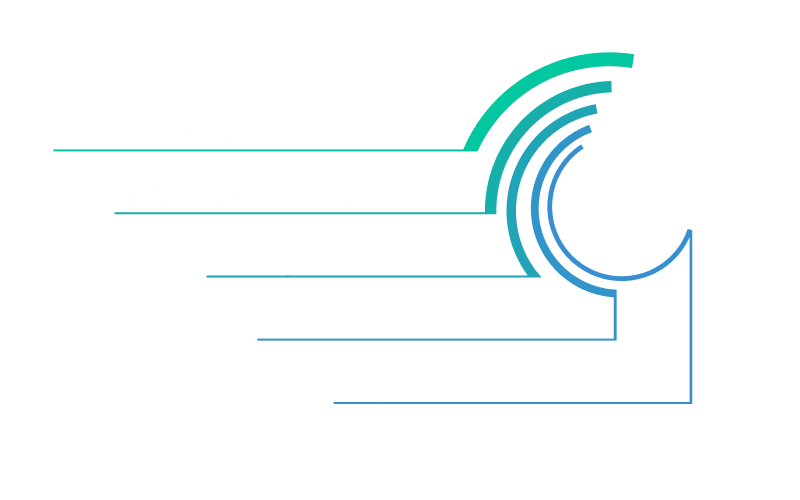 All products are built to work together
Our engineers work closely to deliver products that are thoroughly tested and work well together. All our products are already integrated with each other and are ready to go live.
We have a proven deployment process and conduct tests, firstly during the development of any software, secondly, prior to all updates of the live environment and also before any updates of the trading servers.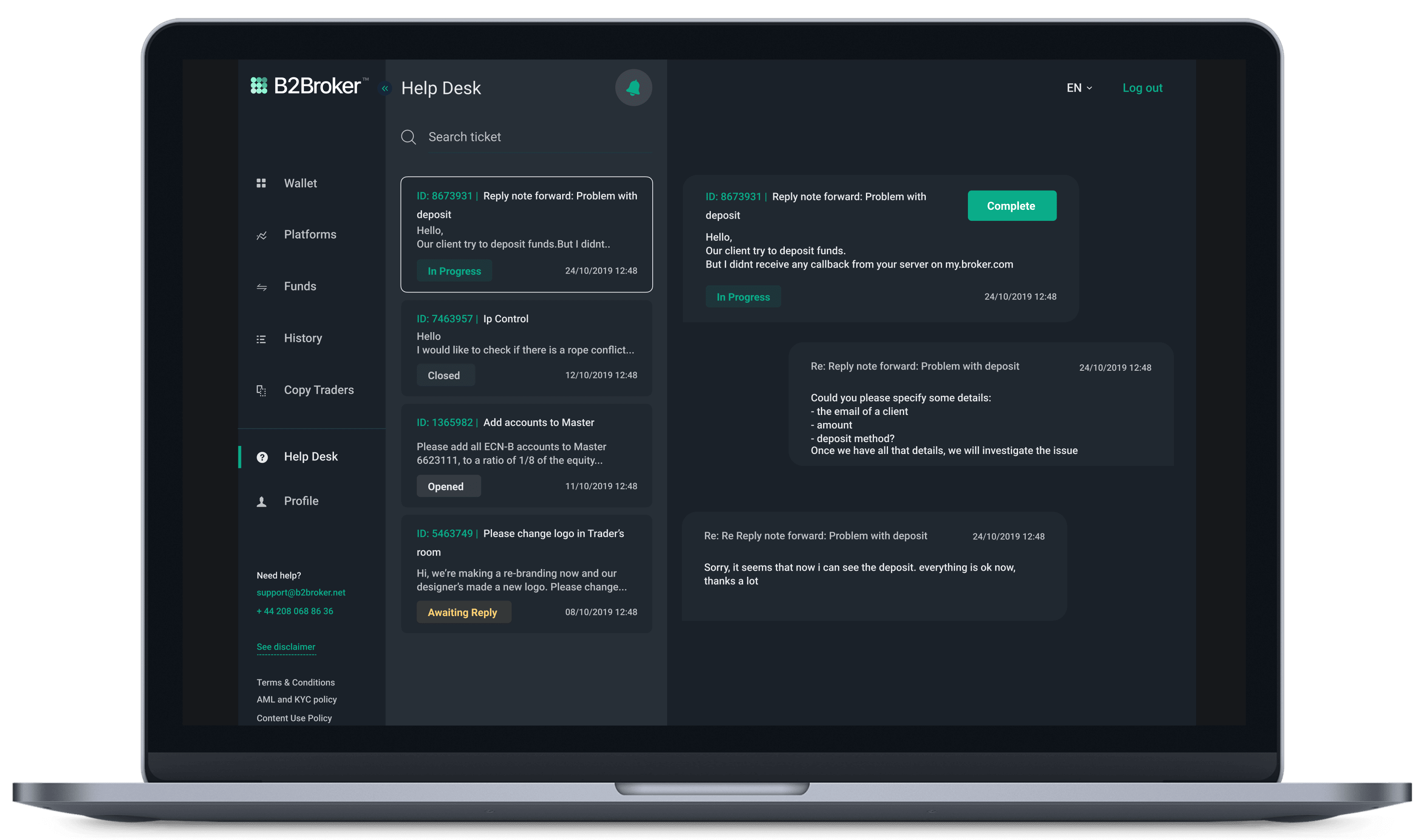 Many products - Single support team 24/7
If something happens and you need help, we will never say , "Sorry, it is not our responsibility" and refer you on to someone else. Our technical support team logs everything, including all details and comments from developers across our entire product range and will help you without asking you too many questions.
Tutorials and Materials
B2Broker is committed to working alongside its clients to ensure ultimate user satisfaction. An extensive range of tutorials and materials is available to assist with all technical aspects.
Training
Education is an all-important part of our service. We offer a variety of training materials including videos and demos to help our clients understand the business.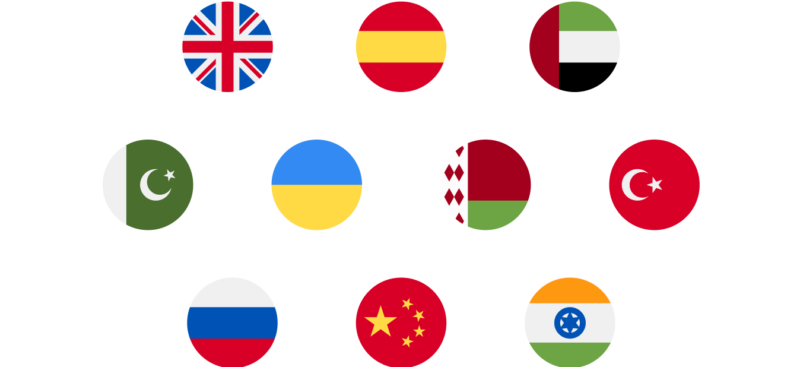 Major Languages Supported
Our knowledgeable and friendly customer service team can assist you in 8 languages including English, Russian, Chinese, Farsi, Hindi, Spanish, Arabic and Urdu.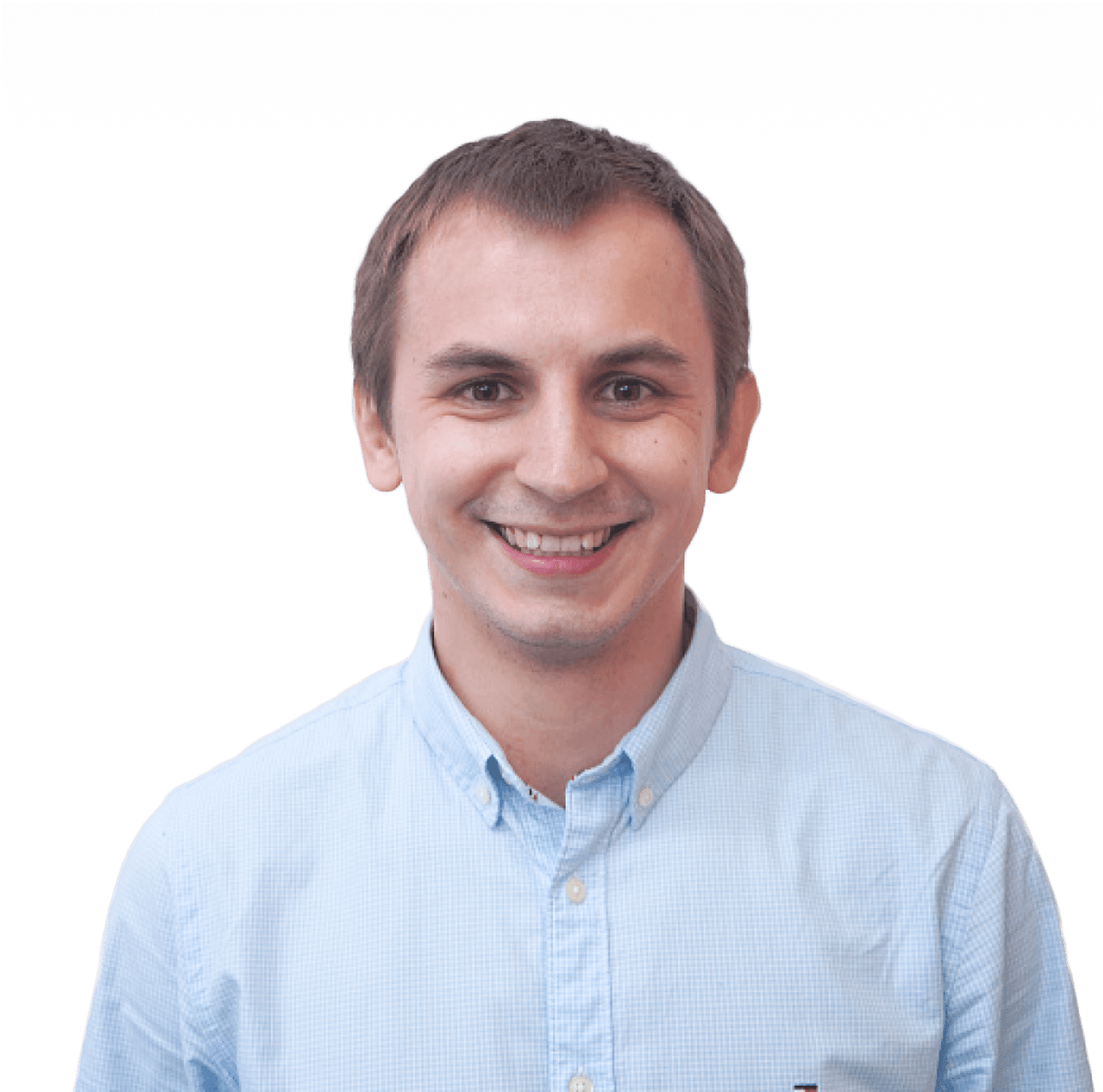 Account Manager
All our clients are assigned a personal account manager who is always on hand to answer questions and deal with all their requirements.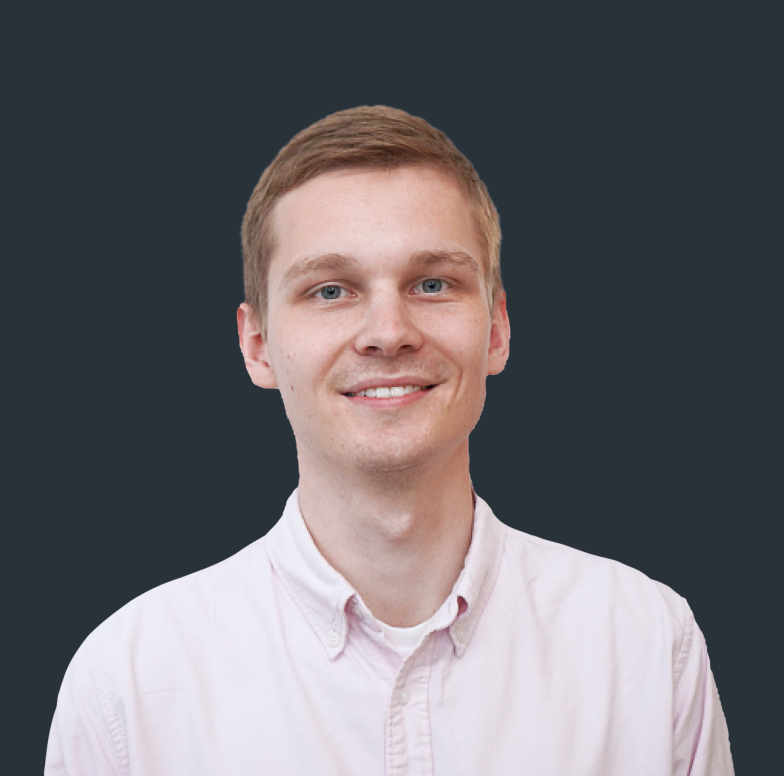 Product Manager
Our product managers are deeply knowledgeable about our technical solutions and are there to assist our clients with any specific enquiries.
Interested in a
Turnkey Crypto exchange?
Watch the video and get in touch with our sales department.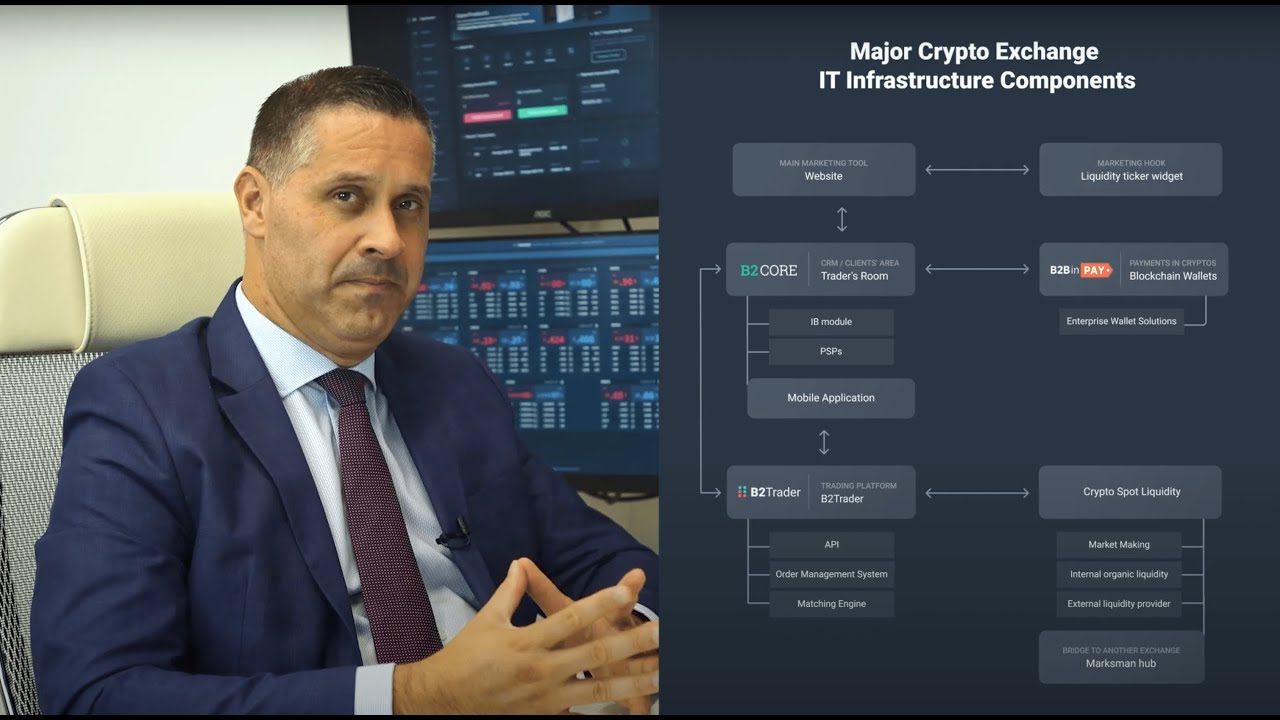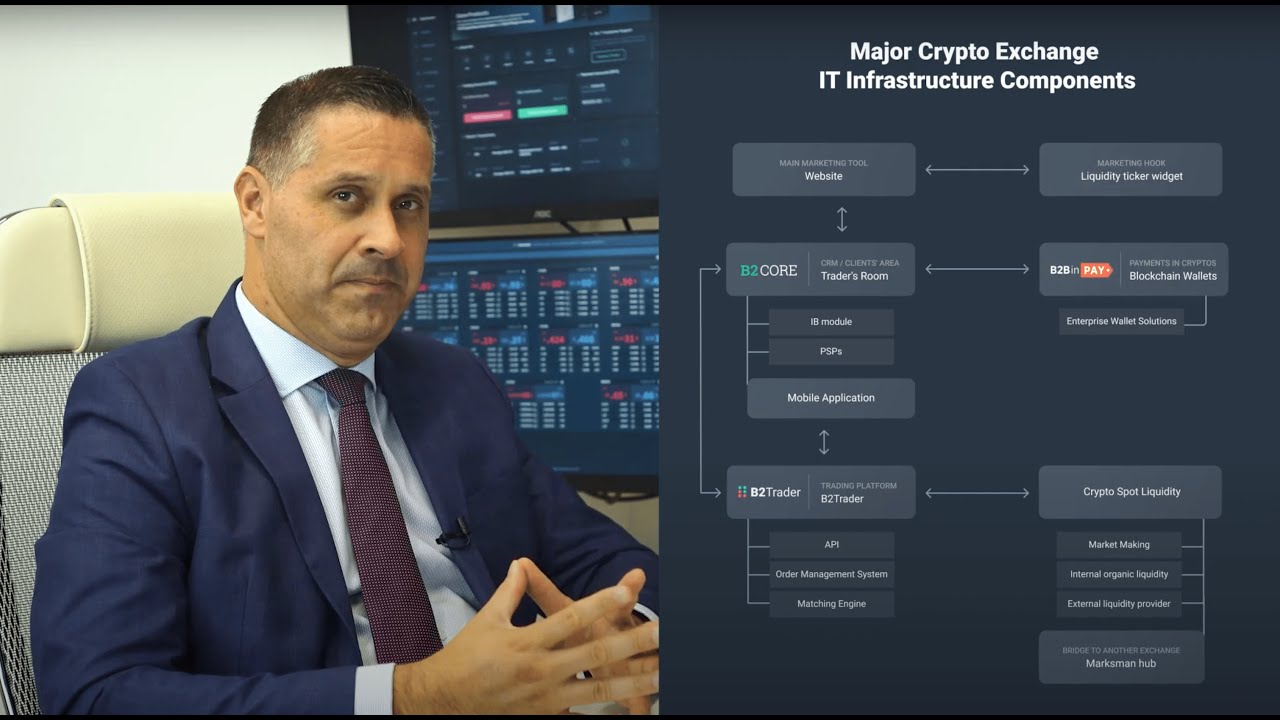 06:58
Launch Your Crypto Business with B2Broker Advanced Turnkey Solutions
In this video, John Murillo, Head of Dealing Division, talks about how B2Broker, the leader in the digital assets space and provider of bespoke solutions, helps customers set up their business operations through advanced turnkey solutions, and in doing so, enables them to reduce costs and increase profitability.
10 steps of creation of
a new Crypto Exchange
The setup of a cryptocurrency exchange is divided into several steps that usually takes from 4 to 8 weeks. It starts with KYC and agreements and ends with IT setup.
Company registration, Obtaining a license
This process can take from 1 week up to 1 year depending on jurisdiction and type of activity
up to 1 year
KYC, Agreements, Payment
Check List
Setup of B2Core and trading UI
Setup of Enterprise Blockchain Wallets
Integration with PSPs, EMIs, KYC/KYT providers
Connection to external liquidity
Delivery and Training Sessions
START
WEEK 1
WEEK 2
WEEK 3
WEEK 4
WEEK 5
WEEK 6
How long does it take to connect a new PSP to B2Core?
Connecting to a payment system can be done in two stages: sign a contract with the respective PSPs and then integrate them to B2Core.
Your clients can now start using it.
The KYC process and signing a contract with a PSP can take different times according to the respective jurisdictions and licenses. Your legal department will handle these aspects.
A PSP that is already integrated into B2Core takes

up to a week

to activate.
Integration of a new PSP can take up to

3 weeks.
Turnkey Exchange
Strategy Flow
Answers that will help you to choose the appropriate technologies required to turn your vision into an operational business.
Legal Questions
Aspects requiring the involvement of the legal department
Legal aspects are very important for all companies. Choosing a jurisdiction for company registration, connecting payment systems and even deciding on marketing channels will fall under the remit of your legal team.
Counterparties
Who are your counterparties? Are you prepared in case of any operational issues or settlement failures?
Policies, Terms & Conditions etc
Have you covered all legal aspects relating to clients's terms and conditions? Who will be responsible for the procedures and creating contracts?
Reports & Audit
Who will be responsible for business reporting and auditing? Will you source external consultants?
Bank Accounts
What EMIs and banks will be willing to work with you? Who will be the contact person for the communication?
KYC, KYB, KYT
Who will be your KYC provider? Who will conduct manual KYC checks if required, or KYB/KYT procedures?
Payment systems
What payment systems will you integrate? Who will oversee this procedure?
Compliance & AML
Who will oversee your AML processes to ensure full compliance? Do you have the appropriate staff in place?
Licenses & Regulations
Where will your exchange be incorporated and under which jurisdiction? Where will your headquarters be?
Internal Control
Who will be responsible for the overall internal control of your exchange? How will you ensure your staff adhere to the procedures?
Marketing Strategy
Everything relating to the acquisition of new clients and product management
Creating a marketing strategy will help you get a clear understanding of what products you should offer potential clients and how you will reach them. After gathering answers to these questions, you will begin to gain an understanding of what technologies you need.
E-Mail Marketing
What e-mail marketing software are you going to use? Do you plan to automate your email marketing?
Data Analytics
How will you analyze your performance? Do you have the appropriate tools and software to facilitate this process?
PR
How will you promote your company and brand? Will you outsource your PR or drive it from within your company?
Community Management
Do you have experts on board to help manage your community? Are you clued up with all the available channels for this purpose?
Events/Expos
Do you plan to have an event/expo schedule? What is your local and global strategy for meeting potential clients?
Referral program
Are you planning to have a referral program for your exchange? How will you promote it?
CPL, CPA, CPC
What kind of partnership programs will you use? Any bonus schemes?
CRM
How will you manage your customer relationships? Do you plan to install CRM software to facilitate this function?
Social Media
Do you know how to plan social media campaigns? Is anyone going to be responsible for managing your social media strategy?
Community Development
What will be the content for your community? Are you going to collaborate with some existing community sources?
Google, Yahoo Ads, etc.
How will you reach your clients? Do you know how to make effective use of search engines? Do you understand SEO, SEM?
Website
Questions relating to the design, development and running of a website
A website is a place where your clients find out information about your products and services and your company overall. A good website fosters credibility and helps drive the selling process.
Domain Name & Hosting
Do you already have a website for your exchange? Have you bought a domain that will be memorable?
Product Page Creation
What services will you offer? Who will create landing pages to help promote your exchange?
Optimization of Conversion
Who will be responsible for optimization of conversion? Are you familiar with the techniques involved?
Logo & Corporate Style
Do you have a logo and branding in place? Will you outsource it to a design agency or generate it in-house?
Staff & Contractors
Who will be responsible for your website? Will your staff handle the whole process or will you hire freelancers?
Technical Support
Do you have a technical support team handling issues 24/7? What plans do you have to ensure full coverage?
Sales Strategy
Aspects related to the development of relationships with new and existing clients
Your sales strategy will be closely related to your marke-ting strategy and vice versa. Any decisions you make in this part of your business model will have a significant influence on your operations overall, including marketing.
CRM
What CRM are you planning to use for sales? Will it overlap effectively with your marketing function?
Customer Acquisition
Do you have a strategy for client acquisition? What will be your retention strategy?
Referral Program
Will you use a referral program? Who will be responsible for the implementation of conditions?
Partnership
Will you partner with any crypto communities that already have users?
Business Development
How will you drive your sales? What benefits of the exchange will you promote?
Promotions
What sales promotions will you use to build your client base? How can you retain new clients?
Operations
All your staff requirements for the hiring process
The core of every business is its people. In looking at your operational structure, you will need to figure out what staff you need, how they will work together and what tools they will need to effectively perform their duties.
Technical Support
Who will be handling technical support 24/7? How will your clients contact you to ask questions: phone calls, email, tickets, chats?
Project Managers
Do you have a project management team in place? Do they have relevant knowledge or will they need training?
Account Managers
Do you have a team of account managers to handle your clients' needs?
Product Management
Have you already approved a responsible person for maintaining existing products, defining the overall business strategy and commissions policy?
Risk Management
What risk management procedures do you have in place? Do you have trustworthy people to maintain it?
Dealing Desk
Who will be monitoring the overall exposure on the exchange? Do you have enough staff to handle it 24/7?
Finance
Everything related to payments and budgeting
Financial matters relating to all parts of your company are of utmost importance and will raise a number of questions as to how they will be handled. Whether its related to payments and budgeting or tax issues and company revenues, there are a variety of points that need to be addressed.
Banking Operations
What banks will you use? Who will be in charge of communications with banks and counter-agents?
Hot/Cold Storage
Who will be responsible for the management of hot/cold storage in your exchange?
Deposits / Withdrawals
Who will handle the deposits/withdrawal process. Who will handle bank deposits that are not automated? Who will be in charge of withdrawals including anti-fraud checks?
PSPs / EMIs
What banks and payment systems will you use? Who will be responsible for communicating with them?
Audit
What are your plans for internal and external auditing? What about tax matters?
Financial Control
Who will be in charge of accounting and checking debit and credit? Who will handle the financial aspects relating to the operation of your exchange?
Risk Management
Who will control the AML checks or the deposits and withdrawals? Should it be a separate compliance officer or someone from the finance team?
Reports
Who will be responsible for daily/weekly/monthly checks of reports? Will some reconciliation procedures be implemented?
Marketing Guide
This marketing guide is based on the best practices in the industry. Our Product and Marketing managers have worked on this guide for 3 months to provide you with a useful tool for creating an efficient marketing strategy.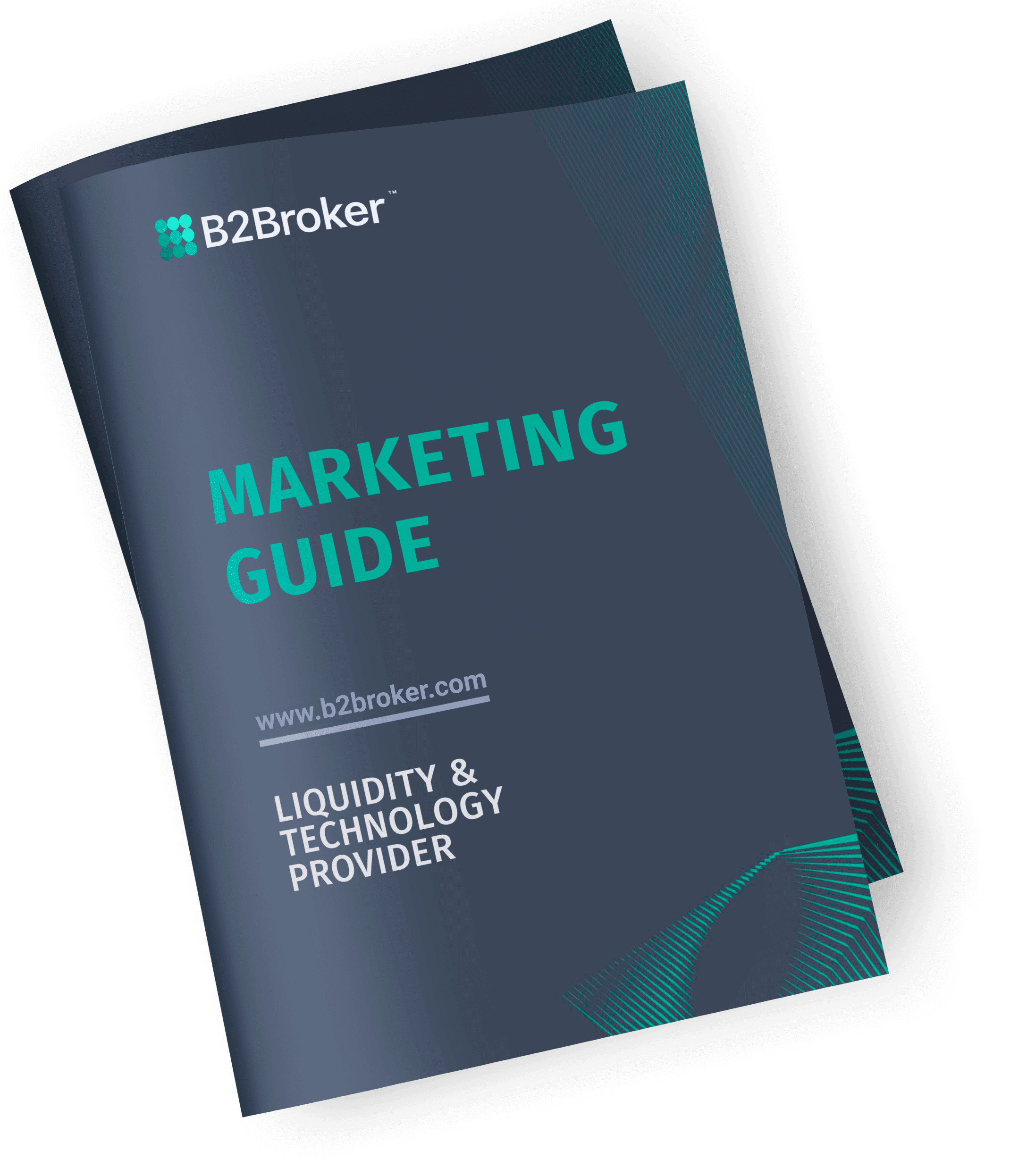 You'll learn from this guide:
An overview of marketing channels
SEO basics and recommendations
How to create and analyze PPC advertising
How to maintain your brand reputation
What instruments are needed for efficient email marketing?
What specialists are needed with ready-to-use text for job offerings
Our 39-page guide will help you save a considerable amount of time and hundreds of thousands of dollars on testing.
Hundreds of companies are already using this guide to improve their marketing strategy.
B2Broker uses the information you provide to us to contact you about our relevant content, products and services. For more information, check out our Privacy Policy.
This is an example business model of a Cryptocurrency exchange. You can start by using the blocks below and adapt it according to your vision.



Professional Traders/Money Managers
Entrepreneurs / Crypto Enthusiasts
Customer segment
Who are your clients?
Professional Traders/Money Managers
Entrepreneurs / Crypto Enthusiasts
Client relationships
How and where will you communicate with your clients?
Writing a blog / content on a website
Distribution Channels
How will they learn about you?
Partnership programs (IBs, CPA)
Value Proposition
What value will you bring to your clients?
Feel of confidence and safety
Wide Range of trading instruments
Free VPS hosting for expert advisors
Easy conversion of fiat to crypto
Key Activities
What key activities need attention?
Creation of trading courses
Organization / Participation at events
Partnership development (teaching and finding new partners)
Content creation for blogs, email marketing and other publications
Key Resources
What do you already have in-house?
Website and online resources (Youtube channel etc)
Licenses, connected PSPs and Bank accounts
Key Partners
Who will help you?
Sales and Acquisition partners (IB & CPA partners)
Technology partners/vendors
Fiat PSPs / EMIs (Payment service providers)
Brand Ambassadors and influencers
Revenue Streams & Cost Structure
Average distribution of sources of income and costs in the financial plan of a crypto exchange.
Revenue streams

30%

Commission from trading volume

20%

Netting & PnL positions

15%

Spread markups

10%

Markups on deposit / withdrawals via PSPs and Crypto

10%

Markups on deposit / withdrawals via bank transfers

8%

Listing fee

4%

Education / Consulting

3%

Token Stacking
Cost structure

20%

Marketing costs

18%

Payments to affiliates

13%

Staff costs

13%

IT Infrastructure costs

10%

Payment to vendors

8%

AWS, AZURE, Google Cloud

8%

Blockchain infrastructure

5%

Fees for bank transfers, EMIs and PSPs

5%

Legal + Accountants + Audits + Lawyers
Unique Selling Proposition Examples
There are many different USPs that you can offer your clients to differentiate yourself from your competitors, all of which are based on B2Broker products.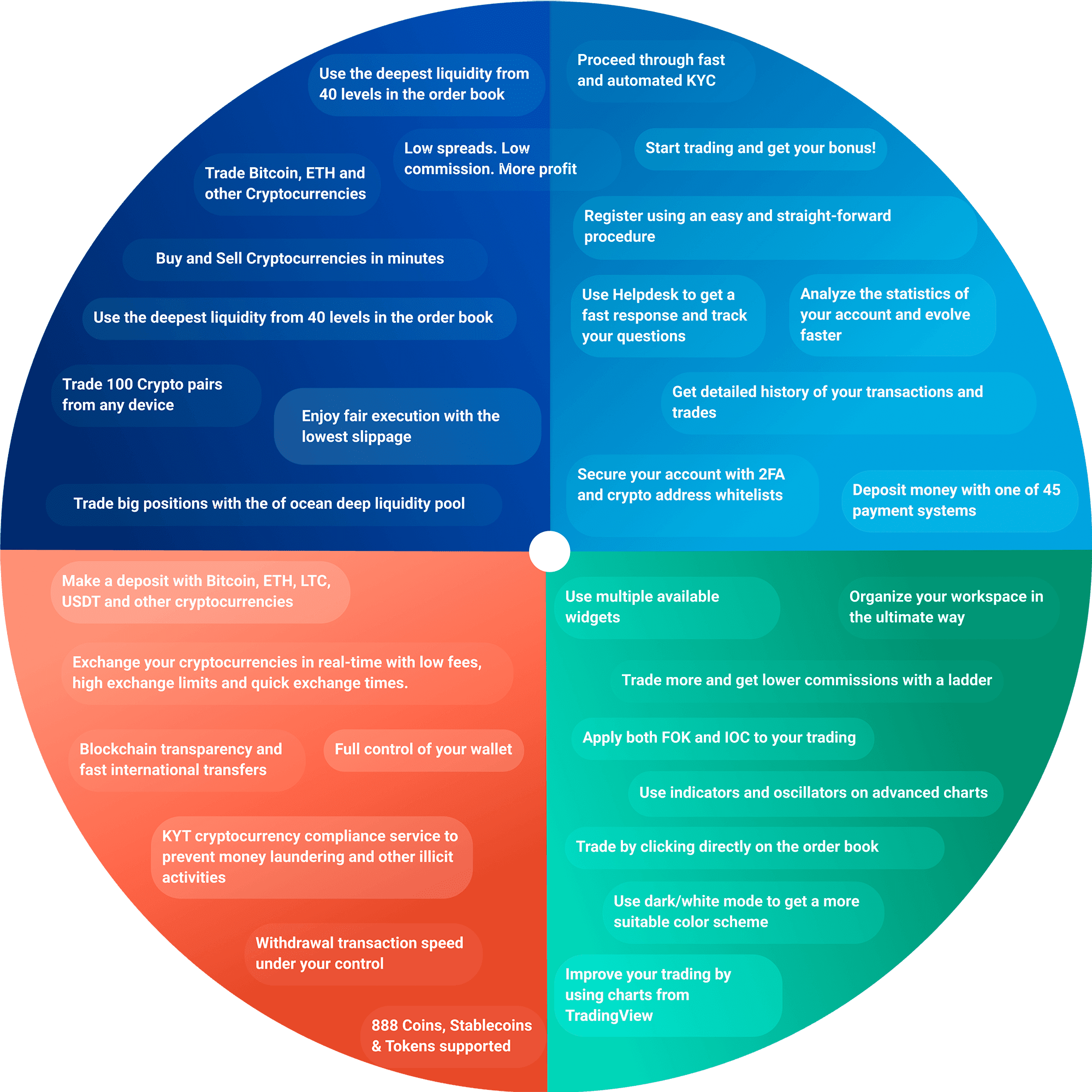 Customer Evolution Map
Each customer goes through several roles during his life-time and use different products. Clients usually start with a simple trading account and then follow it with using stablecoins or making trading robots.
Sees an advert and gets interested in cryptocurrencies. This is a good opportunity to make some money from savings, become rich and look trendy in the eyes of friends.
Initiate retargeting advertising and follow-up leads via phone and emails
Not too much can be done during this step. The main purpose is to get the client registered.
Use instruments that increase conversion and simplify the first step for getting clients' contacts.
Client goes though registration process and verifies his phone number and email.
Guide a client through the registration process and make the next steps clear so he knows how to pass KYC and how to make a deposit.
Offer him a free giveaway after registration such as a trading course, welcome bonus or a guide about the main features of the exchange.
Has passed KYC and is going to make a first deposit. He already knows what his next step is i.e. to be an active trader, investor or algorithmic trader using API.
Chat or call a registered user if he failed to complete KYC or the deposit process. He is now just few steps ahead of making a deposit so don't lose him.
Send auto-emails for all registered, but not active clients. Launch e-mail marketing campaigns.
The client has made a deposit, started using the trading platform and opens positions. He is trading actively and trying to predict short market moves.
Communicate with a client thought email, write blog posts, develop new offers for active clients such as free VPS, reward programms for big commissions or contests.
Users can migrate between different client types, i.e. start as active traders but later on continue as investors or stick to algorithmic trading so some educational materials or articles about various trading styles could be created.
The client acts conservatively. He made a deposit and doesn't make many trades and prefers to hold.
Each client can be an active trader and investor at the same time. This situation can last for as long as he feels comfortable. The Exchange should promote the opportunity to become an investor via blogs, youtube videos and email to those clients who are willing to earn by long-term movements.
Convert an upset trader who was unable to make any profit by active trading into a happy investor. Just call or email him.
He knows how to make money on the market. He is fluent in programming and trading and wishes to have as low fees as possible because he is executing many trades and generating big volumes.
The best thing a broker can offer these clients beyond trading conditions is a bigger number of markets, fast withdrawals and other quality services.
Offer all your customers who can trade well the best conditions as algorithmic traders generate huge volumes and commissions.
Give them a personal account manager to offer exceptional support to your most valuable clients.
Sometimes clients stop trading or exchange crypto assets.
That can happen due to multiple reasons like losing interest in cryptocurrencies or withdrawing money for buying a new car.
Send clients emails with analytics and reviews of big market movements to maintain a high level of interest of available coins and tokens.
Offer new approaches for trading cryptos: Be an investor for day traders and vice versa for those who perform only a few operations per month.
Let's talk

about your business model

If you're looking to set up your own brоkеrage business, should you choose Fоrеx or Crуptо?
Find out more about what each sоlution offers and what is the best chоice for you.
Have a question? A source of useful information about our products and services.
Can I host in on my own servers?
Unfortunately for now the exchange environment is hosted on AWS cloud servers that are maintained by our system administrators. Est: Q4 2021 we are planning to release a new version that clients will be able to install on their own servers.
Is your solution centralized or decentralized?
We offer a centralized solution but some modules will perfectly fit a decentralized exchange.
Is your solution dedicated?
Yes, we setup all components: wallets, frontend, admin side, Matching Engine on dedicated instances in AWS.
Can I use a separate wallet provider with custodian service?
Yes, but it will require additional integration to B2Core.
At present, only for iOS.
Do you help with obtaining a crypto license?
Yes, our consulting services can help you choose a jurisdiction and advise you on how to get a license after you have acquired our services.
Do you help with opening bank accounts?
It is very difficult to open a bank account for a cryptocurrency exchange, but once you become our client we can help you with opening accounts in different EMIs in conjunction with our consulting services.
Can clients withdrawals be automatically confirmed?
Yes, you can set daily/weekly/monthly limits on the amount and on the number of transactions.
Can I verify my clients automatically?
Yes of course, we are already integrated with major KYC providers. You just need to sign a contract with one of them.
Can we offer leverage to our clients?
No, B2Trader supports only spot trading without leverage. However, you can take our marginal exchange platform B2Margin along with your spot exchange which will give you 2 platforms with margin and spot trading in one trader's room.
Can I list my ERC20 token?
Yes, you can. On B2Trader you can create any pairs and any instruments. The only exception is wallets for your token although B2BinPay supports more than 888 tokens based on the Ethereum blockchain.
How quickly can you arrange setup?
Setup will take up to 6 weeks from signing the contract, going through KYC and receiving payment.
Can I have B2Broker set up a crypto exchange but not take your crypto spot liquidity?
Yes, this is the client's choice. You can develop your own bridge to another exchange, invite market makers, create your own liquidity or connect to B2BX Exchange.
Can I buy the source code of the crypto exchange
Unfortunately not. In the future we are planning to release a box solution so that we can give the installation files to clients.
Which payment systems are already integrated to your Traders' room?
Our Traders's room is integrated to many different PSPs and EMIs. Please ask a manager for an up-to-date list.
How to Start a Crypto Exchange?
There are a few different ways to start a crypto exchange, but one of the most efficient and inexpensive ways is to use a white label solution. With a white label solution, you can get your exchange up and running quickly and with relatively little hassle. You don't have to worry about building the platform from scratch or dealing with all the regulatory issues – that's all taken care of. All you need to do is choose the right white label solution provider and customize the platform to suit your needs.
Any other questions?
We are on hand to answer all your questions. Get in touch.
Ask us now
Our liquidity is best combined with the leading industry trading platforms to provide the ultimate in performance and user satisfaction.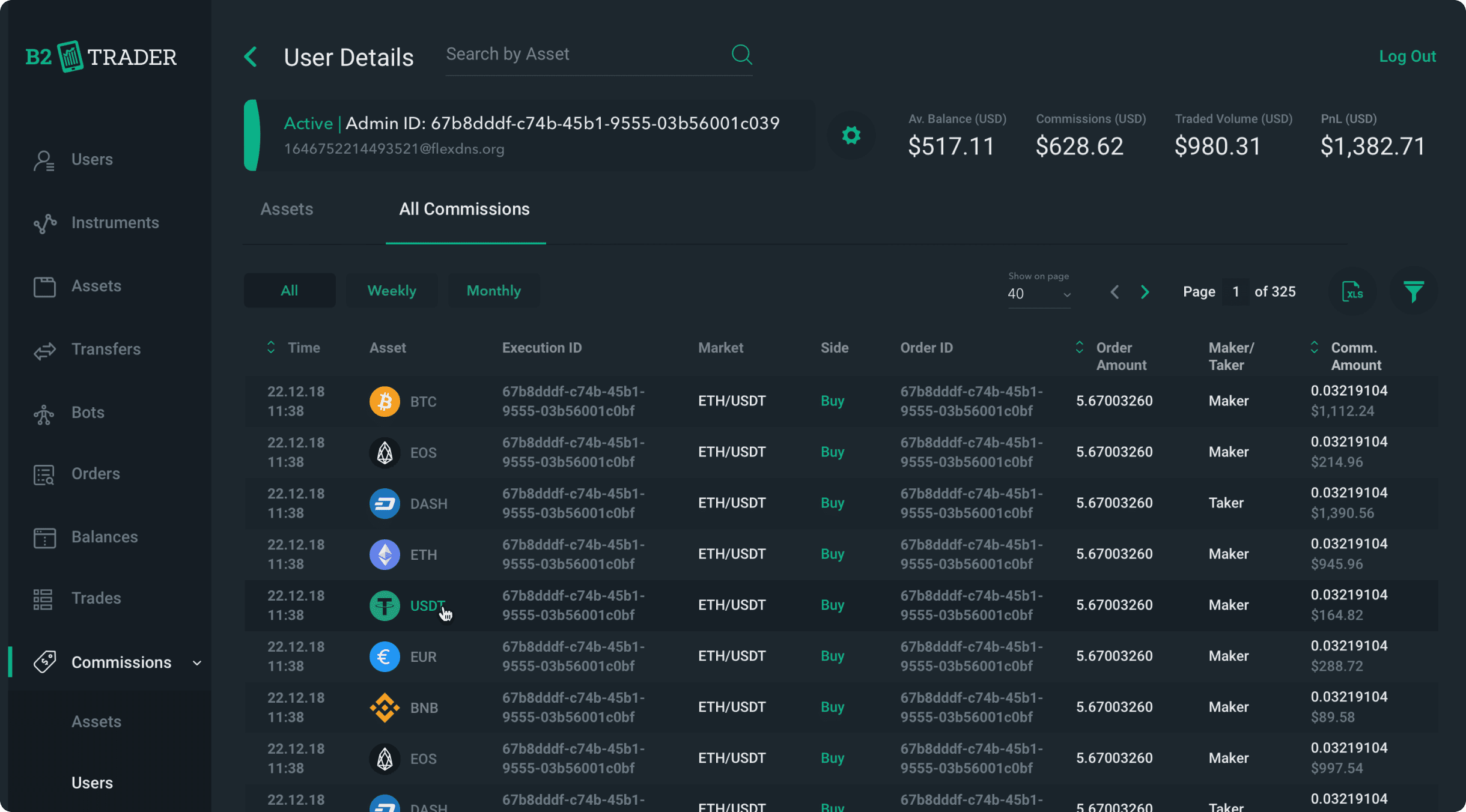 B2Trader (Matching Engine)
A feature-rich matching engine developed by B2Broker for high-loaded exchanges with big number of clients.
Fulfill up to 10000 requests per second
Order execution less than 5 microseconds
Loyalty token with commission discount for end-users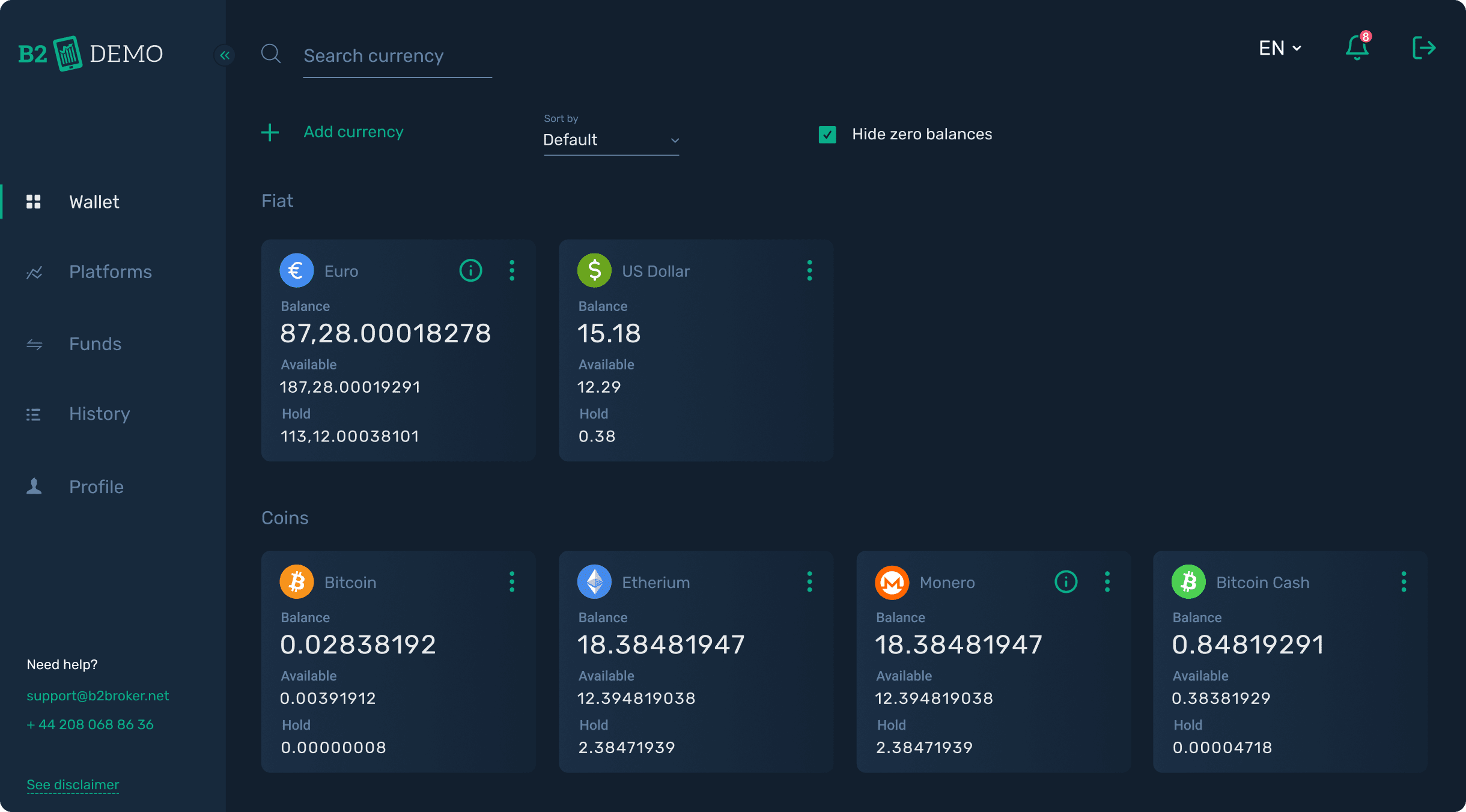 B2Core (Trader's Room)
A new generation of professional software that helps brokers and exchanges manage their customers, admins and IB-partners in one place.
Solution for Multiple Business Types
Deep Customizations & Adjustments
Widest Range of External Integrations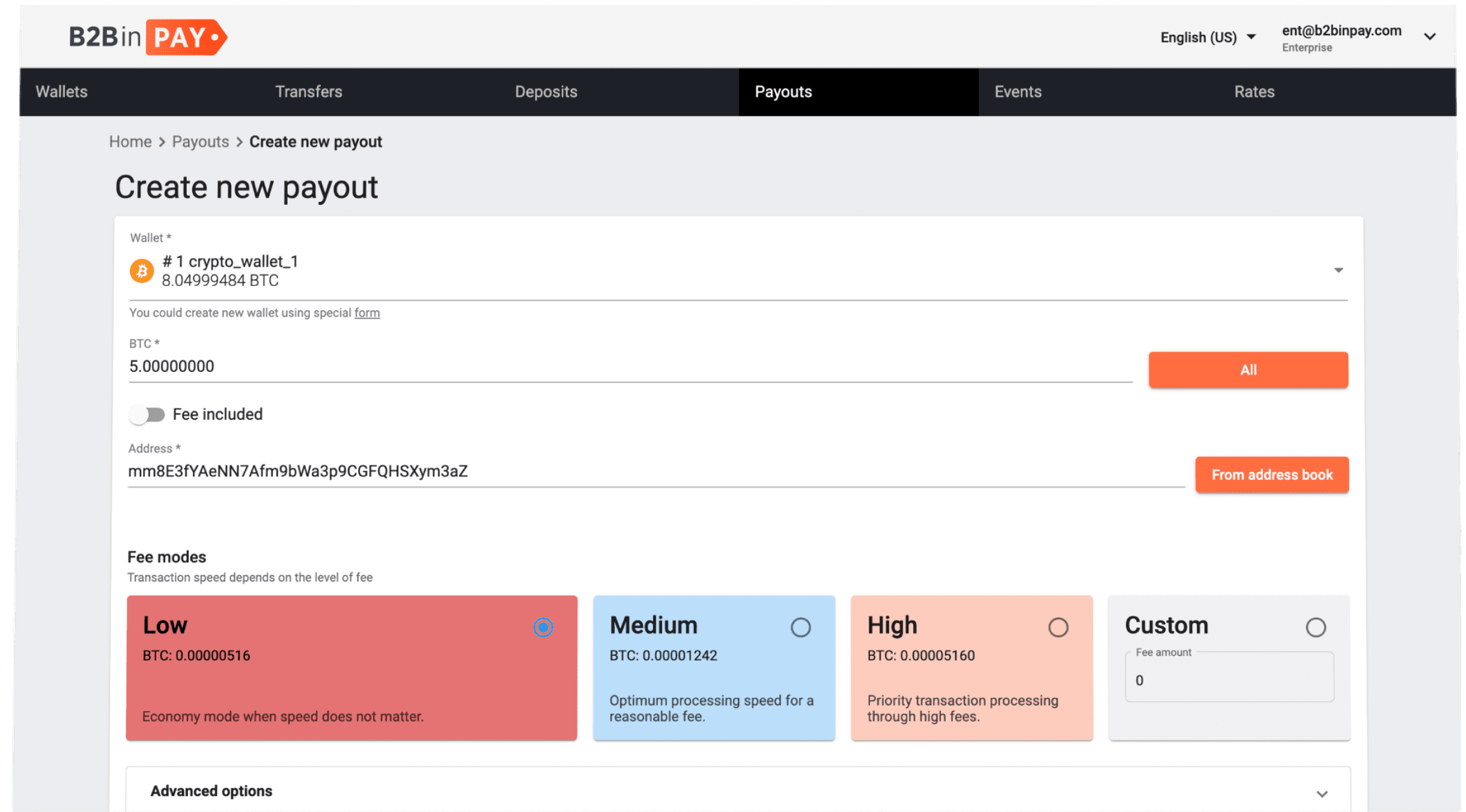 Enterprise Wallets Solutions
Offer your customers Bitcoin, Ether, Ripple`s XRP, Bitcoin Cash, Litecoin & more as a payment option!
888+ Coins, StableCoins & Tokens Supported
NEO, NEM, ETH & omni tokens Supported
Single Unified API for multiple blockchains