B2Broker is pleased to announce that it will host a joint webinar with Finance Magnates on November 1st, 2022 at 17:00 GMT +4. The webinar will focus on the various regulatory requirements that brokers must comply with, as well as some of the common licensing challenges that businesses in the Forex or crypto industry face.
Attendees can expect to learn about the actual value of a license for a broker and how to get one quickly and easily. Additionally, the audience will be able to engage in a question-and-answer session. The webinar is expected to benefit all participants, from retail brokers and IBs to white label partners and fund managers. Register now to reserve your spot!
Hosts
The webinar will be hosted by B2Broker's Chief Strategy Officer Alex Tsepaev, and Head of the Legal Department Pavel Manzhosov.
Alex Tsepaev is a seasoned professional with extensive knowledge of the financial markets and a PhD in international economic law. With over a decade of experience in regulatory agencies and major financial institutions, Alex profoundly understands the industry's inner workings. As the current Chief Strategy Officer for B2Broker Group, Alex is a sought-after speaker and consultant on topics related to financial regulations and market trends.
Pavel Manzhosov is a hardened expert in the field of fintech who currently works as the director of B2B PRIME SERVICES LTD and the head of the legal department at B2Broker Group. Prior to these roles, he served as director of B2BX Digital Exchange, where he gained extensive experience working with financial markets and developing innovative solutions for businesses in this field. As a webinar speaker, Pavel brings an in-depth knowledge of cutting-edge technologies and best practices to help professionals stay ahead of the curve in the fast-paced world of finance.
Webinar Date
The webinar will be held on November 1st, 17:00 GMT +4. In order to participate, please register here.
Agenda
Five Major Classifications of Licenses

Why License is Crucial for Brokerage Businesses

Key Regulation Requirements

How to Choose the Best Jurisdiction

Three Proven Ways to Get a License

How to Choose a Reliable Agent

Seven Priceless Tips & Insights

Q&A
We invite you to join us for our upcoming webinar, where we will be exploring the vital issue of regulation and licensing. Our team of experts will be on hand to answer any questions you may have and offer guidance on how to obtain a license quickly and easily. So please register for our webinar today, and reserve your spot – we look forward to seeing you there.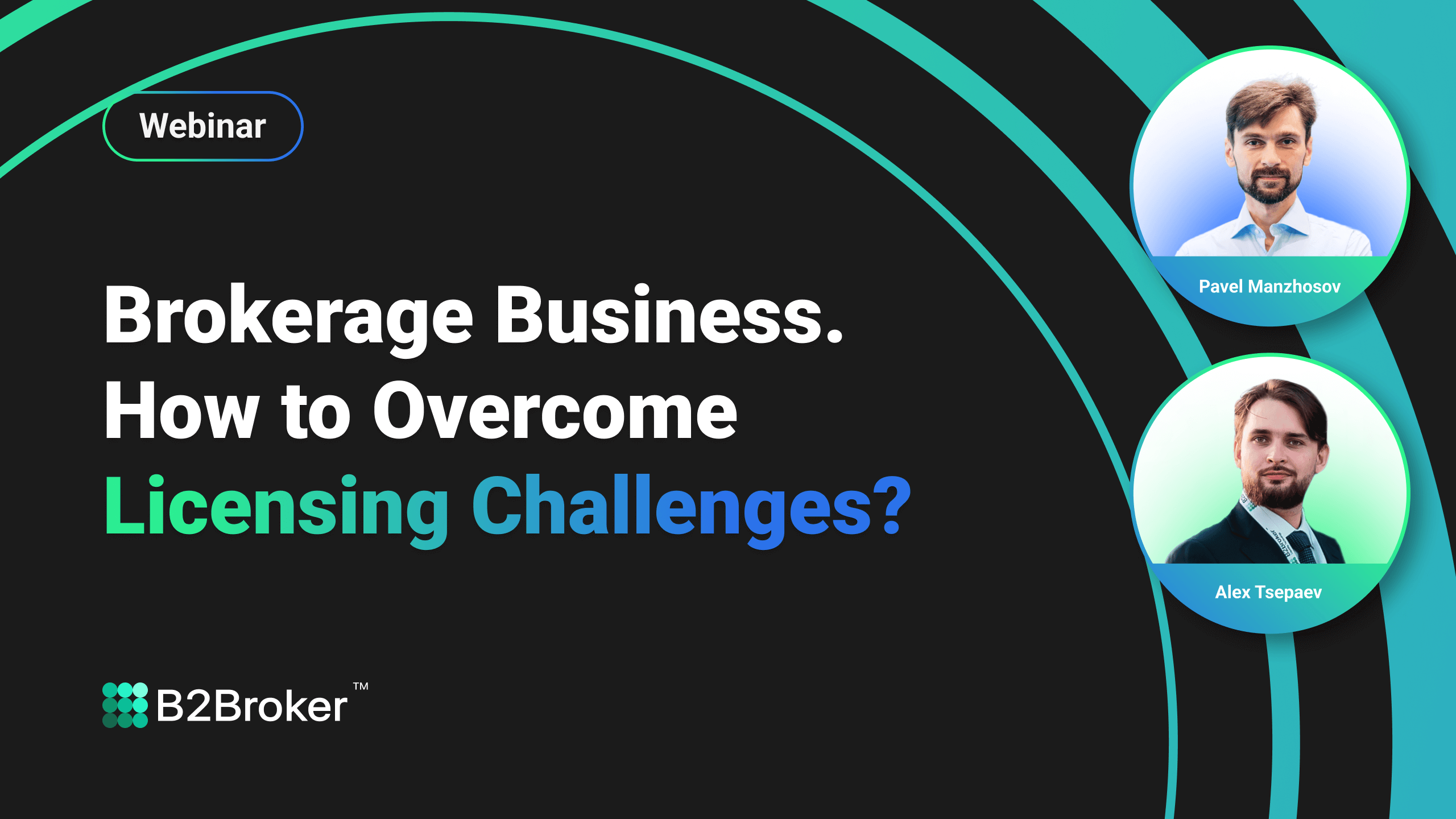 50:07
Brokerage Business. How to Overcome Licensing Challenges?
In this video, B2Broker's Chief Strategy Officer Alex Tsepaev and Head of the Legal Department Pavel Manzhosov describe various licensing challenges businesses in the Forex and crypto industry face and ways to overcome them.
Join our webinar
We offer a large range of products and services to enhance your business operations.Check them out here...