B2BROKER:过去现在和未来
企业新闻
February 8, 2018
更新 June 4, 2021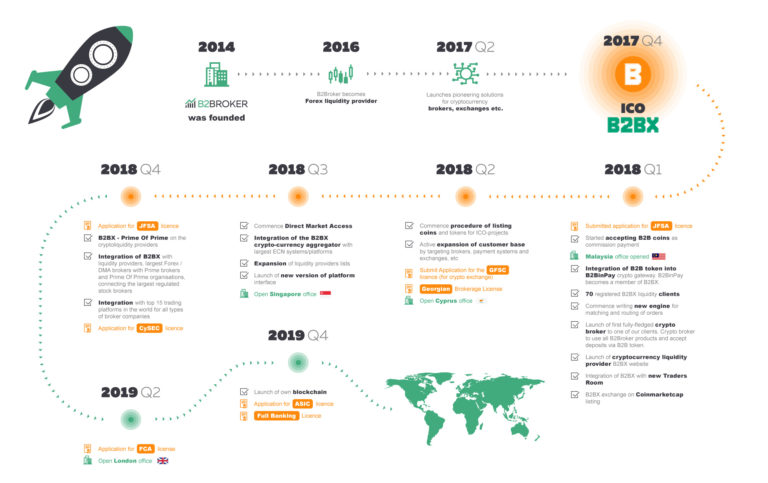 The crypto era has resulted in an influx of service providers and investors alike seeking to be part of the crypto scene. Wanting to grasp the opportunity, many brokers and technology providers have quickly launched solutions to enable retail clients to trade and invest in cryptocurrencies. Likewise, more and more brokerages have started integrating cryptocurrency instruments into their platforms. One such company is B2Broker, a company that has quickly positioned itself as one of the leading service providers in the B2B sphere. B2Broker caters to a wide range of clients including individual investors, large licensed brokers, banks, hedge funds and professional managers. A solid company backed by a team of recognised experts in the industry, B2Broker started operations in 2014 and has quickly risen to prominence thanks to its comprehensive range of offerings and its eminent figureheads who strive to promote the company's services. Just 3 years into operations, the company has a relatively short but successful history, culminating in an advanced base of ready to use technical solutions that enable brokers to save time and money. To date, the company offers a range of products and services including 
Turnkey Solutions
, 
White Label Solutions for MT4 and MT5
, 
Trader's Room
 modules for brokerage websites, CRM systems for brokerage sales and retention departments, 
DMA Liquidity
, 
PAMM/MAM Services
.
The First 3 Years
Backtrack to 2014, B2Broker entered the market with two products: White Label MT4/MT5 and Traders Room for brokers and had one office in St. Petersburg, with 10 employees and 2 clients.
The following year, 2015 saw the development of the first fully-fledged CRM-system for brokers together with Microsoft Ukraine – B2Broker Cloud CRM. The company expanded its product line, added aggregated liquidity from 3 different liquidity providers and legal and financial services. B2Broker opened a second office in Kiev and saw its employee numbers expand to 15, with 5 clients (CIS, Europe).
In 2016, B2Broker added PAMM/MAM/Social Trading into the product line, upgraded DMA Liquidity by implementing a professional solution based on Integral with the liquidity provider, Swissquote Bank. the company also added liquidity on shares and launched a package offer called «Forex broker turn-key». With a new website and the opening of a head office in Moscow, B2Broker entered the world arena boasting 21 clients from Russia, Ukraine, Uzbekistan, Cyprus, Bulgaria, Malaysia, Czech Republic with 27 employees in its team.
Moving on in 2017, B2Broker created a cryptocurrency aggregator B2BX and added the functionality of crypto-exchangers to its Traders Room product becoming the first company in the world to launch cryptocurrency solutions. At this point the company decided to turn its cryptocurrency aggregator, B2BX, into a full-fledged crypto-exchange for institutional clients, a marketplace for accredited and regulated brokerage companies and financial institutes, enabling them to trade in cryptocurrencies.
With a meticulously planned schedule to build on its early successes the company conducted an ICO to drive the development of B2BX.
Post ICO Plans
The project received strong interest from around the industry and raised over €8 million which will be used to obtain licences, to open local offices which are required for optimal work with liquidity and to connect cryptocurrency exchanges.
Undoubtedly, launching cryptocurrency offerings is a way of aligning with the future of trading. Many retail brokers and providers have already seen positive effects on their businesses with an immediate effect in terms of profit growth, trade turnover and commissions, as well as increasing the recognition of their brands.
As the demand for cryptocurrency trading continues to grow with more and more brokerages looking to join and profit from the trend, B2Broker has established a 2-year plan to build on its recent ICO success and expand its global reach.