B2Core 更新:儀表板功能和新的 PSP 聚合器
產品更新
October 5, 2020
更新 October 10, 2022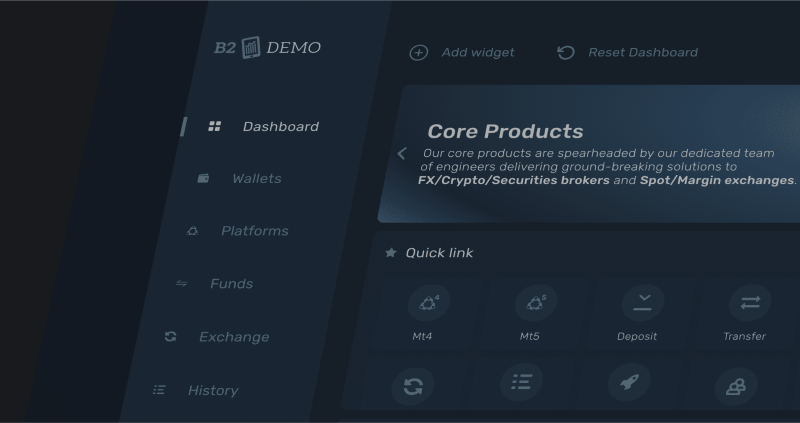 Internal Deposit
We have switched Client Email to Client First Name and Last Name in the transactions history. This is aimed at making the details easier for end-users to understand. The change is applicable to all B2Core owners.
New Payment Systems
B2Core regularly integrates new payment systems. This month sees the addition of Bepay2, Freekassa, Transak, Eskapay and Hotpay to which all B2Core owners will have access.
New Languages
To further extend our international reach, we have added Malasysian, Thai, Italian, Tagalog, Magyar, Hindi and Traditional Chinese to B2Core localisations, so that clients are able to translate their B2Core into these languages. The additions are applicable to all B2Core owners.
Product Verification Level Auto-Create
We have developed a Product Verification Level Auto-Create function, which can be assigned to a product and automatically enabled for users who reach a particular verification level. This is applicable to all B2Core owners.
Countries Section
We have developed a Countries section in the admin panel, where clients can turn on/off the countries shown on the registration page. Once again, this new feature is applicable to all B2Core owners.
PSP Aggregator
We have developed the first of three stages of a new target market for B2Core i.e. a Payment System. Essentially, this means that B2Core will be the bridge between the client cabinet and all PSPs that we have already integrated. In other words, B2Core is working on becoming a PSP aggregator. The first stage of this exciting new work-in-progress is the module development, with callback notifications and admin resends to follow. More news coming soon…
Dashboard Banners
We have added Dashboard accessibility to an additional 12 clients and also plan to introduce Dashboard Banners for B2Core. As well as our own Product Banners, we will now be providing the opportunity for our clients to increase their conversion with our homemade banners representing various solutions, such as Quick Verification, Address Whitelist, etc:
Presented in either light or dark themes.

Banners will be imported to all current and new TRs in the nearest deploys so that clients will not need to do anything to have them in their B2Core.

They are 100% customizable, hence, all the text or background can be adjusted in the admin area.


The latest features add a further set of useful functions to B2Core, contributing to a continually improving trader's room solution. B2Core is easy to use and is the ultimate solution to help admins gain complete control over their financial business operations. For further information, please email [email protected]