B2Broker at DIFC Fintech Week 2022 – Report
Author: Iskander Ziyanurov
28.06.2022 - 29.06.2022
B2Broker was proud to participate as a Gold Sponsor at the highly-anticipated DIFC Fintech Week. The event took place on June 28 and 29 at the luxurious Ritz-Carlton in Dubai, UAE. With our excellent location of our booth on the event we could showcase our wide range of products and services to new and established clients. It was a great opportunity to connect with people from all over the world and to strengthen our relationships with existing partners.
About DIFC Fintech Week
DIFC FinTech Week was a resounding success, bringing together the leading lights of the financial technology sector in the Middle East. The summit served as a platform for thought-leadership and business-focused discussion, particularly focusing on the latest challenges and technology trends impacting the region's financial services industry.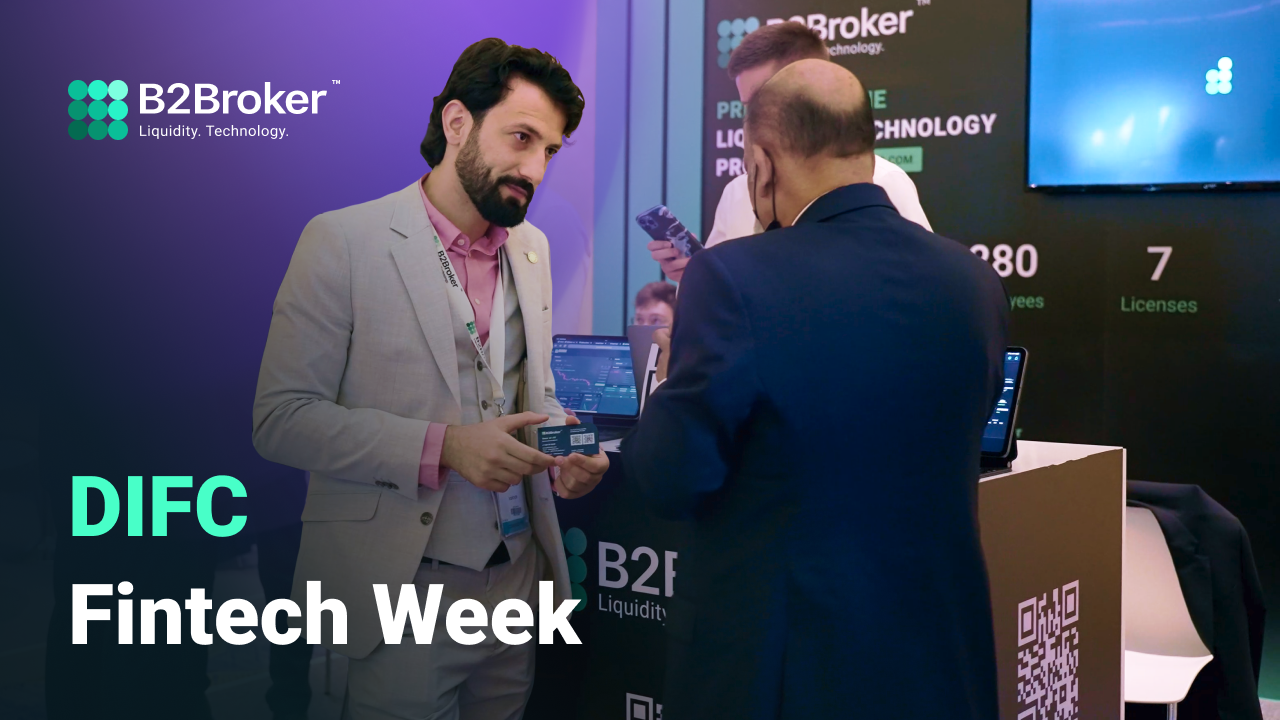 01:35
B2Broker at DIFC Fintech Week 2022: Highlights
DIFC Fintech Week included over 40 multidisciplinary speakers, panel discussions, enterprise use-case presentations, and product showcases. The event was attended by Changpeng Zhao, CEO of Binance; Arshad Ghafur, president of Bank of America MENA; Rene Michau, global head of Digital Assets at Standard Chartered; Dr. Bernd Van Linder, CEO of Commercial Bank of Dubai; Andrew Matushkin, Global Business Development Manager at B2Broker; Henri Arslanian, managing partner at Nine Blocks Capital Management; and Navin Gupta from Ripple are just some of the big names that graced the event with its attendance.
So DIFC FinTech Week focused on ten key themes: Web 3.0, metaverse, NFTs, crypto, blockchain, payments, embedded finance, open banking, regtech, and ESG. As a result, more than 1,000 attendees converged at the event to discuss the adoption of next-gen technology solutions in the industry.
Andrew Matushkin, Global Business Development Manager and Speaker from B2Broker 2022
In addition, attendees gained valuable insights into the crypto payment industry from Andrew Matushkin, Global Business Development Manager at B2Broker. Having been with B2Broker from the beginning, he has in-depth knowledge of the Fintech industry, so his insights were valuable for all participants.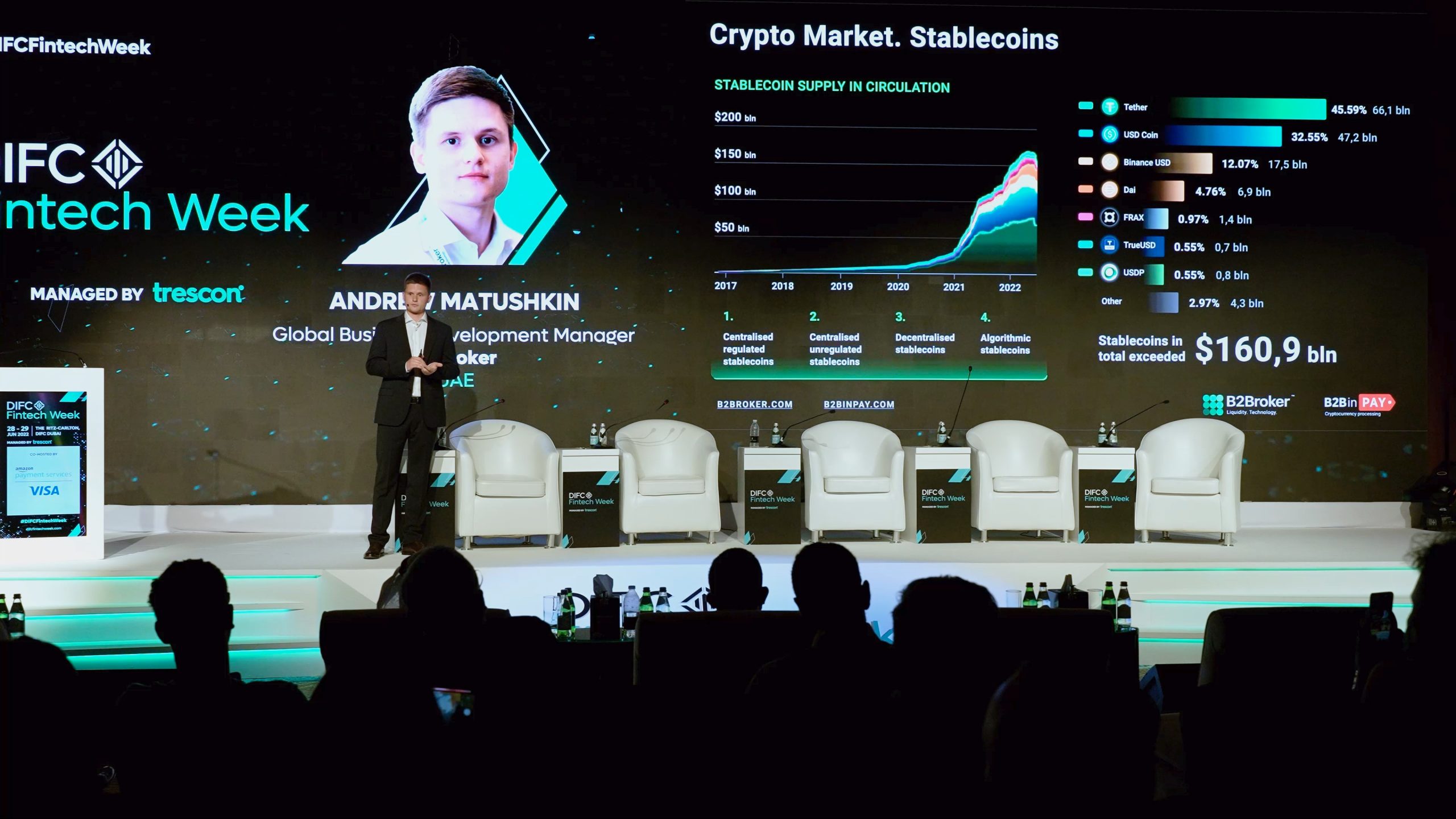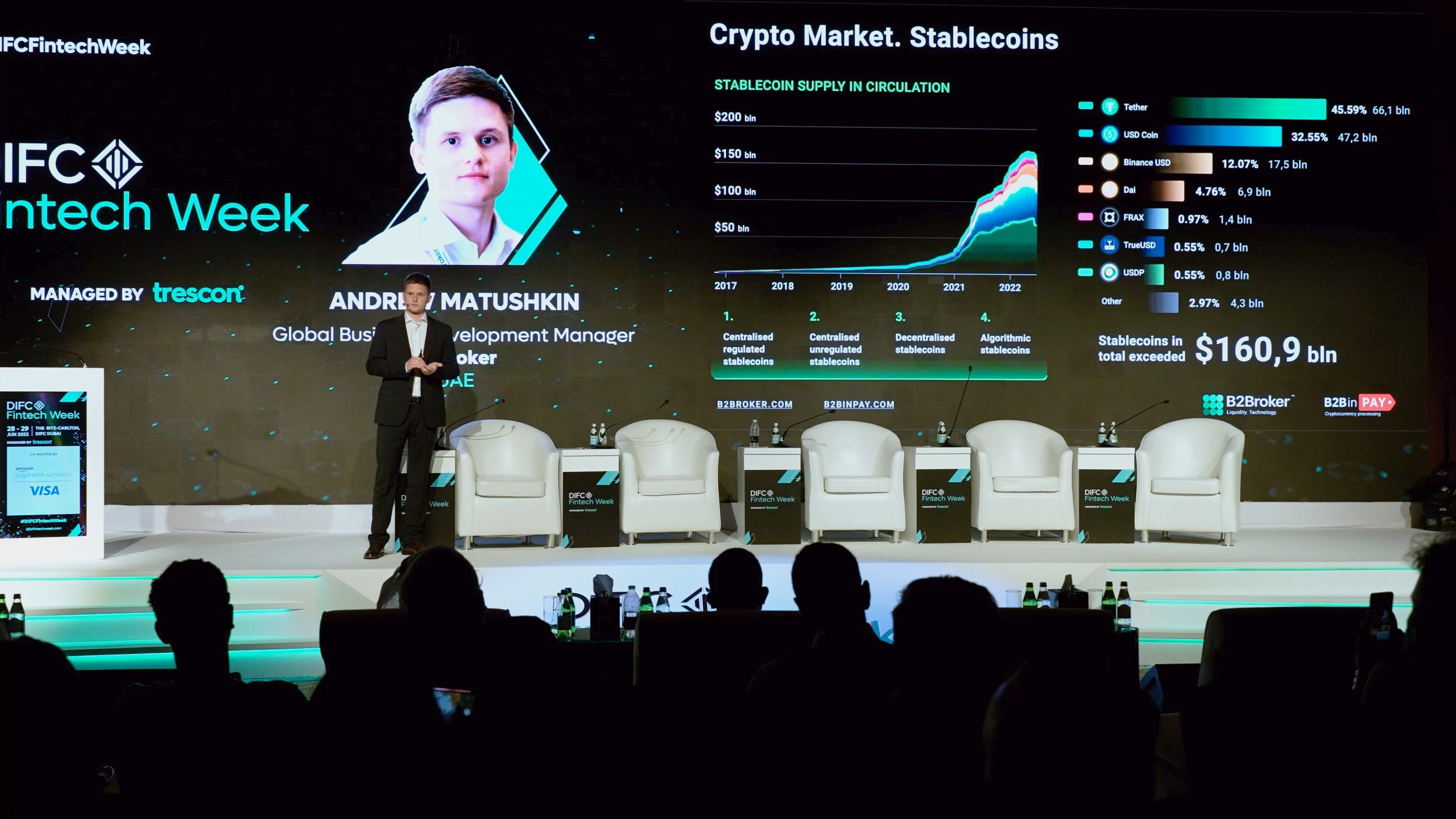 Edward Yeremeev, Omar Al-Ali, Pamela Linaldi, Mohammed Al-Ali, Mina Louka, Alexey Tsepaev, and Mohammed Abdul Basit also participated in the summit on behalf of our company.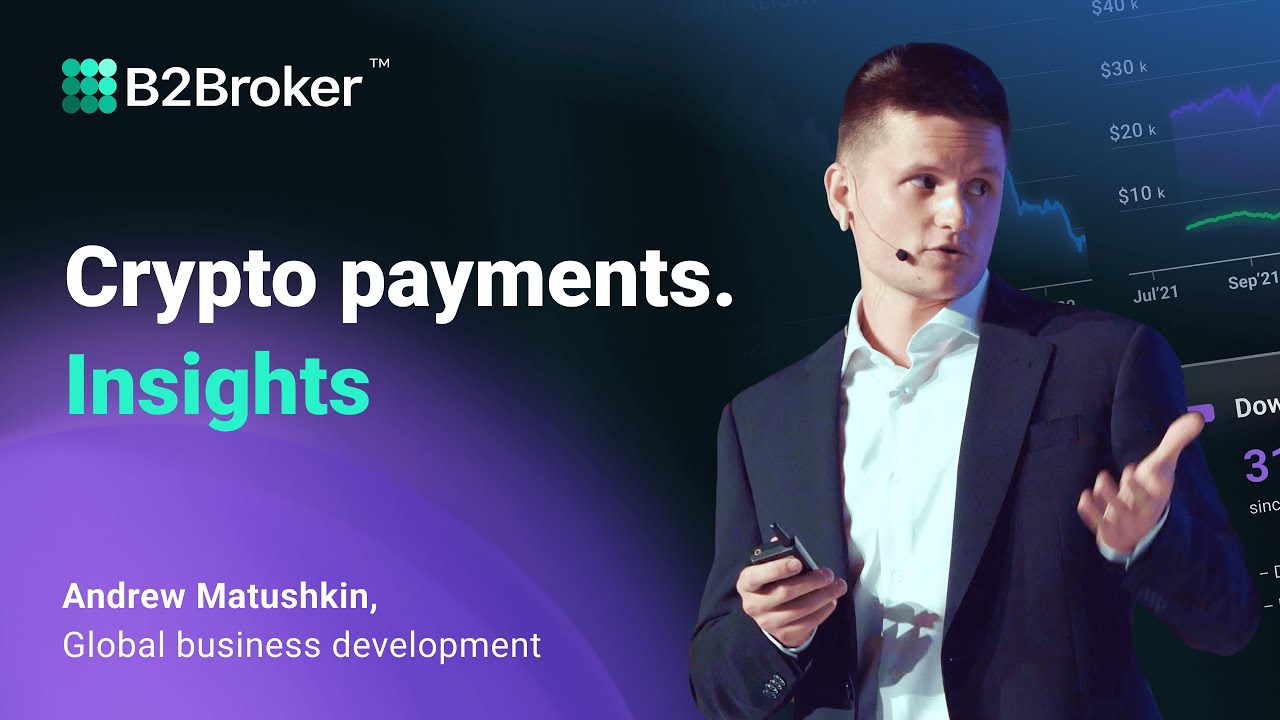 13:40
Andrew Matushkin: Insights into Crypto Payments | DIFC Fintech Week 2022
In Conclusion
We, B2Broker is a leading provider of white-label and technology solutions. We provide turnkey solutions that enable our clients to start or expand their businesses quickly and efficiently. The event was a great opportunity to showcase our products and services in a friendly and informal setting. Our experts were on hand to chat with attendees and answer any questions they had.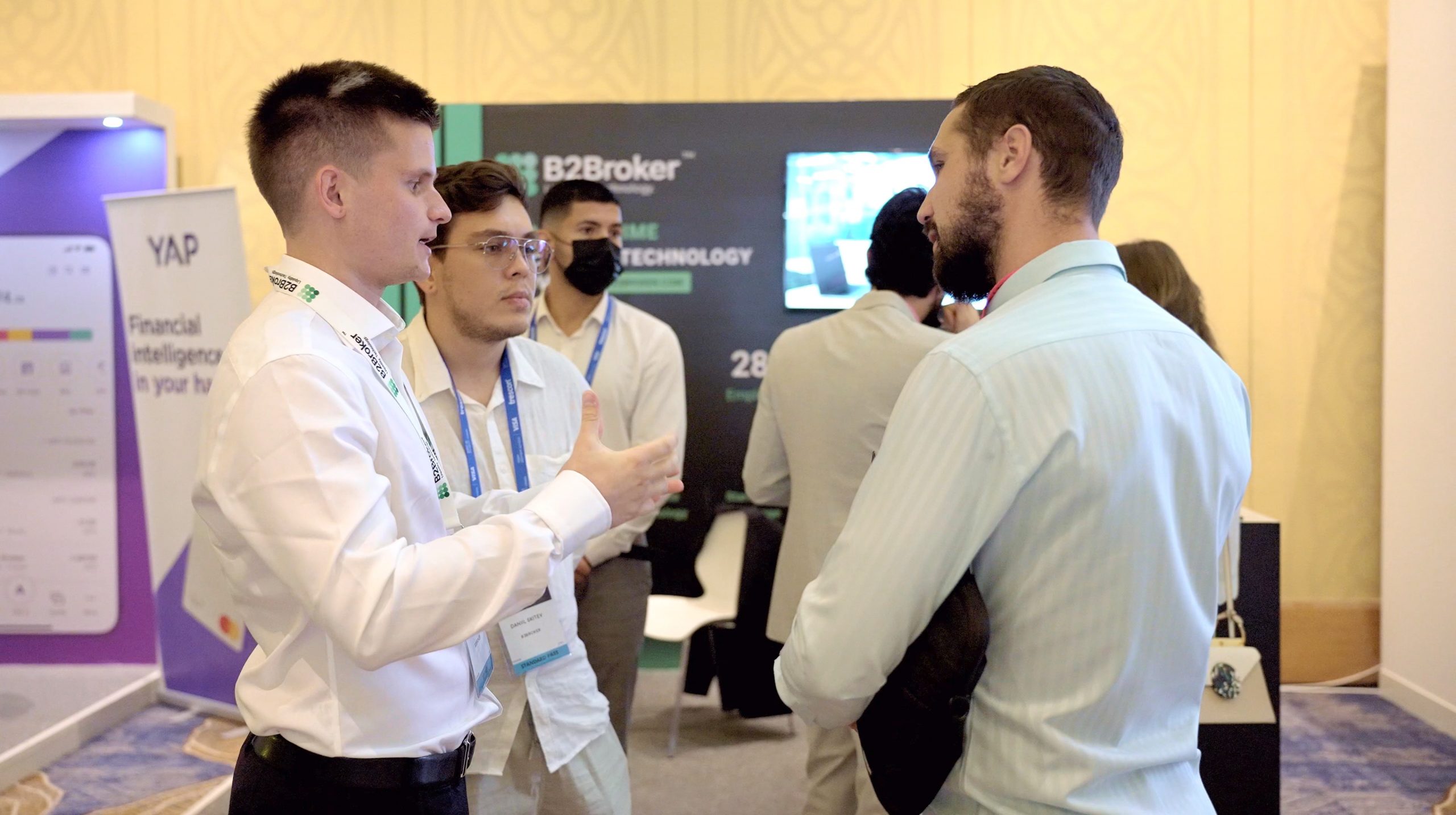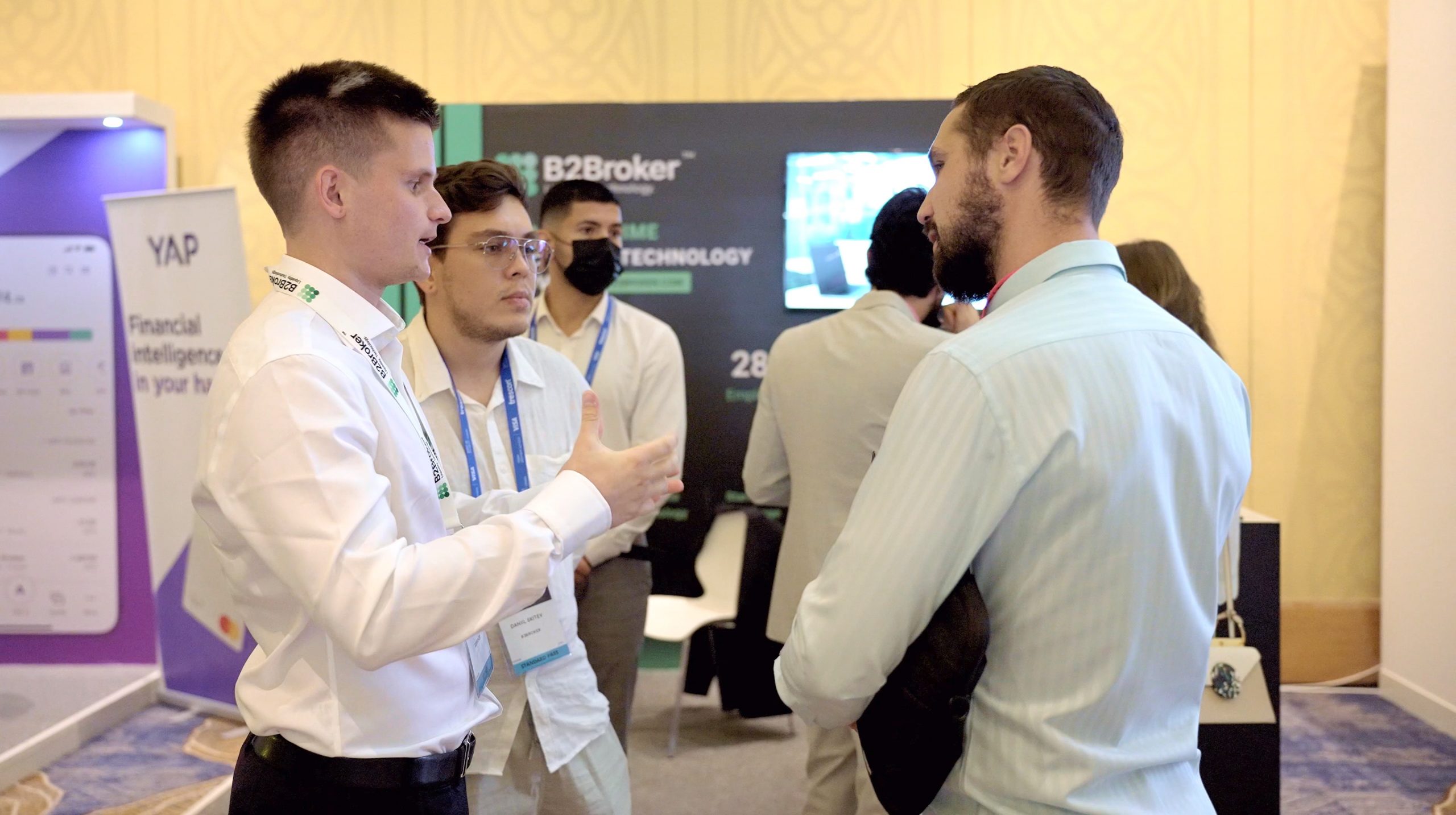 Overall, it was a wonderful experience! We had the opportunity to meet many new clients, strengthen ties with existing customers and make some great connections for future business growth. We sincerely thank all those who attended and contributed to making this event such a success!
Join us for our next event and arrange your calendar to make sure you don't miss out. See you soon!