Ticker Widget is a powerful marketing tool with an adjustable list of instruments available.
It can be used with MetaTrader, B2Trader, DXtrade, B2Margin and any other trading platform irrespective of whether if there is FIX API connection.
Depth of market avilable up to
SSE data streaming
All browsers
сompatible
Ticker Widget offers flexibility so can be used in many ways as illustrated in this dashboard example.
Integrate Ticker Widget into B2Core and give your clients everything they need to trade effectively.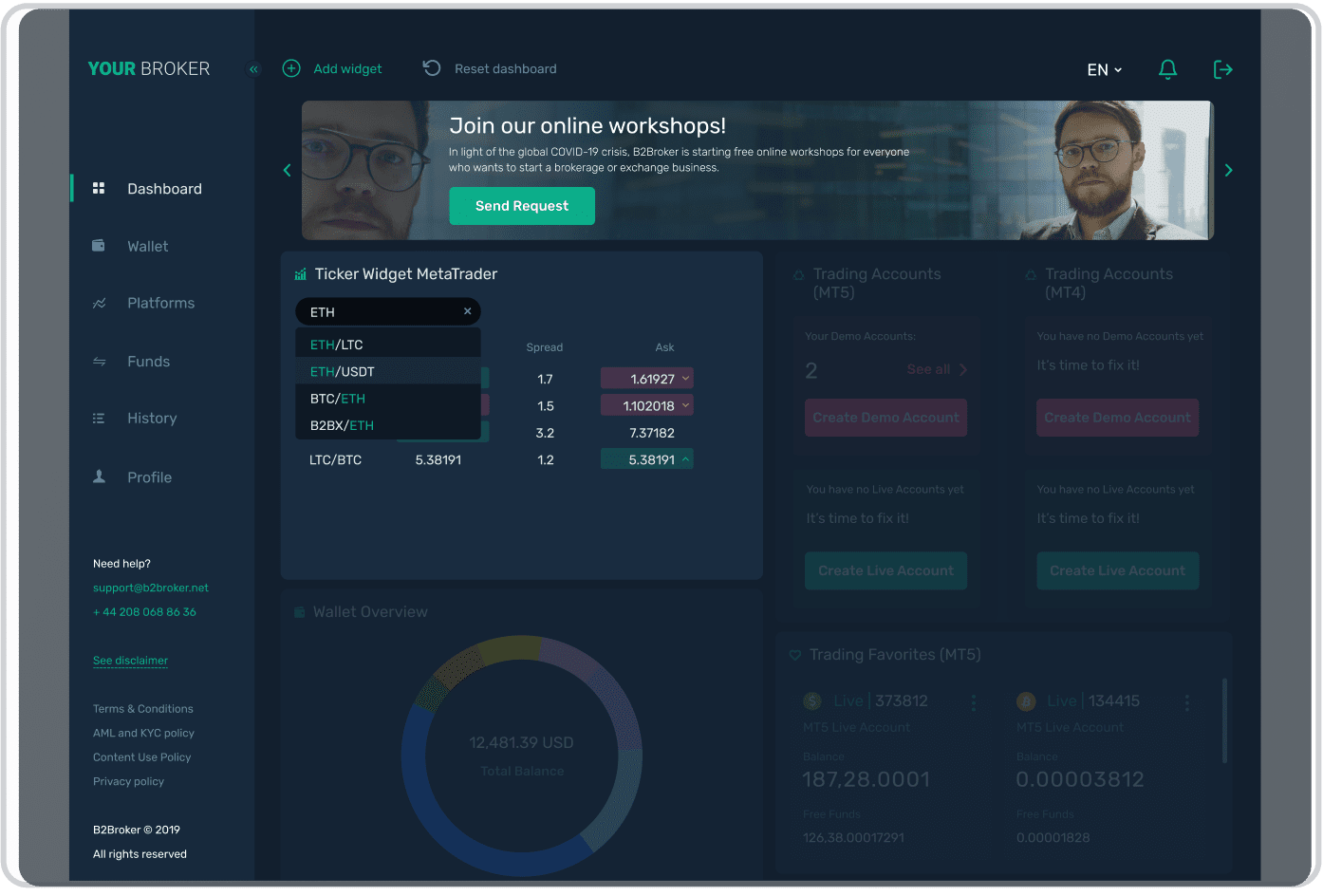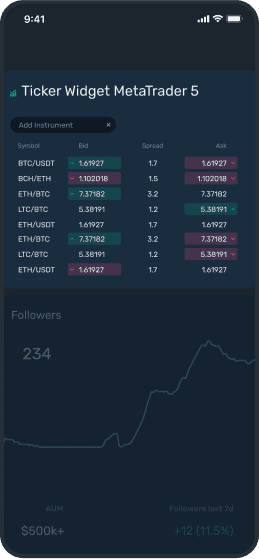 Ticker Widget offers flexibility so can be used in many ways as illustrated in this
dashboard example. Try an effective marketing tool fully customized for your website.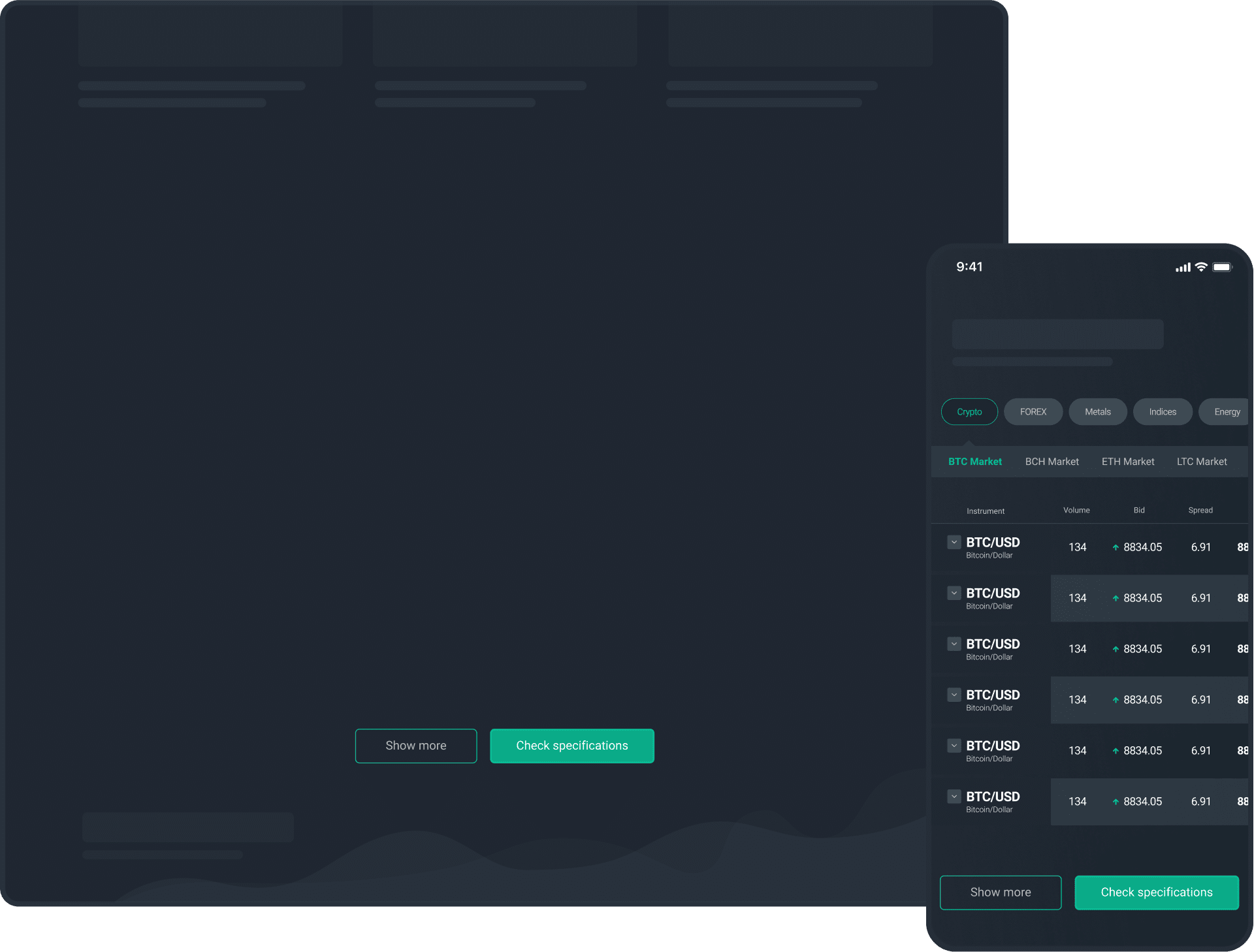 You can even create your own widget - adjust the avalialbe options just by using our feed.

There are no limitations.
You can add a ready-made widget via API to your
website which can be customised.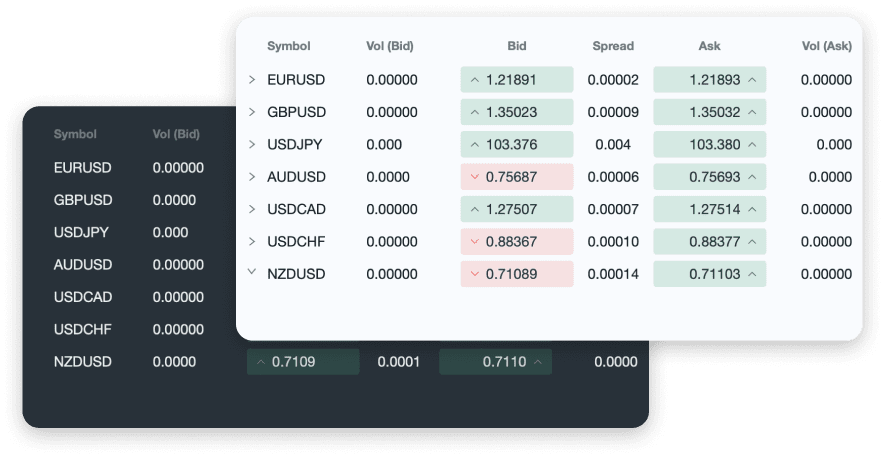 Light & Dark themes
A Day/Night mode enables users to switch to an
appropriate version for them depending on whether
it is day or night time.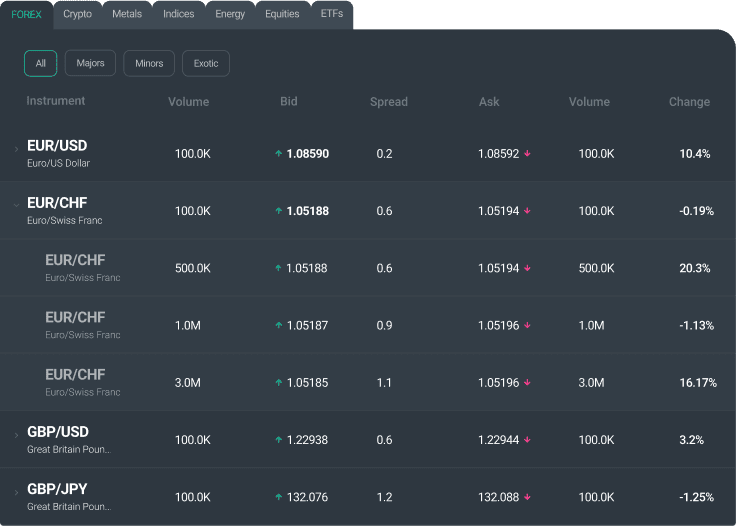 Fast & reliable
financial widgets
Access important real-time information with a
variety of fast and reliable financial widgets.
All-important instant access to data that matters.
All companies start with an idea and business plan. Our Broker Turnkey solution breakdown
illustrates the parts each brokerage company comprises of, the aspects of business you should
pay close attention to and how B2Broker can assist with its products and services.
For our WL & Liquidity clients we provide a widget for free
Iframe
Use one of the templates provided -
Get the code to be pasted to your website
Custom
Create a customised widget the way you would
like taking our feed - make all adjustment
according to your preferences
Ticker Widget

SaaS-Infrastructure
Market information
Access to the latest market activity across various sectors. Up-to-date information available at a glance.
Instruments
An adjustable list of instruments allows for the addition of more than 800+ trading instruments from 7 symbols groups as required.
Design
Create your own design as per your specifications or choose from available
in our library.
Platforms
Compatible with all trading platforms including B2Margin, B2Trader, MetaTrader, DXtrade and more.
Streams
A variety of different price streams are available. Choose what price stream will be displayed via a quick glance bar.
Appearance
Customise the appearance of the table, chart and ticker bar on your dashboard with no limitations.
Settings
Multiple parameters can be adjusted in accordance with your requirements. A flexible solution at your fingertips.
Layout
A responsive layout for different devices including desktop and mobile.
Feed
Access a live price feed of the best liquidity offer on the market. Important up-to-the minute information when you need it.
Technology
Use our fully developed cutting edge application in order to get the unique price feed upon your business needs (SaaS infrastructure).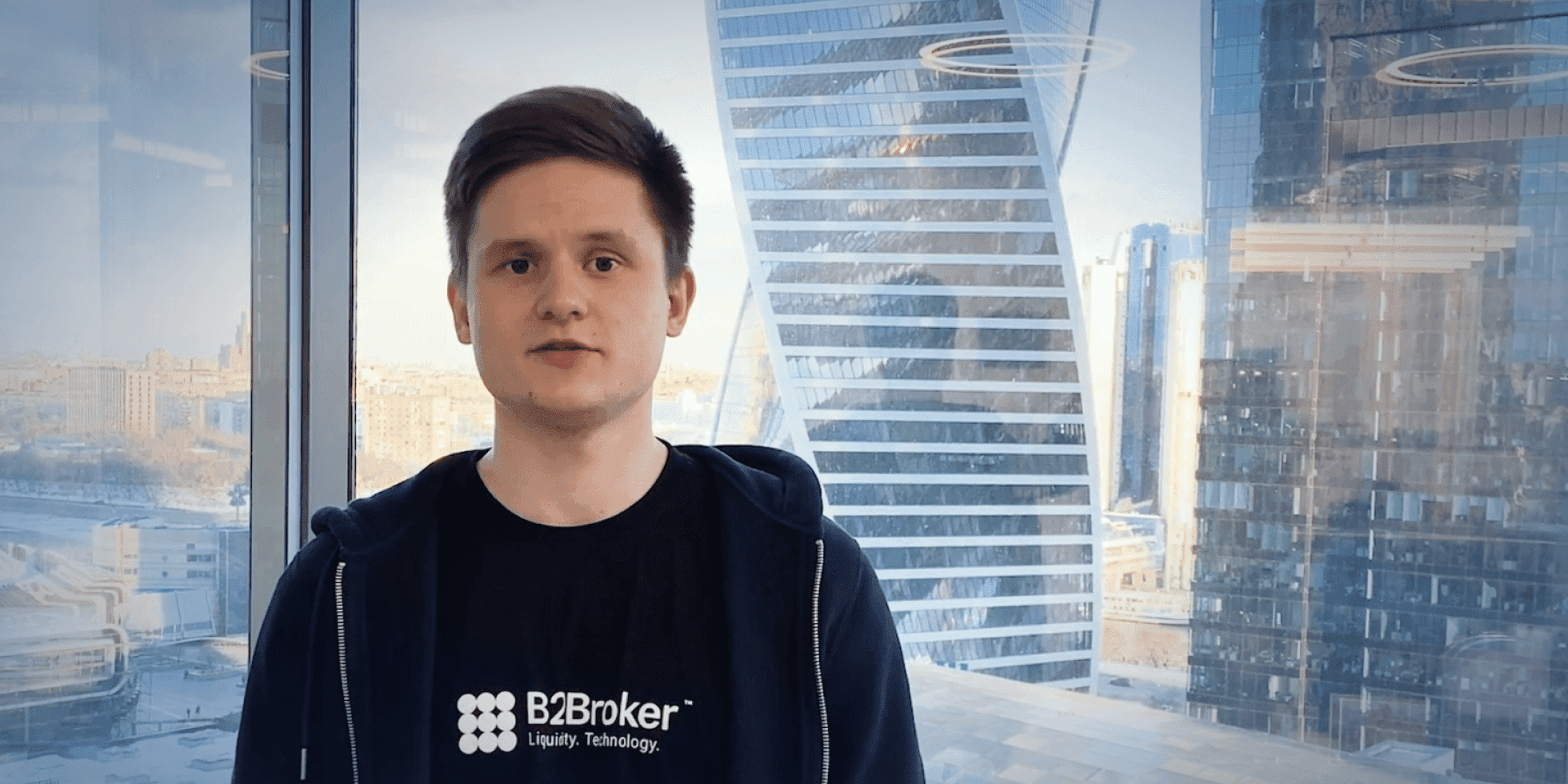 2:17
Currency Rates Widget - ultimate marketing tool for your business
The ultimate marketing tool for monitoring market data with a wide range of instruments available - FOREX, Metals, Indices , Energies, Crypto CFD & Shares CFD. Keep an eye on liquidity directly from the the Dashboard section in the B2Core or from your website. Everything is easily accessible in the one place.
Get your
Ticker Widget
We are here to provide you with the best liquidity solutions
tailored to your exact requirements. Contact us now.
Have a question? A source of useful information about our products and services.
How can I apply the widget to the website?
We have developed the precise and detailed scheme that would be convenient for every business owner and do not require technical knowledge base
Can I create a customized widget?
Yes, we have made the widget infrastructure to be adaptive for your business needs – we would provide you with an access to the price feed so you would be able to customize most of the parameters
How many price feeds are available?
As per our liquidity offer you will have the ability to choose appropriate streams according to the type of information you wish to display
Can I specify the symbol groups to be displayed?
All the symbols and the symbols groups can be chosen upon your preference from our wide range of liquidity offer
Can the ticker widget be added to the B2Core?
Absolutely, along with the website integration the ticker widget might be added to the B2Core solution
How would the widget look inside the B2Core?
We have developed a unique widget to be deployed inside the Dashboard module in the B2Coree solution
Look at
What are the products that I can get a widget with?
First of all, the widget is available for our liquidity clients, brokers from scratch and crypto exchanges (The widget can be used with B2Core, moreover with all trading platforms that we do provide – B2Margin , B2Trader, Metatrader 4/5 , DXTrade and more )
What parameters can be customized?
The widget infrastructure was developed to optimize the process of customization , so the widget is fully customizable – colors , fonts , tabs , symbols , symbol groups ,size of the widget , depth of the market can be adjusted upon your business needs
Where can I find the latest API documentation for the ticker widget?
The latest API documentation can be found down the link below
What are the programming languages used for the widget?
Angular + WebComponents are used for this product
Any other questions?
We are on hand to answer all your questions. Get in touch.
Ask us now
It comes best with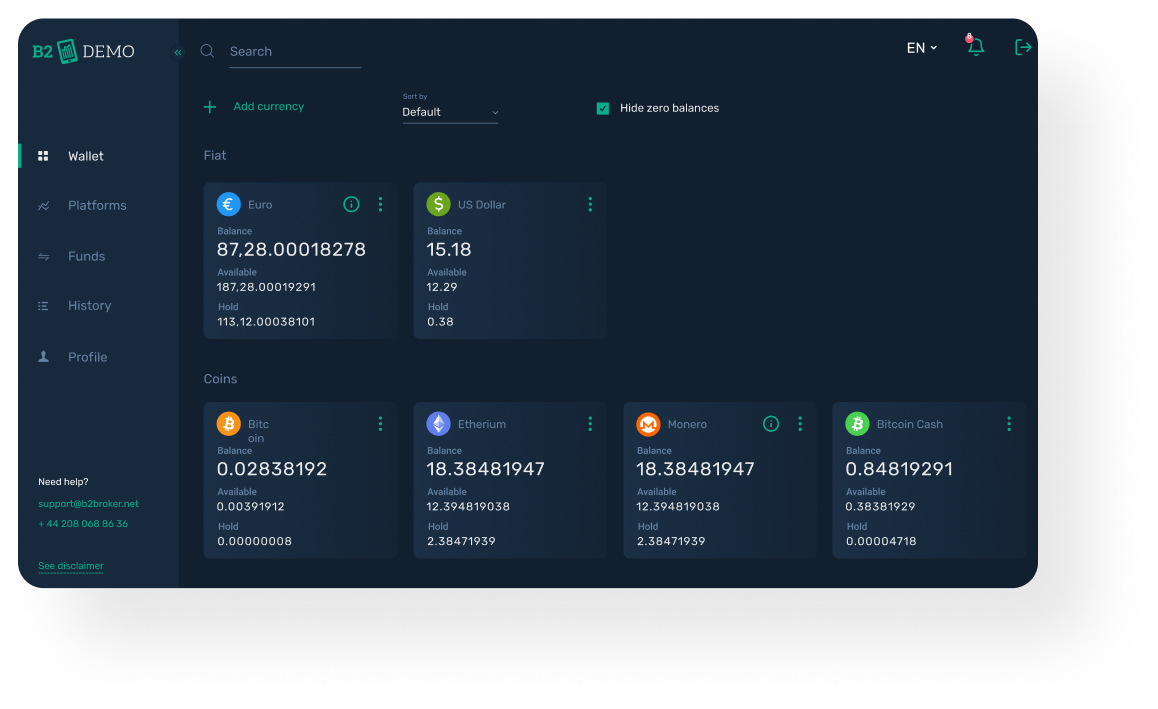 B2Core (Trader's Room)
A new generation of professional software that helps brokers and exchanges manage their customers, admins and IB-partners in one place.
Solution for Multiple Business Types
Deep Customizations & Adjustments
Widest Range of External Integrations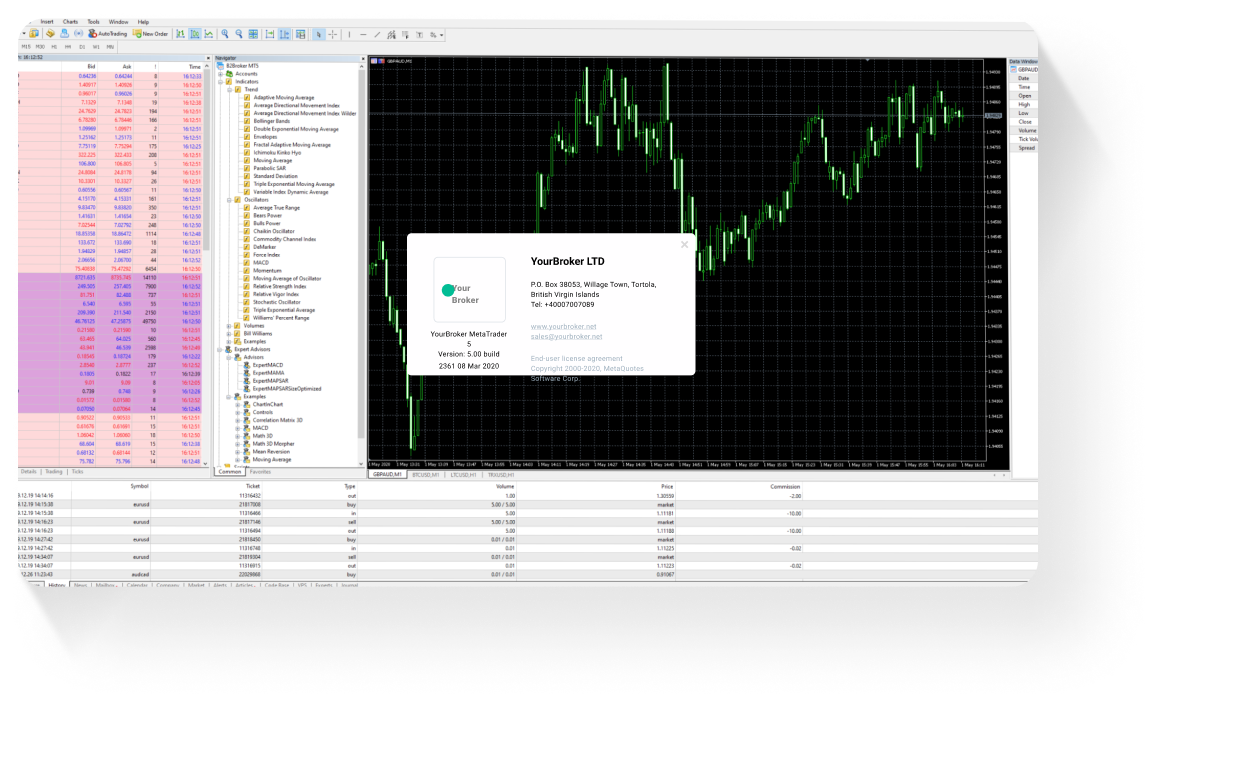 Forex Broker Turnkey
A classic type of setup based on MetaTrader 4/5 terminal with a wide range of available assets. Empower your brokerage with tools like an IB system and Investment Platform to satisfy your clients and partners.
MT4 or MT5 based FX broker
Access to more than 800 trading instruments of 7 asset classes
Investment platform for CopyTrading, PAMM and MAM
Advanced features: bonus system and multi level IB room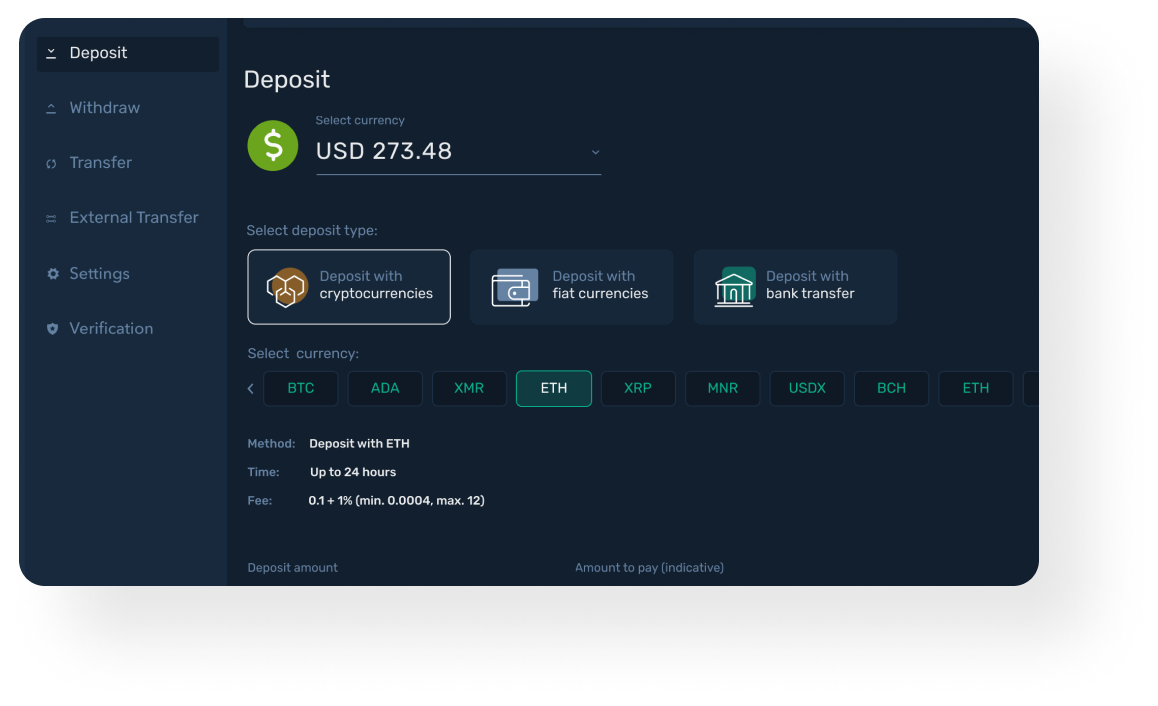 Crypto CFD Margin Broker
Turnkey solution based on cryptocurrencies. Cashflow, trading accounts and instruments and many more features are fully compliant with the new financial market.
Trading account nominated in cryptocurrencies
Crypto deposits and withdrawals
100 crypto CFDs available for trading
Margin account nominated in crypto to exclude volatility risk