What is White Label Product?
Medium
June 13, 2023
Upd on July 25, 2023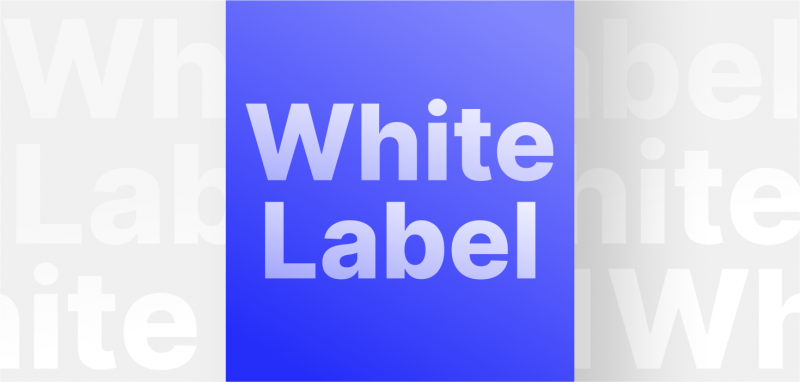 The market for White Label products, which help clinical and digital firms expand into new markets, grow their customer bases, and improve their goods and services, is booming. With its many advantages, this functional model of business is becoming increasingly popular among well-established companies and startups across numerous industries. But what precisely are these White Label products?
This article will explain what White Label products are, what types of WL products are on the market, and what benefits they provide to businesses.
KEY TAKEAWAYS
White Label products are ready-made solutions to be implemented on a paid basis within the business operation of another company.
WL products are manufactured by third-party WL companies.
One of the main advantages of such solutions is a significant saving of time and money for the development and launch of the product.
What is White Label Product?
White Label is a type of outsourcing in which one company produces a product, and another sells it under its own brand. Each participant in the agreement fulfills its obligations. Such collaborations with software and product development firms has long been popular among companies wanting to expand their services and increase customer loyalty and production speed, but lacking the necessary resources to manufacture the product on their own.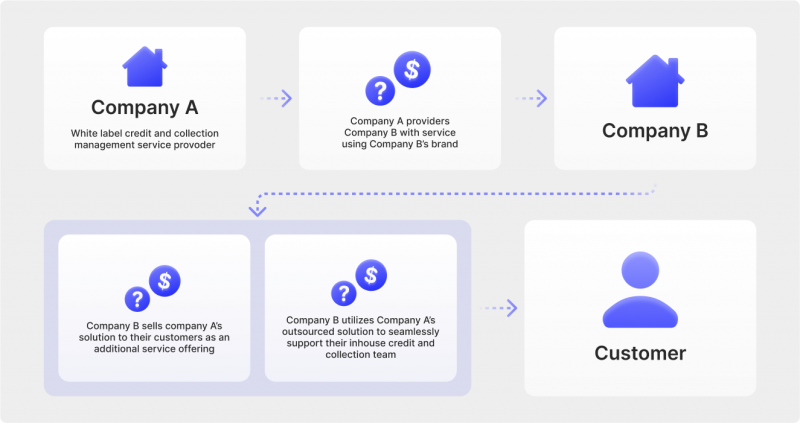 White-label solutions not only lend a helping hand to businesses, but also contribute to the elaboration of the economy in all its aspects. Thanks to White Labeling, companies qualitatively improve their customer experience and services, fundamentally new solutions appear on the market, cross-industry cooperation develops, and startups access reliable infrastructure. They can build their products, which, in turn, spurs competition in the market. Thus, more and more payment services, non-banks, and other players in the market are emerging. Thanks to White Label products, a company can modernize its existing product, making them more convenient and of higher quality for its clients.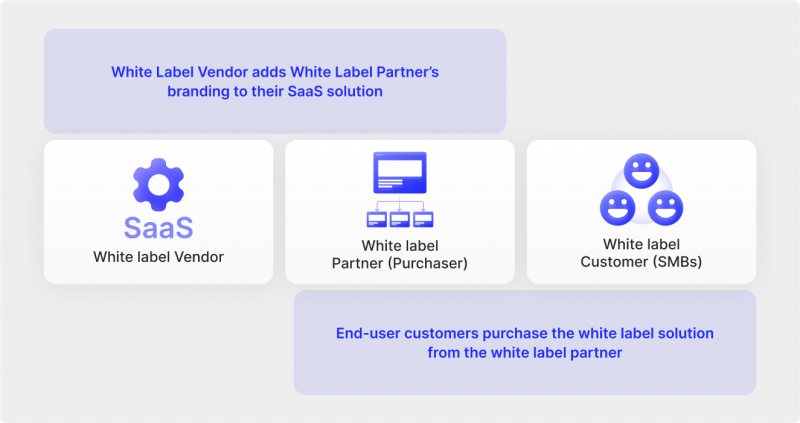 White Label tools come in many types, providing easy, fast and convenient access to solutions for a wide range of industries, including the financial sector, with cryptocurrency, Forex and cloud services and solutions. Such solutions are sold by White Label suppliers, each of which offers its own pricing policy, promotions, and individual terms of using White Label services and products.
As a rule, selling White Label products is a process of transferring the infrastructure from the White Label manufacturer to the buyer, with subsequent configuration of all systems and architectures, designed for the full functionality of the system. The supplier connects, configures and maintains the performance of provided products, as well as provides support in operation of equipment and usage of hosting, servers and other elements of the WL solution infrastructure.
What Types of White Label Products are in the Market?
Let's look below at the main types of popular White Label systems that are in high demand in the business environment today.
1. Marketing Automation
Marketing automation software optimizes the marketing processes used in digital marketing campaigns. These processes include campaign management, audience segmentation, behavioral analysis, website monitoring, and lead scoring. Marketing automation software also helps expand customer data and build better customer profiles. Based on this data, it's possible to improve the customer experience (CX) by tailoring and personalizing the content they receive through different channels.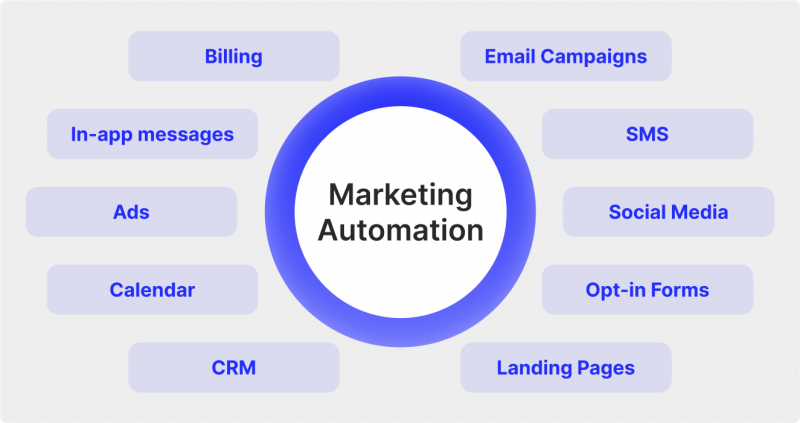 Marketing automation saves time. It automates repetitive tasks, reduces human error, and allows for better results. Instead of doing the work manually, it's possible to devote all the attention to more strategic tasks such as campaign planning and development, goal setting, research, brand consistency, KPI evaluation, etc.
2. Software as a Service (SaaS)
Software as a Service (SaaS) is a software delivery model in which a service provider develops cloud-based software, provides maintenance, automatic updates, and makes such software available to customers over the Internet for a fee proportional to usage. The public cloud provider manages all hardware and standard software, including middleware, software applications, and security. This allows consumers of SaaS White Label services to significantly reduce costs, implement, scale, and upgrade business solutions faster than on-premises systems and software, and calculate their total cost of ownership with greater precision.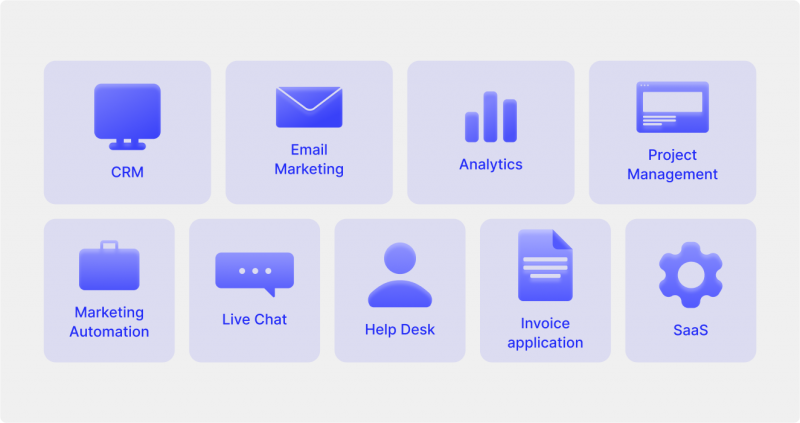 SaaS is essential for business because it gives companies access to efficient software that previously required too much expense and consumed too much power to use in an on-premises environment. The SaaS provider manages the hardware, software tools, and application in its data center or the cloud. Businesses can use the software directly in a browser or mobile device app. The SaaS subscription-based model allows vertically scale the software in any direction depending on the needs of the enterprise.
3. CRMs
White Label customer relationship management system providers allow agencies, organizations, and vertically oriented companies to rebrand and resell specialized software in order to add value to customers. Such solutions save time and money because there is no need to pay for software development and testing. White Label CRM solution providers offer a wide range of system functionality, pricing flexibility, and a wealth of additional software options.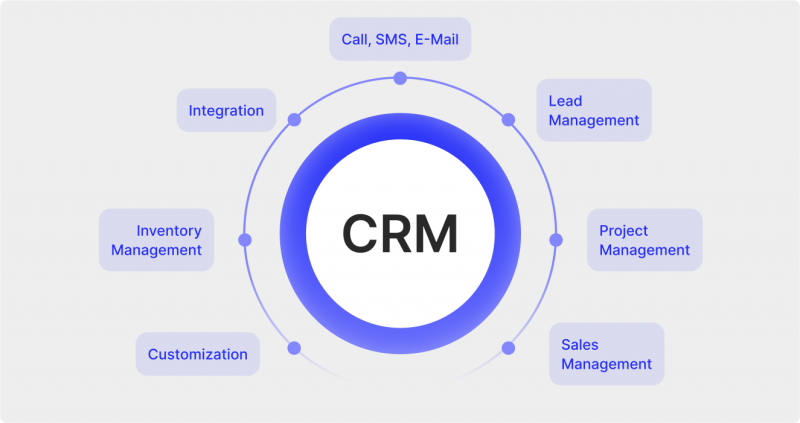 White Label CRM programs provide a comprehensive platform of marketing tools for various companies, including agencies, brokerage firms, media companies, and independent software vendors. Many CRM solutions have artificial intelligence (AI) and sales and marketing automation features. They also include tools for project management, billing, invoicing, and payment processing.
4. Banking as a Service (BaaS)
White-label banking offers back-office, ready-to-use banking and payment products, including APIs to connect to different service providers. Such solutions also allow developing new products without creating them from scratch or connecting new integrations. At the same time, many companies choose complex banking services in the open banking format. Interaction is based on the BaaS model, through which the company gets banking services and products at its disposal. This format allows renting and performing bank functions for the customers, counterparties, and branches.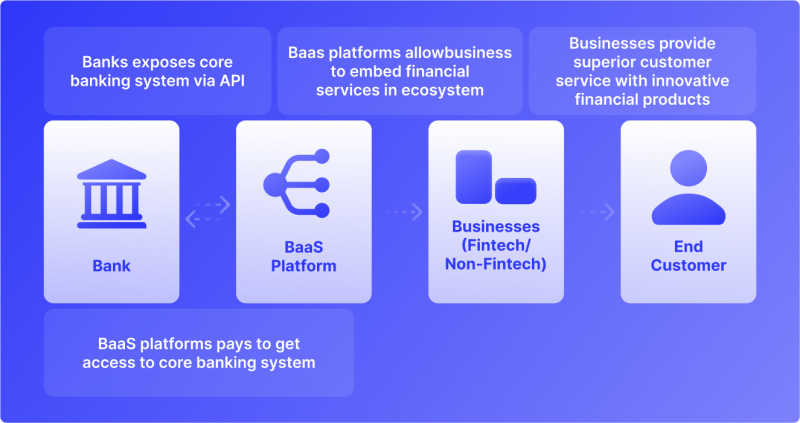 Launching digital banking solutions and other applications usually requires significant time and financial resources. Instead of creating banking solutions from scratch, fintech companies can launch their projects using White-label solutions, minimizing time-to-market and saving resources. Retailers, logistics companies, and marketplaces actively integrate specific financial products into their infrastructure, for example, payment processing or issuing payment cards. This allows them to reduce costs and attract more customers.
5. Electronic Trading
In electronic trading, a large variety of solutions are working according to the White Label model. Among the most popular are trading platforms and terminals that give access to financial markets, and payment solutions, including payment processing systems, digital wallets, and payment gateways. It is also possible to find offerings connected with analytics of financial markets, in particular analytical platforms for market sentiment analysis, monitoring, and management of investment portfolios, among many other things.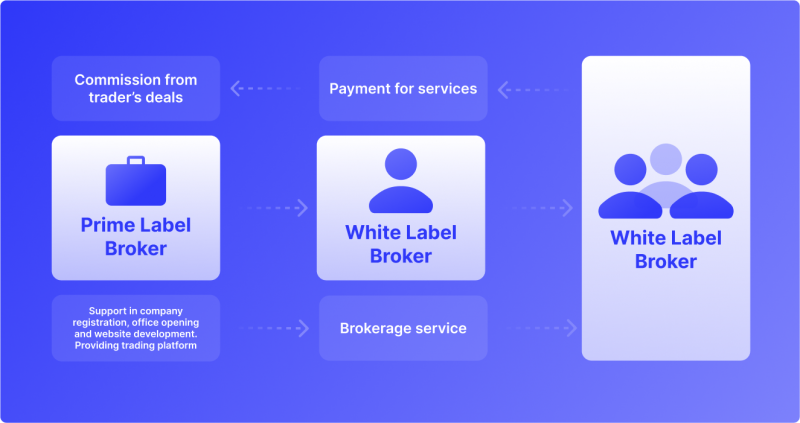 FAST FACT
The popularity of WL products is very high in e-commerce, where there is a need to help start-up companies get to market faster and more economically.
The Benefits of Using White Label Products in Business
The market for white label products today is astounding in its variety and diversity. Companies striving to create their own unique product rely on White Label brands and for good reason — products based on this model have a number of outstanding advantages, among which we can highlight the following: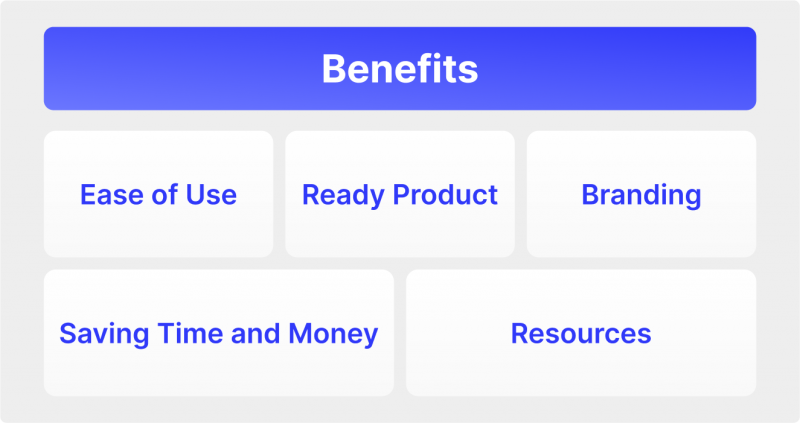 I. Ease of Use
Any category of white label solution is renowned for its simplicity of use because it comes as a fully functional product. Since these solutions are created by a different company, businesses and corporations that buy them have no trouble utilizing their potential in their operations. Regardless of the product type, the same set of tools and systems that are built into White Label ecosystem are what make them so convenient to use. This speeds up the process of adjusting to the WL solution, which transfers all of the business's original functionality while allowing for modification to meet the organization's demands.
II. Ready Product 
Creating your own product or service in any market from scratch takes a lot of time, money and effort. Depending on the type of product, you may need to build the necessary infrastructure and work on its smooth running, as well as deal with its management and maintenance. Moreover, you will need to carry out a full range of operations to promote the product, find markets and so on. The use of an off-the-shelf White Label product can help you avoid all these nuances and save you a lot of time, money, and effort.
III. Branding
White Label goods are designed for the most demanding corporate clients and allow for branding client and server software interfaces in the business's corporate style. With these solutions, you can create a unique design that fits your company's vision while using another company's off-the-shelf product. Such a strategy is well-proven and brings excellent results.
Many vendors develop a wide range of WL products and provide technical support to users, and the company, in turn, offers its customers a white label solution. Branding via White Label allows you to project the image of the company that purchases the product without the need to develop its own platform. It is an exquisite solution for establishing a company's personal brand identity and creating a unique user experience within the white label provider's technological infrastructure.
IV. Saving Time and Money Resources
Having the right resources becomes the lynchpin of any successful business venture, and ensuring the full and smooth operation of the project requires a significant amount of time, effort and money, in addition to a good team of specialists to ensure the whole process stays stable. With White Label products, there is access to a world of opportunities available immediately, without the need to develop methods for delivering products or solutions, or develop payment processing networks. Everything is already in one place and ready to use.
Types of Businesses That Use White Label Products
Many firms in the market from a variety of industries are interested in a new approach to doing business and using off-the-shelf products. Some of the most popular areas where businesses are actively using White Label products are as follows:
One of the spheres where you can find White Label products is retail trade. Many companies operating on the market today offer their products manufactured with the help of forces and capacities of other companies. Such tactics help not only to diversify the range of products, but also saves time and money by using the resources of another company. One of the good examples of this category is Walmart, one of the largest distribution networks of hypermarkets, whose range is so huge that the company resorts to using White Label providers, ordering from them certain products for production, but selling it under its own brand.
Many e-commerce companies also operate under the White Label model. This model involves a company cooperating with manufacturers, retailers, and distributors to sell products without requiring the stores to purchase goods. In exchange for the commission, the company receives a share of the sale. At the same time, the stores continue to complete appliances and electronics on their own, as well as manage the stock. Thanks to this model, e-commerce companies can sell additional categories of White Label goods: power tools, baby care products, electronic toys, sports equipment, etc. under their own brand.
Multinationals and Mass Merchandisers
Many multinational consumer products corporations operate under a scheme to segment their customers and develop brands targeting each group. This approach greatly increases the marketability of products because it takes into account the different characteristics of each customer group. There are companies that own dozens of different brands in their management, each of which focuses on a particular group of consumers and product range, which helps to better serve their customers and offer them what they need.
Conclusion
White Label products today are part of a dynamic market of innovative technological innovations for the development of businesses of any segment and type. Such solutions are designed to provide highly efficient use of time, money, and other kinds of resources to enable a company to enter the market and start operations in the shortest possible time. With many advantages, the WL product has every chance of changing the current business environment.