B2BinPay: The Industry's Cutting-Edge Crypto Payment Solution Gets Major Upgrade
B2BinPay is a leading crypto processing provider that has amassed a large client base and secured multiple industry awards since its inception in 2017. From the offset, B2BinPay proved highly popular as the demand for crypto payments exploded. It has since gone on to become the industry's go-to payment solution. The recently launched version 2 has built on the success of the first version and incorporated many new feature enhancements and an extensive range of new capabilities to help facilitate high-speed transaction requirements.
At the forefront of the latest version is the new interface which makes for more comfortable use when it comes to performing a range of functions such as creating deposits, checking transactions, etc. Clients now have access to a faster and more feature-loaded crypto-processing solution that embraces advanced cutting-edge technology ensuring they have the best ever user-experience.
More About B2BinPay
With B2BinPay, merchants can send, receive, store, exchange and accept crypto payments online safely, securely and cost-effectively across the globe in a few minutes. Our solutions enable you to exploit the full potential of cryptocurrency payments and enjoy numerous advantages uniquely available with this method of payment.
A Completely New Business Model
B2BinPay version 2 delivers a majorly upgraded merchant solution allowing businesses to accept crypto payments in all major coins, and exchange Fiat, Coins or Stablecoins into one currency. Offering crypto payments is a great way to attract new customers to your business. With an attractive payment method that will make you stand out against your competitors, you can exploit all the benefits of our popular crypto gateway for your business and offer your customers Bitcoin (BTC), Ether (ETH), Ripple (XRP), Bitcoin Cash (BCH), Litecoin (LTC) and many more as a payment option in a quick and easy 4 stage process: Invoice, Payment, Conversion, Settlement.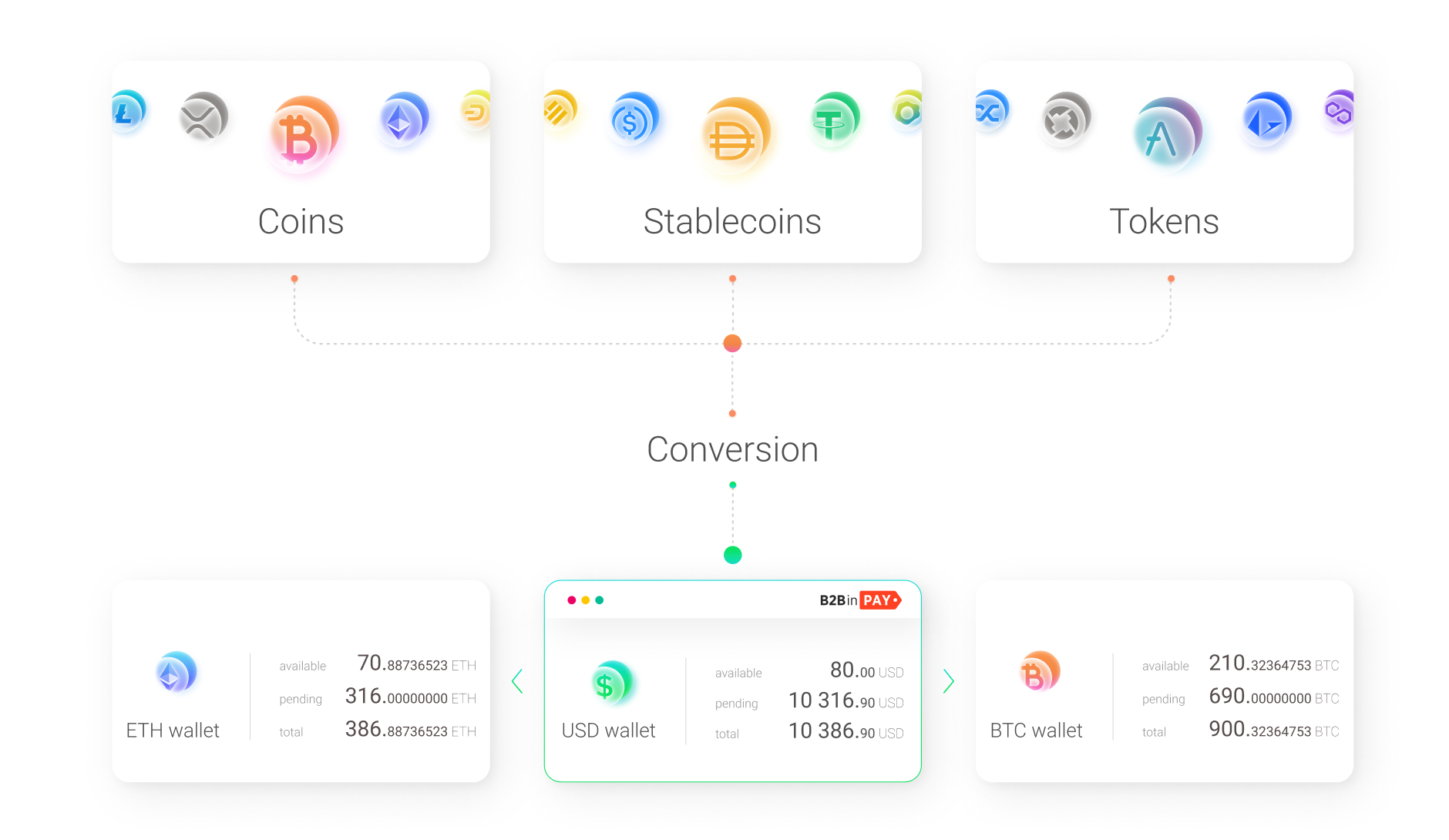 Settlements
Users can conveniently turn their cryptocurrency into cash by receiving settlements directly to their bank account using a variety of secure options. Wire transfers in USD and EUR are available via SWIFT, SEPA and Faster Payments, together with settlements in major Cryptos and Stablecoins. With B2BinPay, a customer's payment is converted into the chosen currency after blockchain confirmation. Easy exchange when you need to make payouts in another currency. Actual Exchange when you send one crypto and get another right into your wallet.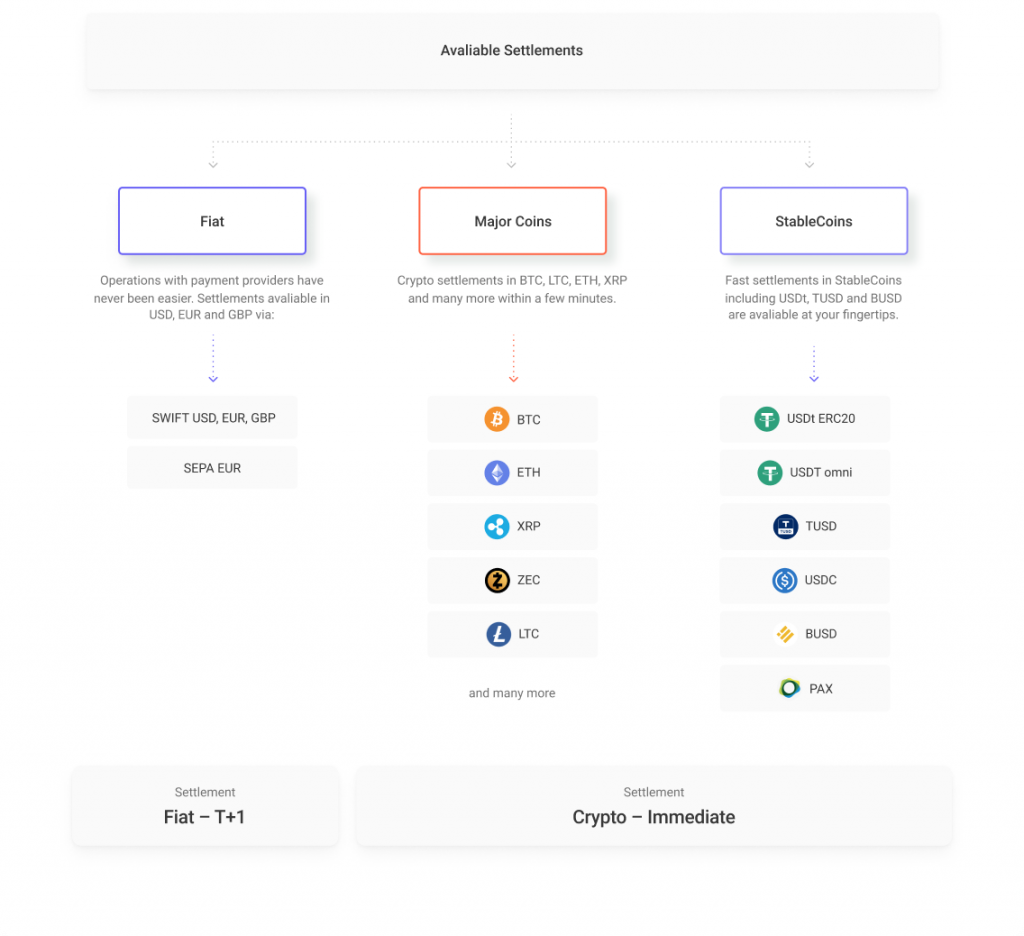 Bank Withdrawals
Options are available for one-time withdrawal or there is the ability to set regular withdrawals as per your requirements. Flexible withdrawals are the core of the B2BinPay system, enabling payouts in various currencies other than the wallet currency. After passing the merchant's KYC procedures, users can quickly proceed to complete the withdrawal process.
Technically Perfect
With B2BinPay, users have access to a technically perfect crypto payments solution armed with an extensive list of features and benefits from an award-winning EU regulated crypto payment service provider. Two noteworthy features include a single unified API for multiple blockchains allowing for quick and easy integration via Rest API. Our state-of-the art technology allows you to integrate invoicing and deal with acquiring and transfers exactly in the way you need it. You can use our payment page or integrate it on your side using the feature-reach API. In addition, integration is initially made in a staging environment for client testing. Production deployment only takes place after approval in order to minimize the risk of bugs at the production stage, a process that ensures that your solution will be the most stable one available on the market.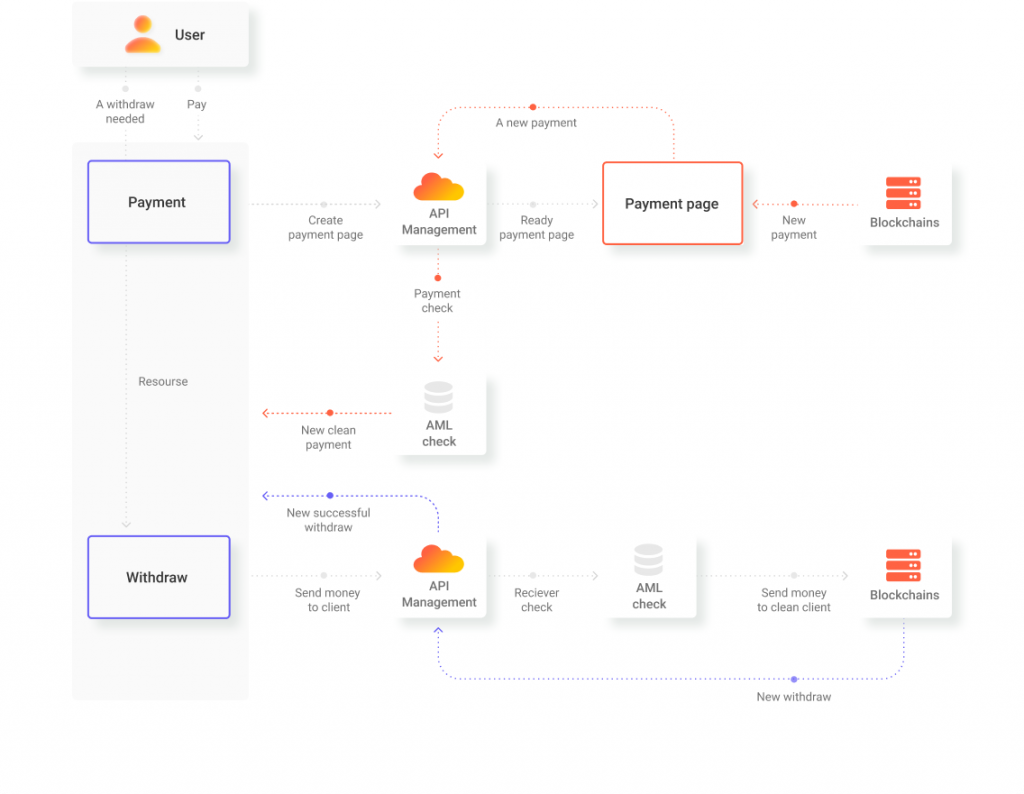 What's Inside?
B2BinPay offers merchants even more features to provide you with everything you need for the perfect crypto payment experience including...
Transaction Speed Control
The speed of transactions is fully under your control. The greater the fee, the faster the transaction. You are also able to specify your own custom fee.
Notification System
You can receive notifications by email for any transfer in the system by specifying email addresses in the "Notification addresses" field.
Address Book
It is possible to save any address and use it for creating faster payouts. After entering a new address, all you need to do is tick a checkbox and it will then be saved in the Address book.
Suspicious Activity Monitor
Safety and security are of paramount importance. With our suspicious activity monitor, you will receive a warning message in the event of logins from different locations.
Other Security Procedures
2FA is another safety measure increasing the security of your account. In addition to your password, the requirement for a code generated by the Google Authenticator app on your phone will ensure everything is watertight.
New Tokens and Stablecoins
We have added a new stablecoin, Terra USD on the Ethereum blockchain (ERC20) and Binance smart chain blockchain (BEP20) which is available for Merchants as well as Enterprise clients.
New tokens have also been added on the Ethereum blockchain (ERC20). These include Fantom, Axie Infinity, Quant, Amp, Chiliz, Enjin Coin, Holo, Fetch.ai, OMG Network, 1inch, Curve DAO Token, Ocean Protocol, Balancer, Badger DAO and Rarible. In addition, Fanto, 1inch and PancakeSwap have been added on the Binance smart chain (BEP20). All tokens are available for Enterprise clients only.
Premium Support
Our team of experts is on hand 24/7 to assist with any technical queries and offer practical assistance and guidance whenever required. Support is easily accessed by creating a ticket and following the status of it directly in the system. For your convenience, you can attach photos, videos and files.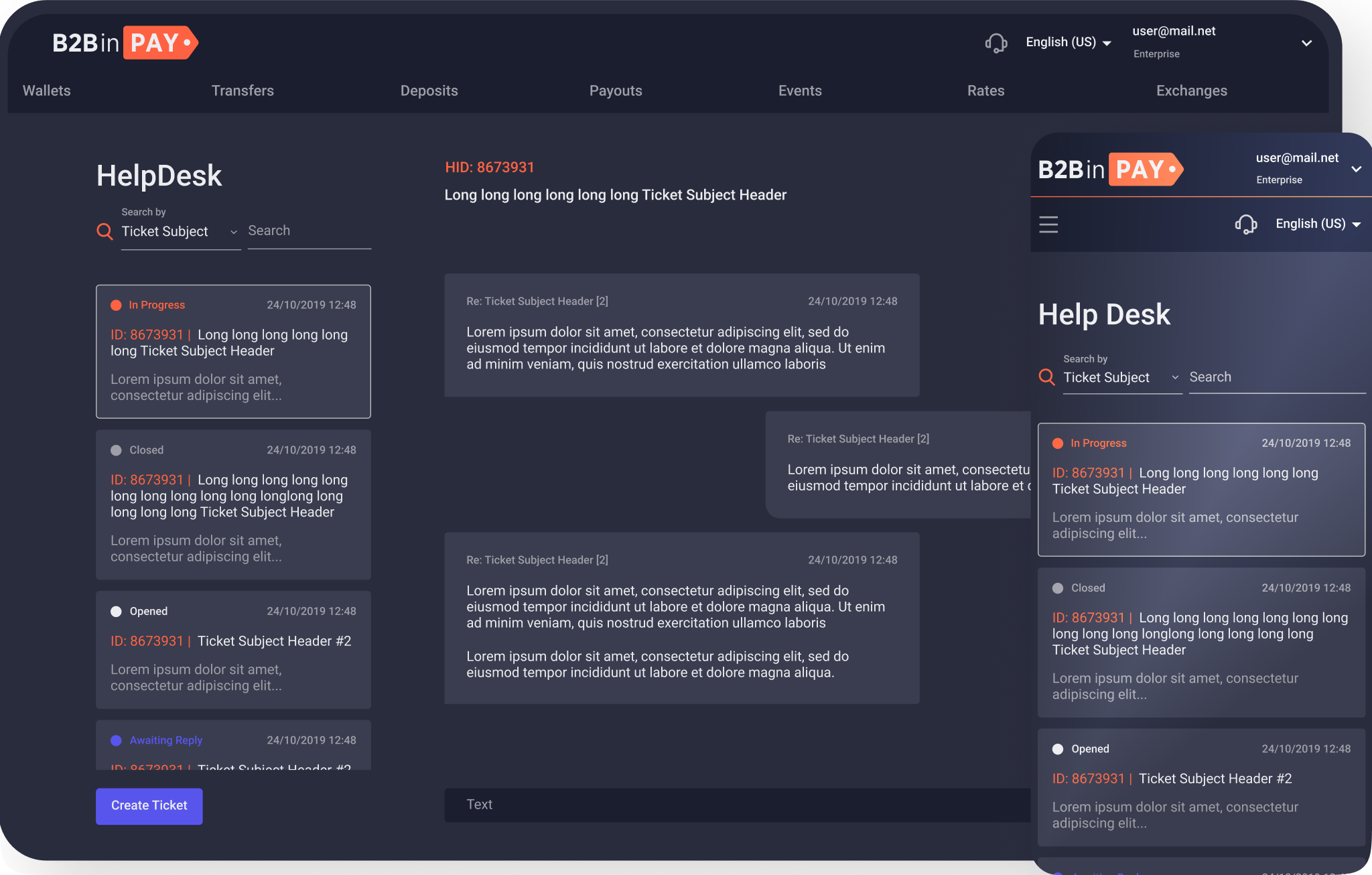 Tailored for all Business Models
Crypto processing fits into any business model and can be easily integrated into your existing operations or set up as a new service. We cover all businesses including Forex and Crypto Brokers, E-commerce, Exchanges, Gambline Industry, Gaming, Marketplaces, Travel Industry, Dating, Hedge Funds, PSP, EMIs: PSPs, EMIs and more.
The addition of a substantial range of features to the existing version of B2BinPay makes the latest upgrade a better all-round better solution than ever before. Whatever type of business you're in, integrating B2BinPay is easy! After a quick initial set up, you're ready to start accepting! Contact us today.