How To Find a Crypto Liquidity Provider in 2024
Articles
November 21, 2023
Upd on November 28, 2023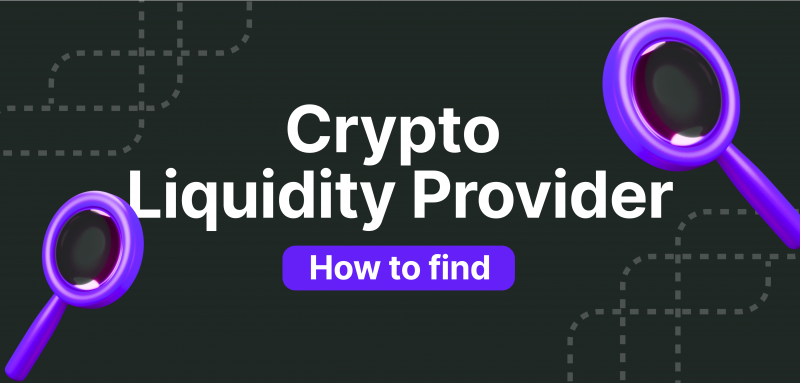 Cryptocurrencies can be confusing at times because of the sophisticated build and robust system behind this technology, rendering some applications and opportunities in several sectors.
One of the most common features of cryptos is being a tradeable security, utilising their values and massive growth over the years. The majority of these decentralised currencies are highly volatile, and their prices can change several times a day.
Several factors affect this price action, and market liquidity is one of them. Liquidity is an underestimated concept in financial markets, yet it is a crucial driver for prices and stability. We will discuss in detail what a crypto liquidity provider is and how it influences market dynamics.
Key Takeaways
Crypto liquidity providers maintain market efficiency by ensuring enough assets and funds are available for trading.

Liquidity provider works by constantly buying and selling securities and increasing the supply levels in the market.

Markets with high liquidity are efficient and have lower spread levels and slippage rates.

Finding the right crypto LP entails comprehensively checking the available service and pricing policies to find the best match.
Understanding Liquidity
In short, liquidity means the availability of funds and assets. Market liquidity refers to the ease with which someone can buy and sell securities in a given market.
Markets with high liquidity have many market participants willing to take the counterpart side of the trade, so your position can be executed quickly and accurately. Price accuracy means executing the order at the closest price possible to the market price.
On the other hand, markets with low liquidity usually have delays with every trade execution and an increased chance of slippage. Price slippage happens when the order execution price differs from the market price initially intended by the trader.
Markets with insufficient liquidity are called inefficient markets because slippage and delays can cause traders to miss out on additional profits and open positions at slightly higher or lower prices.
Highly liquid markets are usually more stable and less volatile because there are enough traders to buy/sell with you. Also, efficient markets have a high supply of securities, and retail trading does not dramatically affect the supply level or the market price.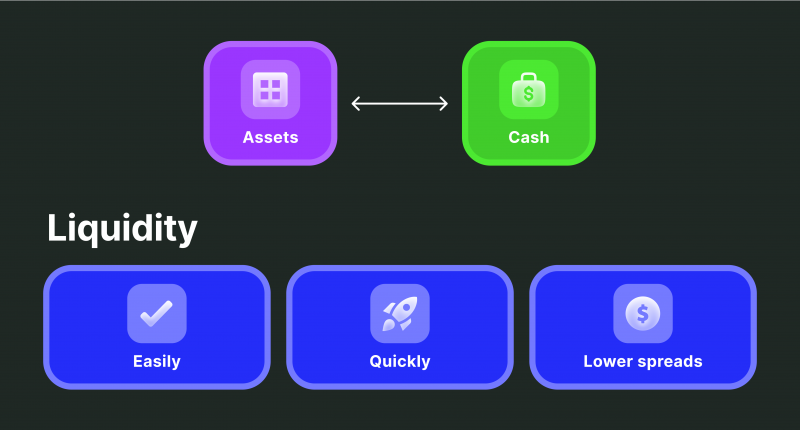 Crypto Liquidity Providers
The crypto market is one of the most liquid markets, with hundreds of cryptocurrencies traded daily and an increasing number of market participants daily. The substantial growth some cryptocurrencies witnessed motivated many traders to include crypto in their investment portfolio.
High liquidity usually means stable markets, but the crypto market is highly volatile. Why is that? Well, digital currencies and tokens are speculative, and their values change rapidly after news about regulations changes, crypto adoption by global corporations and newly introduced innovations.
Moreover, decentralised currencies are not backed by a centralised bank or governing body, which makes them prone to speculations and fluctuations.
Cryptocurrency liquidity providers are financial institutions and corporations that actively buy and sell assets to make them available in the market. Moreover, crypto LPs have access to multiple order books of exchange platforms and liquidity pools, which they use to increase liquidity in the crypto market.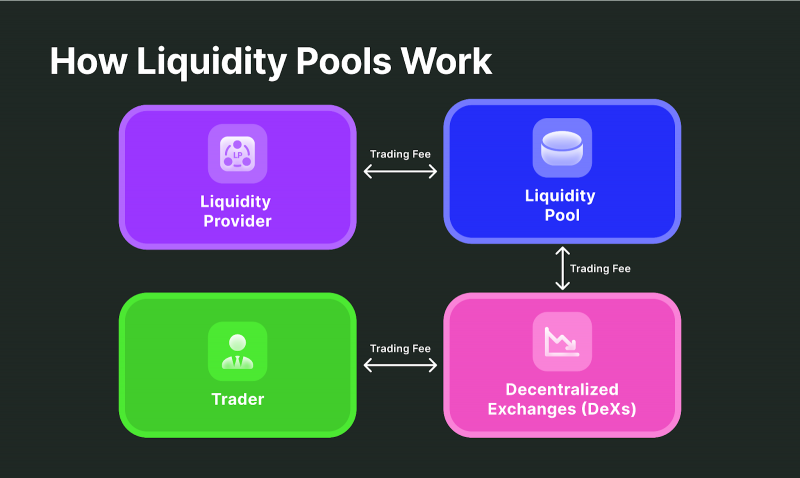 Why Work With a Cryptocurrency Liquidity Provider?
Bitcoin liquidity providers ensure exchange platforms perform at top levels by enriching the market with assets and digital currency. Decentralised exchange platforms use crypto exchange liquidity providers to gain access to a larger liquidity pool and connect with a massive number of market participants.
Large liquidity pools allow exchanges to offer a broad range of cryptocurrencies and tokens and enable trading platforms to execute market orders with minimum slippage. Therefore, investors can execute quickly buy/sell assets at the closest price possible to market value.
The Importance of Liquidity For Crypto Exchanges
Crypto LPs are vital for market and exchange platforms' efficiency. These large corporations buy a huge number of cryptos and offer them for sale in marketplaces, besides executing a massive number of buy and sell orders to stimulate the market.
When it comes to crypto exchanges, using a BTC liquidity provider allows platforms to offer various trading services like margin trading and crypto investing opportunities by accessing large fund pools.
When market liquidity is high, and supply levels are at their best, trading costs are low, and order execution happens with minimum slippage. Additionally, highly available assets make the difference between buying and selling prices very small, known as spread.
Traders are always on the lookout for the smallest spread ranges, and if your trading platform offers tight spreads, this will help you grow your customer base and grow your business.

How To Find a Reliable Crypto Liquidity Provider
There are several financial institutions offering liquidity pools and order books. Therefore, choosing a reliable provider for the long term can be a game changer.
However, determining the right provider is challenging because this decision directly affects your business. Some factors help you decide on the best liquidity provider using this checklist.

Pricing Policy
Prices are the most important factor that determines the right provider for your business. Some liquidity providers set out different pricing plans according to the services included and your budget.
Choose the one that suits your business needs and at a reasonable price. What's the point of getting the best liquidity service if you have to pay all your returns as service fees?
Therefore, the best approach is to set realistic goals and expectations and find a reliable LP with a price range close to your budget.
Regulation Compliance
Financial activities are usually strictly regulated in several countries, especially if you are working on the global level. Finding a regulated LP is the best risk mitigation strategy.
Unregulated or sketchy providers are unreliable, and as a service provider, the last thing you want is to lose access to funds and liquidity because that means the inability to serve your customers.
For example, the US Securities and Exchange Commission puts stringent regulations on financial institutions with a hefty punishment for offenders, which can affect these companies' ability to supply liquidity to exchange platforms.
Reputation
Check out clients' testimonials and feedback on liquidity providers to learn more about these companies. Reading through feedback and reputations tells you more about the inner kitchen of LPs and how they treat their clients.
Also, reputations and testimonials reveal if something is too good to be true or the liquidity provider does not deliver its promises.
Offerings and Services
Research the services and solutions provided by liquidity companies and ensure you find what you are looking for. Different financial corporations have different service packages, which you can check and compare against your pre-set expectations.
Top Crypto Liquidity Providers in 2024
A few companies are renowned for their reputation and top-notch liquidity provision, covering multiple markets and serving brokerage firms around the world. Checking out the best liquidity providers helps you understand what service you may expect.
B2Broker
B2Broker was founded in 2014 as a holistic liquidity and technology provider for Forex brokers. The company made its way as a pioneer in liquidity and IT services with access to +20 market levels, including Forex, crypto CFDs, commodities, indices, stocks and more.
The company's offering includes but is not limited to over 1,500 trading instruments, besides cutting-edge trading platforms and solutions.
FXCM Pro
FXCM is one of the oldest companies in the industry, operating since 1999, offering prime brokerage services. This company is a part of the FXCM Group.
Over the years, FXCM Pro established relations with major banks, offering access to timely data and interactive market insights to aid FX trading.
X Open Hub
X Open Hub is a FinTech company founded in the UK with a technology arm in Poland. This liquidity provider relies on offering deep institutional liquidity for a wide range of asset classes and securities.
Moreover, X Open Hub provides technological innovations for trading platforms and white label solutions.
Conclusion
Choosing a liquidity partner can be a lengthy and complex process, as it entails thorough research to find a legally compliant company with various services at a reasonable price. However, finding the right crypto liquidity provider can help you boost your sales and grow your business.