کسب و کار کارگزاري کلید در دست و با دارایی چندگانه خود را راه اندازی کنید – B2Broker
مقالات
مارس 5, 2019
به روز شد ژوئیه 8, 2021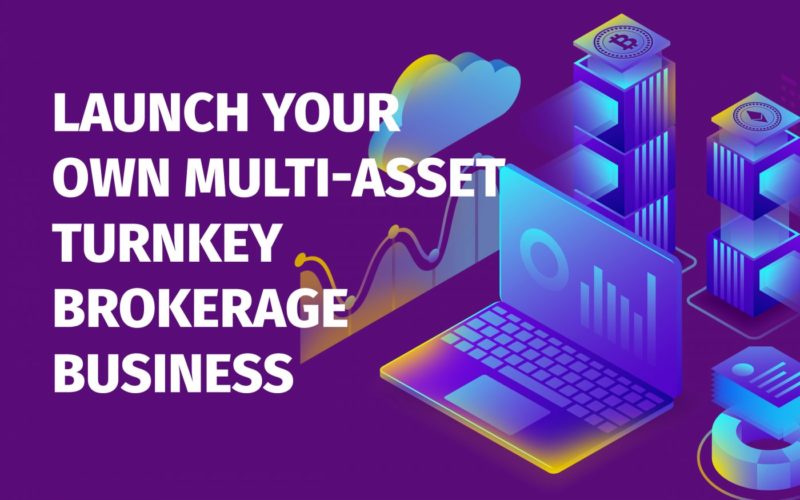 Setting up a brokerage is a great way to capitalise on today's growing trends in the financial markets. However, launching on your own can be complex so it's reassuring to know that you can avoid the possible pitfalls of doing it yourself by implementing a professional, ready-made solution in as little as 3 weeks. There are two popular ways in which you can go about this…
Start a Cryptocurrency Broker Turnkey
Revenues in the crypto industry can potentially exceed traditional financial instruments many times over and ongoing developments in the crypto-sphere show that demand for these services remains on track to grow even further.
Amid the growing interest in cryptocurrency trading, setting up a cryptocurrency brokerage is proving to be an attractive option. If you're one of the businesses who have considered this possibility, a turnkey solution should definitely be considered.
A cryptocurrency broker turnkey is one which facilitates trading and exchange of cryptocurrencies for fiat currencies and vice versa, and provides a platform for clients to store their cryptos. A few offer a range of other services such as crypto liquidity.
To be best placed to set up a successful business, the main challenge is to offer a better service than other players in the market which will attract more clients. Generally speaking, an exchange and cryptocurrency trading platform should be user friendly with a secure payment portal for crypto payments and a smooth withdrawal process for clients. All this requires a good understanding of how cryptocurrencies and digital payments work on a global platform. The easiest and most foolproof way to do this is to set up a cryptocurrency turnkey brokerage business.
As one of the industry leaders, B2Broker has provided many of its clients with a turnkey cryptocurrency brokerage solution using its technology and liquidity, enabling them to offer their own clients a full spectrum of services for exchange, trade and investments in cryptocurrencies with advanced trading platforms. Clients are delivered a viable business comprising a sophisticated trading solution with an attractive range of offerings and many features over and above what crypto exchanges can provide.
Start Your Own Forex Broker Turnkey
Another popular option for brokers is launching a Forex Broker turnkey. Forex is one of the largest financial markets. High leverage, deep liquidity, regulated and developed infrastructure make it possible to build a high-yield business in the investment and fintech industry. With around 4,000 brokerages in existence and an estimated 300 million traders and investors across the globe, the potential of the market is enormous.
However, starting a brokerage business involves a great deal of planning, costly financial decisions and development costs, not to mention a host of legal procedures. This is why many companies choose a turnkey solution, leaving them to focus on the running of their business.
A Forex turnkey solution is an ideal opportunity to start a brokerage business quickly, without significant costs and to on-board the latest technologies in response to client demand.
There are even many existing brokers who favour turnkey solutions as in most cases, it is more cost-effective and efficient to buy, rather than develop, new software geared up at persuading existing clients to remain with the broker and for attracting new clients.
While being a lucrative industry, forex also happens to be very competitive which means that brokers more than ever, have to be equipped to offer their clients cutting-edge technology, deep liquidity pools and products which cater to the constant changes in market conditions and the introduction of stricter regulations.
Costs for developing these kind of products can be extortionate and require a great deal of time and commitment in terms of specialised staff. Thus, it makes logical and financial sense to avoid the complexities involved by outsourcing to a specialist provider who can deliver any extra functionality demanded by their clients.
These solutions are not only sought by Forex brokerages, but by other players in the financial industry such as prime brokers, prime of prime brokers, liquidity providers, hedge funds, banks and HFT & prop-traders.
Whatever kind of brokerage you choose, B2Broker offers a turnkey solution with Forex, CFD, Cryptocurrency, Metals, Indices, Commodities and ETFs all on one platform.
B2Broker will provide you with:
Liquidity for 7 asset classes

Single marginal account with liquidity for 800+ pairs

Several connectivity methods: Prime XM, One Zero, AMTS and FIX API

Trader's Room (CRM) for your clients and a back office for your team

Investment Platform (PAMM/MAM/Social Trading/Copy Trading)

Crypto payment system

IB referral flexible module: Lots, Markups, % Commission Fee

Landing page

24/7 responsive support

Cost-effective pricing (No revenue share model – just a software fee)
In addition, with our solid industry experience, we are perfectly positioned to advise you on the following areas:
Legal aspects


Connecting to a reliable fiat PSP

Opening a bank account

Marketing strategy

Education on all technical issues

Product strategy
B2Broker has a solid reputation for successfully building brokerage businesses from the ground and now services over 70 prestigious clients across the globe. If you would like to have your own turnkey brokerage up and running in just 3 weeks, talk to us today!