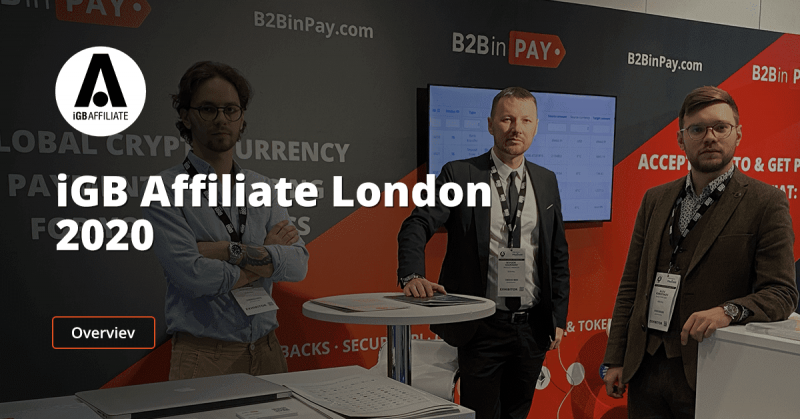 B2BinPay Completes Successful iGB Affiliate London 2020 Expo
B2BinPay recently attended one of the biggest expos of the year as far as gaming and affiliates are concerned, concluding a hugely successful event for the company. As the largest iGaming affiliate event and community across the globe, the expo gave B2BinPay the chance to hone in on new markets in this booming industry that is predicted by to reach over $300 billion by 2025 (Forbes). The expo presented a great opportunity for the B2BinPay team to chat with global attendees about the company's range of crypto processing services.
For the duration of the event, the B2BinPay team worked full-on, chatting with potential clients who gathered around our booth to find out more about how cryptocurrency payment solutions can be used to facilitate and improve the payment process within their respective businesses.
As one of the leading cryptocurrency payment providers servicing a growing number of merchants and enterprises, B2BinPay has already made inroads into this sector and having attended previous iGB events, came away once again with a positive outcome in terms of the possibilities for further expansion into this industry sector.
B2BinPay is a popular bitcoin payment gateway which allows merchants and enterprises to receive, exchange and accept cryptocurrencies in just minutes. It has emerged as one of the leading cryptocurrency payment providers in the industry, servicing over 100 (and growing) merchants and enterprises.
If you didn't make the event, you can catch up with the B2BinPay team anytime! Get in touch today and we'll schedule a quick chat to tell you more about crypto processing solutions.
Overall, iGB Affiliate London proved overall to be a highly worthwhile expo and successful conclusion to a dynamic start to our 2020 expo schedule, putting the company firmly on track to secure more clients who expressed interest in integrating B2BinPay.
Check out some of the best photos taken at our booth…