Capitalise on the Copy Trading Trend with B2Broker Investment Platform
Articles
October 24, 2019
Upd on April 10, 2021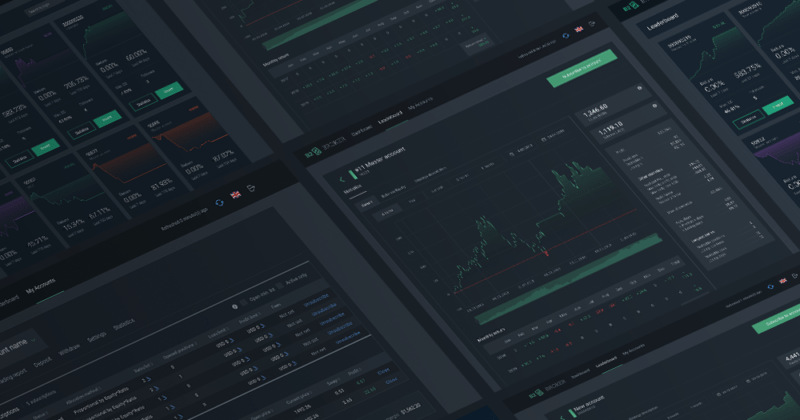 The Rise in Popularity of Copy Trading
Copy trading is a way of trading the markets that has become very popular in recent years. It enables both experienced and novice traders to participate in the financial markets by allowing their trades to be executed by experienced traders with proven track records. Copy trading is an ideal solution for traders who wish to invest money for the purpose of increasing their initial capital but do not have the time or experience to do it themselves. The reason for the success of copy trading is largely because many traders have had proven success and have been able to boost their skills and earnings with minimum effort, without the need to know how to analyse the markets or interpret forex signals. Copy trading has the added advantage that many traders trust the system and the reassurance that they are not trading alone. Copy traders are effectively a community of traders who can share ideas and strategies while improving their trades together. For these reasons most brokerages offer their clients the possibility of copy trading.
A Smart Way to Trade
For experienced traders, the main advantage of copy trading as we have seen, is that it can help them increase their profits, as even with extensive experience, it is always possible to learn something from other traders in the community. For novice traders, there is no better way to start trading as they will have a seasoned trader guiding them through trades, while allowing them to minimise their risk. The brokerage itself also stands to benefit by offering a copy trading service which is highly in demand, as well as from additional traffic, and ultimately revenues that are directed to the brokerage.
Boost Your Brokerage's Revenue-Potential
B2Broker's
Money Management Software
(Investment Platform) offers brokerages the chance to boost their revenues with a tailor-made solution, enabling them to launch copy trading as an additional service for their clients. Features include:
Full integration with MT4 and MT5 trading platforms
Web interfaces giving your clients full control over their accounts
History importer providing access to trading statistics in your leaderboard
Automatic fee payment including 5 types of fees including performance, volume and subscription
Widgets for a website so you can show traders' success without coding a single line of code
JSON API for custom integrations
Risk management tools for your clients including maximum drawdown for investment accounts and daily risk limits for money managers
Admin panel and Manager's app comprising a fully functional cabinet for investors and money managers
New Copy Trading Features
To support novice traders, B2Broker recently enabled some additional settings to the Investment Platform to make copy trading a more attractive proposition for new and less experienced traders. Copying of transactions with this mode of trading is built around the rating of traders as statistics influence the decision to connect to a trader and copy their actions. Beginner traders are expected to have a lower rating and less ability to compete with experienced traders. B2Broker has therefore added the following settings which can be enabled by the trader if necessary:
to impersonate the rating by removing a nickname and the data on the number of subscribers and their funds so as to hide the amount of funds the trader manages.
remove from the statistics page all parameters related to absolute values: funds, balance, the most profitable-unprofitable days, etc.
remove difficult to understand statistical parameters, enter an alternative formula for calculating maximum drawdowns and simplified loss limit in numerical value, instead of relative percentage.
With these new settings, B2Broker can help brokers create a non-standard, convenient and successful product for sale to end users. This update follows a major upgrade of the Investment Platform earlier this year which incorporated all the original features of the platform, including more reliability and control, a new generation of history loader, higher speed and transparency of operations, more advanced API and a revised database structure. With the growing trend for copy trading, it makes sense to consider offering this service to your users as part of your strategy to expand your client base and increase your business's revenue-potential. To learn more about our Investment Platform and introduce copy trading to your users, please contact our sales team at
[email protected]