What is Trader's Room and How it Simplifies Forex Trading
Articles
August 4, 2023
Upd on September 26, 2023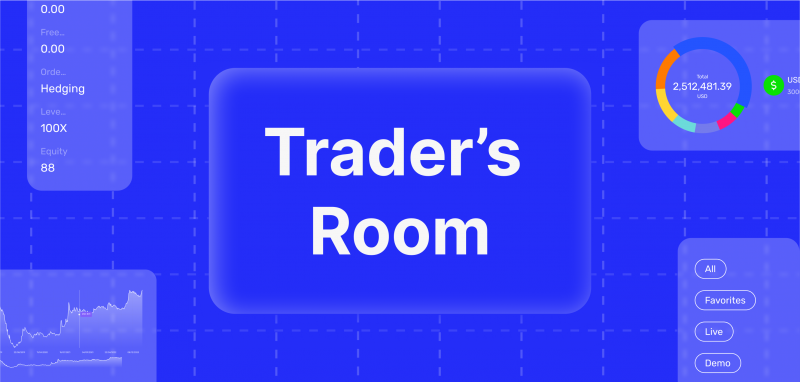 Before the digital revolution and all the subsequent innovations, forex and other trades were executed physically. Today, trader's rooms are digital interfaces that let you access various markets, look at the ever-changing price trends and conduct trading business all at once. These neat hubs for trading vary in quality and functionality, but one thing unites them all – to deliver the most comprehensive and hassle-free experience for their individual and business clients. 
Key Takeways
Trader's room is a digital hub that consolidates essential trading services and features into a single dashboard.

Trader's rooms enable active traders to analyze market trends, receive latest price updates and execute deals without ever leaving their digital dashboard.

Expertly designed trader's rooms give customers the freedom to customize their dashboards to their exact preferences.

In the past, trader's rooms used to house simple currency exchange means, but with recent digital innovations, trader's rooms have become full-stop hubs for complex forex trading.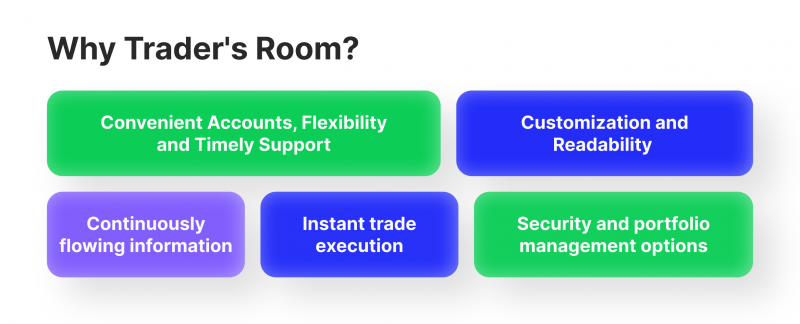 Trader's Room Benefits and Essential Features
Despite wildly varying features and services, any trader's room is geared towards its target audience to its best capabilities. From the crypto and fiat markets to stocks and other financial instruments, there are many different trading requirements for specialized traders. However, several core benefits and features need to be present in every trader's room, no matter what niche of digital trading it's used in. Let's discuss them below:
Convenient Accounts, Flexibility and Timely Support
First things first, any trader's room should be user-friendly and simple to utilize on a daily basis. Every trader must have a swift option to create an account and deposit their initial portfolio without complications. With today's digital progress, the leading trader's room applications let the clients sign on in a matter of minutes, or even seconds. In addition, any trader's room should have convenient and functional both mobile applications and desktop versions.
Remember, trading is a 24/7 job with frequent updates and unexpected surprises. Most full-time traders cannot afford to look away from the price updates for more than several minutes during the day. So, it has become a necessity to build a smooth and feature-rich mobile application for trader's rooms. This is arguably the most essential feature, since many traders won't even consider adopting a particular trader's room if it doesn't accommodate mobile use. After all, Forex is a game of minutes and not hours, so staying in the loop at all times is no longer just an advantage, it is a requirement.
Additionally, any prominent trader's room must have solid customer support. Unlike other software, when a Forex trader's room has technical issues, this could directly translate into significant losses. Information is the most prized currency in the field of Forex, and even a small delay or technical difficulty can adversely affect full-time traders. Therefore, a trader's room must have an airtight, goal-oriented support team that will promptly handle any technical issues in minutes.
Most of the expert traders simply cannot afford to conduct business in a faulty trader's room CRM, receiving incomplete market data and potentially missing out on lucrative deals. So, having a helpful and prompt support team is a must for any proper trader's room.
Customization and Readability
While some traders prefer the most complex and intricate trader's room dashboards filled with overwhelming information, many clients would like to keep it simple and effective. The data from various trading markets can become unwieldy without proper set-up and customization.
Leading trader's rooms around the world offer a high degree of customization to their loyal traders, giving them the exact data outputs and functionality that they desire. From custom data charts and helpful visualizations to sorting the most essential trading options right on the dashboard, the best trader's rooms allow users to create a perfect environment for their needs. No extra buttons and confusing data tables.
Moreover, it's vital to remember that a trader's room is a software. And, just like any other software, it needs to be user-friendly and easily readable. The UI (User Interface) and UX (User Experience) benefits are essential in this context. A given trader can spend up to 7–8 hours within a trader's room interface, navigating its menus and dashboards almost the entire working day.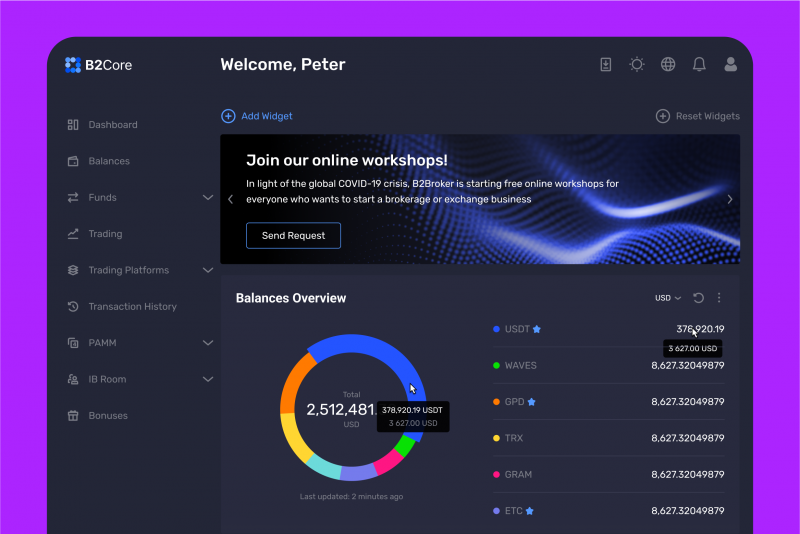 If the UX here is not good and frequently confuses or irritates the trader, then the likelihood of switching to alternative options is significantly increased. After all, traders are customers too, and they desire to have a hassle-free experience when it comes to using digital trading tools.
Continuously Flowing Information
Next up, let's discuss arguably the most indispensable feature of the entire trader's room – the uninterrupted market data updates. It is crucial to remember that the Forex market changes literally every second. While most fluctuations might be minuscule, it's impossible to know when a tectonic shift on the market will present itself.
While expert traders value convenience and accessibility, they simply cannot do their job without continuous information updates. In this case, the trader's room dashboard needs to have a live feed of all relevant financial markets without a material delay. Even if your software is 10 seconds late compared to competitors' one, you might lose the majority of your customers, since information is what makes or breaks successful trading deals.
As of 2023, it has become much easier to provide live data feeds to your trader clients, since there are numerous digital providers on the market. In short, you can purchase an API to a live database that will feed your trader's room with the latest information.
Instant Trade Execution
The speed of the trader's room deal executions is equally important as the data flow. After all, even if you have all the information in the world, it is pointless without the ability to act on your findings. There are numerous cases of slippage and delayed transactions that hurt the high-volume traders. So, it is essential to choose a competent trader's room CRM for your purposes.
The speed of trades is often the most desired benefit for traders that look to upgrade their digital trader's room. In short, a trader's room should have direct access to particular markets and transfer the trade requests without any significant delays. Otherwise, the deal will not be the same as intended, since the price of the commodity can go up or down in a very short period.
Many trader's room applications have connected their APIs to stock and money markets in a way that slippage is almost completely eliminated, but the risk remains even with the industry-leading companies.
Security and Portfolio Management Options
Finally, there are two more vital aspects of valuable trader's rooms that customers can't live without – overall security and the wealth of presented trading options.
In terms of digital security, the crucial aspect is to fortify the customer portfolios and let them trade without constant cyber threats. With malicious activity statistics rising rapidly worldwide, customers have become increasingly aware and worried about their Investment portfolios. At the end of the day, no trader wants to lose their entire portfolio due to weak security options on a given platform. So, when choosing a trader's room option for your needs, it is advisable to understand the security measures in place and if they are up to the latest standards.
Additionally, any trader's room must have several options for trading. From a simple sale and purchase to more complicated activities like margin trading, diversity is essential for aspiring traders. Some trader's rooms specialize in a particular niche and provide appropriate features, but it is always more convenient to have a wealth of options on a single platform.
With the latest digital innovations, many online brokers provide varied options for trading. Thus, it is not too challenging to find a perfect trader's room that consolidates all or most of your core trading needs.
What Sets a Good Trader's Room Apart From the Bad Ones?
Although we have discussed the fundamentals of a competent trader's room, there are numerous other aspects that differentiate the industry leaders from average trading solutions.
Simplicity
The most desired benefit of trader's rooms has always been their simplicity and ease of use. The simplicity here is not just about a smooth user experience but about the entire platform at hand. Remember, trader's rooms are the digital homes for many full-time traders, who spend the majority of their time looking at price trends and other market data.
So, it is crucial to have a complete package – smooth UI coupled with lightning-fast speeds and continuous data updates flowing straight into your data feed. The information distributed into a trader's room should be swiftly understandable and presented in a simple way.
With such a constant pressure surrounding traders every single day, it is crucial to get the small details right – from easy-to-understand data charts to swift menu navigation, there is almost no room for delays or inconveniences.
Full-stop Approach
Additionally, a great trader's room will accommodate traders comprehensively. From all relevant information, trading tips, brokerage services and consultation options to all the relevant trading deals, the best trader's rooms have everything that a day trader could ask for.
This comprehensive provision of services, benefits and information is called a full-stop approach, enabling traders to consolidate their different tasks into a single platform. Previously, traders would have to operate, monitor and manage several different digital tools to execute desired deals. The process of handling various applications at once could be quite a hassle and even result in some mistakes, as there is no continuity from one software to another.
With a full-stop approach, that is no longer the case, as traders can research, strategize and execute forex deals all in one place, with minimized slippage and human error risks. This approach enables traders to do their work efficiently and without wasting precious time. Since trading is often about making the right decisions in a matter of minutes, the full-stop trader's room services are highly desired in this sector.

Why Trader's Rooms are Excellent for Newcomers
Aside from experienced traders who are well-versed in all things forex, trader's rooms can accommodate up-and-coming traders that have just started their forex journey. From providing accessible tips, use cases and guidelines to giving users access to huge trading communities, trader's rooms can be a terrific starting point for newcomers.
The Ability to Learn New Trading Strategies
Trader's rooms are not just the means-to-an-end software solutions that only execute client trading orders. In many cases, proper online trading rooms provide a myriad of learning materials, resources and guidelines on mastering new trading techniques. With these high-quality materials readily available, newcomer traders can learn increasingly more complex trading mechanisms, market tendencies and advanced strategies.
As a result, trader's rooms can serve as a nurturing environment for aspiring traders, slowly helping them grasp winning forex strategies and become fully-fledged experts in this field. However, this benefit is not only reserved for newcomers, as expert forex traders often need a refresher on how a certain trading system or financial instrument works. Remember, the forex field is quite complex and filled with technical intricacies that are updated frequently. So, having convenient informational guidance is never a bad thing.
Strong Community Around The Platform
While online trader's rooms do not share the physical nature of their classic counterparts, they can still form a sturdy community that assists individual traders. Many online trader's rooms have the social functions to let traders communicate and exchange insights with their peers. With these options, traders can ask for helpful tips, share their unique experiences and receive new points of view regarding the forex industry.
Final Takeaways
Trader's rooms have always been a crucial part of the trading landscape. From the very first local money markets to today's sprawling global industry, trader's rooms accommodated the needs of active traders. While their functionality has become digital, the trader's rooms have transformed into a one-stop shop for all trading requirements.
With this handy tool at your disposal, your trading efforts can become seamless, swift and even enjoyable. However, there are certain trade-offs and there is no obvious choice when it comes to selecting the right trader's room CRM. Therefore, you must analyze your choices carefully, consider the features and benefits discussed above and select the trader's room that fits your distinct needs perfectly!