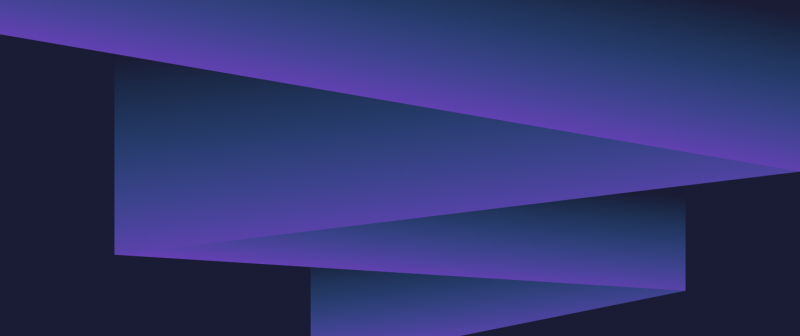 How to Create a Crypto Broker in 2023?
Cryptocurrencies are advancing at an amazing speed of its development every day, opening up new opportunities for creating businesses related to crypto technologies, which are being actively implemented in different areas of our lives. One of the most popular types of such business is a crypto-broker – an innovative business model that combines the advantages of cryptocurrency exchanges and classic brokerage business.
This article will help understand what a crypto-broker business model is, as well as how it works and what it consists of. You will also learn about the 10 most important steps to consider in order to create your own crypto brokerage business in 2023.
What is a Crypto Broker?
Crypto technology has made it possible to look at many things differently, turning the idea of the functioning of money and other things. Crypto brokers are a complex ecosystem that allows, as mentioned above, to take full advantage of both the crypto exchange and the classic brokerage model. But what are they? Let's get to the bottom of it.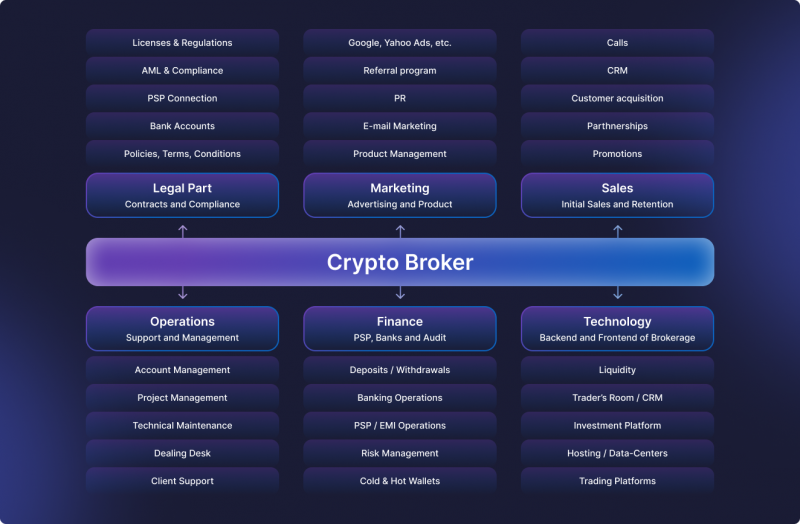 A cryptocurrency broker is a financial institution that acts as an intermediary between users and the trading floor (the financial market, which in this case is the crypto market), and provides services for trading digital assets and all the necessary infrastructure and assistance in this process. In this case, the difference between a crypto broker and classic financial intermediaries in the same Forex market is minimal, with the only difference being that the former focuses more on cryptocurrency trading. Often, clients receive similar trading conditions both for Bitcoin and altcoin trading, as well as for trading in fiat currencies. By the way, many traditional companies have begun to provide clients with access to the new market as an additional service. As a rule, cryptocurrency assets are traded using the instrument CFD (Contracts for Difference). This means that traders do not trade the digital assets themselves, but rather derivatives based on their prices.
A crypto broker, as well as a cryptocurrency exchange, is a reliable, convenient and fast way to buy and sell crypto assets utilizing the power of additional brokerage business model solutions, which not only help to make the trading process much faster and more informative, but also allow optimize the work of all the most important elements of the trader's workspace ecosystem.
The concept of а crypto broker is that it is a complex system of elements, the interaction of which helps to expand trading opportunities for both beginners and experienced market participants while providing full technical support with the help of various multifunctional solutions that both crypto exchanges and classic brokerage companies have. A crypto broker allows you to access numerous tools, including trading and investment platforms, cryptocurrency wallets, margin trading, and a personal account with a large set of all the comprehensive data necessary for trading in the form of analytical tables, graphs, and other data arrays reflecting the state of the investment portfolio and allowing you to conduct a deep analysis of the market situation.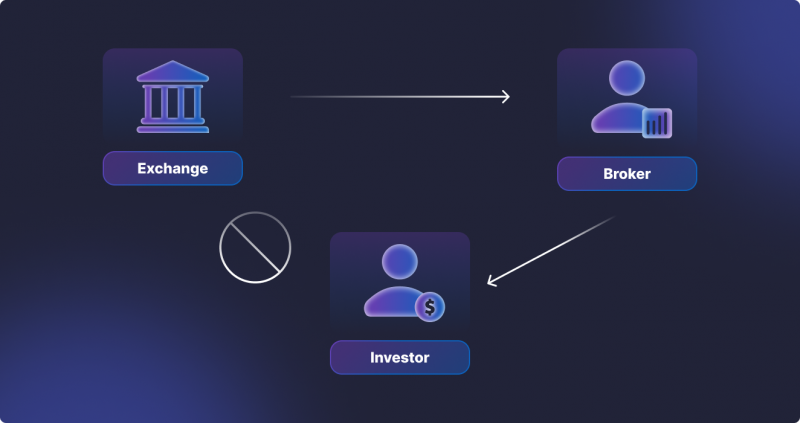 KEY TAKEAWAYS
1.
A crypto broker is a business model that combines the best technological solutions from both cryptocurrency exchanges and the classic brokerage business.
2.
Crypto broker in its functionality is similar to a classic broker (such as Forex) only with a greater emphasis on cryptocurrency trading.
3.
Unlike a cryptocurrency exchange, a cryptocurrency broker does not give direct access to financial markets, but is an intermediary between users and cryptocurrency exchanges.
Basic Elements of Crypto Broker Infrastructure
As it was mentioned above, despite the fact that a crypto-broker works on the same principle as a classic broker, representing a kind of bridge between users and crypto exchanges, it is a complex ecosystem that offers a whole arsenal of useful tools for working on the crypto market. In most cases, a crypto-broker combines such solutions as a trader's room, main trading platform, additional trading platform, prime of prime liquidity, capital management platform (invest platform) and blockchain wallets. Let's consider each of these elements in more detail.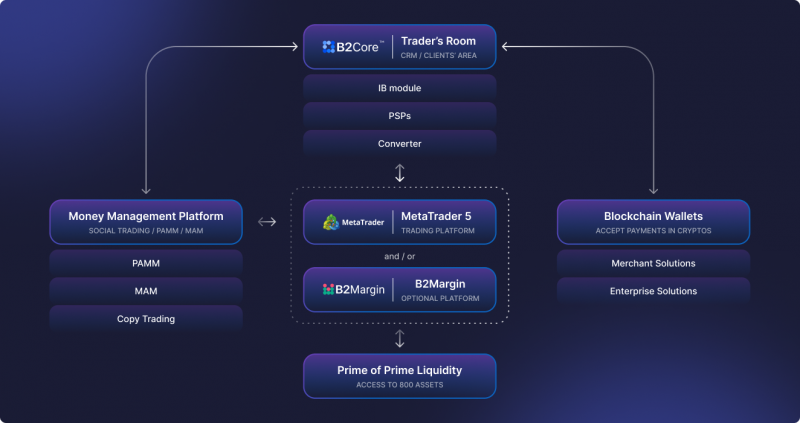 1. Trader's Room
It has become nearly universal in today's trading environment for crypto brokers to provide their own web servers with a multitude of tools for traders that can all be found within a single user interface, commonly known as a trader room. While most companies offer a trader's room where traders are able to access all the necessary financial market tools, some companies have recently begun to offer versions of their trader's room that are more informative and easier to understand.
The system allows users to organize their personal space on the brokerage company's website, provides functionality for the company's back office, payment systems, and document processing, and allows full control over accounts, transactions, and the investment portfolio as a whole.
2. Main Trading Platform
Like a cryptocurrency exchange, a crypto broker offers a main trading platform, which is the main trading place that is fully equipped with all the necessary tools for comfortable trading. The platform is a multifunctional space with a trading interface in the form of charts, an order book for each individual trading instrument, a market depth chart, tables with quotes, and other useful information necessary for developing a working trading strategy and making informed decisions in the trading process.
The main and most popular trading platforms well established in the world of trading, which are suitable for crypto brokers are B2Trader, MetraTrader 5, as well as the cTrader platform.
3. Additional Trading Platform
The optional trading platform is an additional trade management center that offers a wide range of features, including compliance, risk management, pricing and trading analytics. An additional trading platform can be useful for both institutional and retail investors because it typically provides access to all the same features and tools as the main platform, thus increasing the overall trading space many times over, allowing investors to perform more in-depth market analysis on a variety of financial instruments without having to use third-party solutions. In addition, the additional platform can be useful if the user wants to have more flexible settings of the trading process.
4. Prime of Prime Liquidity
As one of the core components of the brokerage company, Prime of Prime liquidity offers a live stream of buy and sell quotes from a variety of liquidity providers for more than 800 instruments from seven different asset classes. Having direct access to Tier-1 liquidity providers will provide with a number of competitive advantages: lower spreads, a deeper liquidity pool, and a faster speed of executing trades, including those related to high-frequency trading (HFT). If you can provide better instrument pricing to your partners, then you will be able to offer them better terms, or you can lower the spreads and trading commissions for your end customers as well.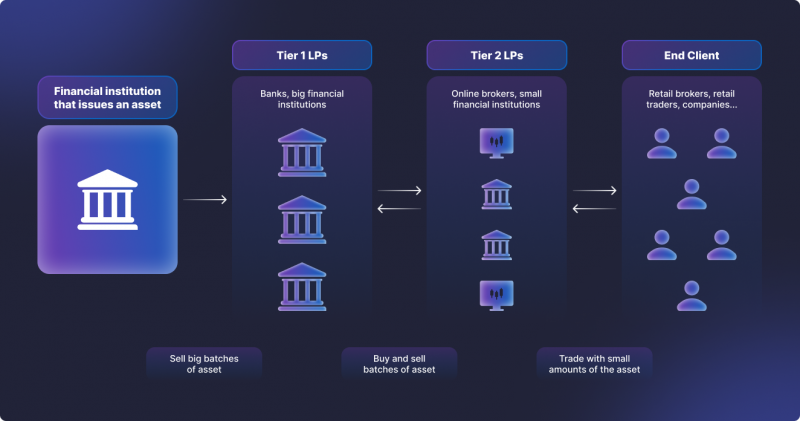 5. Capital Management Platform
This platform is an indispensable tool which allows offering users copy trading and PAMM accounts and other investment products for those people who do not want or do not have enough experience to trade on their own. These products give direct access to the trades of other, more successful traders, and on the basis of the received data to develop their own trading strategy.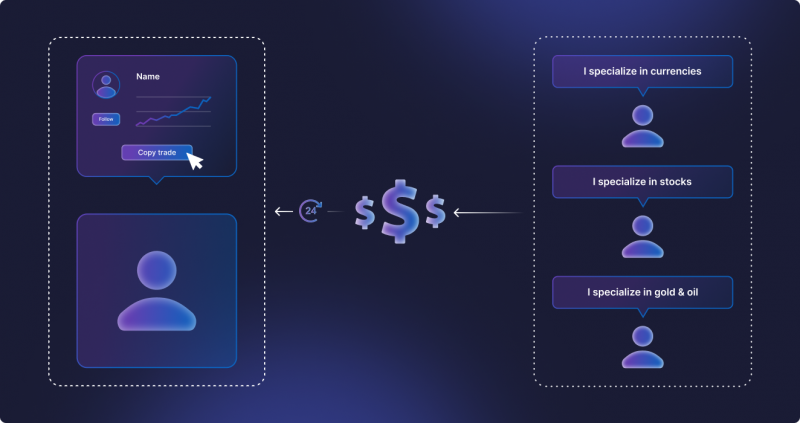 Copying of deals can be used in any financial markets. However, this tool is in wide demand only in some markets because the practical application of copy trading is traditionally limited to speculative trading – conclusion of transactions with relatively short duration for the purpose of obtaining a quick profit.
6. Blockchain Wallets
A cryptocurrency wallet is an online platform that provides storage services for digital blockchain currencies. They have become a real innovative technology that continues to develop at a rapid pace due to the increasing demand for blockchain technology. Such services allow buying and selling cryptocurrency, conduct exchange transactions, and let users utilize cryptocurrency to pay for goods and services. Crypto wallets can be supported by a digital money issuer or a third-party resource focused on working with different currencies.
Each cryptocurrency wallet contains public and private cryptographic keys of its owner, allowing it to work with cryptocurrency. The most secure implementation of such service is a hierarchical deterministic wallet (HD Wallet) with separate storage of keys. With this technology, the platform stores only part of the data required to validate the cryptocurrency, and transactions require the signature of both the client and the service. To work with HD Wallet, the user must enter a passphrase – a set of 24 words in which his signature is encrypted.
FAST FACT
1.
The business model "crypto-broker" appeared as a result of the rapid development of blockchain technology, which allowed to combine the technological basis of crypto-exchanges with a wide trading toolkit of classic brokerage companies.
10 Essential Steps to Start/Create a Cryptocurrency Broker in 2023
The cryptocurrency broker business is just as complex as the cryptocurrency exchange platform, and when you are going to build one, you will need to take into account a number of important factors that will directly affect the final result. Below is a list of the 10 most important steps to take if you are thinking about building your own cryptocurrency brokerage business.
1. Determining the Target Market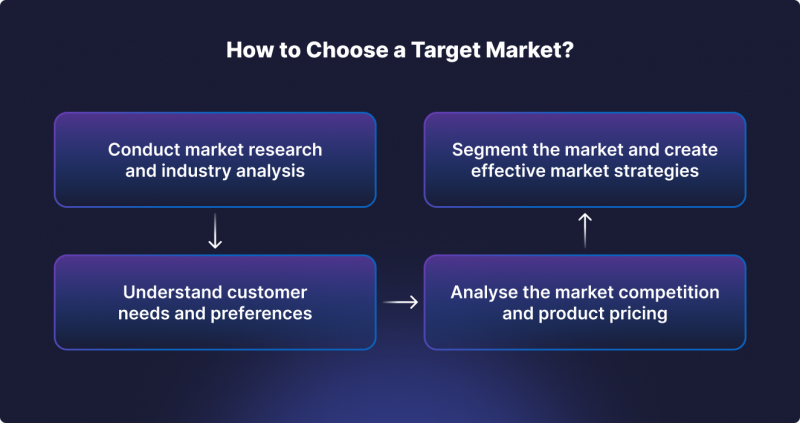 As in the case of creating a cryptocurrency exchange business, developing a crypto brokerage and successfully launching it requires an in-depth analysis of all your competitors along with an identification of your target audience. That will help your business to adjust its products' features and parameters accordingly. There are many parameters to consider when choosing the right clients, such as age, gender, hobbies, income level, country of residence, etc. The legal address of your company will dictate a great deal, the marketing approach you choose, the number of languages that your platform supports, etc., depending on the data of your clients.
2. Business Licencing and Registration
License is one of the traders' and investors' most significant defining criteria when choosing a crypto broker. By analogy with creating your own crypto exchange, you must register a company and obtain the appropriate licenses before starting a crypto brokerage business. A variety of government regulators in various jurisdictions control the licensing process. Nonetheless, the choice of a particular method depends on the size of the business conducted by the broker, its budget, and other factors. Legally speaking, a broker's license indicates which authority controls the broker's activities and the company's reputation.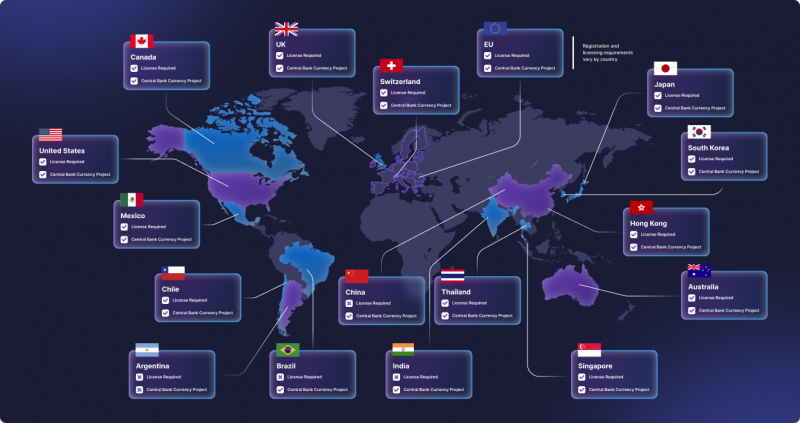 The type of cryptocurrency license to be obtained will depend on planned transactions. If a company is going to conduct "crypto-crypto" transactions (cryptocurrencies only), it will need to obtain the so-called MSB (Money Service Business) license for such activities. If we are talking about "crypto-fiat" type transactions (cryptocurrency exchange for real money), obtaining the MTL (Money Transmitter License) is necessary.
3. Budgeting
Budget planning is one of the most important things in every business plan. There are a large number of different cost items that need to be carefully controlled. Among the most significant costs are marketing costs, staff costs (salaries + office), IT infrastructure costs, legal costs (accountants, audits, lawyers), and taxes. Each of these items is an integral part of overall business costs and requires special attention, because together they directly affect the distribution of the company's budget.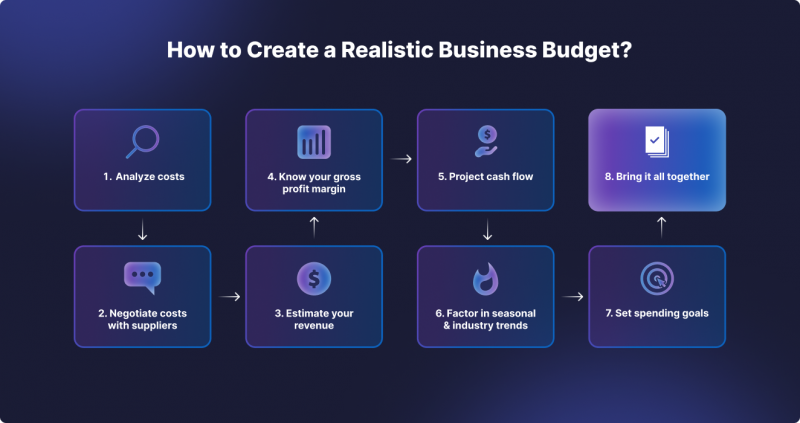 4. Choose a Trading Platform
The choice of trading platform is a matter of taste for the company, because most trading platforms give access to almost the same tools. However, it is worth considering their cost to make sure you stay within budget. The vast majority of existing trading platforms have flexible rates and very affordable prices, so they can be affordable even for companies that are just starting their development in the crypto business. Some of the brightest examples offering full trading functionality are MetaTrader 5, cTrader and Match Trader.
5. Choose a KYC-Partner
Any crypto business, whether it is a crypto exchange or a crypto broker, needs good protection. To avoid the scrutiny of regulators, companies need to verify the identities of customers by asking them for their personal information. All financial institutions, including stock exchanges and banks, do not provide their services to customers without verifying their identities. In order to identify the identity of users, KYC technology is used, which is currently provided by a large number of different companies. It is necessary to pay special attention to this point because security is the most important aspect of any digital business, especially related to cryptocurrency brokers.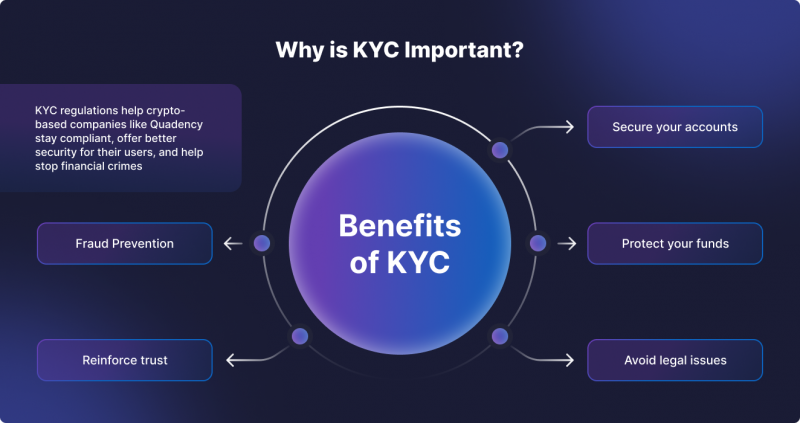 6. Determine a Liquidity Provider
The major crypto brokers, especially those with good financial stability, usually work with a number of large liquidity providers in order to maintain their own prices and liquidity levels at the appropriate level. In most cases, liquidity providers are large financial institutions or banks that trade a significant amount of digital currencies.
7. Define a Payment Gateway
Crypto brokers as well as cryptocurrency exchanges have difficult jobs to do, so they need flawlessly refined technical procedures. Servicing of customer deposits falls under this as well. You must locate payment service providers (PSPs) that can satisfy your requirements based on the location and provide the payment options your customers require. Although processing fees vary, the majority of PSPs do not impose account starting fees. It's also advised that you have many providers so that clients can be redirected to different accounts if one is down. You should constantly be on the lookout for payment providers because this is a crucial component of your company.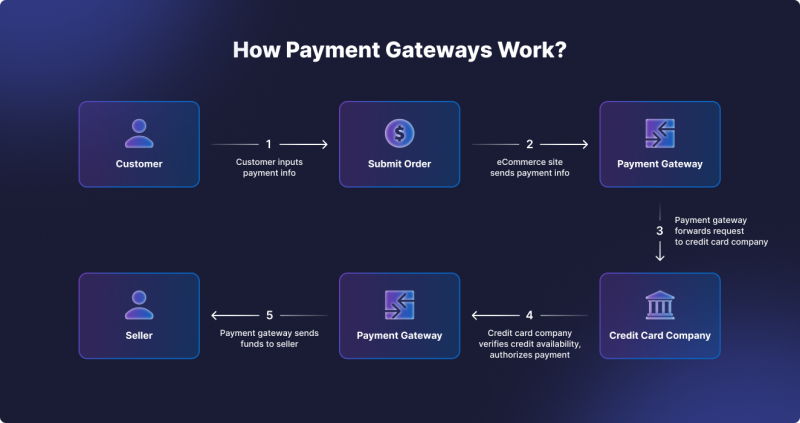 8. Implement the Technical Side of the Broker
Businesses such as crypto exchanges and crypto brokers require a very large number of different technical systems to function successfully. This point includes the creation of the necessary information infrastructure, servers, engine information orders, protection mechanisms from various hacker attacks and more. Crypto exchanges and brokers also require perfect security systems because they deal with money directly.
9. Develop a Website
The calling card of any business is an accessible, beautiful, easy-to-navigate website. Users will be able to learn more about the company as well as its products and services by visiting this website. There must be all the necessary elements on the broker's website so that users can navigate through the products and services that the broker provides. If you are familiar with programming and computer science, you should be able to create a good website without difficulty. Alternatively, it may be advisable to seek the assistance of experienced professionals.
Any website that is being developed should give particular consideration to factors like usability, excellent design, and speed of operation. The development of these parameters, which reflect important site features like engagement rate, conversion rate, browsing depth, time on site, etc., directly affects the user experience and is the main goal of the entire company in order to both retain and attract new consumers.
10. Testing
In order to build a successful business, it is essential to test the functionality of your crypto broker. By doing so, you will be able to determine if your brokerage company is being used by your customers according to how you intended. In addition, it provides information regarding any problems you may encounter with the broker. Performing the testing as early as possible will allow you to make any necessary changes to the design before your product is launched.
Once the software development is finished and the aforementioned procedures have been followed, your broker must perform well in the beta version. To ensure a successful full launch of the project, developers should examine user feedback and make adjustments to the website.
Conclusion
Any business, from a cryptocurrency exchange and crypto broker to bitcoin exchange business, is a great option to try your hand at the prospective crypto market. Crypto broker, being a perfect combination of cryptocurrency exchange and classic brokerage business, gives an opportunity to look at the business in general in a new way, opening new opportunities for users for investing and trading. With its pros and cons, crypto brokers can be an ideal turnkey solution for those companies who are not yet ready to create their own product. However, for those who are determined to break into the crypto market and win their piece of the pie, a crypto broker will undoubtedly be the best solution for trading and investing in digital assets.