B2Broker Announces Latest B2Core Update Including New Features and Integrations — July 2022
B2Broker is delighted to announce the latest release of the B2Core platform. The update includes several new features, including:
An ability to log in using a QR code

A custom trading password reset for the MetaTrader platform

An ability to create settings in the admin panel for a default dashboard layout

KYC integration with iDenfy to allow for more options
These new features will make trading easier and more convenient for everyone involved.
New QR-code Log-In Feature
The B2Core team is always looking for ways to make our users' lives easier. Our latest feature, the QR code login, is designed to do just that. Simply download the B2Core app, open the scanner, and scan the QR code on the login page. After that, you'll get all the information you need about the device and its IP address. You can then approve or cancel the login. Now, instead of having to enter your login and password manually each time, you can simply use your mobile phone to scan a QR code and be logged in instantly. This new feature also eliminates the need for Two-Factor Authentication (2-FA), as well as emailing codes and entering passwords. So now, logging into B2Core is faster and easier than ever before. We hope you enjoy this new feature and that it makes your life just a little bit simpler.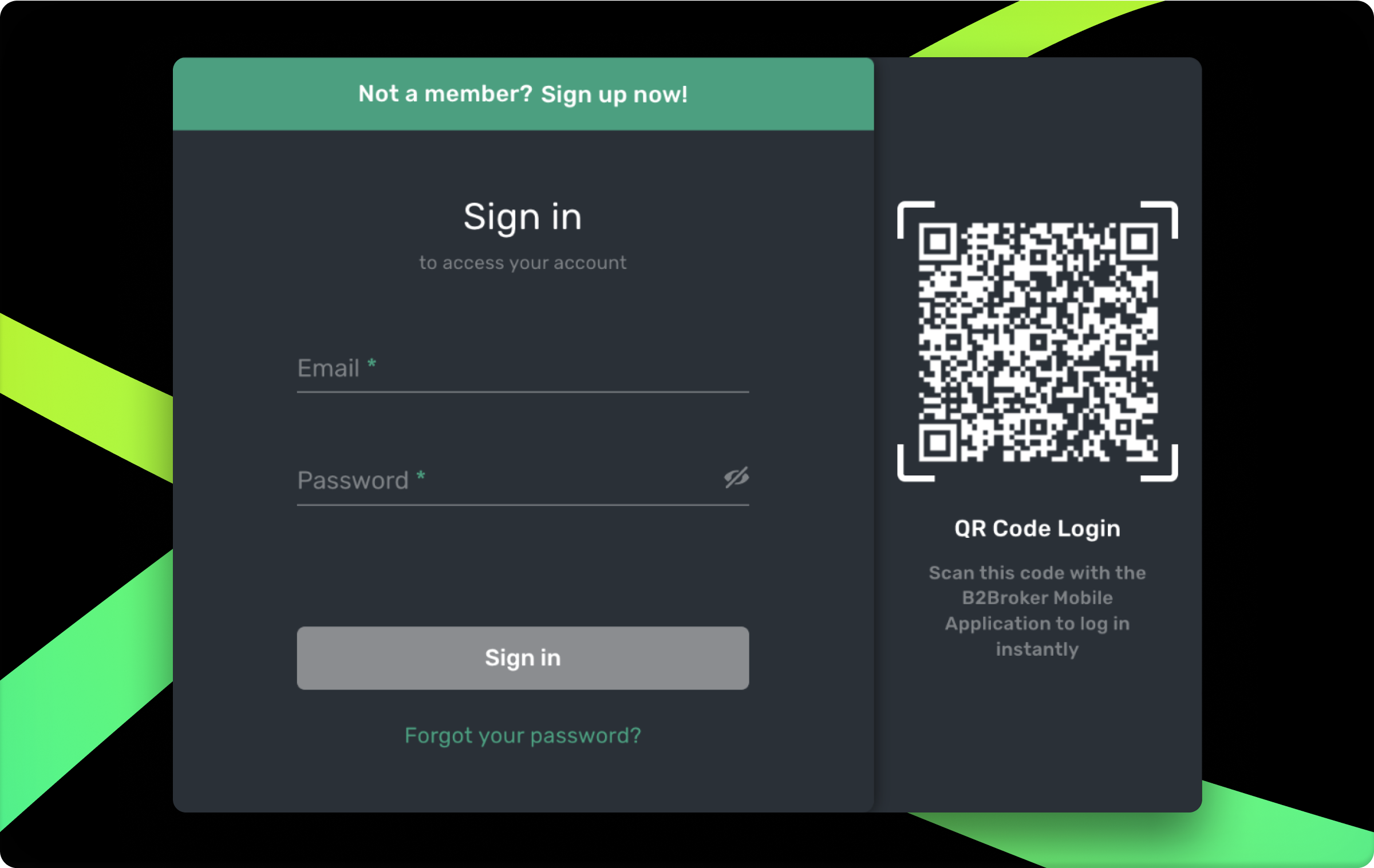 Custom Password Reset for the MetaTrader
In today's world, security is more important than ever. That's why we're excited to announce that users now have the ability to change their own trading passwords for MT4/5 accounts. This new feature allows users to choose their own custom password, giving them peace of mind knowing their account is secure. This process is simple and easy to follow:
First, the user goes to "Platforms" on MT5,

Then, click on "Account Details,"

Then "Account Settings."

From there, the user clicks "Reset Password."

Finally, the user enters their 2FA email code and chooses a new trading password that can be custom or randomly generated.
We know that security is vital to our users, and we're committed to ensuring your accounts are safe and sound.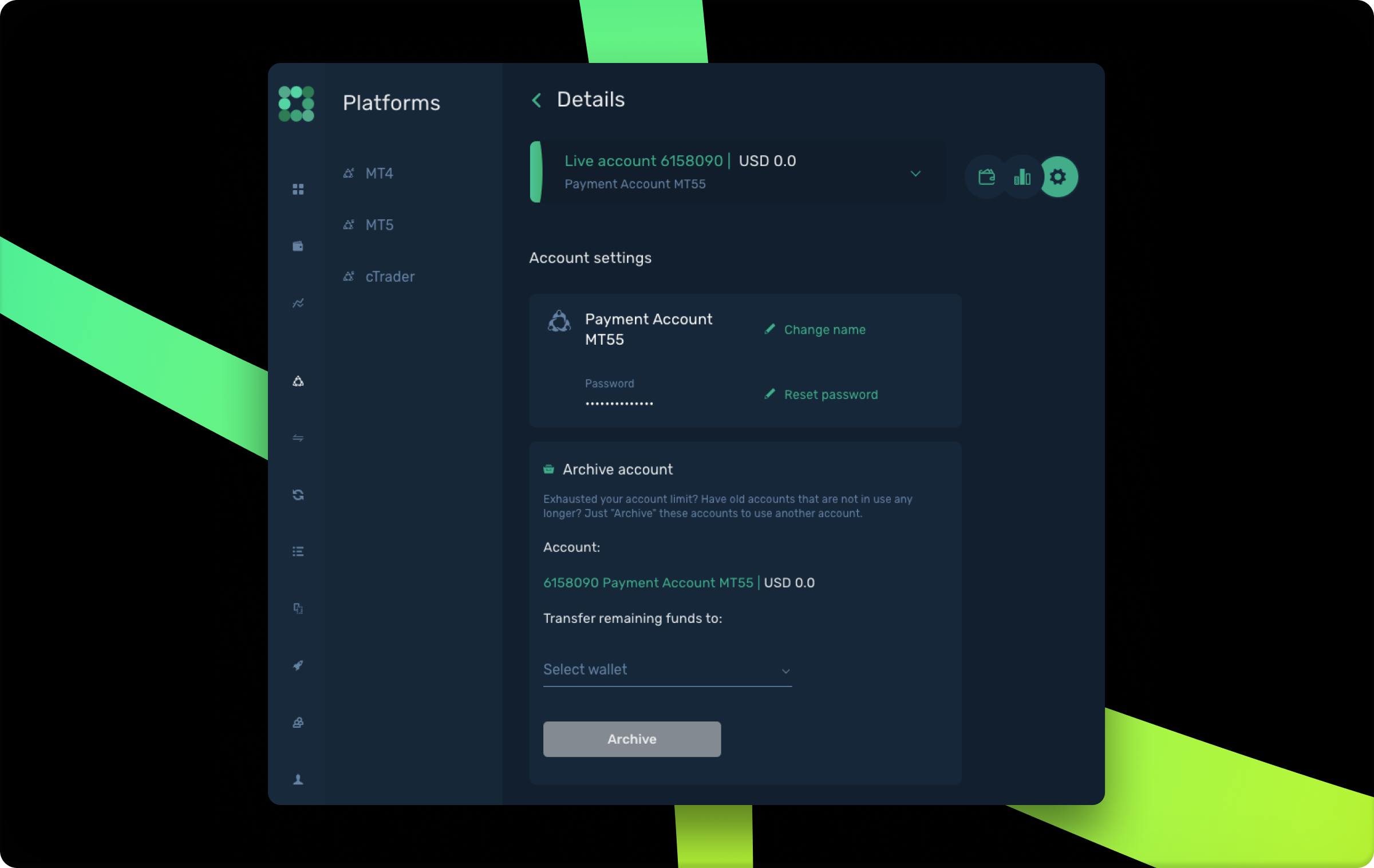 Default Dashboard Layout
Setting up a broker's ideal dashboard has never been easier. This new feature allows brokers to fully customize the default dashboard for their users, configuring what widgets will be included, their size, and location. The settings are easily applied in the admin panel, under the Promotion - Dashboard section. This gives you complete control over what your users see the first time they log in, making it easy to promote the features and tools that you want them to use. After the initial log-in, the user is able to modify and save their preferred dashboard layout. And if you ever need to reset the dashboard to its default settings, simply click on the "Reset Dashboard" button. This new customization feature will help you get the most out of your brokerage platform.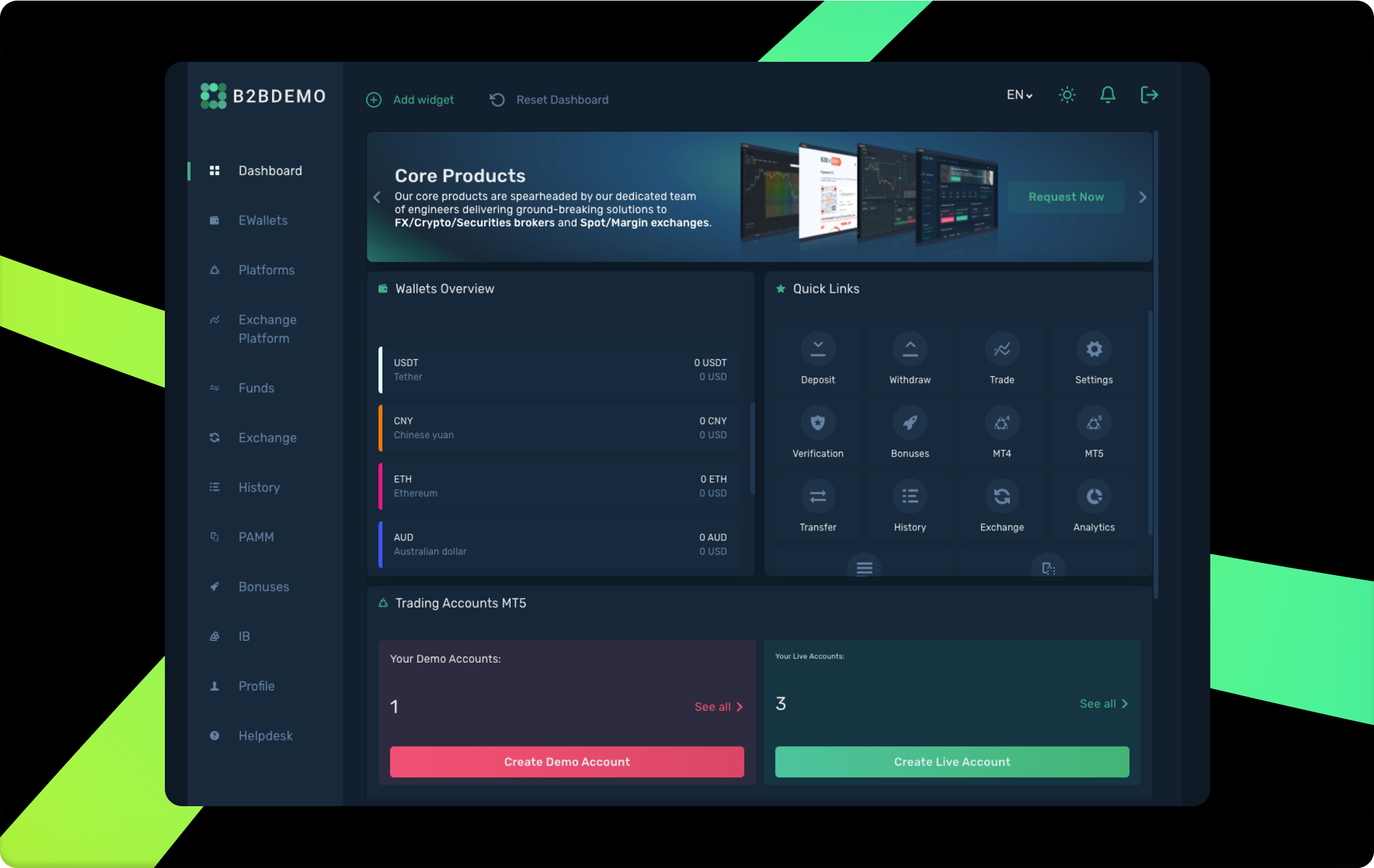 Integration with iDenfy for Improved KYC
We are excited to announce that we have integrated KYC provider iDenfy, which is a leading provider of identity verification services. Their technology helps businesses verify the identities of their customers quickly and reliably. Now our clients have a choice of KYC providers: Sumsub, ShuftiPro, and iDenfy. To add iDenfy, brokers can go to the admin panel of B2Core and follow the instructions. We believe this will provide our clients with more flexibility and options regarding compliance and identity verification. As always, our team is available to answer any questions you may have.
Final Thoughts
We hope you are as excited about these updates as we are. We believe they will benefit all of our clients. As we continue to grow and expand our services, our team is working hard on future developments and improvements that will make your experience with B2Core even more pleasant. You can expect more features soon that will help you increase your sales and productivity. In the meantime, we encourage you to register now and try the demo version of B2Core so that you can see how it can benefit your business. We hope you enjoy using our product as much as we enjoyed creating it!