B2Broker CEO Advises Clients to Beware of Social Media Scams
Author: Iskander Ziyanurov
10.09.2021
In the current day and age, and prevalence of the world wide web, there have been numerous online scams of which many of us have been at the receiving end. Scams can occur in many ways such as phishing emails, social media and SMS via your mobile phone and can range from credit card theft, obtaining a user login/password credentials and of course, one of the most common of them all, identity theft. This is where someone attempts to deceive you into providing sensitive information for the purpose of getting you to part with your money. There's no doubt that online scammers will always be around where there's money to be made, however, the situation reinforces the important need for vigilance in order to be sure that you are dealing with a legitimate company.
As a high-profile company in the Fintech industry, B2Broker regularly comes face to face with fraudulent activities in our dealings with the public and sometimes our clients, along with the negative repercussions which are prolific in our industry. We are all too aware of the many kinds of intricate scams that exist such as Bitcoin ponzi schemes and fake investment opportunities, to name but a few.
One of the best known scams in recent times was one in which $2 million in cryptocurrency was lost to Twitter scammers impersonating Tesla and SpaceX CEO, Elon Musk during the last six months, promising guaranteed huge returns. In our case, we are very familiar with scammers who on several occasions have targeted our customers pretending to be our company CEO. These people are blatant imposters but they can unfortunately be quite convincing.
As an example, CEO Arthur Azizov was recently alerted to a fake Facebook account that was created using his profile. It is apparent that the account was set up with the intent of extracting money from Facebook users by pretending to be Arthur selling B2Broker products and services, but it was an outright scam. This latest incident is not the first time that the company CEO has been subjected to fake social media accounts, having only recently had to deal with a similar occurrence on Instagram.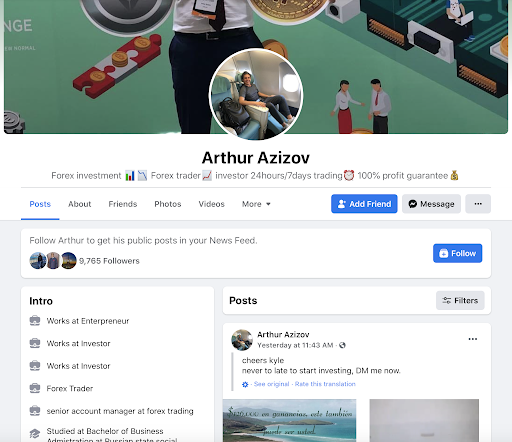 Fake Arthur Azizov Facebook Profile
Increase in Facebook Profile Fraud
Facebook, along with other social media channels, has become a highly lucrative channel for businesses in both the B2C and B2B spheres. Unfortunately, the huge growth of the market has led to a massive rise in the prevalence of fraudsters pretending to be someone else, usually for monetary gain, as B2Broker has found.
There are currently over two billion Facebook users with around 270 million fake or duplicated accounts - a staggering number that reveals just how easy it is to assume someone else's identity. Fraudsters use these accounts to sell their so-called services, or to click ads with negative effects on companies in terms of wasting their ad budgets and damaging their reputation.
Beware of Fake Accounts
With the growing number of internet scammers in mind, Arthur has taken to issuing a statement on social media to warn the public, his contacts, customers and partners not to fall victim to scams or be cheated by anyone assuming his identity with fake profiles….and not to part with any money. B2Broker, and more specifically, Arthur, never gives financial advice nor does he use his personal Facebook page or any other social media channel for this purpose.
Arthur reminds everybody that B2Broker is a B2B business and is not involved in any aspect of retail. He never seeks any investments, nor conducts any trading or money management activities. The company strictly deals on a businesses-only basis which should, based on this fact alone, send out a warning flag for anyone approached by "Arthur Azizov" attempting to sell them anything. Remember that if you are offered any guaranteed income, it is 100% a scam. NEVER trust people who via the internet ask for any amount of money or approach you with similar requests.
We also remind our clients to be wary at all times of what may be a fake account and/or an online scam and to check all credentials before initiating any dealings. Simple checks such as searching again for the same name on Facebook, Instagram, Linkedin and TikTok, etc, to confirm whether it's a duplicate or not, and being on the lookout for other tell-tale signs such as inferior quality or fake photos and bad grammar (check image above) can help confirm any suspicions you may have.
If in any doubt, get in contact with us if you suspect an identity is compromised. You can also contact us at our company address ([email protected]) where you can be reassured that you're in legitimate hands.
For the Record...
B2Broker social media accounts:
Links to Arthur Azizov's real social media accounts: