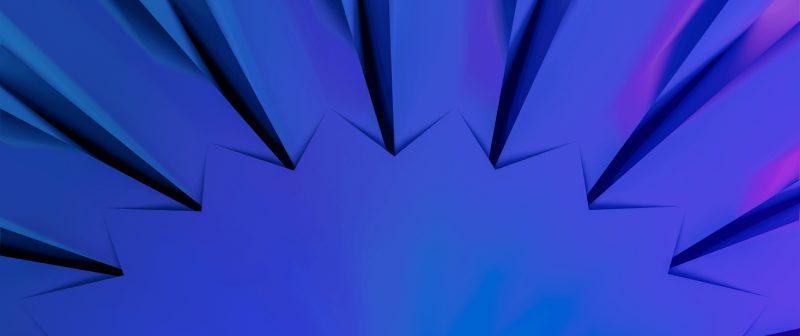 Why and How to Develop a White Label Cryptocurrency Processor
In order to remain competitive as an entrepreneur, you should keep up with modern trends. It is well known that the modern financial sector is one of the most competitive businesses in the world. Financial operations are no longer working the same way they did in the past.
Cryptocurrencies, blockchain technology, crypto payment gateways, and white label solutions have significantly changed the course of financial operations. In this article, we will discuss it in more detail so that you can develop your own solution. You will find out what cryptocurrencies and white label cryptocurrency processors (payment gateway) are, why it is worth developing your solution, and how to develop it.
Before we move to crypto payment gateways, let's first explain what cryptocurrency is.
What Is Cryptocurrency?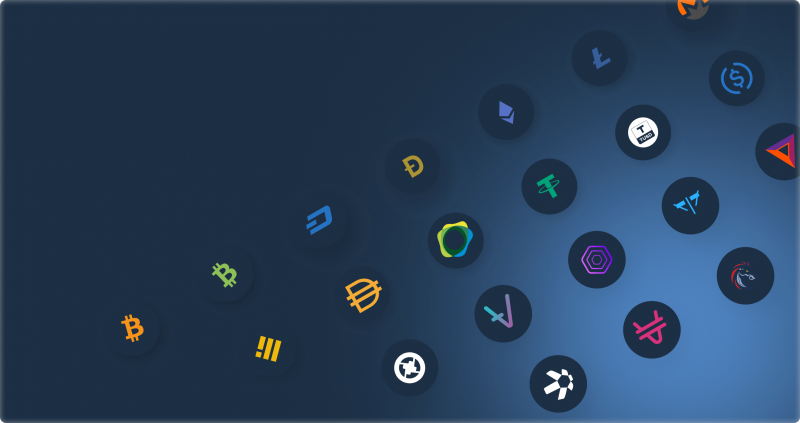 Any form of money that operates digitally and employs cryptography to encrypt payments is known as a cryptocurrency or simply crypto. Cryptocurrencies use decentralized mechanisms to track transactions and create new units. No central body distributes or regulates the flow of crypto assets.
Thanks to advanced peer-to-peer technology, it is possible for anybody to transfer and receive funds anywhere today. Cryptos don't depend on banks to validate transactions. Moreover, cryptocurrencies are not actual physical coins that can be transported and exchanged; instead, they only exist as digital inputs to an electronic database that describes individual transactions. A public ledger, also known as a blockchain, keeps track of all crypto transactions that involve money transfers. Remember that crypto wallets are where cryptocurrency is held.
Cryptography ensures the validity of all payments. This means storing, transferring, and recording crypto data to public ledgers entails sophisticated code. The security and protection would not be sufficient if it weren't for encryption.
Worth mentioning is that the first cryptocurrency was created in 2009. Today, a large percentage of interest in cryptocurrency has been driven by the pursuit of financial profit, where modern speculators often unnaturally push prices upwards.
What is even more fascinating is the way how crypto works.
A revolutionary distributed public ledger known as the blockchain, which is constantly updated and maintained by crypto holders, is the backbone of all cryptocurrencies, no matter the size or popularity.
Through a process known as mining, which employs computational power to resolve complex mathematical problems, units of Bitcoin are generated. Additionally, individuals can purchase the currencies from brokers, then store and transfer them in crypto wallets.
Remember that you don't own anything physical when you hold cryptocurrencies. What you possess is a digital key that enables you to transfer a quantity between people without the help of a third party.
Although crypto has been available for some time now, the financial applications of cryptocurrencies and blockchain technology are constantly developing, and more are anticipated in the future. The technology and the concept are very promising, and even tech giants and governments are planning or working with them.
Now, when you have more insight into what a cryptocurrency is and how it works, let's take a closer look at how to develop your own processor solutions with the white label cryptocurrency processor (gateway).
What is a White Label Payment Gateway?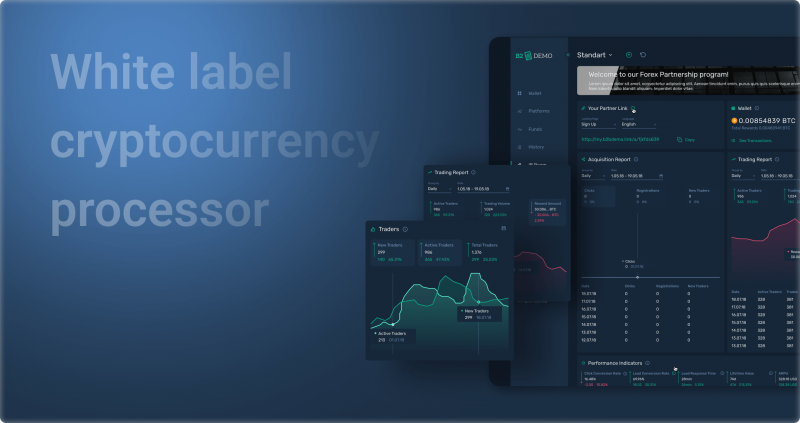 Before understanding how to develop it, we must first understand the concept in its essence. A white label payment (processor) gateway is a method that enables business owners or companies to receive online payments while utilizing third-party services under their trademark. In this context, "white label" describes a product made by another business without any previous branding or trademarks.
Basically, a particular organization adds its branding to the unique products while removing the original designer's trademark. Afterward, a company offers and advertises the product, using their marketing methods and plan. Simply said, you set guidelines for this by-product of your business.
For what purpose was this type of payment gateway designed?
Firstly, it provides a wide range of instruments and modern, user-friendly interfaces for beginners and advanced users.
Being an excellent marketer or seller in marketing and advertising is not required. Even if you lack the technical know-how to create your website, there is no need to worry. A reliable white label provider will be helpful and give you a guide to help your business grow. That said, you will receive all the help and tech assistance from the third party with creating your white label crypto payment gateway. As of today, numerous businesses can help you develop their solutions, each using a specific approach. It means you can decide which features and instruments you want to have in your financial product and which are not needed. You have a unique chance to create the white label product of your imagination and find quick solutions to all your issues. Moreover, it is a great solution that saves time and effort while still getting a tailored white label gateway for your project.
Secondly, a white label cryptocurrency processor improves customer engagement and retention.
Customers are often more concerned about the safety of their funds while making internet payments. If you own a business, you most likely know how demanding and impatient clients can be. To ensure that your clients do not question the legitimacy of the payment services, you can design the product by your vision and properly customize it. This will enable you to serve each client's needs better and attract more loyal customers.
Thirdly, this modern solution guarantees a high degree of protection for every client.
White label solutions give you a lot of variants when developing your security system because they utilize a modern way of identification of constantly rising cyber threats and other types of dangers. You can incorporate third-party providers to protect the information about your clients and enhance accuracy. For many, the primary concern is protecting their finances. Numerous cybersecurity experts can assist you in identifying and assessing the significance of any potential or current vulnerabilities, as well as help you in addressing any compliance issues.
For whom is white label payment gateway meant?
Each company that wants to be prominent and satisfy its clientele should look for this type of technology. Specifically, it is meant for those who frequently use e-commerce websites, e-commerce software, or gaming platforms. To be clear, all these sites must accept crypto payments to function correctly, as there are different procedures when working with cryptocurrencies and fiat-only businesses.
Why Develop A White Label Crypto Processor?
There are several reasons why it is a good idea for your business to develop a white label cryptocurrency processor. Below are some of the most significant reasons why to do so.
Easily Integrated;
It will not take long for the white label payment gateway operator to complete the installation and set it up. However, it might take some time for the company (or merchant) that wishes to use the platform to sell its products and services. Eventually, a merchant can open multiple selling points where each of these will be prepared to receive any type of accepted cryptocurrency in exchange for the sale of goods and services.
Accessibility and Reliability;
One of the key benefits of this solution is that the processor has unique capabilities for combining currency balances, enabling a white label owner or merchant to withdraw money from their platform without leaving money there. The platform can be given access to as many employees as needed by the white label owner. Furthermore, without worrying about unauthorized transactions, the merchant can grant access manually to the system to each of the clients of its stores. Nobody except the account holder, and only after two levels of verification, is permitted to withdraw money from the owner of the white label or the merchant's account.
Secure Transacting Of Funds;
Security procedures and protocols must be constantly strengthened to protect sensitive information and provide safety against all kinds of new challenges. The latest security protocols must be implemented and tested with every significant white label software. One of the key benefits of the payment gateway is that the platform has exceptional functionality for combining currency amounts, enabling a white label owner or a merchant to withdraw money from their platform without losing anything from their capital.
Scam Protection;
Every reliable white label payment gateway must include cutting-edge technologies to help businesses combat cybercrime, fraud, and other dangers. Implement advanced fraud management tools to enable organizations to preserve profits while lowering fraud-related expenditures and administrative expenses.
Scalability;
Wherever you are in the world, your business will be supported by the white label solution. Professionals should also be available at all times to closely examine the platform constantly; if more space is needed, the platform's capacity will be immediately raised.
How to Develop a White Label Cryptocurrency Processor?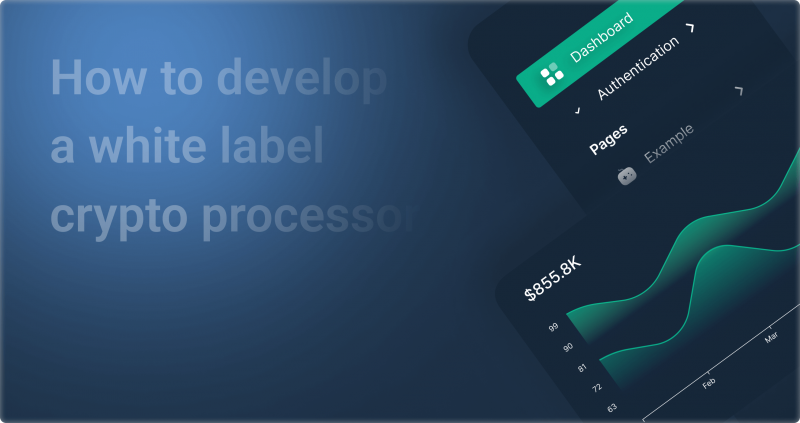 There are two methods on how you can develop a feature-rich crypto payment gateway platform. The first alternative would be to build a robust crypto payment gateway platform from scratch. However, creating such a product from zero takes a lot of time, and the cost to entrepreneurs is so high that it might become unbearable.
Therefore, if you are not interested in spending too much time and money, it would be better to check the other alternative: a high-quality white label cryptocurrency payment gateway option. This allows you to work with a top-notch crypto platform swiftly and in accordance with your business needs. Before creating a platform for your company's cryptocurrency payment gateway, remember these essential aspects:
1.
A) The site's portal must provide complete backing for the solution.
2.
B) You must consider the processor's adaptability for your software and business.
3.
C) The infrastructure must be capable of processing multiple crypto payments without failure because such a lack of service will keep clients away.
4.
D) What would help is hiring professional developers from the best and most affordable providers of crypto payment gateway solutions in the market. These people can deliver a solid white label development for a fair price.
5.
E) It should be efficient, easy, and reliable to convert funds from fiat to cryptocurrency and vice versa.
6.
F) Ensure that there never is any outage on your platform. If the system manages to do that, you can host a significant number of people simultaneously.
7.
G) The new processor needs to be integrated with the database, protocols, modern features, and enhanced security measures.
Below you can find preferable features of white label crypto payment gateway development.
Desirable Features of White Label Crypto Payment Gateway Development
Main features for users;
1.
1. Users' Home Page – An easy-to-follow homepage is crucial since it instantly catches the user's attention by showing essential components.
2.
2. Sign-Up – Let clients use their email account that can be used as the user's login name and be connected to their profile and authentication password.
3.
3. Dashboard – Provide a user-friendly information management tool that tracks the state of all processes. Ensure it includes monitoring and providing a visual representation of all critical data.
4.
4. Deposit & Withdraw Functionality – Make sure your customers have simple access to deposit and withdraw their money and browse the history of all transactions so they have a clear image of their performance.
5.
5. Account Settings – Let your customers manage any basic account preferences, edit user name or email address, customize notifications, or turn on extra security features.
These are the main features for users. However, there are plenty of others available. It all depends on how complex you want your processor to be.
Management Functions;
1.
1. Admin Sign-In – It is an integrated part that must be implemented for an easy sign-in and entry that the administrator of the software can use to limit or regulate the actions of other users.
2.
2. Admin Dashboard – Implement an admin dashboard or the backend user interface in your software to administer the whole process. It should contain a variety of tools and appropriate features.
3.
3. View User Deposit/Withdraw History – This is a vital feature of every firm that accepts crypto payments. It is necessary to constantly have access to the history of transactions of the clients, so everything is on the record in case of an issue.
4.
4. Commission Settings – You can change your commissions' measurement and payout procedures on the commission's settings.
5.
5. Merchant API – By combining different seller locations into larger companies, the merchant API enables them to function as a single business. Each merchant represents a specific company, and each employee of that company may act on the merchant's behalf. It is a specific feature used by every modern and serious tech company.
6.
6. Security Settings – The security setting will offer the second layer of a verification system that must be provided to all customers for better protection from potential risks. This capability protects against unauthorized access, manipulation, or exploitation of the system.
7.
7. Content Management System – CMS is essential software that allows you to create and edit digital content, which is vital for keeping a good relationship with your customers.
8.
8. Support System – Hire a team of qualified experts to help clients who are experiencing difficulties with products or services.
Below are general steps you should take to develop a successful white label cryptocurrency processor, considering the mentioned features and tips.
1.
1. Research – Before beginning, you should first identify the needs of your cryptocurrency payment processor. To ensure you get the desired result, you should conduct thorough research, analyze your wants and needs, and then write a plan.
2.
2. Brainstorming – Collect all the software necessary for starting your project and brainstorm your concepts.
3.
3. Development – Do everything you can to properly develop your cryptocurrency payment gateway by following the plan where you can make the necessary adjustments and improvements.
4.
4. Distribution – The software can be successfully deployed after development and several quality controls.
Conclusion
To sum it up, payments made with cryptocurrencies are quickly evolving into one of the world's most convenient payment methods, which led to the use of solutions for cryptocurrency payment gateways.
Thus, in case you feel you are not skilled enough to do it all by yourself, it is highly recommended to hire a professional team and cooperate with a reliable white label crypto payment gateway development service provider to build your system with all the necessary enhanced features to create an outstanding product. Although there are many vendors on the market, always do proper research before choosing one. Select the one that fits your needs and capital.