B2BinPay and Athletic Club Unite for a Stronger Future in Sports and Fintech
Corporate News
February 25, 2023
Upd on August 20, 2023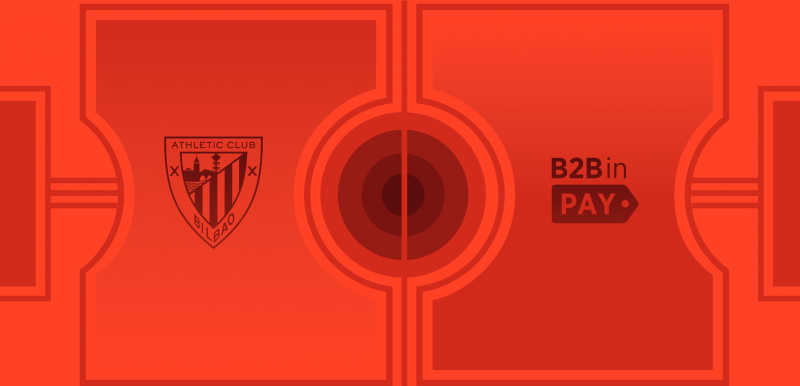 We at B2Broker Group are pleased to announce that our company B2BinPay, a leading cryptocurrency payments processing provider, now officially sponsors one of the most iconic Spanish football teams — Athletic Club. The agreement will last until the end of the 2023/2024 La Liga season, starting on February 14th.
The new partnership will see the B2BinPay logo appear on the Athletic Club's official jerseys. In addition, both sides are committed to working together on a range of other promotional activities.
This strategic sponsorship agreement between B2BinPay and Athletic Bilbao is a crucial milestone for both parties, uniting one of the most innovative cryptocurrency payment processing services with La Liga's top-tier Spanish club.
"I am a passionate football fan myself, and we have our own corporate football team here in B2BinPay. That's why I am so proud to announce that our company will now be sponsoring the great Athletic Club. We have no doubt that the Athletic team will triumph in La Liga during the upcoming 22/23 and 23/24 seasons, potentially playing their way into the UEFA Europa League finals! Also, we hope our sponsorship of Athletic Bilbao will be an opportunity to promote cryptocurrency payments adoption among football fans and in Europe in general," B2Broker Group's CEO Arthur Azizov stated.
"We are very happy to have reached this agreement with a leading company such as B2BinPay and we are certain that it will be a great travel companion to achieve the objectives that we have set for ourselves". Jon Uriarte, President of Athletic Club.
About B2BinPay
B2BinPay is a top-notch crypto payment processing provider for businesses of any type. Boasting some of the lowest fees in the industry, B2BinPay allows companies to accept payments in various coins, tokens, and stablecoins with minimal integration time. Plus, clients' payments are immediately converted into fiat currency and directly deposited to corporate bank accounts — making it an extremely convenient solution for all types of businesses.
B2BinPay is licensed by the Estonian government and provides services to clients in most countries, except those flagged as high-risk or non-cooperative jurisdictions by the EU and FATF. Also, our services are not available in the United States. In the near future, the provider plans to continue expanding its operations.
Conclusion
We at B2Broker are confident that this sponsorship will provide growth and success for both B2BinPay and Athletic Club.