B2BinPay v18 Upgrades User Experience with Account Merge: Access Everything, Anytime
Product Updates
November 16, 2023
Upd on November 21, 2023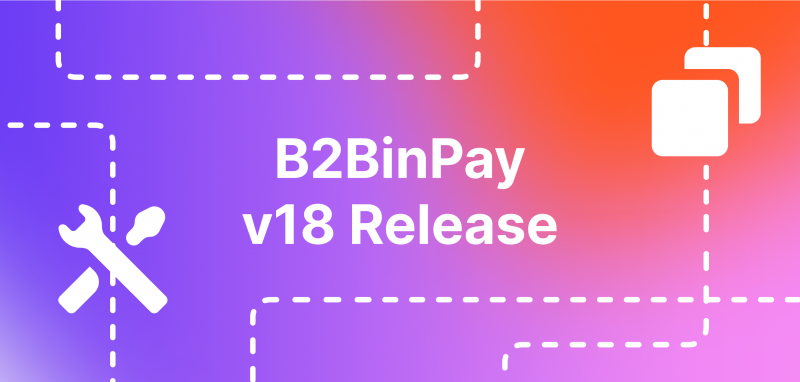 Following the significant v17 release, B2BinPay is on the move again, pushing boundaries to deliver more innovations to our valued clients. With an unwavering commitment to excellence, B2Broker is thrilled to introduce B2BinPay v18, opening a new era for our users.
This latest version introduces a unified account system that seamlessly integrates Merchant and Enterprise models, streamlining the management of cryptocurrency transactions. Accompanying this is a fully revamped frontend and reinforced regulatory compliance, elevating user experience and ensuring utmost safety.
Let's explore these exciting updates and how they revolutionise your interaction with B2BinPay.
Exploring Account Merge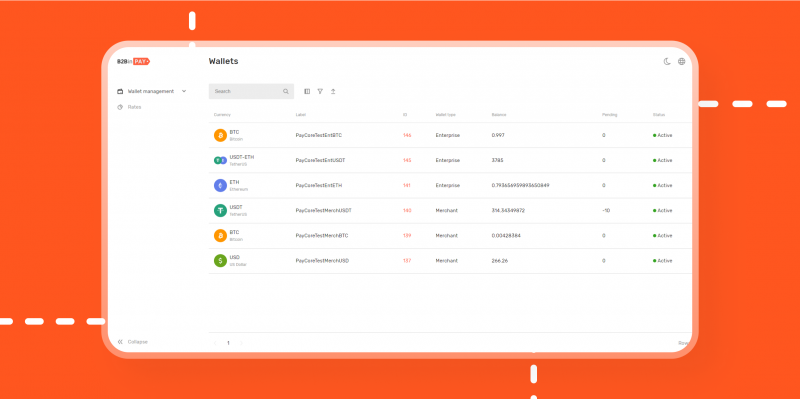 In the v18 release, B2BinPay introduces a significant change that directly impacts our clients—account unification, also known as Merge, reflects a fresh approach to providing our services.
This update enhances our platform by consolidating the two distinct business models, Merchant and Enterprise, into a cohesive and user-friendly interface. Clients now enjoy the flexibility to customise functionalities according to their specific needs, efficiently managing transactions within a unified system. This innovative step simplifies operations and empowers our clients with direct control. Let's delve into the advantages that this merge brings to our users.
More Flexible Account Structure
Our account structure has undergone a significant update, removing the distinction between Merchant and Enterprise users. A singular account now allows users access to both wallet types' functionalities. This refinement extends to the registration process, simplifying it considerably. Clients can now join our platform seamlessly, bypassing the need for exhaustive details about each wallet type. This streamlined approach facilitates prompt engagement with our services, enabling businesses to redirect their focus towards their core operations.
Improved Client Onboarding & Operation
The onboarding process has been simplified into a single, uncomplicated step, accompanied by a uniform fee applicable to all users. Following onboarding, clients enjoy the flexibility to choose and switch between wallet services to align with their evolving business requirements, all without the burden of additional costs or intricate administrative procedures. This straightforward approach honours our clients' time and actively nurtures their growth at every stage.
Enhanced Functionality with a Fresh Front-End
In our v18 release, B2BinPay undergoes a visual transformation in harmony with the aesthetic of the B2Broker family, presenting more than just an appealing interface. We have enhanced the system's speed and security to provide a sturdy and dependable front end. Concurrently, we have preserved the core features that our users cherish, ensuring that the transition to this upgraded platform feels seamless and effortless. Let's explore the key areas that have undergone a comprehensive overhaul.
Wallets & Transfers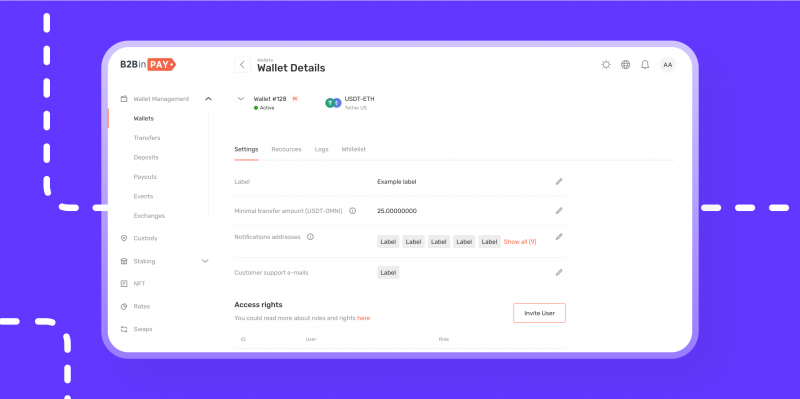 The wallets and transfers pages showcase a more polished design, accompanied by streamlined processes that notably reduce clicks and loading times. Likewise, we have fine-tuned the interfaces for payouts, bank withdrawals, and exchanges, simplifying all financial operations for increased efficiency. This optimisation aims to save valuable time for our users.
Updated Account Menu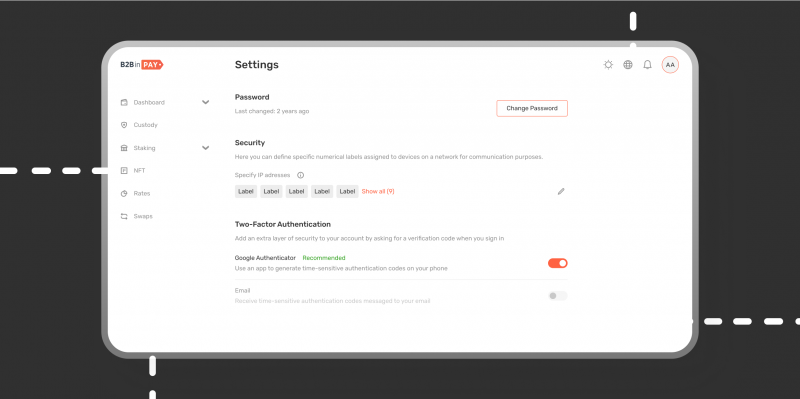 Our account management interface has undergone enhancements to promote user-friendliness and security. The new Account Menu simplifies tasks such as setting preferences, managing API permissions, and customising profiles. Moreover, the addition of Two-Factor Authentication (2FA) adds an extra layer of security. The Payment Page has also been revamped to align with the new design philosophy, prioritising user-friendliness while ensuring the safety and security of financial transactions.
Invoice Management

In our commitment to providing clients with enhanced control, we have eliminated the previous 7-day limit on merchant invoice expiration. This update enables the customisation of invoice timelines, offering the flexibility required to align with individual business processes.
User-Friendly Support Hub
Our Helpdesk user experience has substantially improved, providing streamlined access to multilingual support with a clearly defined schedule. The introduction of sticker notifications for incoming messages makes staying up-to-date and responsive simpler than ever.
Rates Interface Modifications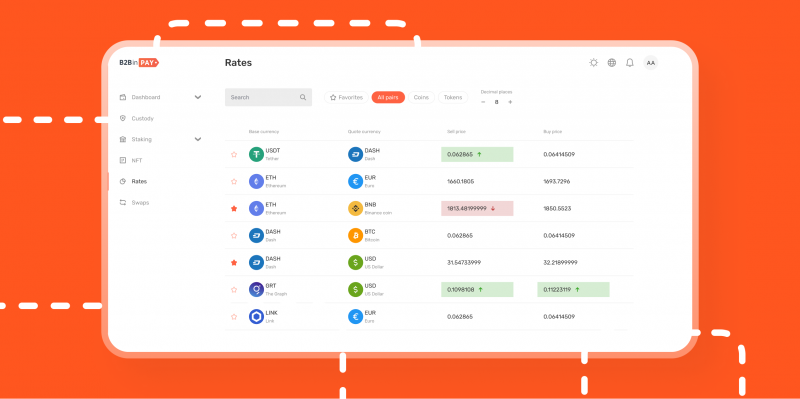 The Rates UX has been enhanced with improved favourites and filtering capabilities. Furthermore, rates have been relocated from the wallets menu to a top-level menu, streamlining access and enhancing efficiency for our clients in managing currency rates.
Compliance with FATF Travel Rule Regulations

At B2Broker, we aim at the highest regulatory compliance and transparency standards. In alignment with this commitment, we have seamlessly integrated B2BinPay with Notabene, a new Travel Rule solution provider, to ensure strict adherence to the Financial Action Task Force (FATF) Travel Rule requirements.
The FATF Travel Rule serves as a regulatory standard mandating the collection and sharing of personal information in cryptocurrency transactions to prevent money laundering and other illicit activities. As Virtual Asset Service Providers (VASPs), entities like us must transmit specific information about the originators and beneficiaries of fund transfers. This rule plays a pivotal role in anonymising cryptocurrency transactions, facilitating the detection of suspicious activities, and fortifying defences against fraud.
Final Takeaways
B2BinPay, our prime product, stands at the forefront as a premier cryptocurrency payment provider, empowering businesses to securely, efficiently, and cost-effectively manage crypto transactions on a global scale. Our main objective is to provide customers with cutting-edge, secure, and user-friendly payment processing solutions, and the v18 release clearly confirms that.
We are deeply grateful to our community for the unwavering support, and we can't wait for you to experience the enhancements crafted in B2BinPay v18 exclusively for you!