Choosing a Forex Turnkey Software Solution in 2023
Articles
May 31, 2023
Upd on September 18, 2023
Developers are driven to generate new ideas in the fast-moving field of electronic trading, creating an entirely new way to make money and increase the wealth of private traders and institutional investors. Nowadays, a wide range of solutions is available to those wishing to become a broker in the Forex market, including Forex Turnkey software. The solutions these companies provide can help new business owners save money, gain valuable experience, and gain a competitive advantage in the FX industry.
In this article, we will learn what Forex Turnkey software solutions are, their strengths, and consider the most important criteria for choosing a reliable Forex turnkey software solution in 2023.
Key Takeaways
Forex turnkey software is a professional set of software, programs, and services working in the system to ensure effective functioning of Forex brokerage infrastructure.

Forex turnkey software solutions are known for their low prices, high technology and wide range of trading solutions, including different trading platforms, payment services, etc.
What is Forex Turnkey Software Solution?
In the FX niche, turnkey Forex broker software forms the basis for interaction between two companies: the first provides white label solutions (in the Forex market, such a company offers technology to brokerages, exchanges, and others who serve traders and investors). In addition to integrating these solutions into its infrastructure, the second company makes timely payments following the provider's price list and in compliance with it. Consequently, the company has full access to the Forex trading platforms and other essential services that maintain the smooth operations of the trading process. As a result, the company can launch its own foreign exchange brokerage business.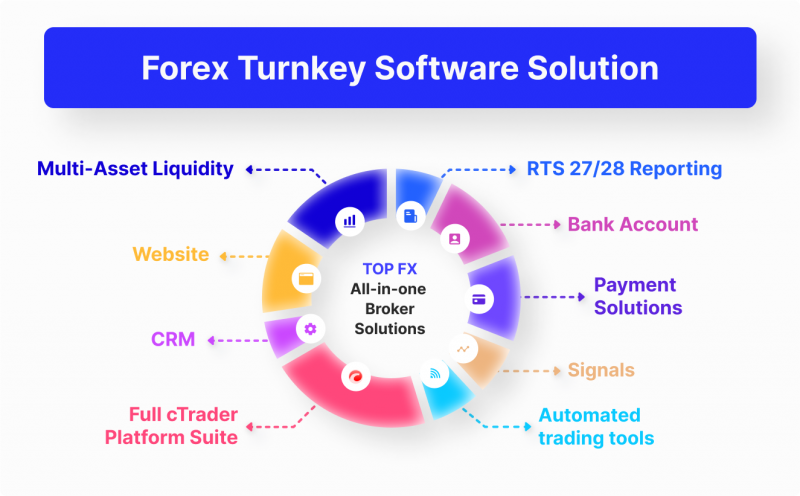 Various reasons have led to many brokerage companies' need for technical equipment at the beginning. For some, opening a Forex trading company is difficult due to a lack of experience and knowledge in the field. Many others are unable to launch a Forex brokerage firm due to a lack of funds. As a result, such solutions simplify the launch process for a company into the market by leveraging the technological base that another company has developed into a turnkey Forex brokerage solution with the logo, trademark, and brand identity of the launching company. White Label brokers are launched using such a solution quickly and cost-effectively, without spending time and money developing and launching their own products.
Key Strengths of Forex Turnkey Software Solution
Forex turnkey software solutions are very popular and trusted by many Forex brokerage companies, including due to their many advantages, among which the following points deserve special attention.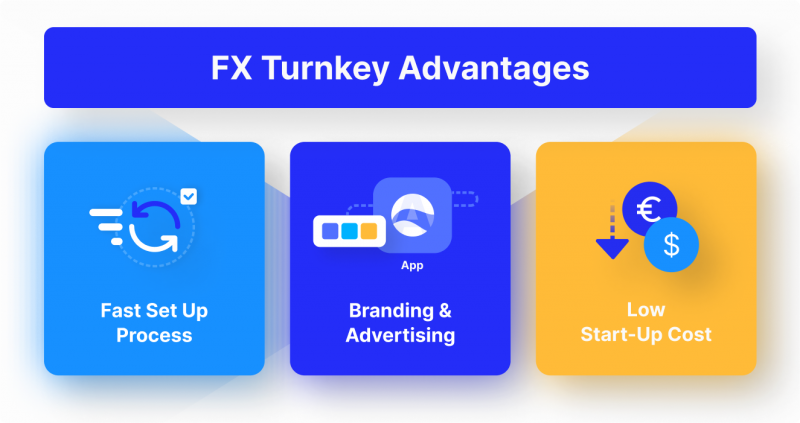 Fast Set Up Process
Forex brokerage turnkey solutions are an excellent tool for quickly creating and launching a finished product in the form of a successfully functioning Forex brokerage business. As a rule, this process takes only a few weeks. It does not require additional actions from the customer's company to configure the systems and services involved in the operation of the entire infrastructure of the brokerage company. This advantage is perhaps the most important because it allows new Forex entrepreneurs to bring the company to the market quickly and without much effort.
Low Start-Up Cost
Turnkey solutions allow you to start an FX company with minimal costs. Considering that a complete launch of a similar company from scratch, including all expenses, both for technical equipment (for example, Forex trading software) and personnel and branding, can be a decent amount of money, many novice brokers are not able to afford such a budget. The turnkey solution in this context is much cheaper, largely due to the optimization of the costs of the company's services that offer them to enable more customers to use their solutions.
Branding & Advertising
Turnkey Forex software helps take the company to the next level in advertising its brand, ultimately increasing the client base. Thanks to the ready-made solution, the brokerage company receives full support in advertising its services and solutions to users. The funds saved on launching a Forex broker can be used to develop a marketing campaign that allows you to develop a clear plan for promoting the company in the financial markets.
Top Criteria for Choosing a Reliable Forex Turnkey Software Solution in 2023
Today, every manufacturer strives to offer their product with the best conditions for its use, sometimes leading customers to the problem of choice. Forex turnkey software solutions are no exception. Among the many solutions on the market, it can be tough to find the best Forex turnkey solution provider that will fully meet the requirements and wishes of the customer, but it is possible. Below are a few essential criteria on how to do this.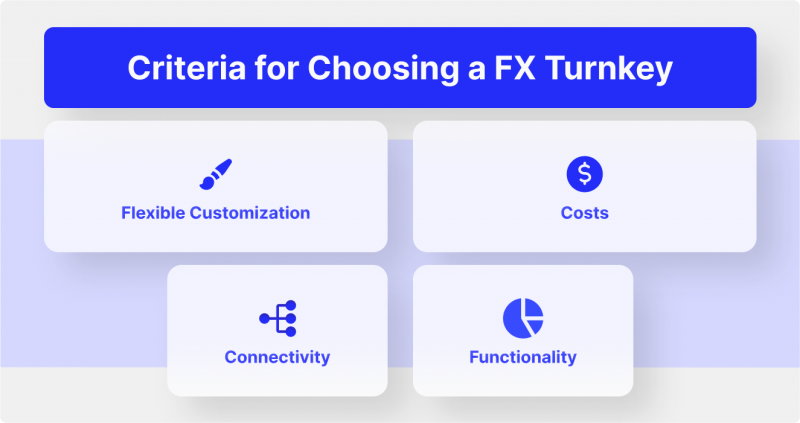 Flexible Customization
Many Forex brokers particularly value the option of customization, since it allows them the ability to adapt any Forex trading platform characteristics as needed to give users the most significant possible trading experience. It is possible to move charts around, use different graphic and visual elements for drawing, and perform external integrations with other trading services and applications on good WL trading platforms, increasing trading productivity and profitability.
Costs
Price is one of the most important considerations when selecting WL solutions to launch a Forex brokerage firm. It might be difficult for newbies and even seasoned Forex pros to identify the best alternative because so many businesses are now offering White Label solutions. Based on the trading platform's capabilities, each White Label supplier has a different pricing structure. You can contrast many supplied solutions based on a particular criterion or quality to make the best decision.
Connectivity
Different Forex WL software solutions typically have varying technological components, which affects how well they integrate with the infrastructure of FX brokers. Specifically, it refers to the specialized tools and programming languages used to create software components such as a trading terminal, a user interface, etc. The management of the trading platform and its components requires several software resources, servers, and protocols, making it impossible to connect such a platform to the business' infrastructure.
Functionality
Functionality refers to the full spectrum of analytical and trading tools in the set of good turnkey Forex software like signals, patterns, charts, tables, and other essential Forex trading instruments that enable traders to make money by buying or selling financial assets. A competent trading platform will also provide widgets, notes, news, calendars of events, market summaries, training materials, and other valuable features.
Conclusion
Forex business is a creative and very interesting business, the popularity of which today there is no doubt that the Forex market is one of the most promising markets, the development of which will open up new opportunities for interaction between its participants, both within the WL Forex solutions and with the use of new, more functional technologies of brand creation from scratch and its quick launch in the market.