How Can You Accept Crypto Payments for Business? 4 Easy Steps
Articles
November 20, 2023
Upd on November 28, 2023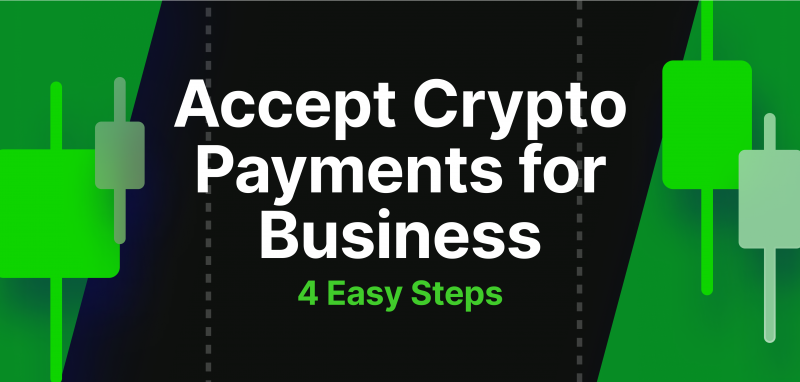 Despite several massive roadblocks on its journey, the crypto sector is finally shaping into a gigantic industry that impacts global commerce. In 2023, the Crypto market is nearing maturity and influence levels that could reshape the global economy, affecting finance, tech, forex and numerous other vital industries.
Thus, it is no surprise that accepting crypto payments for business purposes has become a dominant strategy for small and mid-sized companies. Adopting crypto solutions can broaden your business horizons, increasing revenue streams and making the international business field more accessible. So, how do you accept crypto payments for business? Stay till the end to find out.
Key Takeaways
The crypto landscape is on a steady trend to substantially disrupt the global payments market in 2024.

Accepting crypto payments is an excellent strategy for up-and-coming companies, both for short and long-term profitability.

The crypto payment setup process is accessible and can be executed without hassle. 
Why Accept Crypto Payments For Business?
First, let's clarify the core benefits of accepting crypto payments. There are two significant upsides here – increased profit sources and a more robust alternative to international fiat payments. Let's explore:
Increased Market Exposure
After all, recent years have not been kind to the reputability of the crypto market. With the 2022 crypto winter only a year away, the general public has lost interest in crypto investments. However, the last twelve months have witnessed a fundamental shift in the global crypto industry.
New and exciting projects have begun to prioritise global payment solutions and new crypto utilities and generally change the market's focus. These positive trends have yielded appropriate results, showcasing a healthy and sustainable growth of the global crypto market.
Both individual investors and businesses are re-entering the crypto field and obtaining crypto reserves as a liquidity alternative, a massive signal for companies to diversify their customer payment options. As of October 2023, there are 421 million crypto owners worldwide, and the numbers are far from slowing down.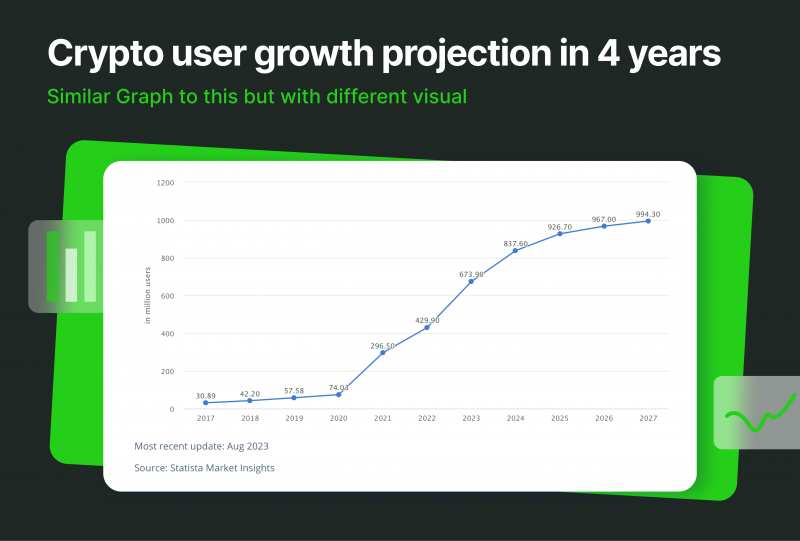 Thus, small and mid-sized companies can capture this opportunity to acquire a new revenue stream with loyal customers. While many S&P 500 companies are adopting crypto solutions, the market is still far from saturated. Crypto owners don't have a lot of options to use their coins for payments. While this equilibrium will undoubtedly change, the current period is perfect for adopting crypto payment solutions and beating your competition.
Streamlined Payments For Customers
In addition to cultivating an utterly fresh audience of customers, businesses can streamline their payment systems on both sides. When set up correctly, crypto payments are simpler, faster and less costly regarding commission charges. So, aside from the volatility risks, crypto payments can be a Pareto improvement over conventional fiat transactions across the board. 
The sentiment mentioned above is true for businesses, allowing them to decrease commission charges of fiat providers and retrieve customer payments much faster. It is important to remember that fiat payments may take from three to five business days to reach the business account. While this is not a problem for highly liquid companies, it still constrains the cash flow that could be essential for smaller businesses. With crypto, liquidity is instantly elevated, as the payments will immediately be transferred to the business deposit instead of processing for days or weeks.
How To Accept Crypto Payments For Business: A Four-Step Guide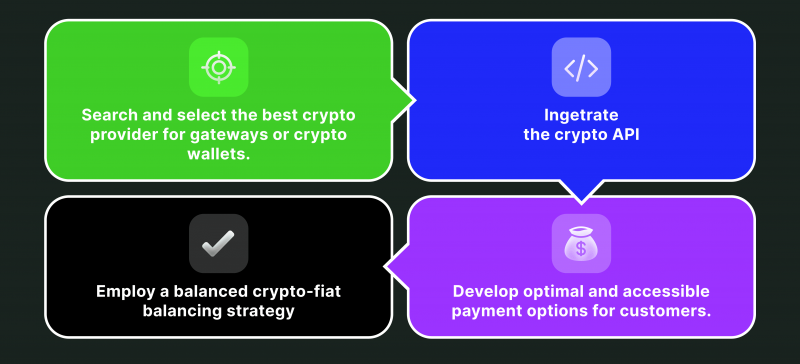 Implementing the crypto payment system has been simplified due to numerous digital innovations entering the market. Businesses no longer have to build customer solutions from square one. Instead, they can adopt several ready-made digital solutions to set up online payments effortlessly. However, setting up crypto payments is still not a walk in the park. Let's explore.
Acquire The Best Crypto Payment Gateway For Your Needs
First and foremost, it is crucial to conduct comprehensive research on the current crypto payment processor market. Numerous quality choices present unique benefits and different packages to fit your company's needs. Choosing the best option depends on what works best for your current situation.
For smaller businesses, affordable rates might be the biggest priority. Naturally, cheaper gateways or crypto wallets have more limited functionality and will not accommodate advanced features like auto-conversions or instant processing speeds. On the other hand, state-of-the-art gateway solutions are pretty expensive and could overwhelm the budgetary capabilities of small and mid-sized companies.
Thus, it comes down to what's most important for your business in the current climate. However, regardless of preference, selecting a reputable provider is essential, ensuring maximum security and long-term stability of your crypto payment solutions.
Set Up And Integrate A Crypto Payments API
Next, it is essential to integrate the chosen crypto API smoothly into your existing online ecosystem. Remember, even the most advanced crypto gateways and processors will lose their advantages if poorly matched with your custom IT infrastructure. Thus, a flawless setup is always critical to get the most out of your newly purchased crypto APIs. In 2023, this process is mainly handled by the provider companies that automatically match your system requirements and provide an optimised API solution.
Develop A Streamlined Crypto Payment System
After a proper setup, it's crucial to ensure customers have a smooth experience with your newly implemented crypto options. The payment solutions should be as straightforward as technically possible, closely resembling the convenience of industry-leading payment options like Apple Pay. 
Customers should not go through several menus, dashboards or questionnaires to conduct a simple payment. The rule of thumb here is to have as few steps as possible. Preferably, customers should only have to fill in their wallet address and retrieve the company's crypto ID to conduct the payment.
Design A Balanced Crypto-Cash Management Strategy
Finally, accepting crypto payments has one significant downside – the liquidity and volatility concerns that plague the crypto industry as a whole. While the current situation is much more favourable compared to the 2022 crisis, even the most reliable cryptos, like Bitcoin, still tend to fluctuate significantly.
Thus, having a rock-solid crypto conversion strategy is necessary. The largest companies that accept crypto payments always have a delicate crypt-fiat balance, controlling volatility risks masterfully. It is not very challenging to achieve this equilibrium by simply converting crypto reserves into cash systematically. In this case, it is all about maintaining a good ratio and being overly reliant on the stability of the crypto market.
Final Thoughts
While controversial, crypto is undeniably inching toward being a massive improvement over fiat payment options. The general public is starting to pick up right where they left off with adopting crypto payments, and the crypto owner count is increasing exponentially in 2023. So, becoming one of the early bird businesses that support crypto might be one of the best short and long-term decisions you could make in the current global climate. 
FAQ
How do I accept crypto payments on my website?
This four-step process involves purchasing a crypto gateway or a wallet, implementing the relevant APIs into your existing infrastructure, setting up streamlined payment options and adopting a balanced cash reserve strategy. 
What Is A Crypto Payment Processor? 
This neat digital tool automatically equips your online platform with crypto processing capabilities, serving as a bridge between the customer wallets and your crypto business deposits. 
What Are The Biggest Advantages Of Setting Up Crypto Payments? 
The most prominent benefits are tapping into the blue ocean of new customer demographics and supporting a new wave of simplified international payments. If current growth trends continue, crypto will soon become a go-to payment standard. Becoming an early supporter might provide massive dividends down the road.