Launching a Crypto Exchange Development Company – Step-By-Step Guide
Articles
November 17, 2023
Upd on November 28, 2023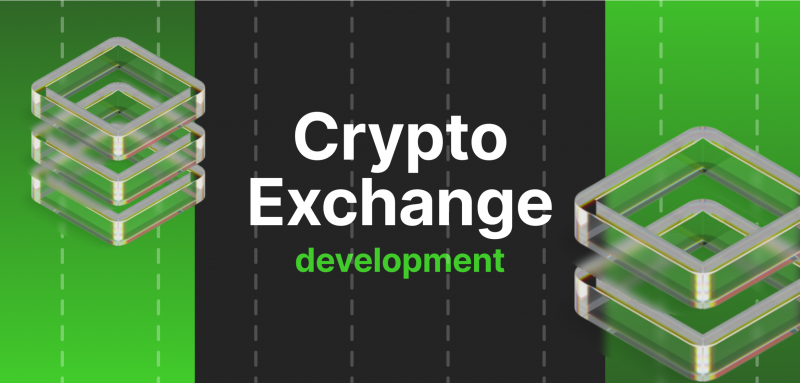 The introduction of cryptocurrencies added a new dimension to financial markets, where digital currencies and tokens are traded, and several decentralised projects are developed in various sectors.
The increasing bandwidth of crypto services and applications motivated more companies to ride the wave and offer unique services to crypto communities and traders. Therefore, if you want to capitalise on these thriving opportunities, now is the time!
Web 3.0 applications and crypto exchange development are the backbone of decentralisation, and starting a business along the lines of these areas can be lucrative. Here's how to make money from the crypto market by developing crypto exchange software.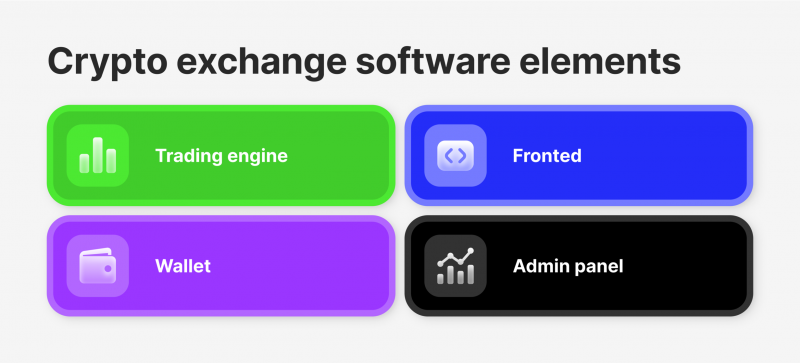 Key Takeaways
Crypto exchange development is the process of creating systems and CRMs that power decentralised platforms.

Crypto exchanges use ready-to-use trading software or build their system from scratch using in-house teams.

White-label CRM solutions save time and costs of internally developing systems because they specialise in programming platforms.

The crypto market has rapidly grown, with multiple opportunities to make money and thrive in financial markets.
Understanding Crypto Exchange Development
There are almost unlimited opportunities in the decentralised ecosystem, and more companies are emerging to offer crypto trading and other Web 3.0 services. These companies rely on different providers to supply them with software and platforms connecting them with their clients.
Crypto exchange software is an innovative system that utilises blockchain capabilities and technology to offer unique services to clients and traders. An exchange software allows traders to buy and sell cryptocurrencies, store them in their accounts and wallets and explore other Web 3.0 investing opportunities like staking or yield farming.
Crypto software development is the process of building the system that powers crypto exchange platforms, supported by different CRM APIs and integration possibilities.
Developing a crypto exchange software requires a deep understanding of clients' needs and market demands. Moreover, as a provider, you must incorporate configurations and customisation for the exchange platform's operability and preference.
Creating a crypto trading CRM entails sophisticated programming and development. Therefore, you will need to hire a team of developers who can build the crypto software for you and your clients.
Why Develop a P2P Crypto Exchange Software?
One of the prominent functions of cryptocurrencies is tradable security, meaning that you can buy and sell digital currencies and tokens in secondary marketplaces and gain from their high volatility and fluctuating nature.
Bitcoin has grown massively over the years, peaking in 2021 at over $68,000, where many traders secured substantial gains from the overall market surge. In 2023, most cryptos are recovering, with the BTC growing 75% in value (year-to-year). This positive market sentiment led to increasing trading activity in major cryptocurrencies.
Moreover, the uptick in buying and selling means that crypto exchange platforms are highly active, and crypto exchange software is in high demand.
This software enables peer-to-peer trading between buyers and sellers without the intervention of a central entity, which is the notion of decentralised finance.
Creating a Crypto Exchange Platform
The crypto market is full of opportunities to make money, whether by developing and monetising dApps or trading coins and tokens. Launching your own crypto exchange platform can be profitable in light of the broad trading and gaining possibilities.
Crypto brokers offer hundreds of cryptocurrencies and tokens for trading in exchange for commission and service fees, and if managed well, this business can be highly profitable when more market participants join your platform.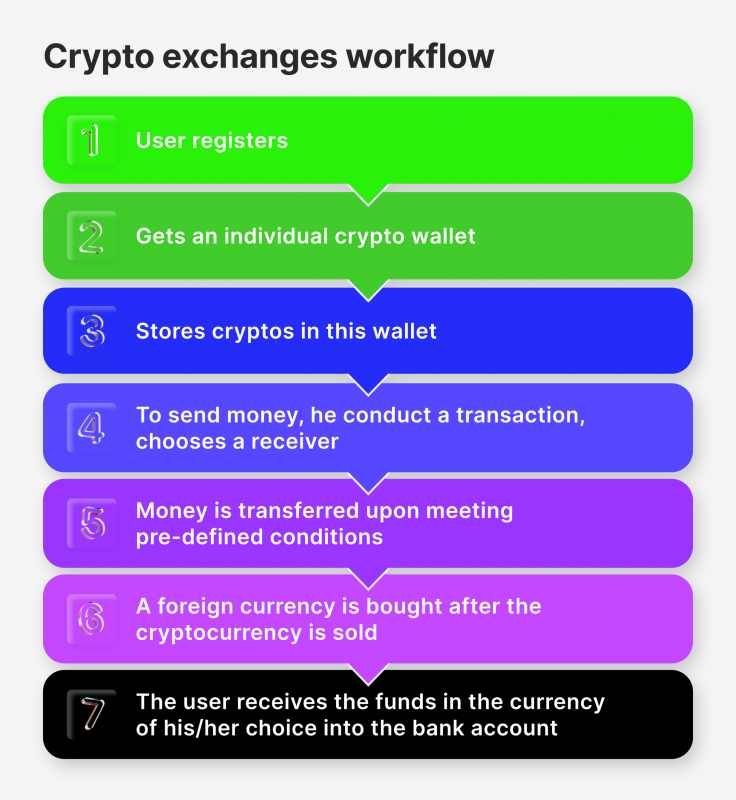 However, this business comes with several challenges and many technicalities that you must account for, and finding a reliable crypto CRM is one of them.
How To Create A Crypto Exchange Software
If you have decided that launching a crypto exchange is your go-to, then you need to set a checklist of what must be done before launching your business.
Onboarding a crypto exchange software is the first thing you need to do. Either you develop the software using your company's resources or purchase a ready-to-use solution.
Obtaining a crypto exchange license is fundamental to complying with local laws and regulations fully. Crypto trading policies differ between countries, and it is vital to have your compliance team lead the process of being legally registered with applicable laws.
The in-house crypto exchange development requires a robust team of developers to code the system, incorporate the functions and services and integrate wallets and APIs to make it interactive.
Crypto Exchange Software Solutions
Bitcoin trading platform software offers a wide range of services that you can choose from or allow your clients to customise according to their needs. Here are some of these solutions:
Crypto trading: The main objective of your decentralised exchange software is to facilitate buying and selling cryptocurrencies between trades quickly and safely.
Increased liquidity: The software should integrate order books to provide access to high liquidity, improving the trading speed and costs.
Currency swap: Exchange tools are important because they allow users to exchange currencies without using a third-party provider.
Custodian wallets: The crypto exchange software must integrate with crypto wallets where end-users will store their digital assets and transfer payments.
Investing opportunities: Web 3.0 investments are getting more popular, where crypto enthusiasts can make money from staking or yield farming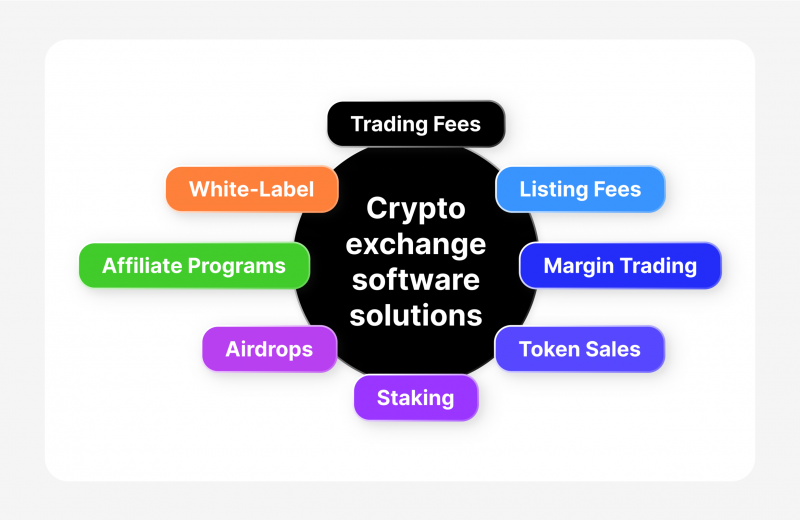 Building Your Own Crypto Exchange
As a crypto broker, you can choose between developing an open-source Bitcoin exchange software internally and purchasing ready software.
Programming your own trading CRM can be hectic because it entails several stages of planning, developing, testing and troubleshooting. The process can take several months, depending on how big your team is and how focused your resources are.
However, you have the ultimate freedom to control the functions and features you want in your software when you manually develop it.
Buying Crypto Exchange Software
The other alternative for crypto exchanges is to purchase turnkey solutions that provide a ready-to-use platform, and all you need to do is customise it according to your preference and brand it with your name.
Already built crypto exchange software is easier to use because they are built by professionals who make a living from providing such solutions. Also, you can start faster by getting ready software than building it from scratch.

The Benefits Of Crypto Exchange White Label Software Development
White label software refers to systems already developed by a provider company and is ready to use after slight customisation and rebranding. This solution fits crypto exchange platforms that want to enter the market and offer their services quickly.
These platforms incorporate several integration features with Bitcoin payment providers and other crypto services that traders look for. White label solutions, also known as turnkey solutions, are developed using advanced technologies and market experts, guaranteeing high performance and quality services.
Turnkey solutions can be cheaper than in-house crypto exchange development because companies can save the cost and time of hiring and training teams to fit the objectives of developing a ready-to-use program.

Conclusion
Launching a crypto brokerage company can be profitable because the market is expanding, and more participants are joining crypto trading and investing opportunities.
Decentralised exchanges can either lead the crypto exchange development process themselves or purchase an already-built system to save time and money.
Finding a reliable white label CRM provider is a safer approach if you want to lay the software responsibility to professionals who built the system and customised it according to your preferences. Thus, you can quickly enter the market and benefit from the lucrative opportunities to make money and grow your business.