Top 15 Crypto Payment Gateways in 2023
Articles
February 7, 2023
Upd on August 20, 2023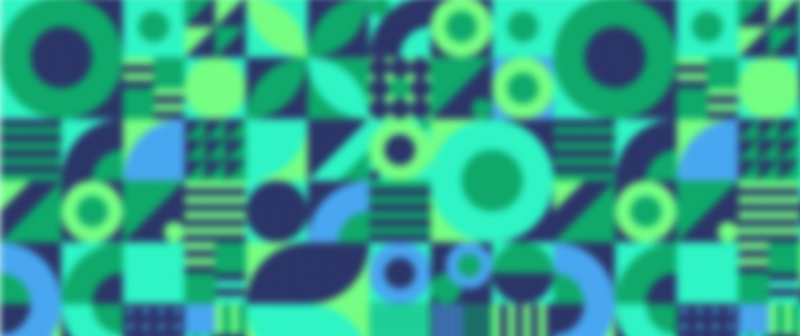 Choosing the right payment platform can be crucial to the success of a business, helping increase sales and reach a wider base of customers.
Companies are rigorously competing to create newer, easier, safer ways to enable businesses to receive funds, and this competition has led to much innovation enabling reduced transaction fees and fast transaction settlement for businesses and users.
But why is choosing the right crypto payment platform such a vital step when it comes to accepting cryptocurrencies online?
What are the benefits of integrating a crypto payment gateway for your business?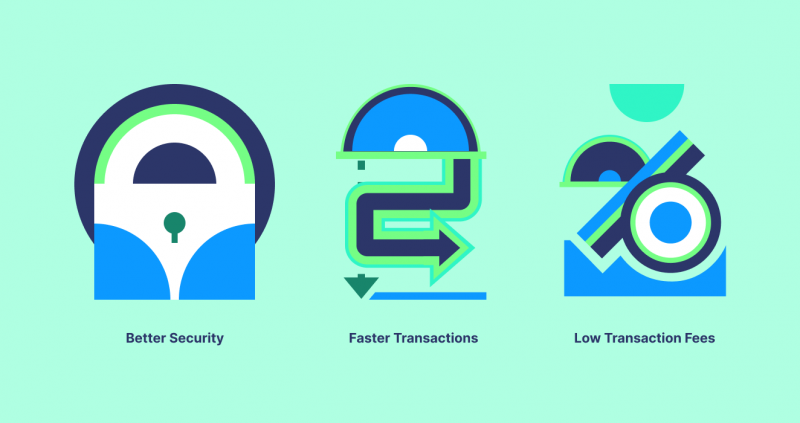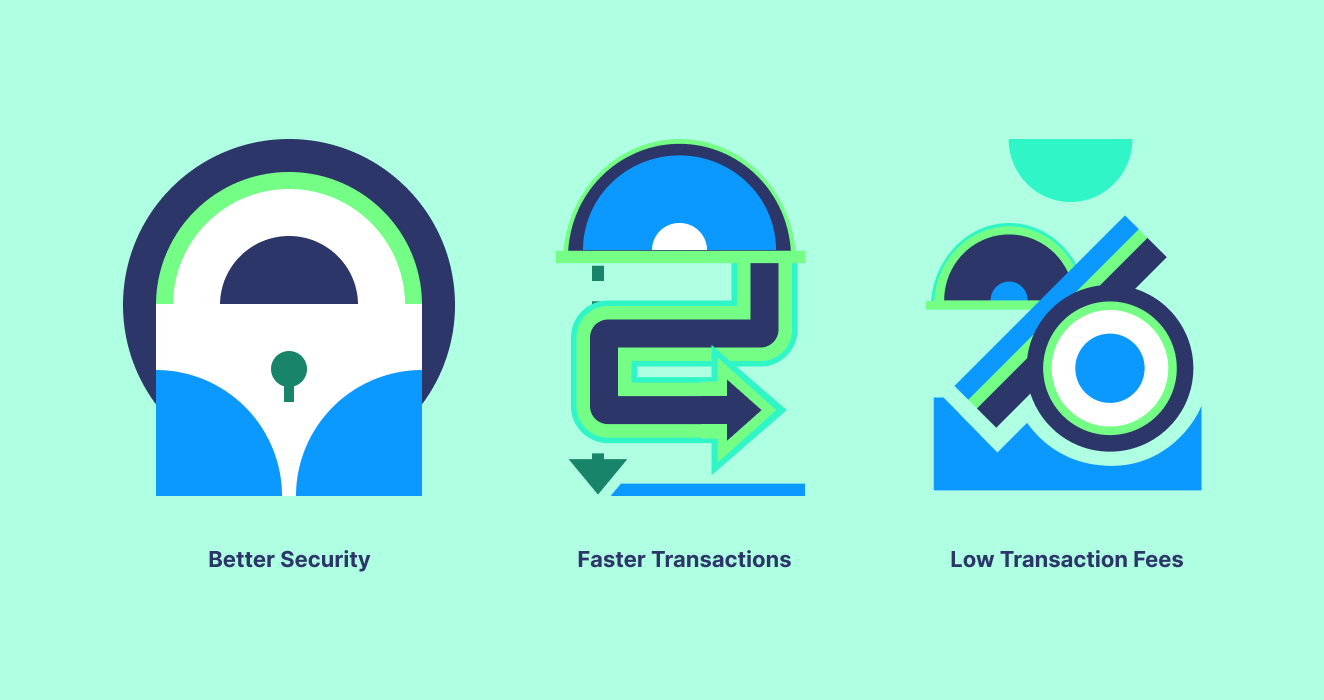 Better Security
Crypto gateways use advanced encryption in addition to leveraging blockchain's security to secure and record transactions.
This provides additional layers of security compared to other options.
Because blockchain technology is based on the maintenance of a distributed, decentralized ledger, it's considered to be highly secure.
Faster Transactions
Crypto platforms make settling transactions much quicker and much easier.
With certain blockchains, transactions are processed almost instantly. This means that businesses can receive payments for their products and services much faster than with conventional options.
If you're a merchant selling digital products or services, traditional methods can take several days to successfully complete a bank transfer or deposit, delaying the delivery of your goods. With crypto, you're ultimately saving a ton of time (and energy.)
Low Transaction Fees
The lower transaction fees of crypto platforms make them a preferred option compared to traditional gateways.
When a merchant or enterprise can increase cost savings from fees, especially if it's one that processes a large quantity of transactions, this will always be beneficial.
Crypto transactions processed on the blockchain are not only more affordable, but they also entirely eliminate the need for an intermediary like a bank or credit card company to step in and charge you a fee. Overall, this means lower fees for both customers and businesses.
The top 15 crypto payment gateways for 2023
1. B2BinPay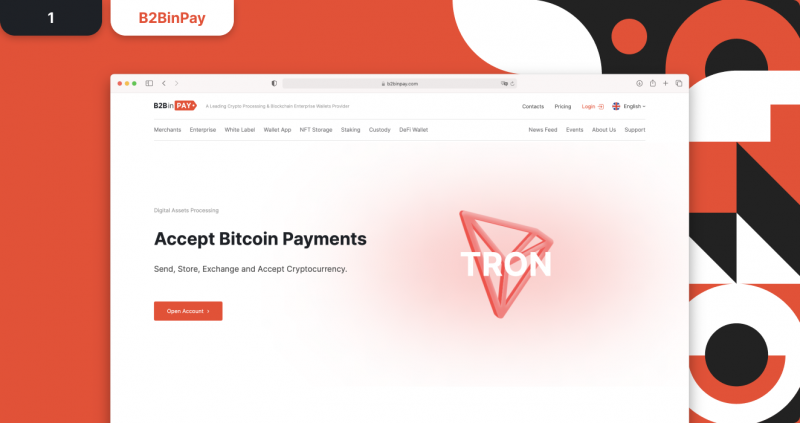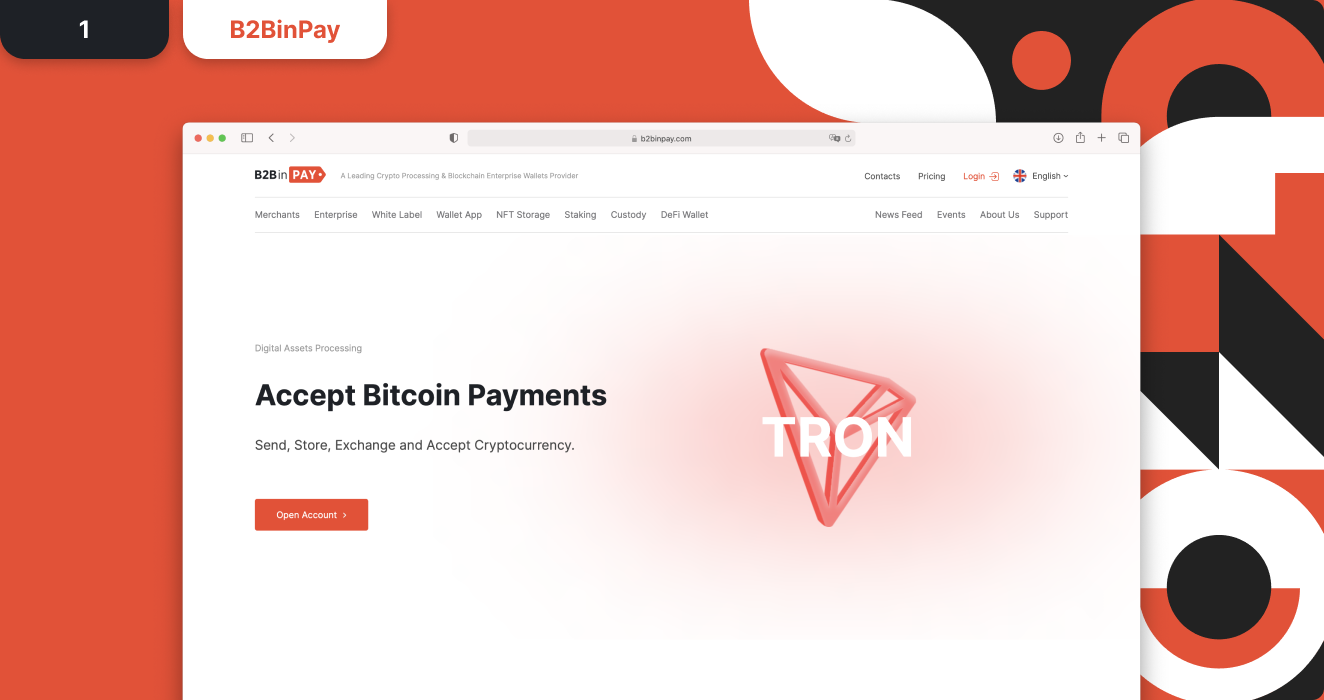 B2BinPay is a leading crypto processing solution for merchant and enterprise clients.
B2BinPay allows users to store, send, receive, and accept cryptocurrency quickly and safely inside a global, secure network. It enables cross-border transactions for a fraction of the price of traditional gateways and has absolutely no hidden charges or recurring fees.
The platform also allows users to download real-time balances and reports about transaction history and activity. With automatic withdrawals, over 800 supported tokens, and secure checkout for customers, it has become one of the leading payment solutions for businesses and enterprises.
2. Stripe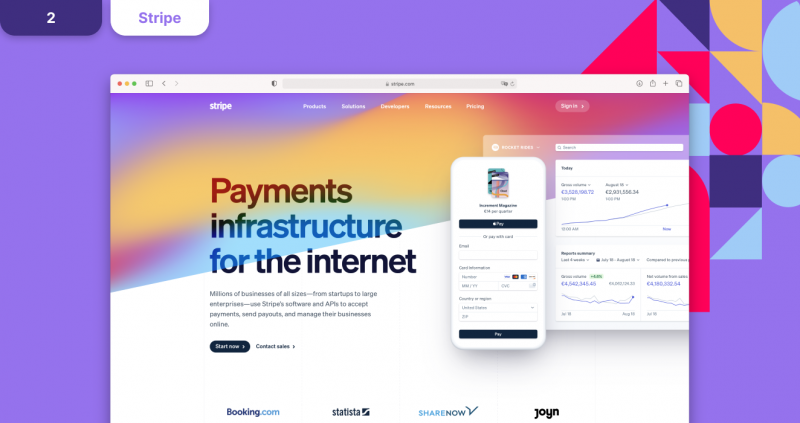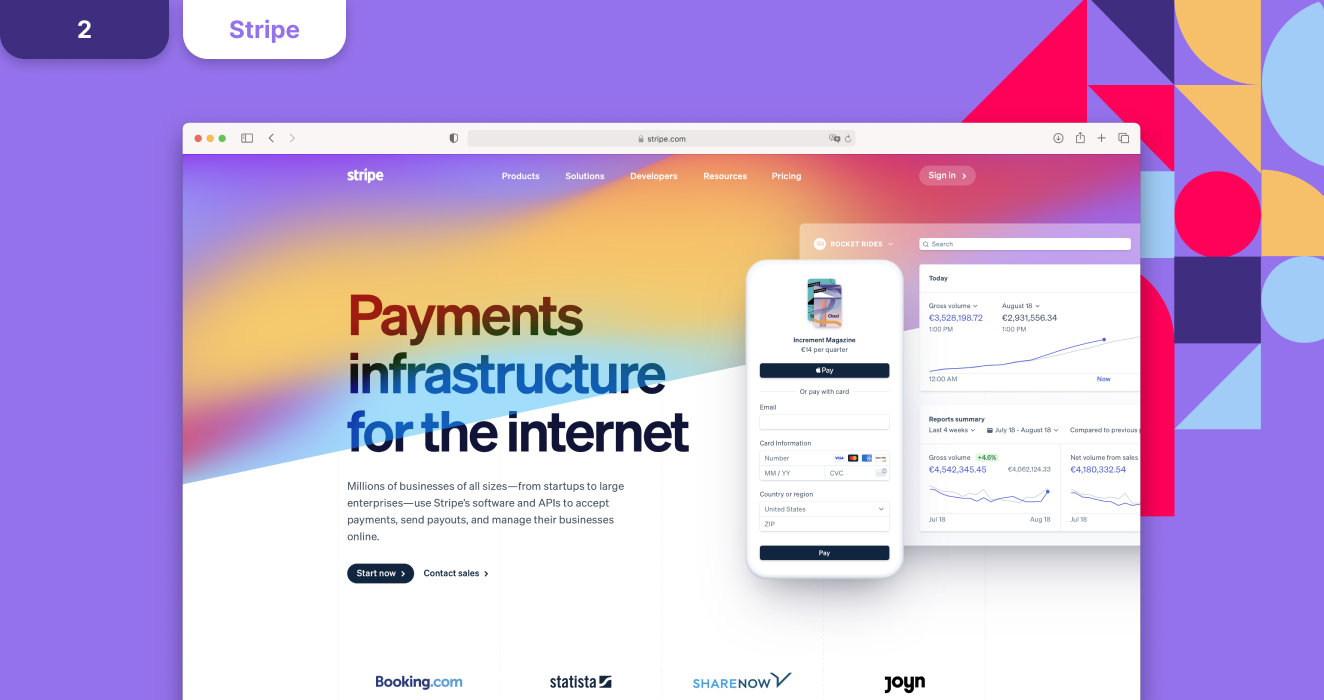 Stripe is a globally recognized payment platform that supports cryptocurrency. Businesses looking into new payment options, as well as those operating in the cryptocurrency industry, can use Stripe to leverage its advanced fraud mitigation and authorization optimization features.
Stripe Identity allows you to instantly link any US bank account for fiat payouts and confirm the validity of your IDs in more than 30 countries.
The platform is a very convenient one when it comes to linking your business and accepting cryptocurrencies, whether you're a service provider or an established crypto business.
3. Veem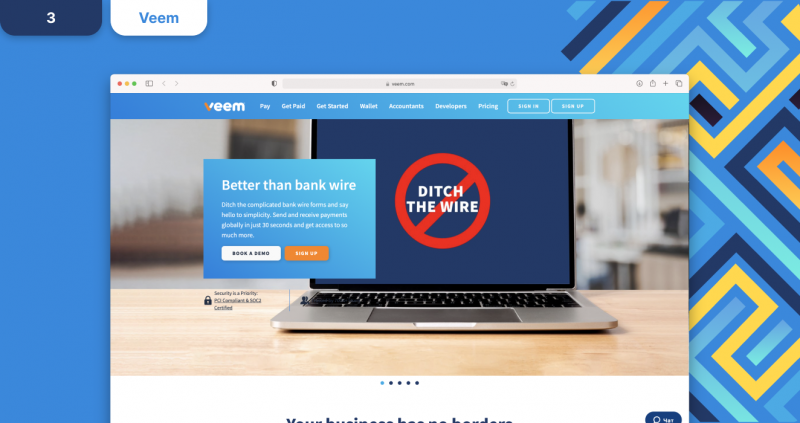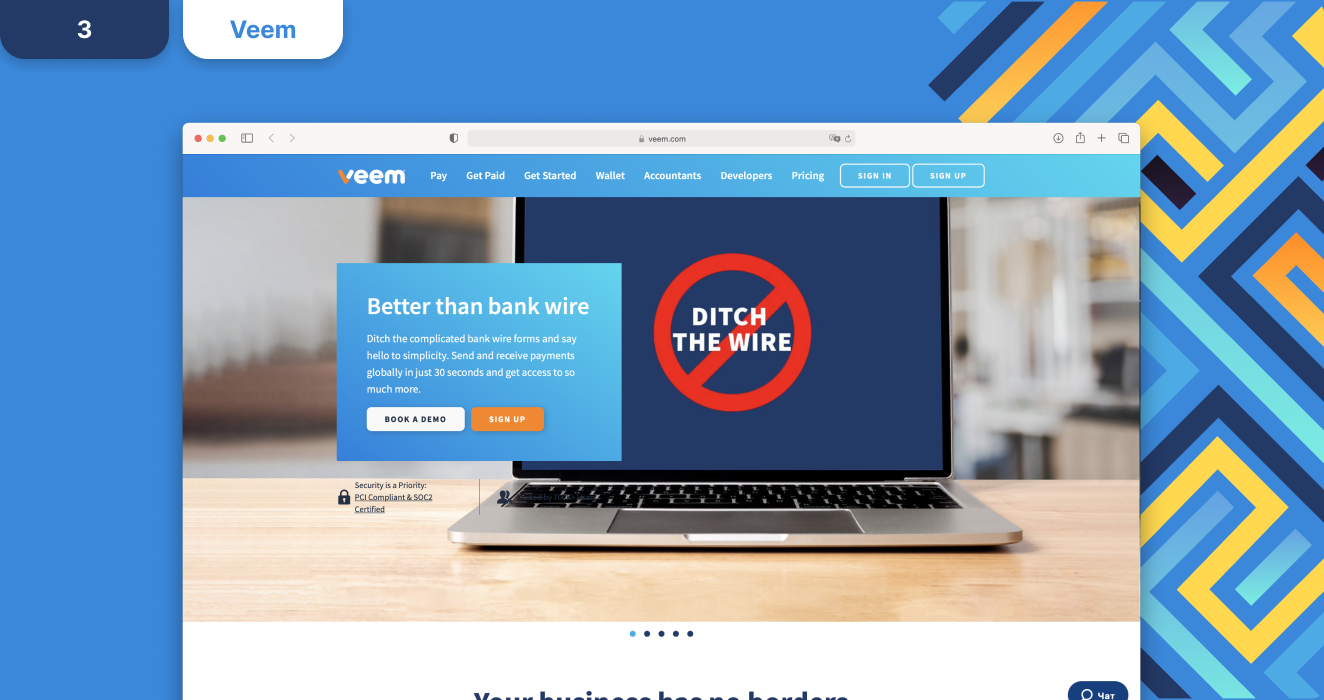 Veem is a payment processor founded in 2014. It provides a wide variety of payment solutions for ecom networks, whether those are local, regional, or global businesses.
They promise to support businesses of any size, give them financial leverage through negotiating power, and guarantee their security through the quick and affordable perks of blockchain technology. Creating an account only takes a few minutes, but Veem is generally tailored toward businesses instead of individuals.
If your business is located in the United States or Canada, fees for local transfers are pretty low. With that said, Veem provides payment solutions in over 100 different countries and has over 700,000 users around the world.
4. DePay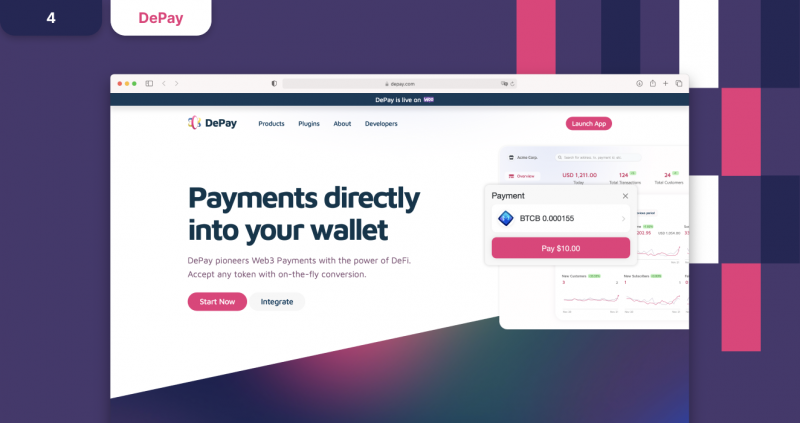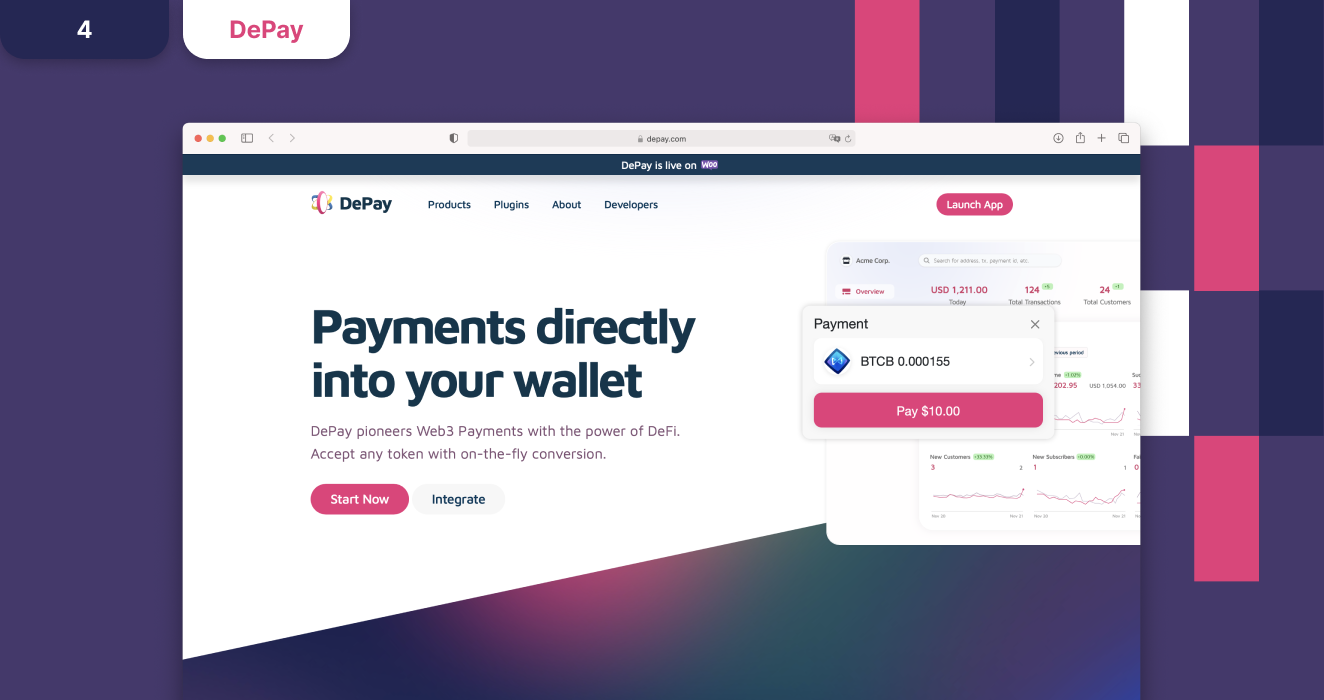 DePay is a blockchain payment network that facilitates the widespread adoption of blockchain transactions by providing easy integration and payments for Web3 companies.
It does not require any registration for an account, making it accessible for users who want to start using it quickly. It also features peer-to-peer trading and is compatible with most popular blockchain platforms and wallet types.
The platform can be easily incorporated into a business, enabling users and businesses to begin accepting payments in as little as a few minutes. DePay has a flat transaction fee of 1%.
5. CoinQvest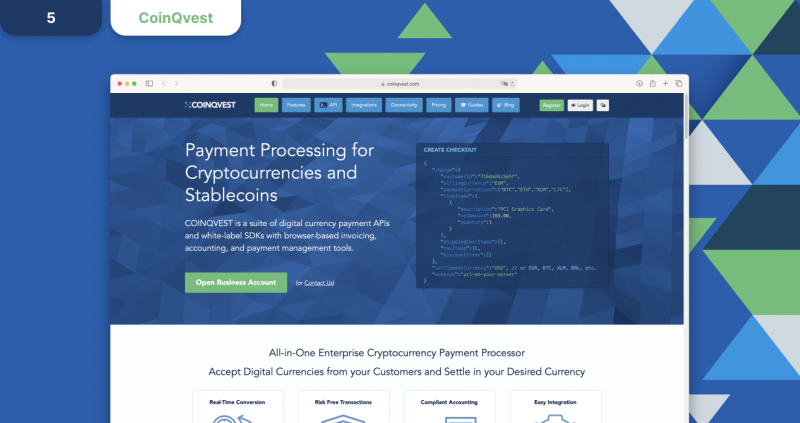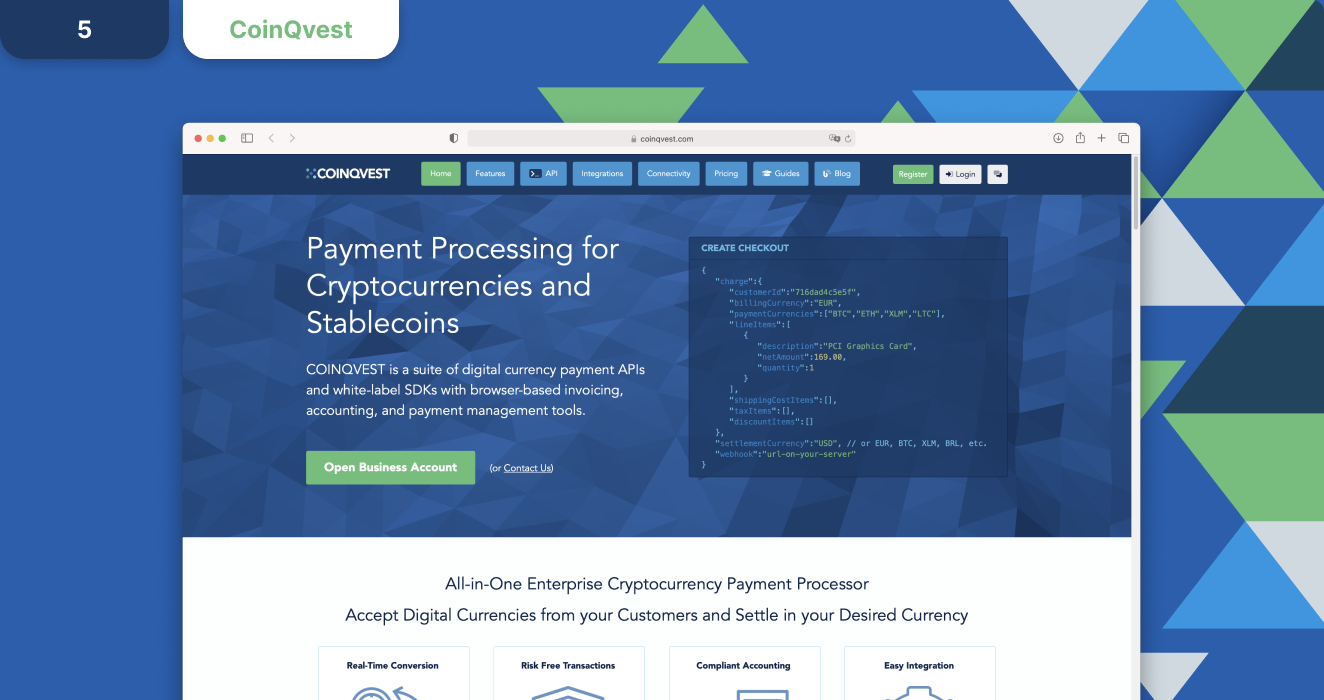 COINQVEST offers digital currency checkout options that quickly convert from Bitcoin to a bank account.
This platform assists online merchants and e-commerce stores to programmatically accept and process payments in new digital currencies while staying compliant and satisfying the requirements of accountants and tax authorities.
Additionally, the COINQVEST extension for Magento 2 merchants provides several important features such as real-time conversion between digital and traditional fiat currencies.
6. Strike Payments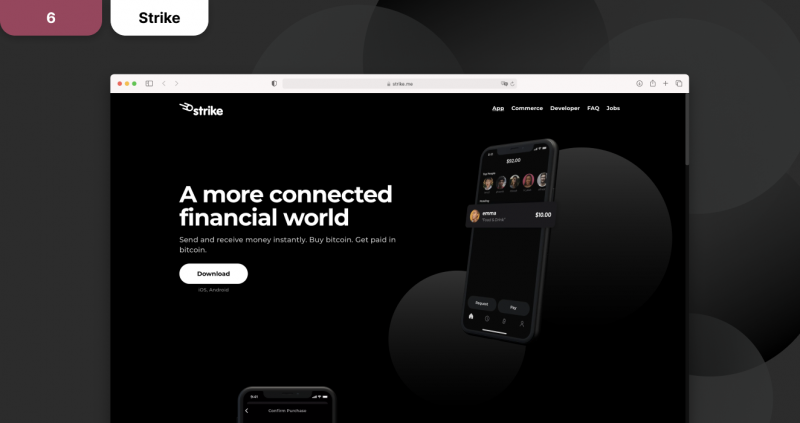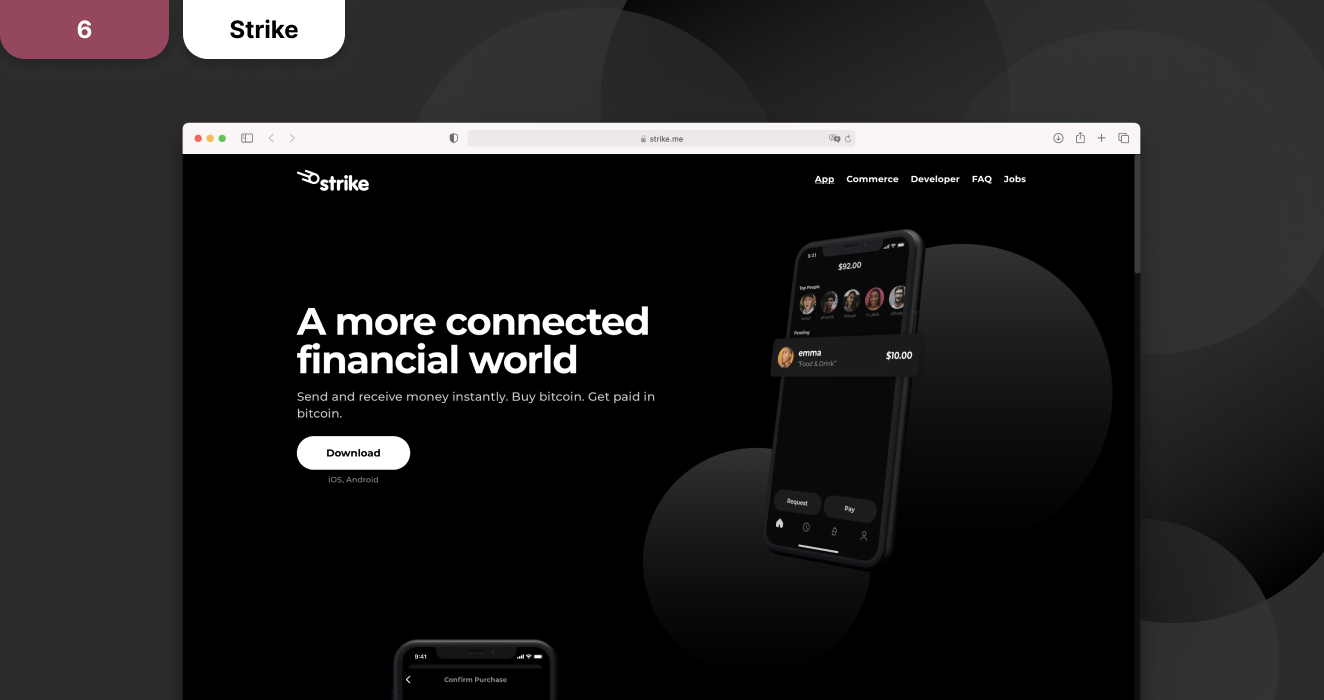 Strike is a payment system that uses its own native API to perform and settle transactions between two parties. It can connect you to buyers and sellers globally, allowing your customers to pay you through a variety of exchange methods and tokens.
Processing transactions is completely free. It easily integrates with Shopify, but naturally, you have to go through an acceptance process before you can start accepting funds with Strike. In order to get your API, you must first sign up to the Strike waitlist.
7. Blockonomics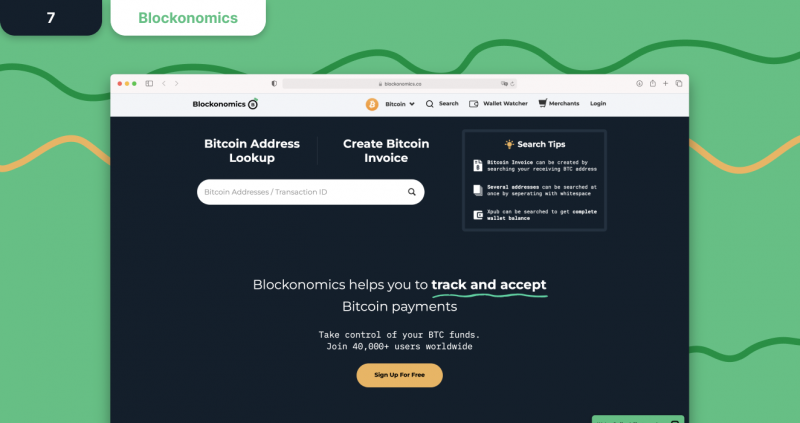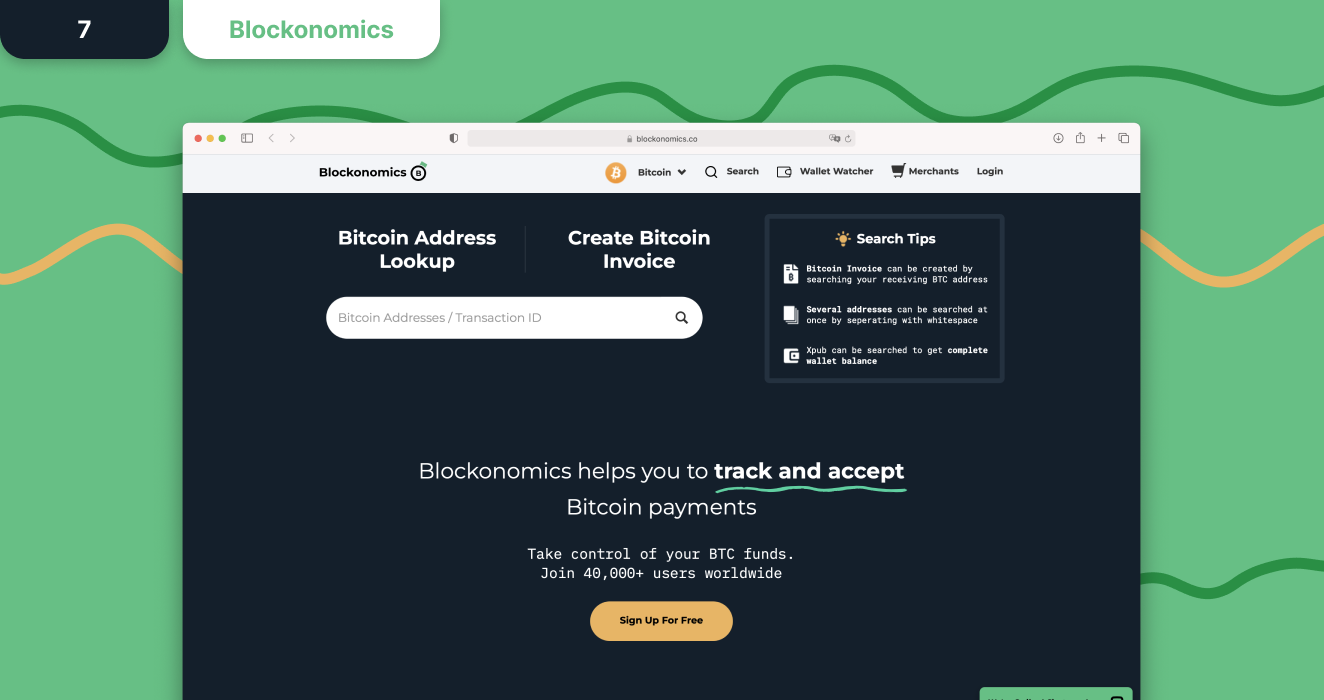 Blockonomics is a decentralized crypto payment system that allows users to receive deposits directly into their personal crypto wallets.
The platform currently supports Bitcoin and other major cryptocurrencies and has a low transaction fee of 1%, with the first 20 being free of charge.
Signing up is easy and requires only an email, no additional information or documentation is needed. Businesses can also generate their own invoices and keep them private.
It's a great option for businesses who want to have control over their private keys and want to receive crypto directly into their UpHold wallets, and also want to have the choice to convert crypto into fiat instantly.
8. GoURL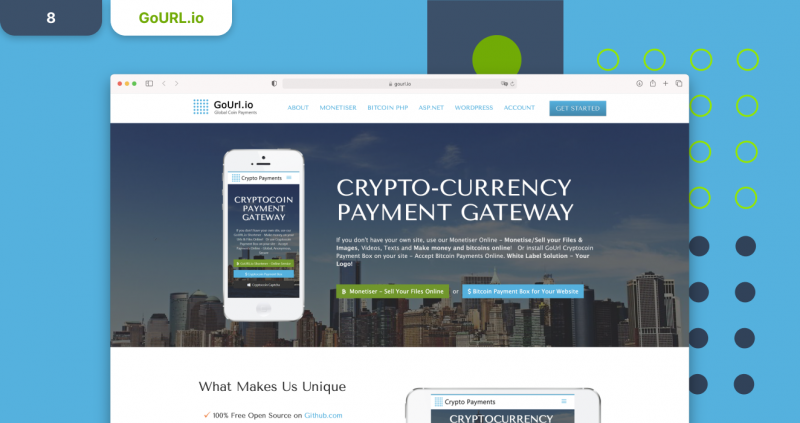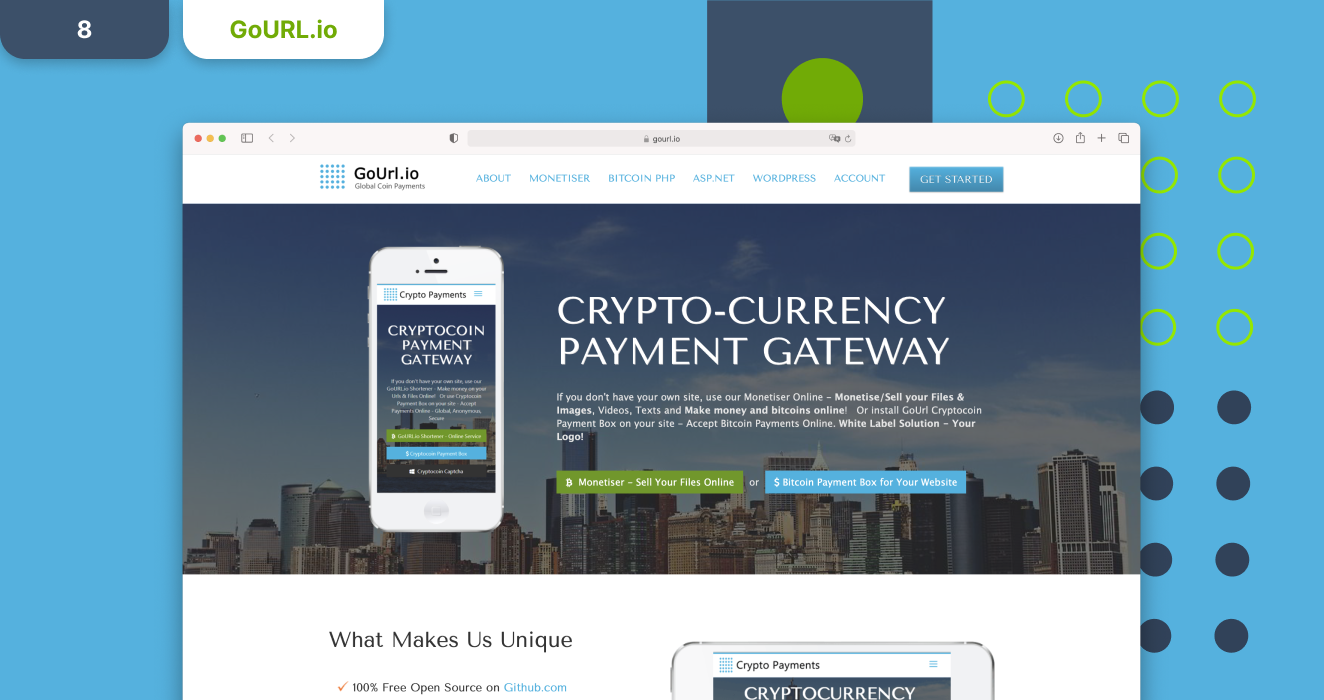 GoURL is a crypto service provider that offers a Bitcoin plugin that can be seamlessly integrated with WordPress websites. It offers a free sign-up process and allows users to receive cryptocurrencies without the need for a website through its Monetiser Online service. However, this service does come with additional fees, such as a 3.5% compensation fee. GoURL charges a 1.5% commission for its services, as well. While it is a great option for users who value anonymity, it does not support bank transfers.
9. BTCPayServer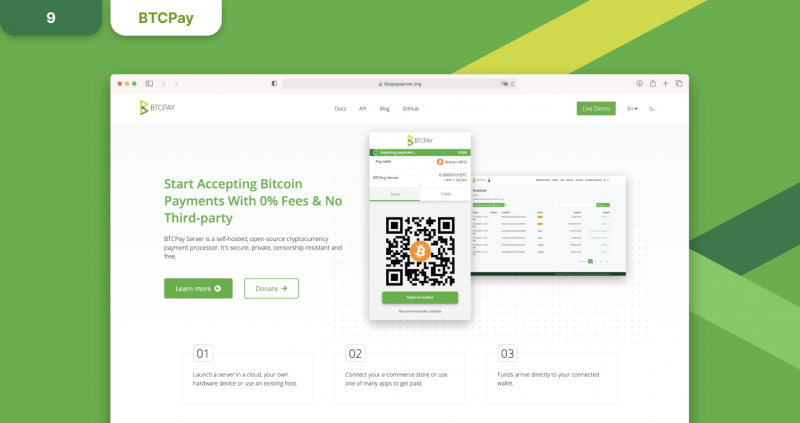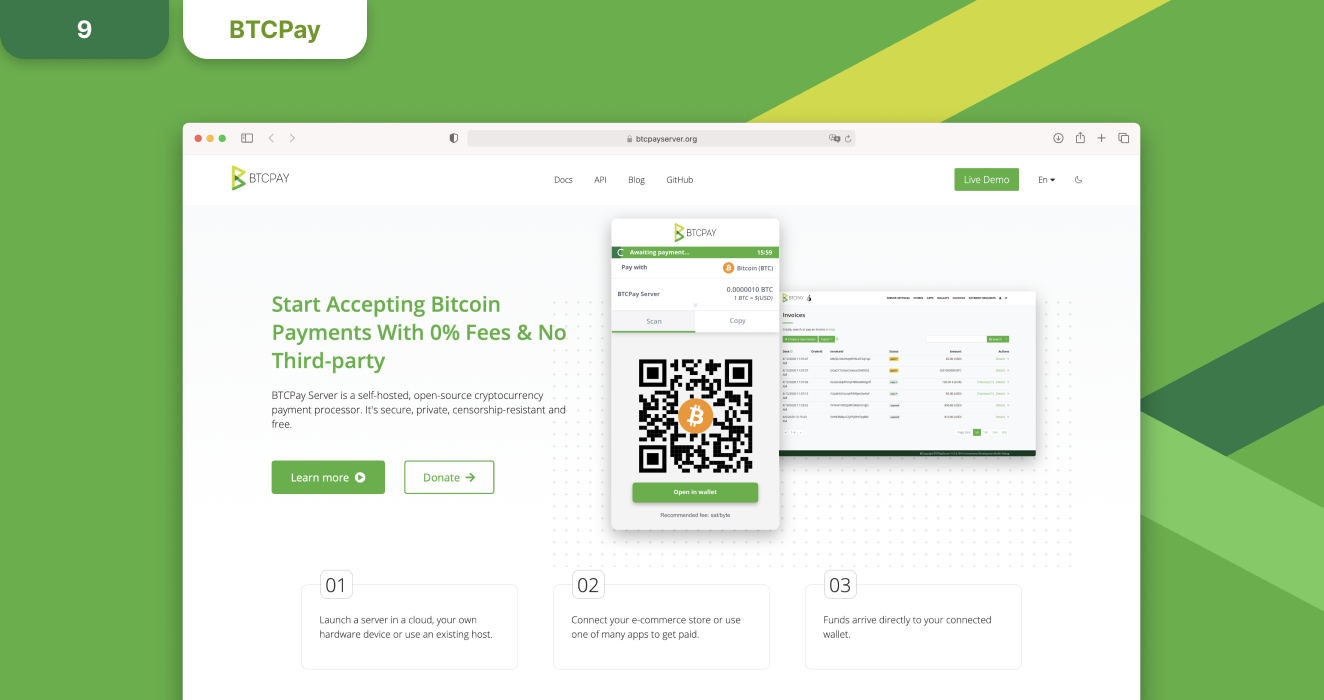 BTCPay is a self-hosted, open-source payment gateway that allows users to process payments for their own businesses, friends, and communities.
It can be integrated into e-commerce stores, physical stores, charities, and content creators to enable them to receive Bitcoin payments.
Additionally, BTCPay includes BTCPayWall, which is a plugin for WordPress that allows for the sale of digital content through the payment gateway.
10. CoinsBank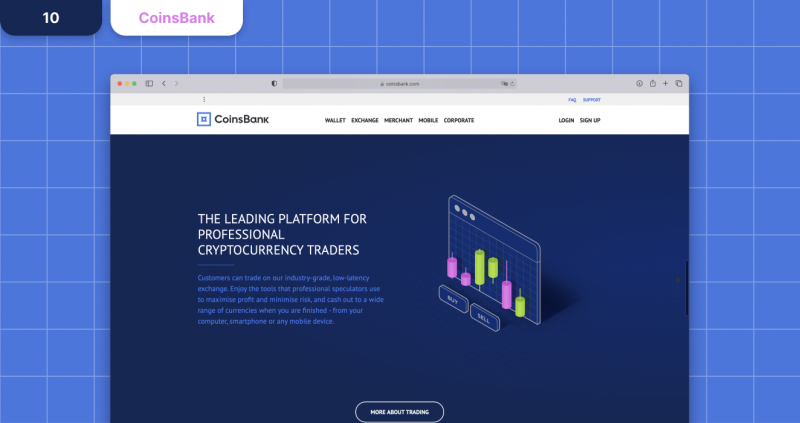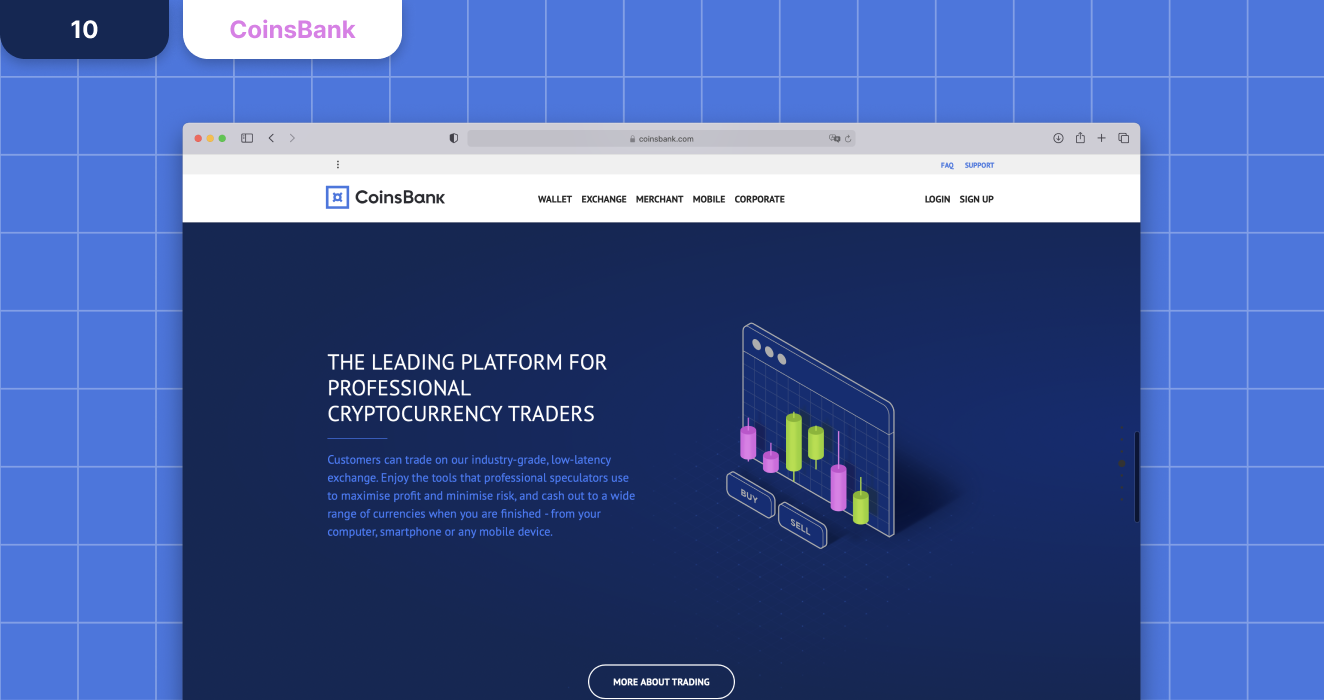 CoinsBank provides a variety of features, including a payment gateway for blockchain services, a wallet, an exchange, merchant capabilities, and even a trading platform where users can trade crypto.
CoinsBank users can connect their wallets to their debit cards and easily manage their wallet and their funds via their native apps.
The company also offers advanced security features such as two-factor authentication and allows users to instantly use their money.
Although CoinsBank Debit cards are currently unavailable, they're accepted worldwide and can be used to make easy, convenient purchases.
11. SpicePay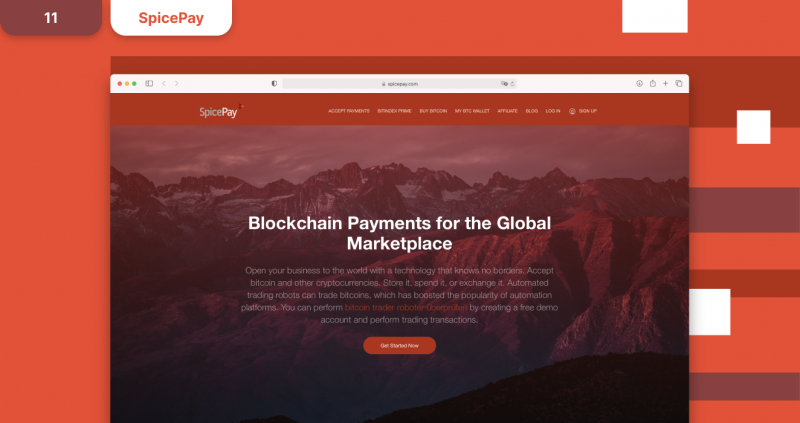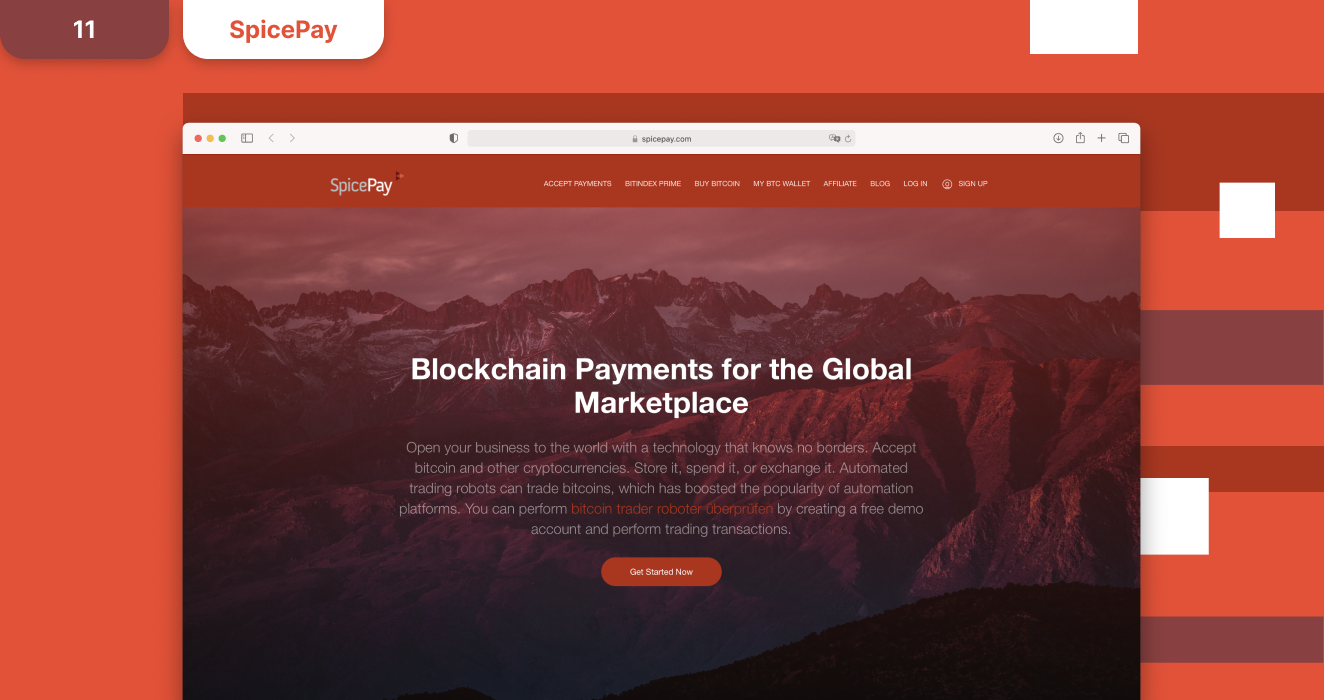 SpicePay is a great payment processor option if your business is very reliant on PayPal, as SpicePay allows you to easily manage your crypto payments and send them out to a PayPal account.
SpicePay allows you, the merchant, to make withdrawals of your cryptocurrencies directly to your PayPal account or even straight to your bank account.
You can choose from a wide variety of fiat options including Euro and USD, although some payments in EUR tend to be slower. Similar to many of its competitors, SpicePay will charge you 1% on all transactions.
12. GoCoin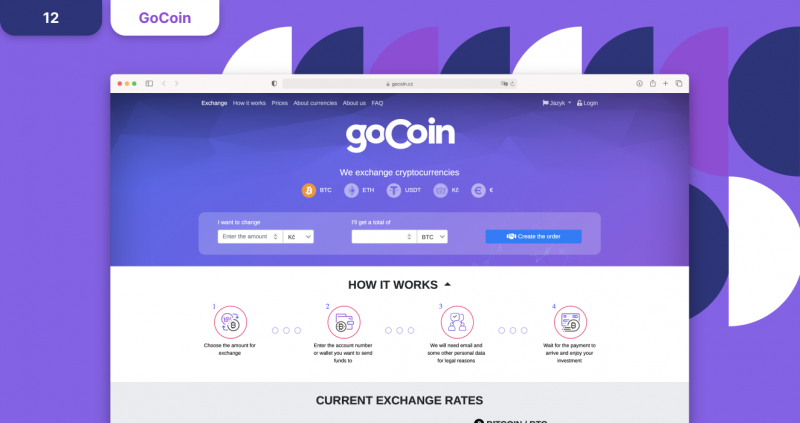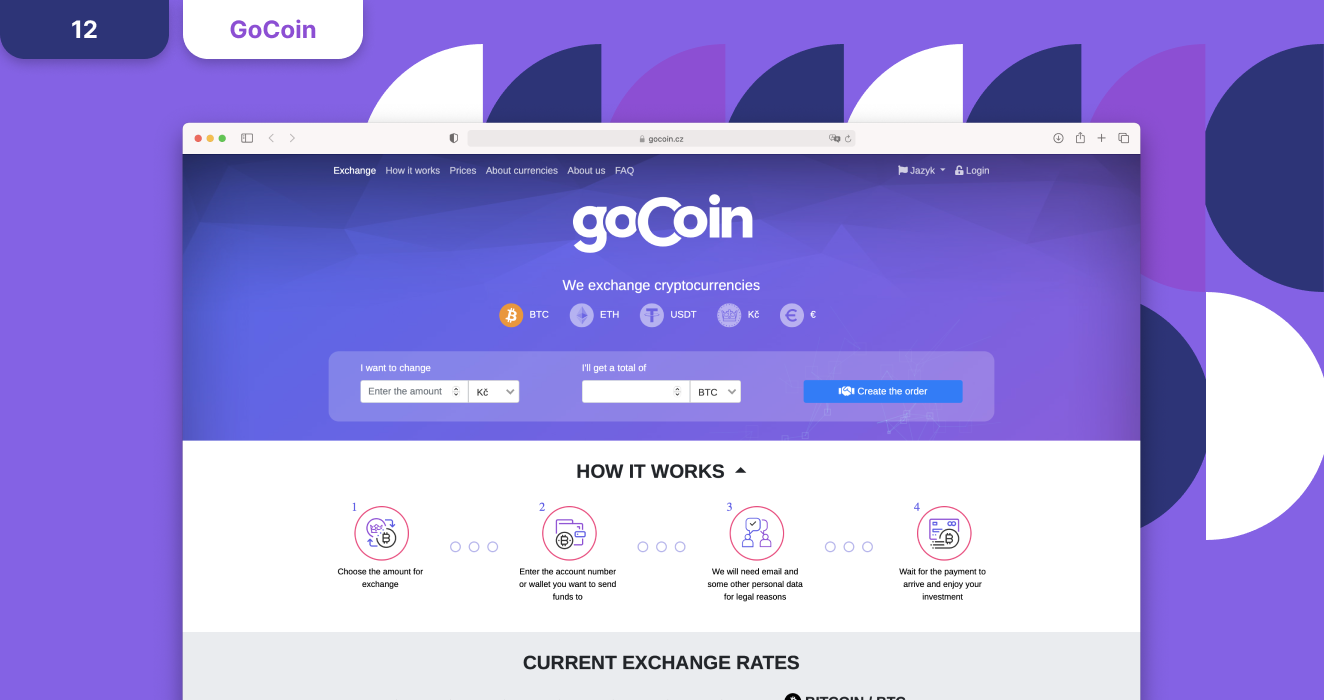 GoCoin is a payment gateway that has one of the simplest APIs for devs to use.
It's only available in a few countries around the world, but as it's gaining popularity amongst devs, it's guaranteed to become more accessible to merchants everywhere. It also offers a wide library of easy-to-use plugins that can be used to integrate inside a variety of online marketplaces.
Although they charge a flat 1% fee on all transactions, it has had overwhelmingly positive reviews for its support team.
13. Paystand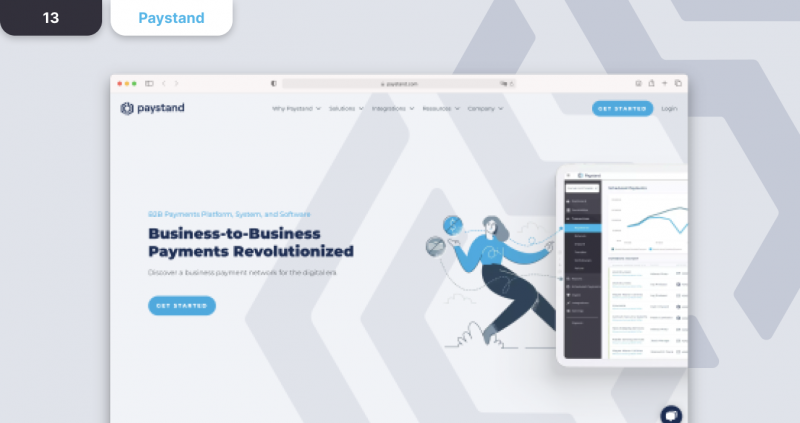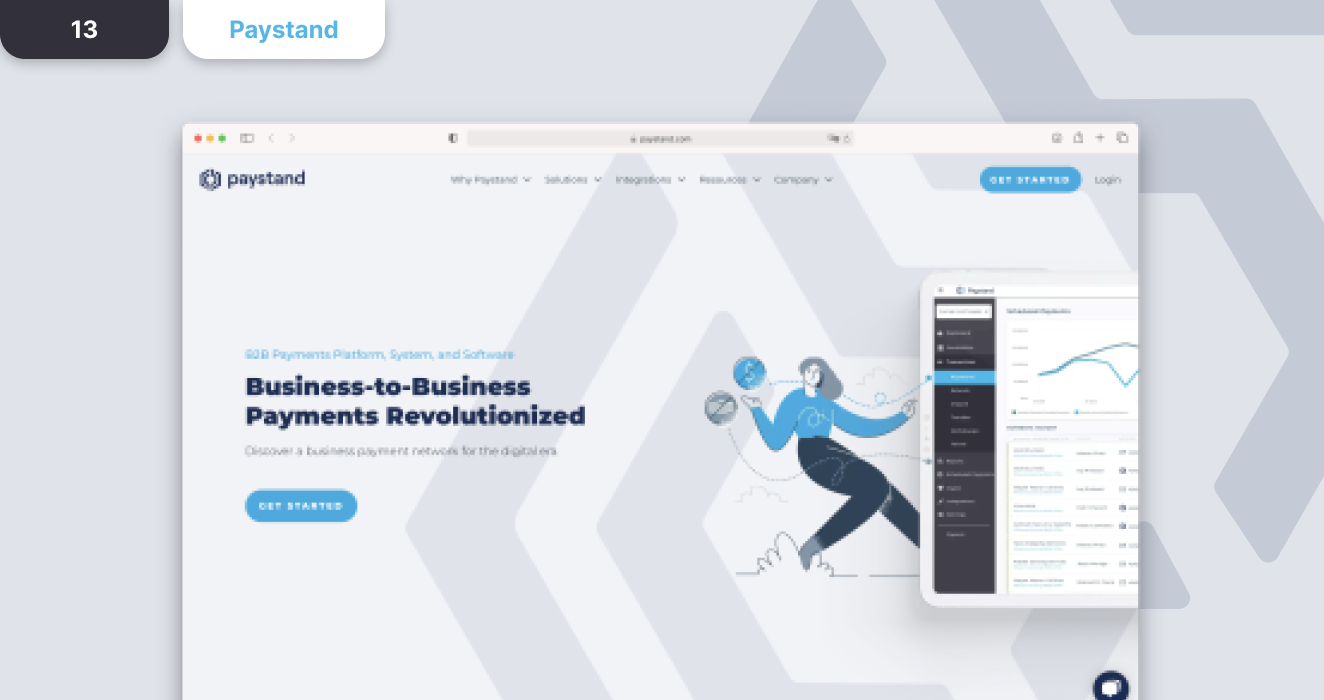 The Paystand platform uses a payment infrastructure based on SaaS and blockchain to enable faster, less expensive, and more secure B2B payments. You can automate and streamline the financial processes you do manually.
Additionally, Paystand provides numerous integrations, such as Xero, Sage Intacct, and NetSuite. Users can even develop their own integrations via Paystand's ready-to-go APIs.
Through their network, payments are permanently recorded on the blockchain, providing complete transparency and a certificate that can be verified at any time. This feature prevents chargebacks and fraud, eliminating the need for trust between the parties.
14. Plisio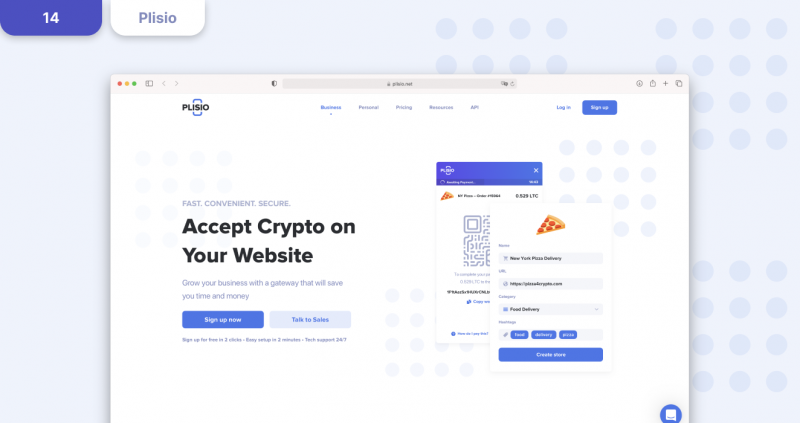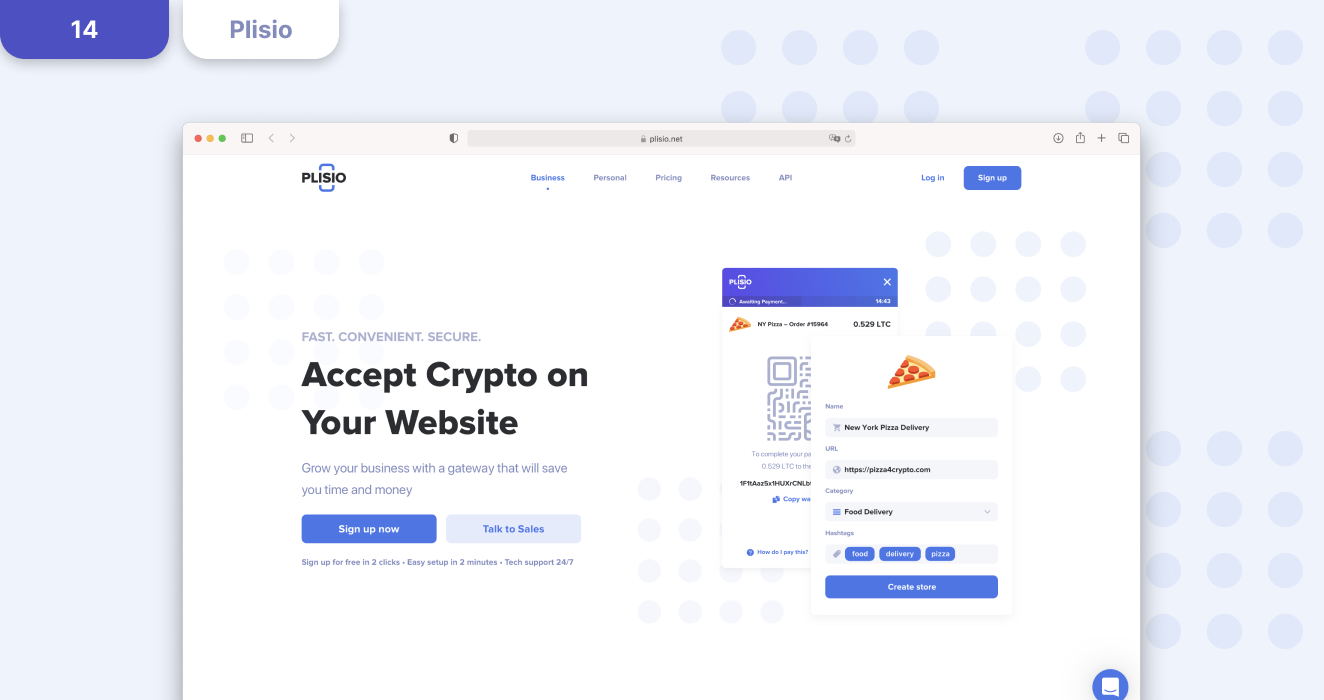 Plisio is a Payment Service Provider (PSP) for businesses that accept cryptocurrencies. Your customers can use Plisio to make payments using 50 different cryptocurrencies, including Bitcoin, Litecoin, Ethereum, Dogecoin, Zcash, and more.
The following services are offered by Plisio, which runs in accordance with the RESTful API standard: payment forwarding, requesting the most recent weighted average exchange rate, and then receiving a rate for a given date which results in a QR code being generated.
Plisio is one of the best choices for online retailers using eCommerce platforms like WooCommerce, Virtuemart, Opencart, and Magento.
15. Corda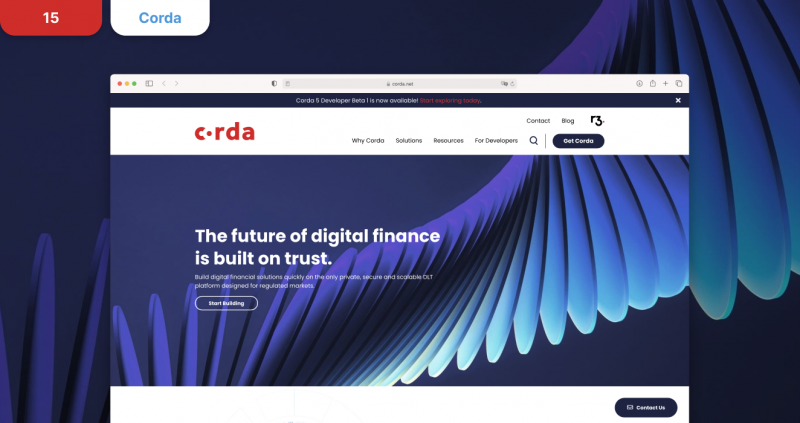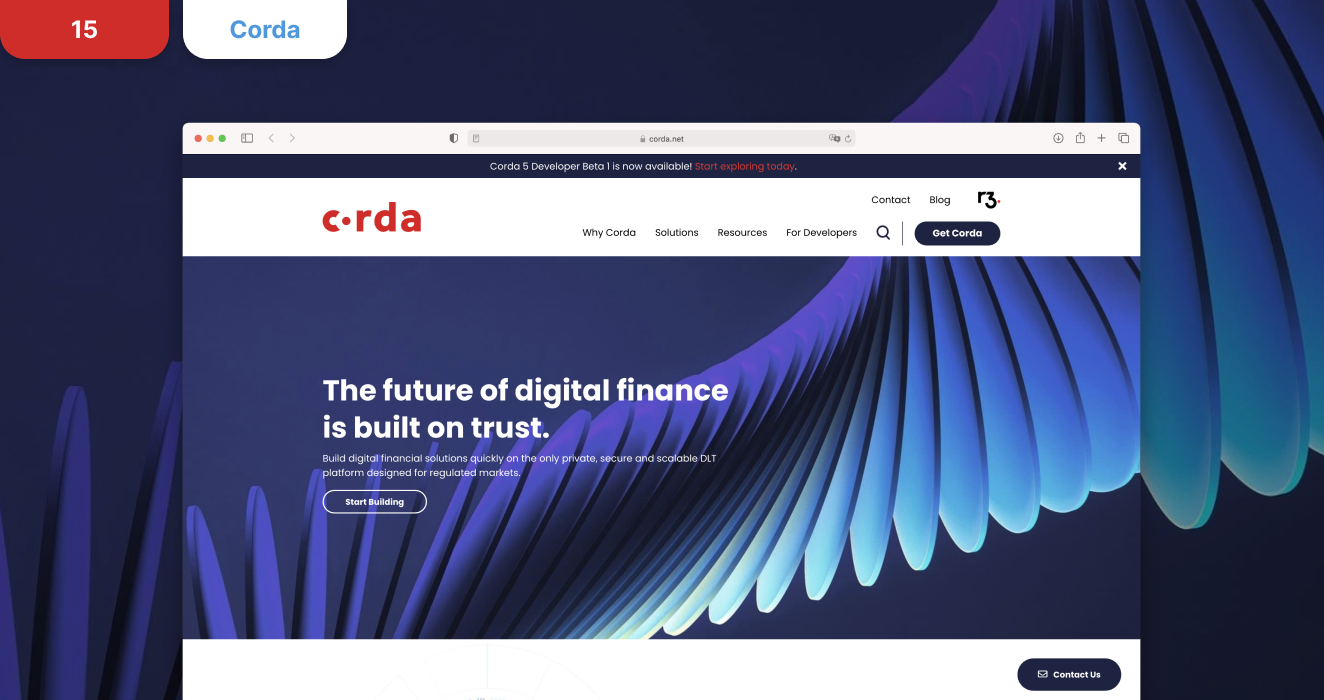 Corda is among the top crypto payment platforms for people who want fast and secure cross-border payments. Initially branded as an enterprise blockchain platform, its innovative interface was designed by a superstar team of experts and professionals with backgrounds in top corporations.
Corda enables the issuance of digital currencies, and it's a private blockchain meaning transaction data is only shared between the two parties involved in the transaction. Public blockchains send that data throughout the network, but Corda keeps it private.
The project is open-source and it seamlessly integrates with existing systems, making it perfect for any enterprise that wants to implement blockchain into their business.
Summary
The entire crypto payment gateway industry is rapidly growing and evolving, with a variety of tools and solutions already out there helping businesses reach new audiences and receive payments in crypto.
With more and more people embracing the use of crypto in their daily life, it's likely that we'll likely still see growth in the industry resulting in even lower transaction fees and higher transaction speeds.
Bookmark this list of the top 15 crypto payment gateways so you have it handy whenever you're looking for a quality payment solution to integrate with your company.