B2Broker Releases Two Updates to B2Core iOS App With Many Valuable Improvements
Product Updates
December 23, 2022
Upd on April 17, 2023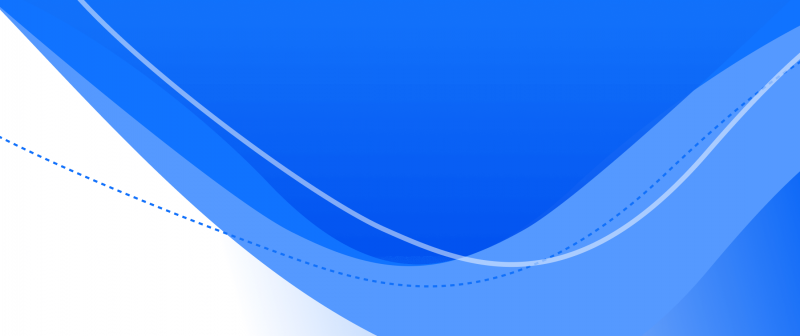 The global provider of liquidity and technology solutions, B2Broker, has released two new massive updates to its popular B2Core iOS app, v1.15.0 and 1.16.0. The app is constantly evolving, so the team is continuously looking for ways to enhance the user experience with new interface elements, new screens, and tools to inform and communicate with the user. The updates include many valuable improvements designed to enhance user experience and complement successful trading. Some of the key enhancements include:
1.
Redesigned deposit and withdrawal screens
2.
Refreshed account creation screen
3.
Redesigned platform account details screen
4.
Native support for OneZero/PrimeXM
5.
Improved wallet cards in the Wallets section
6.
New display of all transactions at wallet details
7.
Support for new KYC Accreditation.
The new version is already available in the App Store.
Redesigned Deposit and Withdrawal Screens
The team has redesigned the deposit and withdrawal screens to give users a more intuitive experience. With the new carousel, users can easily select their preferred deposit method, allowing them to complete their transactions faster than ever. Now it's possible to conveniently filter all deposit methods by tappable filters: Coins, Stablecoins, and Fiat to speed up searching for the necessary deposit method. Plus, the indicative calculation is much more straightforward to use, meaning that clients know exactly how much they'll spend or receive in each currency! This convenience is also further enhanced by added detailed descriptions and an autocomplete option that has been included for inputting bank account details when making deposits and withdrawals – ultimately meaning fewer mistakes, more speed and a smoother transaction process overall.
Redesigned Account Creation Screen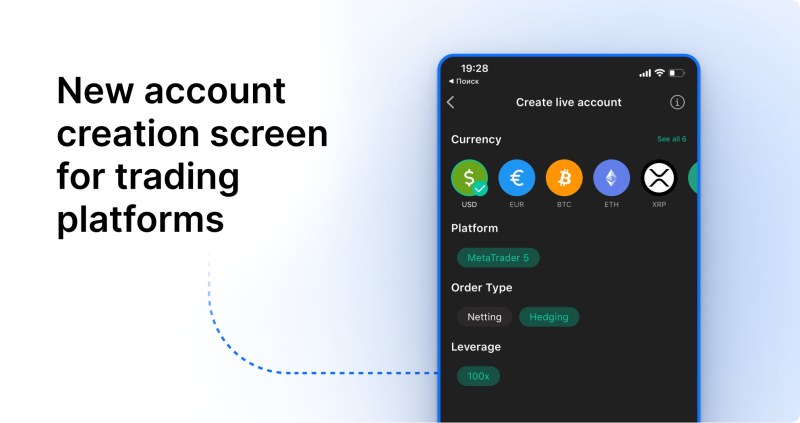 The new update features a streamlined account creation screen for all trading platforms, including MT4, MT5, cTrader, PrimeXM, and OneZero. One of the notable aspects is the user-friendly design – with only a few taps on the screen, users can quickly choose the preferred currency, product, and order type that best matches their preferences. In addition, the team has given the account creation display an extra touch with a clearer presentation of leverage, netting, and hedging options. This latest change applies to both Live and Demo accounts.
Redesigned Platform Account Details Screen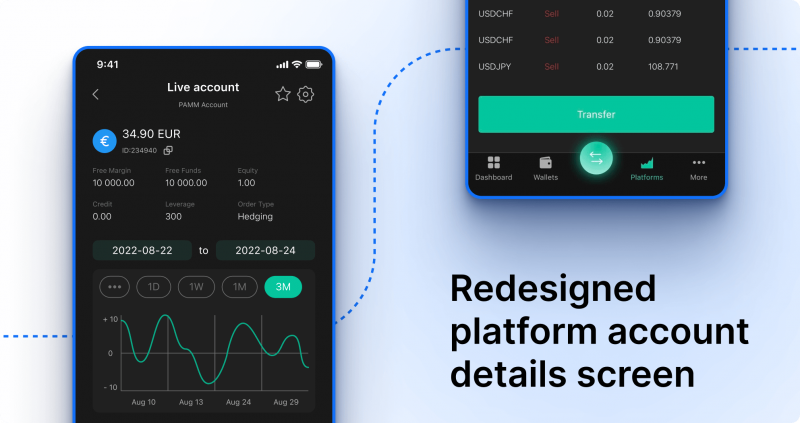 The redesigned platform account details screen makes it easier to monitor financial activity. Now, users can quickly and conveniently filter transactions by date, observing the associated PnL charts in one central location. In addition to streamlining the navigation, this update also brings more visibility into all other information related to the users' account. All other crucial account information, such as Free Margin, Free Funds, Equity, Credit, and Leverage, is also provided to ensure a comprehensive view of account performance at all times.
Added Native Support for OneZero and PrimeXM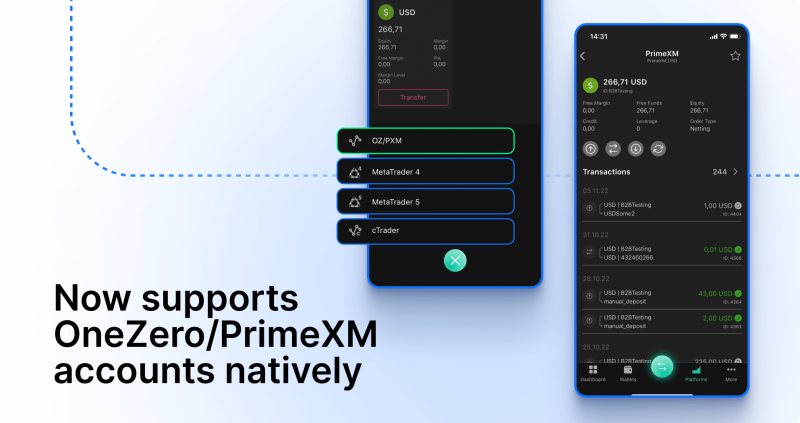 The recent update to the app allows users to manage their OneZero and PrimeXM platform accounts more intuitively with an improved user experience. By moving the accounts from the Wallets section to the Platforms section and displaying a complete transaction history, users can easily keep track of funds previously sent or received. This upgrade also delivers Financial Operations such as deposit, withdrawal, transfer, and exchange in version 1.15.0. This much-needed feature takes managing finances on these platforms to a new level.
Improved Wallet Cards Display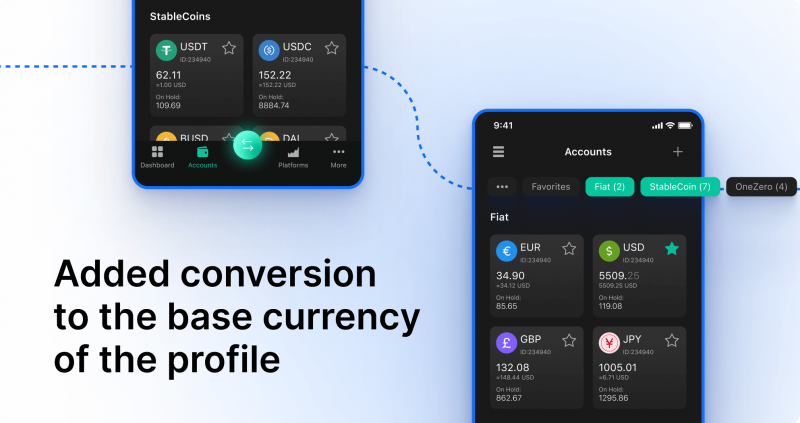 The new update also brings an improved design for the wallet cards in the Wallets section of the app. Users can now see more information about their wallets with enhanced user interface design. Each wallet now has its own ID number, making tracking multiple wallets easier. There's also the added benefit of having everything converted to the base currency of the profile, so regardless of the different currencies within wallets, it will show the equivalent amount in preferred currency.
Full History of Wallet Operations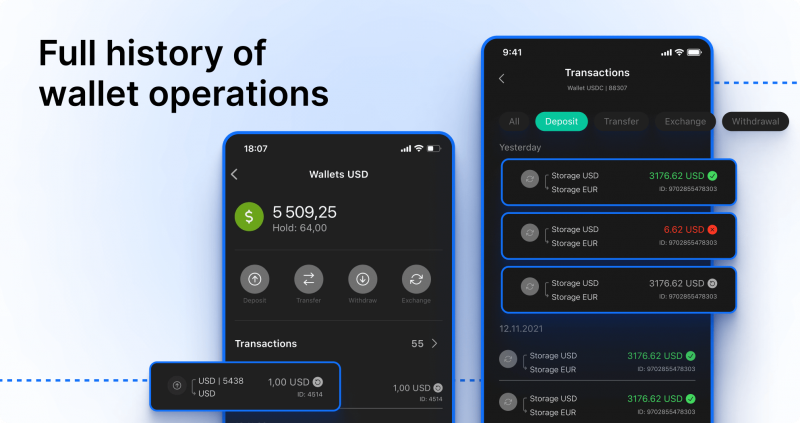 The team significantly enhanced the transaction details of the B2Core platform with this latest update. Now, users can effectively filter the transactions by types, such as Deposits, Withdrawals, Transfers, and Exchanges. Additionally, each transaction is assigned a unique ID in the app, which can be used to track them later on. It is now very simple to keep track of each transaction and determine its status, whether it is still being processed, has already been completed successfully, or has been rejected. The intuitive icons for these transactions further add to the ease of classification. Additionally, users can now access a separate screen with expanded transaction history.
Support for New KYC Accreditation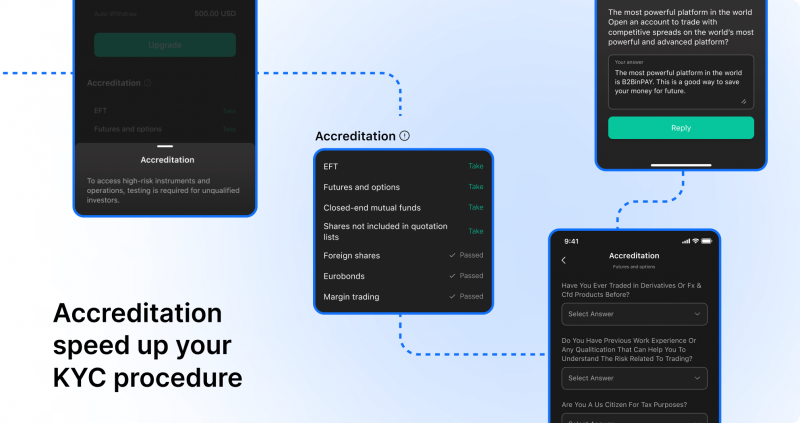 B2Broker customers can now take advantage of an expedited and secure KYC process. The new KYC accreditation supports different question types, such as open-ended, closed, and multiple-choice. This feature adds flexibility to the process, as customers can tailor the questions to their specific needs. The status of KYC accreditation is clearly marked – Take, Pending, Rejected, or Passed – making it simple to know where a user is in the verification process. The team is pleased to offer customers this convenience to speed up the user verification process.
Bottom Line
The updated version of the B2Core iOS app brings a number of valuable improvements, making it easier for users to manage their accounts and finances. With the addition of native support for OneZero and PrimeXM platforms, improved wallet card display, transaction filters, and new KYC questionnaires, this update will significantly enhance the user experience on the platform.