Becoming a Memecoin Millionaire: Fiction or Real Possibility?
Articles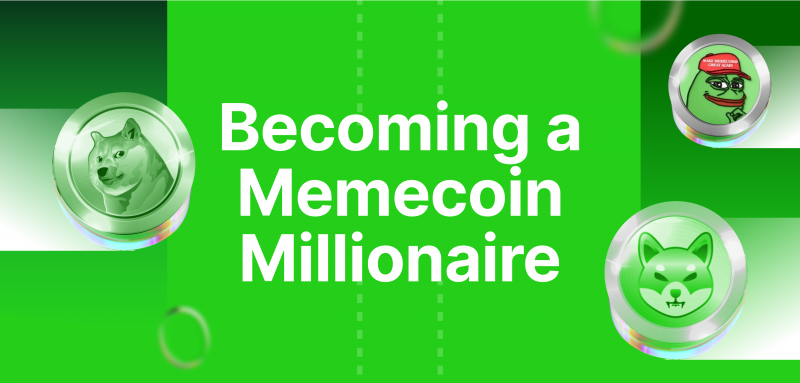 From internet memes and lighthearted jokes, a few crypto startups achieved the impossible and conquered the heights of the Blockchain landscape. While the entire genre of meme coins started as a meme, several coins garnered a global following and accumulated massive market caps against all odds. This article explores the most fascinating meme coin stories and how they defied expectations and created new crypto millionaires.
Key Takeaways
Dogecoin was the first meme coin project on the crypto market, achieving global success and defying the wildest growth forecasts. 

Dogecoin created a meme coin niche, where projects try to become culturally relevant and creative variations of flagship crypto offerings.

Becoming a dogecoin millionaire depends on several factors – exceptional foresight, deep knowledge of crypto markets and extraordinary luck. 

As of 2023, the meme coin market has become stagnant and desperately needs new innovators entering the sector. 
The Story Of Dogecoin
Let's rewind to 2013 when the general public had almost no idea about the emerging Blockchain landscape. Bitcoin was the only crypto coin available, valued at a minuscule amount of 13 dollars. While the Blockchain fever had not yet hit the tech world, two talented engineers planned to make a lighthearted jab at this fledgling technology.
Billy Markus and Jackson Palmer created and designed a fully-fledged parody of Bitcoin. To cement the coin's meme-worthy status, Billy and Jackson named it Dogecoin after the numerous viral memes of the Doge dog. Creators did not stop there, deliberately making every aspect of Dogecoin as different and as absurd as possible. From the distribution method to consensus mechanisms and the coin's utility, Dogecoin was designed to make little sense for sensible customers. Thus, Billy and Jackson executed their elaborate joke and launched it on the young crypto market.
They expected Dogecoin to become appreciated for its absurd and comedic nature, but little did they know that Dogecoin was about to become one of the most significant coins on the market.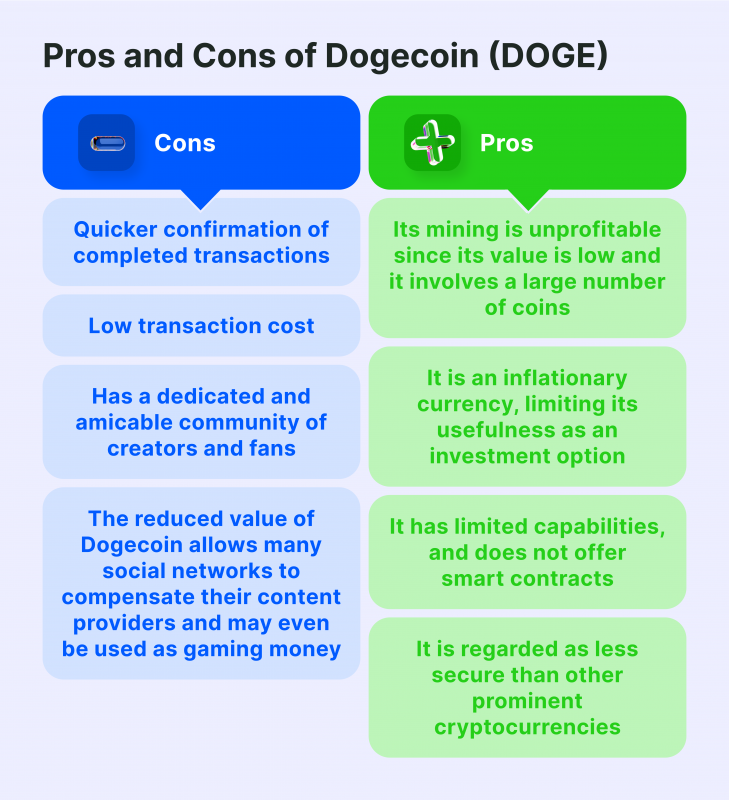 The Unexpected Popularity and Success Of Dogecoin
Within a month of its inception, Dogecoin became wildly popular, accumulating up to $9 million worth of market cap. Suddenly, an after-hours pet project became a source of millions for Billy and Jackson. While the two founders would never have guessed this unlikely success, they quickly realised what they had on their hands and wasted no time to create a tightly-knit community around DOGE. 
Fast-forward to 2018, the Dogecoin sensation was going strong but maintained its lighthearted approach and comedic nature. And then, the bull run of 2018 went into full swing, skyrocketing values of all major cryptos. Surprisingly, Dogecoin was one of the chosen few, and its market cap shot up from an impressive 100 Million dollars to an unbelievable 1.1 Billion dollar valuation.
This watershed event created numerous millionaires out of ordinary investors in the Dogecoin community. Aside from Billy and Jackson, several DOGE loyalists witnessed a small miracle, acquiring a millionaire status practically overnight. While the 2018 bubble shortly burst and the crypto market crashed, DOGE held its own in the following years. After the next bull run and a subsequent market downturn in the 2021-2022 periods, DOGE now sits comfortably at a smooth 9 Billion dollar valuation.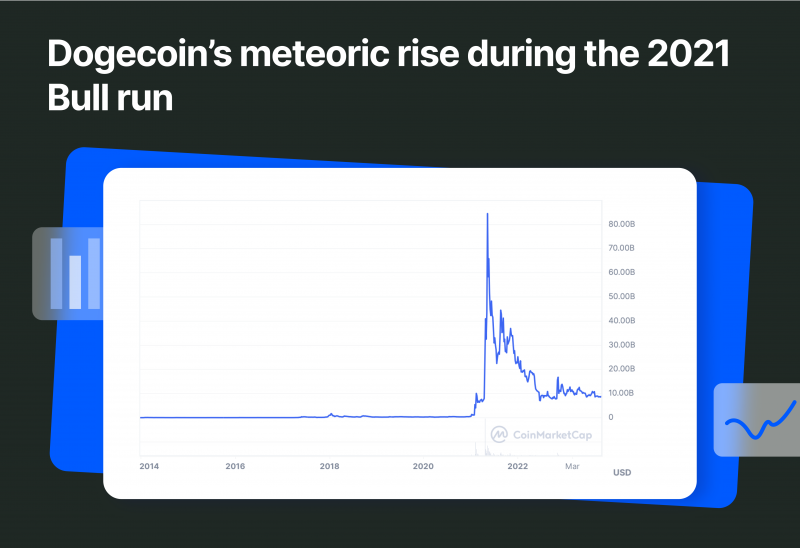 The Curious Case of Glauber Contessoto
However, not all Dogecoin investors were as lucky as the first generation. One of the notable examples was Glauber Contessoto, who invested in Dogecoin after Elon Musk's public promotion of the coin. Glauber decided to go all in, putting his life savings and a couple of extra loans into the venture in 2020. In a single year, his investments yielded a valuation of over $3 million.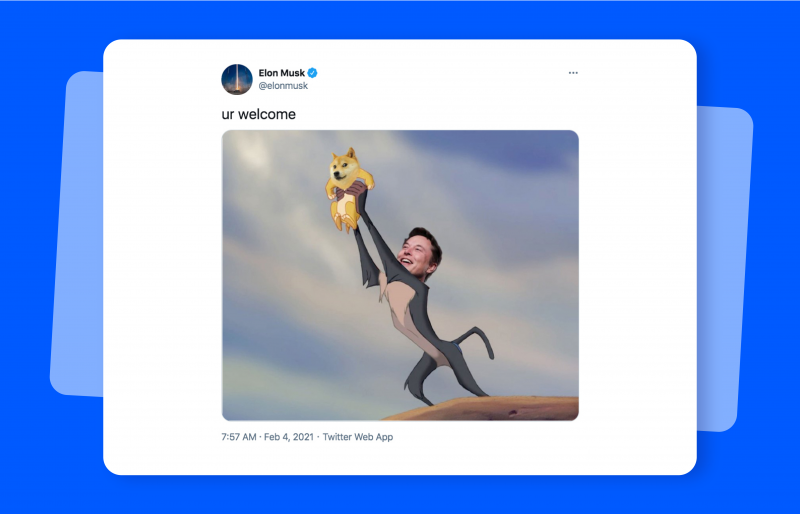 Despite his astronomical success, Glauber decided to be patient and keep his investment in Dogecoin. Shortly after the spike in valuation, DOGE came back down in the 2022 crypto winter. Now, Glauber's total investment is only worth $350,000. Numerous other investors like Glauber are missing out on the perfect opportunity to cash out in the correct window of time. Glauber's example perfectly illustrates that becoming a meme coin millionaire sometimes depends on sheer luck.

The Reasons Behind Dogecoin's Success
But what was the reason for DOGE's astronomical success? Was it just memes or something more valuable and replicable? Aside from the rare cultural hype surrounding DOGE, it was not just sheer luck. While Elon Musk's endorsement helped, the main reason was DOGE's commitment to user freedom and unconstrained community. The intrinsic value of DOGE was in giving its members maximum freedom to govern the DOGE community and try to experiment with the technology without any constraints.
To this day, the DOGE community is in charge of Dogecoin's development. Every voice matters, and every member gets to contribute. This user-centric approach allowed Dogecoin to transcend its meme roots and create millionaires from its loyal supporters. So, was it luck? Definitely, but Dogecoin millionaires looked past the hype and realised the real-world utility of DOGE.
Shiba Inu – Dogecoin's Younger Sibling
As Dogecoin reached surprising success and global recognition, it laid the foundations for a creative new crypto niche, appropriately dubbed meme coins. This young market had a single mission – replicate the success of DOGE and try to catch lightning in the bottle again.
However, most coins struggled to achieve even a fraction of DOGE's success and growth potential. All that changed in 2020, as Shiba Inu entered the market and surprised the crypto world again. While the SHIB Coin was initially worth a fraction of a cent (and still is), the Shiba Inu project witnessed unprecedented popularity, even trumping the Dogecoin's record.
Within just a year of its existence, the SHIB coin's market cap bolted to a staggering 13 Billion Dollar valuation in 2021. While the second Crypto bubble caused this astronomical increase in 2022, Shiba Inu managed to weather the storm and now boasts an impressive 5 Billion Dollar market cap. In the end, initial investors of SHIB walked away with millions of dollars compared to minuscule investments of several hundred USD.
Two of the unlikely millionaires, Tommy and James, invested their pocket money in this meme-inspired coin. While their anonymous third friend advised them to put all life savings into this venture, Tommy and James decided to take a conservative approach. In just a couple of years, their disposable investment became a fortune, letting Tommy and James acquire the coveted status of millionaires. Their life-changing decision was prompted by a close friend, who believed that Shiba Inu was about to blow up.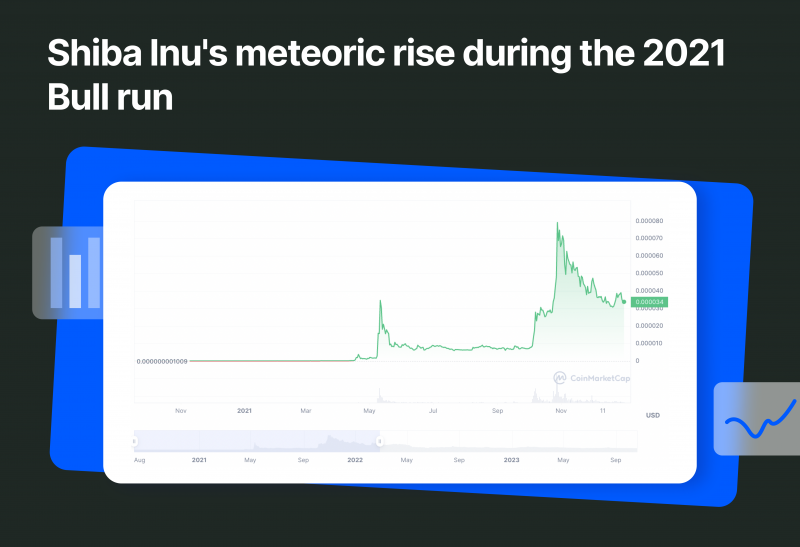 Analysing the Shiba Inu's Success
But was Shiba's success predictable? Yes and no. While SHIB perfectly replicated Dogecoin's comedic attitude, community-centred approach and focus on international payments, it was still a long shot. After all, numerous other cryptocurrencies tried to do the same, never to be seen or heard of again.
However, it was not all luck, as Shiba Inu's founding team showcased commitment, competency and professionalism that was lacking in similar meme coins. So, did you have a chance to predict Shiba's astronomical growth and invest from the ground floor? Yes, but an astronomically small one.
Pepe Coin – The Third Largest Meme Coin Phenomenon
Our third and final story revolves around Pepe Coin, which launched just several months ago in May and managed to defy expectations once more. While PEPE's success and market share are lacking compared to DOGE and Shiba, the meme coin still managed to grab the global attention of crypto enthusiasts. Today, PEPE's market cap is just under 270 Million dollars, which makes it the third-largest meme coin to date.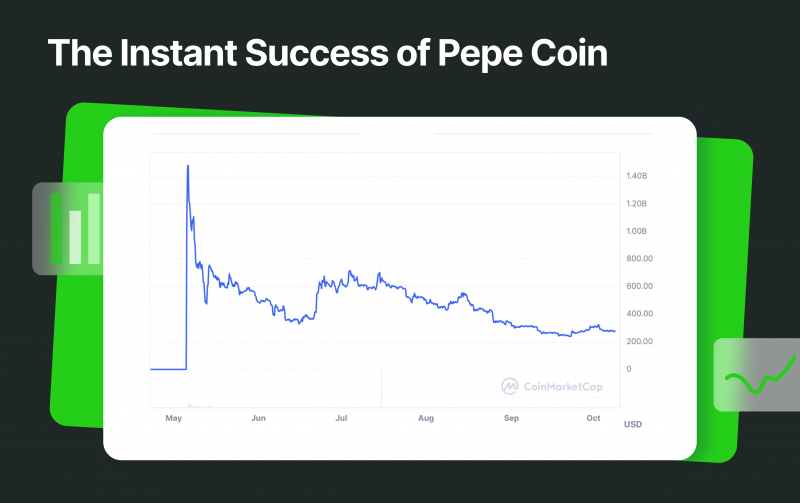 As PEPE hit the market, several early birds invested from the ground floor. On day one, one anonymous individual purchased 2.5 Trillion Pepe coins for just 27 US dollars. Soon, this negligible investment turned into a 1 Million dollar fortune. What's even more absurd is that the anonymous PEPE holder's account jumped to 10 million in just a month. While PEPE's valuation dropped slightly in the last months, the initial 27-dollar investment is still worth 4 million dollars.
So, is the Pepe coin another case of lightning in the bottle, or was it a calculated success by this anonymous investor? The answer, in this case, is quite simple. While Pepe coin is built on Ethereum and offers all the familiar bells and whistles, including a proof-of-stake algorithm, dApp capabilities and security, it is still an unremarkable coin. PEPE does not include any special features or competitive benefits aside from being a culturally relevant project.
Thus, with PEPE, we have entered the territory of guesswork and luck. With the meme coin market becoming saturated and filled with copycats, identifying the winners will be increasingly difficult, as they won't have any distinguishing features from the competition.
Is There A Reliable Way to Identify Moonshot Meme Coins?
So, is it possible to become a meme coin millionaire in 2023? Or is the meme coin sector saturated beyond repair, and there's not much gain in the foreseeable future? In this case, both statements have merit in their own right. Let's discuss:
The meme coin market is another fresh sector in the crypto industry. While it stands with comedic attributes and an irregular approach to crypto projects, the trend of the meme coin sector is quite similar to other niche markets. When a new crypto niche gets introduced to the public, investors and traders become intrigued and hopeful for its future. Plus, any new sector also has a novelty aspect that interests traders across the globe. Thus, the first project in a new sector is bound to be highly successful and lucrative, as it is the first of its kind.
The simplest example is Bitcoin, the largest cryptocurrency in the world. While Bitcoin is reliable, stable and secure, most of its success can be attributed to its being the first project in the crypto landscape. Thus, novelty and innovation are key aspects here. Sometimes, penetrating the market at the earliest opportunity is essential.
The same can be said about meme coins. We witnessed Dogecoin as a fresh and unprecedented project, creating a new approach to engaging with the crypto world. Every other meme coin after it tried to replicate DOGE's success instead of adding substantial innovations to the formula. Thus, becoming a meme coin millionaire in 2023 is highly unlikely, as the market has matured and the novelty factor has worn off.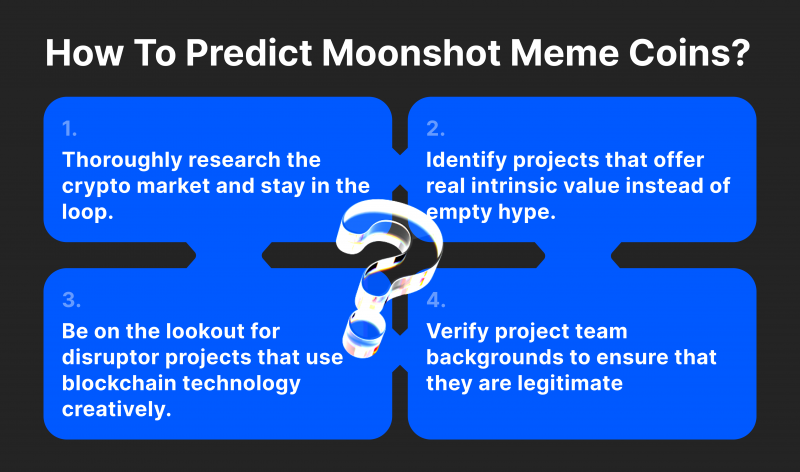 Crypto Disruptors Are Key To Invigorating The Meme Coin Market
However, everything will change if we witness a brand-new meme coin project that attempts and succeeds at reinventing the wheel. So far, we have discussed the meme coin sector with the assumption that the current trends will continue without changes. That means more copycat projects without any additional benefits.
But what if that were to change? What if a new project enters the meme coin scene with fresh ideas about community, decentralisation, Web 3.0, decentralised applications or something entirely new? What if this project is backed by experienced developers who can deliver on their initial promises? In that case, becoming a meme coin millionaire can be imaginable. Even if a new disruptor project fails to become a moonshot, the sheer force of innovation and fresh intrinsic values can turn the meme coin market into a good investment once again.
So, for the crypto enthusiasts looking for new and exciting projects in the meme coin niche, all hope is not lost. After all, the crypto landscape is expanding rapidly, and there are thousands of promising individuals working on fresh ideas every day. Thus, becoming a meme coin millionaire is about sticking close to the heartbeat of crypto developments and finding new projects on the ground floor.
It is also vital to understand the technology and trends of the crypto market. This will expand and hone your research and analysis skills, letting you examine new projects swiftly. Although, it is important to note that everything can still come down to luck. While it is easy to see why Dogecoin was successful by looking at the past, the hindsight is twenty-twenty. In practice, almost nobody could guess that Dogecoin would become a global phenomenon back in 2013.
Final Thoughts 
Are meme coin millionaires smarter than everybody else, or are they just incredibly lucky? The answer lies somewhere in the middle. Despite their comedic nature, meme coins are also a great alternative to the crypto market. Their sturdy communities offer unrivalled freedom of choice and opportunities to try new products in the crypto niche.
In 2023, the meme coin market is saturated, highly volatile and offers few opportunities for investment growth, much less for becoming a millionaire. However, it might take a single innovative project to disrupt the meme coin landscape once again and replicate the unlikely success story of Dogecoin.