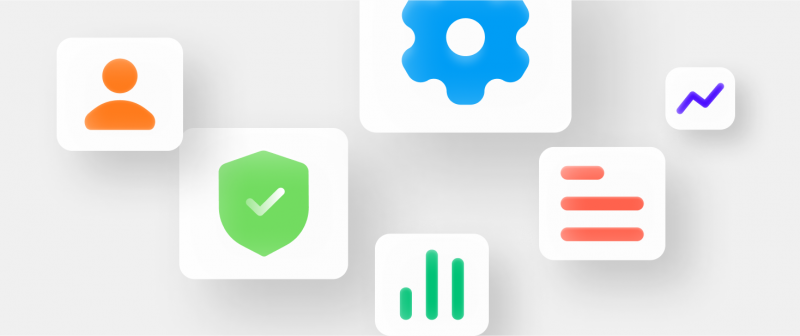 Best Forex CRM Software for Your Business in 2023
Currently, financial markets are experiencing unprecedented popularity due to the possibility to multiply capital by trading different financial instruments, including currency pairs, indices, commodities, CFD, and even crypto assets. The constantly increasing base of active users willing to engage in financial trading creates a strong need to control and organize their data, as well as to provide them with access to a multifunctional workspace where they can have all the necessary tools for trading. Forex CRM software is designed to solve this problem.
This article will describe the Forex CRM system and its features. We will also look at the key elements that make up the ecosystem of the FX CRM software. In addition, you will learn about essential criteria for evaluating a reliable Forex CRM option for your business and get acquainted with the top 5 FX CRM solutions on the market.
KEY TAKEAWAYS
1.
Forex CRM platform is a professional tool that combines all the features of CRM, trader room and back office, designed to automate the internal accounting of Forex traders in accordance with the requirements of the broker.
2.
The functionality of the FX CRM system consists of features based on the classical CRM software, but with an emphasis on trading and all the interconnecting elements that provide easy access to it.
3.
Such software can also be used on cryptocurrency exchanges, offering all the same benefits, but as part of the cryptocurrency trading instead of trading currency pairs.
5 Most Outstanding Forex CRM Solutions in 2023
To be sure that your Forex business is in a stable position and is able to fully meet the needs of its customers, you need to pay special attention to the selection of a reliable and feature-rich Forex CRM software. Obviously, each product has its own features, pros and cons, as well as its own cost, so to make the right choice, you need to carefully analyze each option and compare them according to your specific needs. Below are a few of the best Forex CRM providers on the market, which are definitely worth considering cooperating with.
1.B2Core
B2Core, one of the most sophisticated business Forex CRM systems available, provides Forex brokers and exchanges with easy access to information about their clients, administrators, and independent business partners. Using the most advanced Internet technologies, this solution was developed by one of the best fintech liquidity and technology providers for brokerage companies, exchanges, and investment funds within the crypto, CFD, and Forex markets. It combines rich functionality, an attractive user interface, and support for all devices running Android and iOS operating systems as well as Windows and MacOS operating systems. It is one of the first multifunctional systems on the market.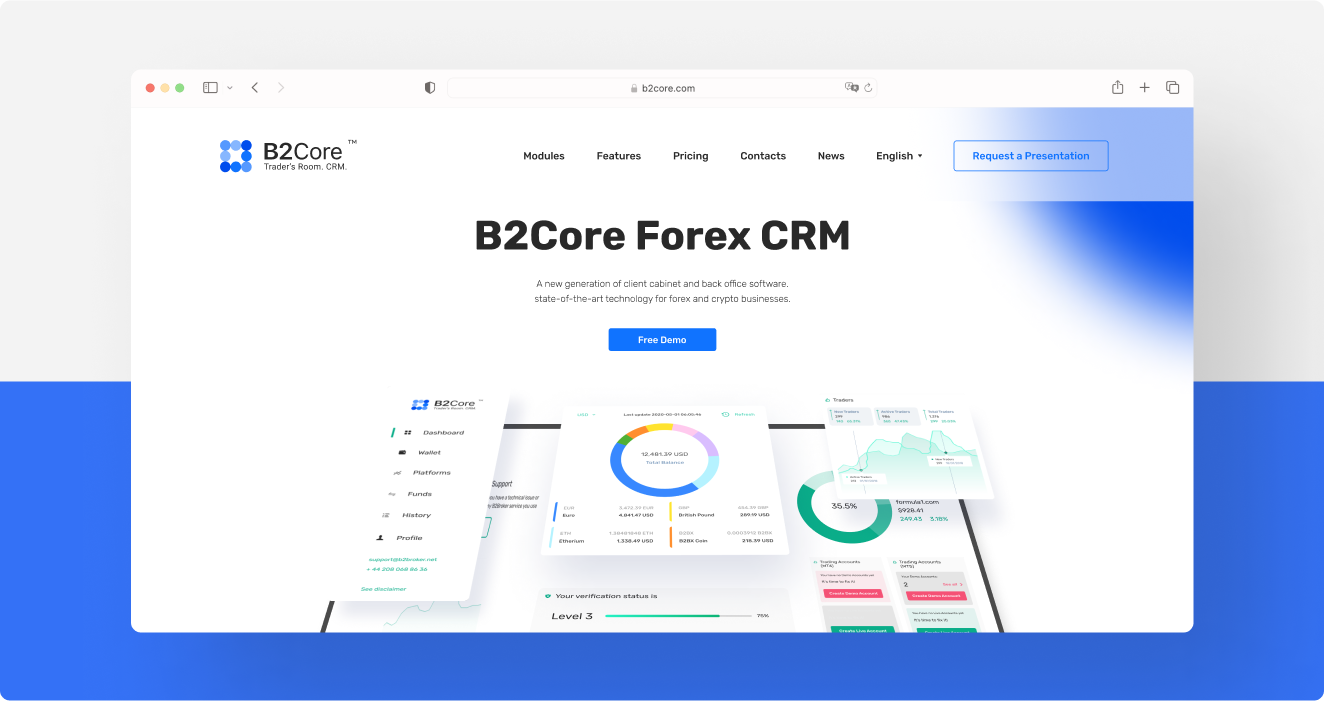 B2Core consists of three main elements:
1.
trader's room — a multifunctional space with a rich set of tools for trading;
2.
back office — a system for customer management, validation check, and support ticket system with many different useful features;
3.
CRM system — a system for automation and control of company interaction with customers, storing and structuring information about their trading activity.
2. FX Back Office
FX Back Office began as a pipe dream between a few highly experienced friends who knew they could revolutionize the FX brokerage business's day-to-day running. The majority of the company's sales staff, managers, and directors have been involved in the industry since 2007. The core team of directors involved with the FX Back office have had extensive experience working for Forex brokers.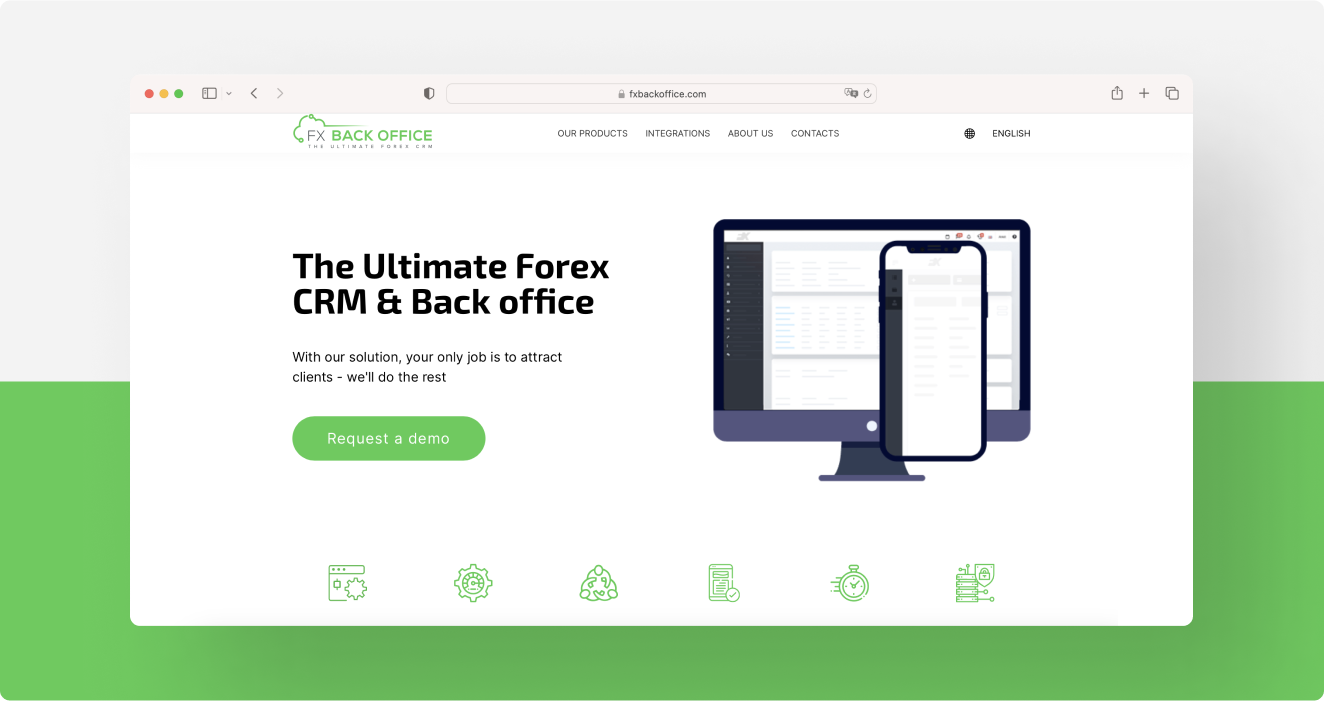 The company positions itself as a professional Forex CRM provider with years of experience in the Forex industry. It offers a range of interesting solutions to choose from. Firstly, it is a CRM system and back office for financial business, which are designed to provide full and comprehensive control over the trading activity of users as well as to generate detailed reports on its results. The company also offers access to an IB and affiliate portal, as well as a percent allocation money management system (PAMM) and a B2B help desk.
3. Cloud Forex CRM
Cloud Forex CRM is a cloud based back office that nurtures your Forex broker business and gives your clients a cutting edge solution to manage their trading activities. The company offers a wide range of useful features and tools. There is also a back office, trader's room for clients and various Forex trading activity reports.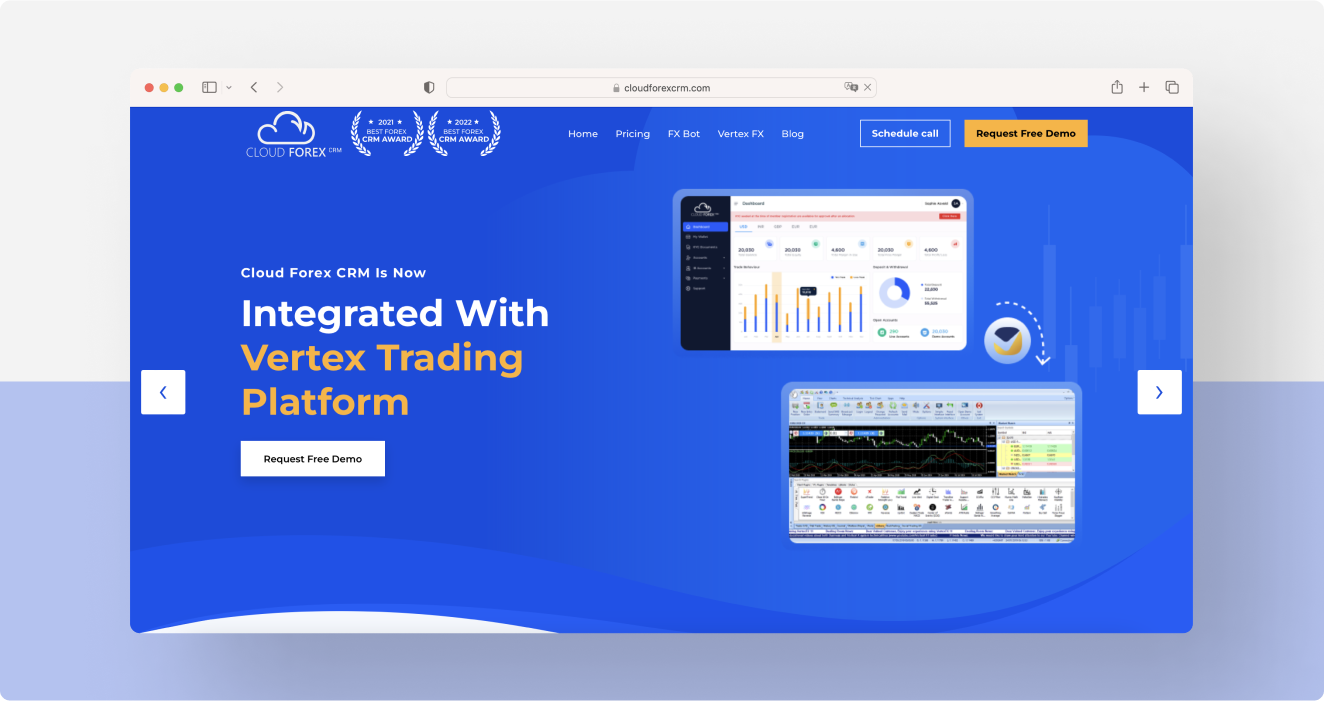 Among other things, this CRM tool allows you to connect different trading platforms including MetaTrader 4 and 5, as well as integrate different services that offer payment processing. This solution is available at a very reasonable price and may be ideal for beginners who want to try the product and understand how Forex CRM systems work and are structured.
4. UpTrader
UpTrader is a trusted customer relationship management system. Its team consists of 30 professionals that work hard every day to help their clients achieve their main goals: to maximize profit, set up custom conditions, and acquire and retain clients effectively.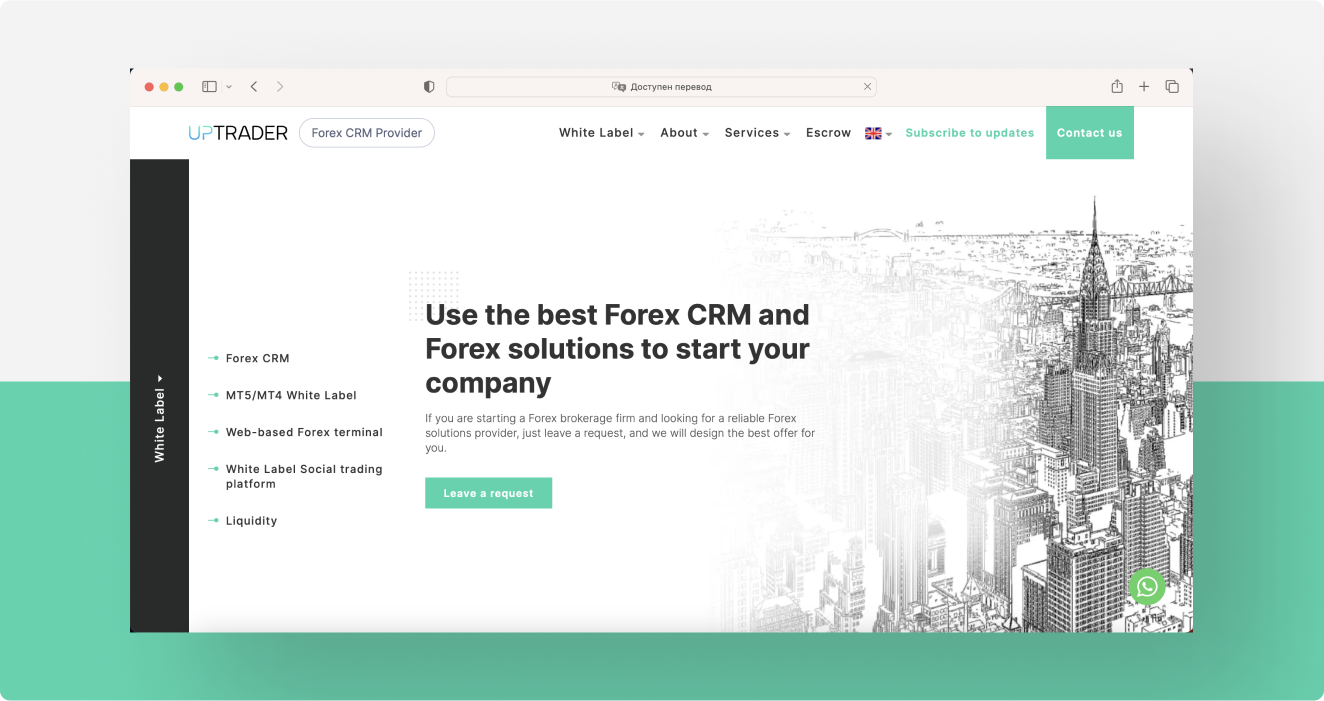 For over 10 years, it has been creating software of different levels of complexity to meet the most demanding requirements. The company offers both custom software development and innovative state-of-the-art SaaS products such as Forex CRM, FX back office, trader's room, MT4 and MT5 White Label, White Label social trading platform, Forex and crypto liquidity, MT4 and MT5 PAMM and MAM modules, and social trading.
5. Leverate
Leverate is a software developer for Forex brokers to organize trading on the Forex market. The main product of the company is the Sirix trading platform. Leverate's product line also includes many additional programs and services, which help coordinate full-service brokerage operations. Leverate has offices in Cyprus, Ukraine, Israel, and Hong Kong and is the provider of the most prominent brokerage solution on the market.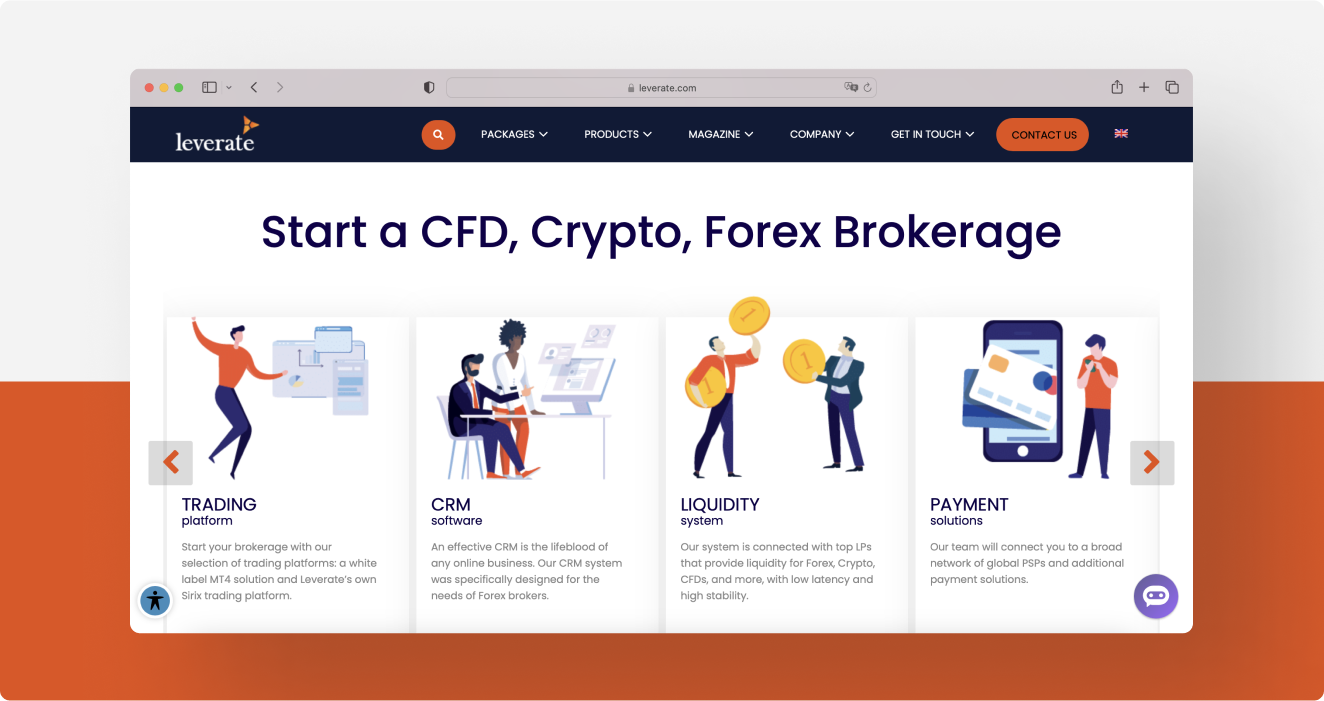 In 2008, the company changed its business activity and started to develop and sell products to Forex brokerage firms and other financial institutions. One of those products was a quote source that the company said was fast and accurate. The company sold the quote source to brokers who needed to gain the necessary knowledge of market conditions. This company's first product was called LXFeed. Leverate continued by developing specific products for risk management and mobile trading.
FAST FACT
1.
In contrast to the classic CRM system, FX CRM gives access to an incredibly large range of tools that help you better interact with the Forex market.
What is a Forex CRM Platform and What Features It Has
The CRM (customer relationships management) system is a multifunctional software designed to automate strategies to interact with customers. The objective of these systems is to increase sales, automate marketing, optimize and improve customer service by storing information about customers and their history of relationships, creating and improving business processes, and then analyzing the results.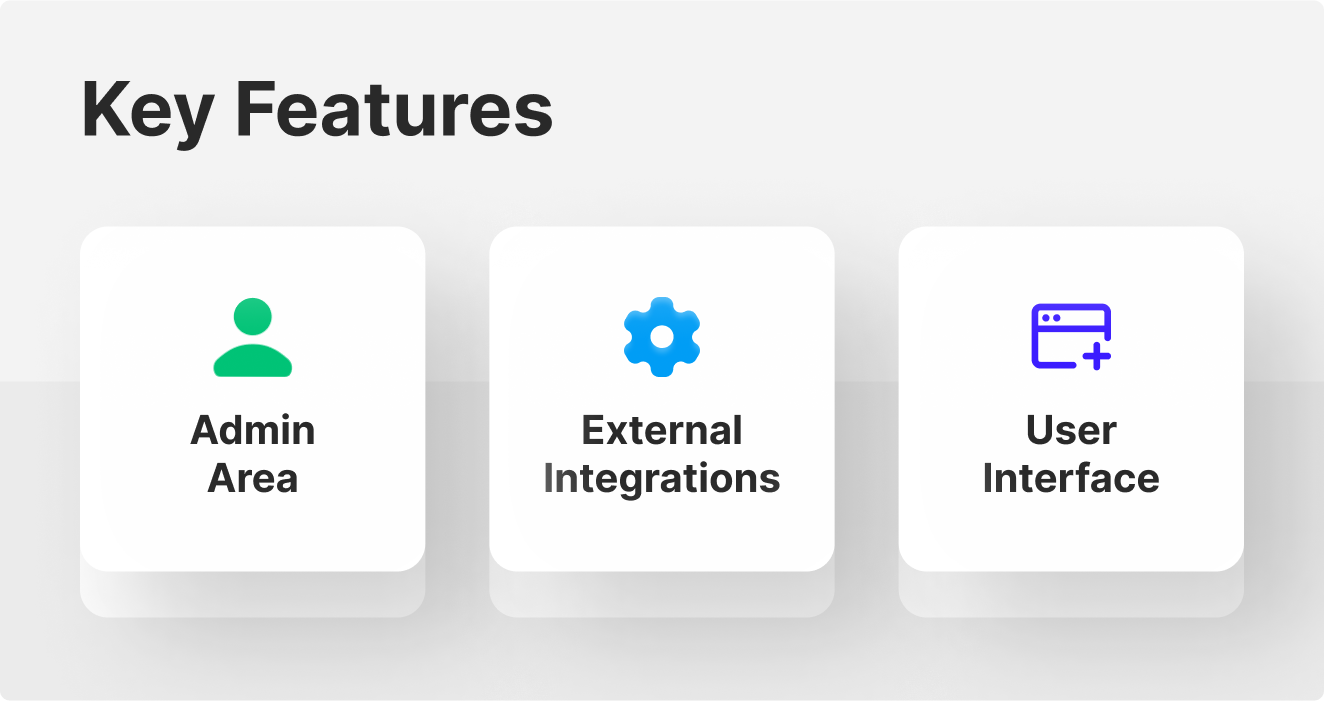 The Forex CRM program provides a powerful set of tools that combine the benefits of a CRM tool with the features and functionality of a full Forex trader's room. As a result, Forex CRM features the following key segments to improve the efficiency of any business.
There are a number of important and necessary functions available to the administrator in the admin area, such as the history of user activity, the creation and modification of KYC conditions, as well as reports on trading activities. In addition to the registration builder, this group includes an anti-phishing system to protect against fraudulent activity, a notification system for sending notifications about all operational activities within the workspace, and different email templates.
A Forex CRM system will usually be able to integrate third-party tools, such as payment systems for sending and receiving payments, SMS notification software, and more. The ability to link several trading platforms and the connection of KYC providers to streamline user identity verification and enhance overall security are also advantages of Forex CRM. Additionally, the FX CRM system provides vast marketing capabilities to help with thorough user activity analysis.
The UI is the first essential component of a proper Forex CRM for Forex brokers. It offers a broad range of helpful features such as currency conversion, adaptive dashboards, trading history, transaction monitoring, analytics to examine each stage of the chosen trading plan, 2FA for safe login from every new device, and measures of data protection for customers. Also, many Forex CRM providers offer a mobile version of their CRM software to give clients access to all the features in a portable and convenient format.
The Key Elements That Make Up the Forex CRM Platform
Forex CRM system is an ideal combination of all advantages of classic CRM platforms and powerful functionality of additional services designed to provide the best trading experience in the financial markets. These services are designed specifically for Forex trading and help market participants easily, quickly and conveniently interact with their investment portfolio, the market, as well as to keep records of their trading activity.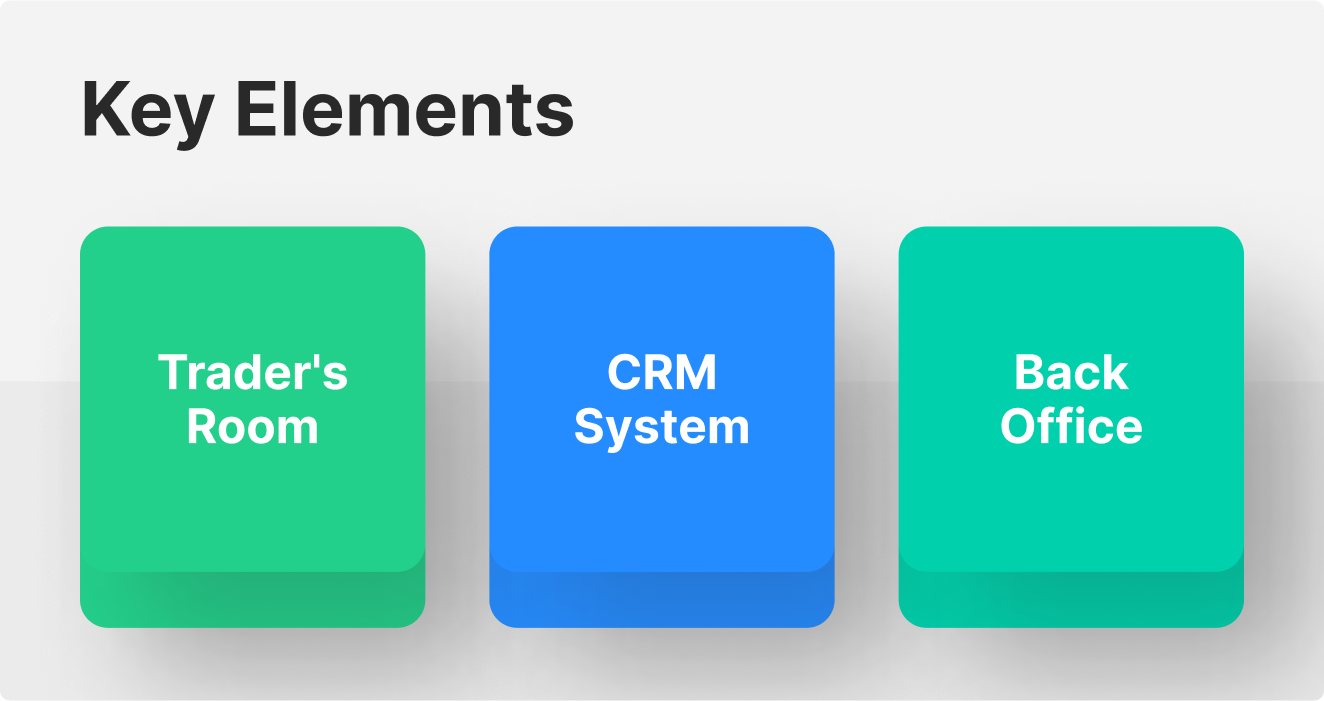 1. Trader's Room
A CRM trader's room can include the following components: analytical tools and instruments, web trading terminal, wallets, market news calendars, trading history, technical analysis tools, etc.
2. CRM System
CRM tools have become a breath of fresh air for many FX companies today, which have thousands of clients all over the world using their products or services. They have helped to organize, simplify and systematize all necessary personal and trading information of users in one space and manage it with incredible ease, allowing to get a detailed picture of individual preferences of traders and their trading style, which in turn helps to draw conclusions on how to make business and trading better.
3. Back Office
Back Office is a technical component of the CRM system, which is usually hidden from the eyes of users. It is an important link in ensuring the proper functioning of the entire system and, depending on the provider, may include such elements as: client profile management, client financial account management, IB and lead management, user access management, reporting tools, marketing tools, KYC management, regulation compliance tools, trading platform integration, real-time account monitoring, trade management, payment processor integration.
Important Criteria for Choosing Forex CRM Solution for Your Business
An incredibly wide variety of Forex CRM solutions are available today, designed to meet the needs of businesses at every stage of their journey. However, selecting the right CRM software is not always easy since various factors must be considered.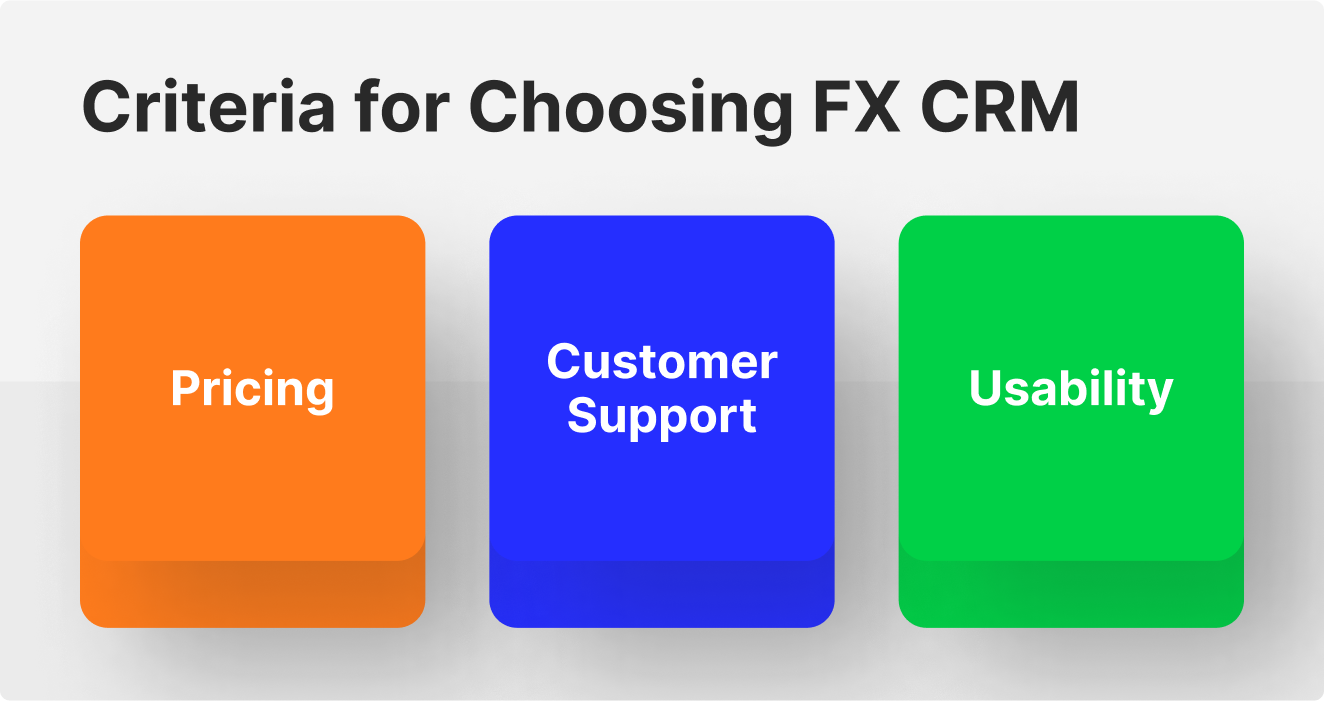 1) Pricing
Each CRM provider wants to increase revenue by marketing their product and providing various CRM features. Yet, pricing is a crucial element for brokers who wish to integrate such a solution into their infrastructure. Finding the ideal compromise between the platform's functionality and pricing is essential because a decent CRM system may be expensive. CRM companies frequently provide very reasonable costs, variable rates, and the option for both monthly and annual payments. Moreover, the reliability of the organization selling the CRM system needs to be considered when setting a budget for the purchase.
2) Customer Support
Several excellent systems with a wide range of functional CRM capabilities are available for Forex CRM software, but regretfully they lack technical support. By providing early instructions on how to use and traverse the system through various tips, advice, and recommendations, support can help prevent unpleasant user experiences and address any difficulties linked to the CRM system configuration on unique business needs. It can occasionally take time for novice users to comprehend all the nuances and specifics of utilizing a new product. The ideal CRM system should provide customer support services round-the-clock to meet client needs.
3) Usability
One of the most crucial factors to consider when selecting the finest CRM system is the simplicity of use. The loaded interface and many settings can make navigating the system challenging. On the one hand, Forex CRM is a multi-component structure for traders that enables them to interact with the markets using various accounting tools, analysis, and statistics data obtained from trading, which means there must be a smooth user experience. On the other hand, the system must be simple for the broker because the difficulties brought on by a lousy CRM system can drain his energy, consume his time, and risk costing him clients.
Conclusion
Choosing the right CRM solution is a great investment when starting a business aimed to eclipse the competition and bring in a great income. On the other hand, using a CRM system can not only help you better manage your existing customer base, but also to organize your brokerage business processes and even prompt you to create your own CRM solution.