Finance Magnates: Talking B2Broker's Evolution, Challenges Crypto Brokers will Face in 2018
Corporate News
February 21, 2018
Upd on March 29, 2023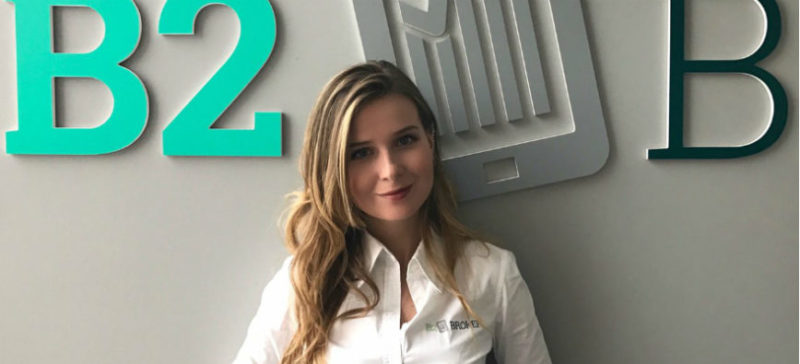 B2Broker's Evgeniya Mykulyak gives her unique perspective on the rapidly shifting crypto market. B2Broker has been highly active over the past few months in terms of its overall business and developments. This included the launch of its 
B2BX project
, which was billed as one of the first aggregators of cryptocurrency liquidity. The group also had a successful ICO project launched last fall as well. More recently in 2018, B2Broker implemented a new 
cryptocurrency payments gateway
 earlier this month to help facilitate deposits fr om holders of digital currencies. Additionally, the group strengthened its operations in Asia, culminating in a 
new office in Malaysia
. Finance Magnates sat down with Evgeniya Mykulyak, Chief Operating Officer at B2Broker to get her perspective on the group's foray into crypto markets and other developments. With its experience as a crypto broker, Mykulyak outlines B2Broker's upcoming roadmap as well as lending some perspective with regards to a maturing crypto market.
How has the cryptocurrency market evolved over the past few years?
While the cryptocurrency market is the latest technological trend with many investors and markets on the whole going in the same direction, it still comes with its own set of challenges. These challenges exist because of the nature of the market and the fact that it is based on the blockchain which is a decentralized platform. The cryptocurrency market challenges have been a setback as far as the fast-growing industry is concerned, and are the reasons why there is no global adoption of the market so far. Some of the challenges include lack of market regulation, lack of liquidity, complex integration, and long compliance processes, among many others. Those impacted by these factors include banking and financial institutions and governments who are planning to make digital currencies legal. Around a year ago, only around 10 percent of people in the industry understood what cryptocurrencies were. Now the term can be heard on every street corner. More recently in the news, there has been talk about cryptocurrencies being the new financial pyramid, and about government committees regarding the circulation and regulation of cryptocurrencies. Until recently there were only forex regulators, now we are finding regulators of cryptocurrencies. Many brokers are going to, or have already added cryptocurrency as a tool for trading to their product lists. The very big and regulated brokers have been requesting our crypto payment gateway in order to accept cryptos as a method of deposit. Overall, the market has changed a lot. I believe that cryptocurrency is the new forex.
What challenges are likely to surface for crypto brokers in 2018?
At present, we have already a few exclusive crypto-brokers for our clients. These are new companies which will focus on cryptocurrencies as single trading tools. If we are talking about the large players, they still think "forex" and for them, crypto is just a tool. I am convinced that in business you get what you focus on, so small but purely crypto brokers can capture the market by adding new features, technologies and so on. When we started to deal with a set-up of crypto-brokers, crypto exchanges and cryptoliquidity, there were only a few companies in the industry who were engaged in similar things. Now every second technology provider calls itself as crypto expert. The fact is that with the growth in the number of crypto-brokers, the number of crypto-providers, crypto-marketing providers, crypto-affiliates and so on will grow. It is still actually possible to split licenses for crypto and forex. Currently, for the provision of margin trading in cryptocurrencies you need the same licenses as forex, but no one knows if the regulators might suddenly want to split these in two directions meaning that for cryptocurrency, separated applications will have to be made.
The crypto industry seems to be dominated by male figures. Could we see a rise in female talent in the industry moving forward?
As in the financial industry in general, and forex business in particular, men prevail. On the other hand it is scientifically proven that women have a more systematic and organized attitude to management. We have better intuition, which makes it impossible not to get involved in risky partnerships or projects and we more effectively deal with time management, which allows to focus on something very specific. There are a lot of examples of women involved in crypto projects. You only need to look at the sites of various ICOs wh ere the leaders were women. One good example is Tavonia Evans, who launched the very first ICO, aimed at recycling wealth in the African American community. If we talk about the Russian financial and crypto industry, major female figures are Elvira Nabiullina – Chairman of the Central Bank of the Russian Federation and Elina Sidorenko – head of the interdepartmental group on assessing the risks of turnover of the cryptocurrency of the State Duma of the Russian Federation. I heard rumors that women in the Silicon Valley receive much lower salaries, but I have never encountered this. In my experience, it does not matter what gender you are in order to create a successful business. It is however, important to be smart, purposeful, hardworking and enterprising – then you will be respected not only by your employees and clients, but by your competitors. Your business ultimately will be the most accurate indicator of your success.
In what ways has B2Broker positioned itself to meet growing industry demands?
More and more foreign exchange brokers have been integrating cryptocurrency instruments into their platforms. This has seen a new type of broker company emerge operating exclusively as crypto brokers, that is, they do not have any assets other than cryptocurrencies and ICO project tokens. In the modern world, any broker has to adapt to the actual trends, and cryptocurrency has become the most in-demand product from clients. I believe the future is with crypto, and crypto asset trading is the new Forex. The introduction of crypto instruments leads to strengthening, rather than erosion, of the product line. If a broker does not provide their clients with opportunities for trading in whatever they want to, the clients will simply leave for another broker. In light of this demand, B2Broker initiated its own institutional crypto exchange project late last year. B2BX is part of an ongoing initiative to create a comprehensive marketplace for regulated and certified brokers that combines Bitcoin trading with existing retail forex trading solutions. B2Broker is now working with numerous brokers and players to help initiate B2BX and connect even more broker companies to the aggregator. These include both new arrivals in the market, such as Strato and NextGen, which put emphasis on the access to crypto instruments as a separate competitive advantage, and some of the industry's global leaders, such as FxPro. We have therefore firmly positioned ourselves to meet the growing industry demands and from the offset, made it our mission to be the first official cryptocurrency liquidity provider. For this reason, not only did we create the crypto aggregator which is a unique and innovative solution, we also cover the legal side providing both marginal crypto liquidity and crypto liquidity with physical delivery. In this respect, we are now in process of getting both FCA and JFSA accordingly.
Many brokers only recently got into cryptos despite what appears to have been an underestimation of demand – how did retail venues not see this coming?
In the early days of cryptocurrency, brokers were so busy competing with each other, many only realized the crypto boom only when it made a big impact last year. Now however, cryptocurrencies are gradually becoming an industry standard, and Forex brokers are increasingly aware of that. To be at the forefront of the market, they have to adjust to the current trends and offer whatever is in demand. If Forex brokers fail to strengthen their lines with crypto products, the clients will leave for other companies. I believe that the number of brokers offering crypto instruments will continue growing. Client-traders are hugely interested in the crypto-scene as they are aware how much they can earn in the crypto market. On the brokers' part there is, of course, the potential for profit growth attained through increased commissions and turnover, as well as the inflow of new clients. Furthermore, brand recognition increases, and in some cases, cryptocurrencies pull along all other lines of business. One of the key problems was the underdeveloped state of the market with a very limited number of crypto agents providing crypto liquidity. However, B2Broker now offers this solution allowing brokers to exploit the full potential of cryptocurrencies.
What does the future hold for B2Broker and B2BX?
As we have seen, the crypto era has resulted in an influx of service providers and investors seeking to be part of the crypto scene with many brokers and technology providers quickly launching solutions to enable retail clients to trade and invest in cryptocurrencies. Likewise, more and more brokerages have started integrating cryptocurrency instruments into their platforms. Launching cryptocurrency offerings is a way of aligning with the future of trading. Many retail brokers and providers have already seen positive effects on their businesses with an immediate effect in terms of profit growth, trade turnover and commissions, as well as increasing the recognition of their brands. To cater to demand, we created a cryptocurrency aggregator B2BX in 2017 and added the functionality of crypto-exchangers to our 
Traders Room
 product, becoming the first company in the world to launch cryptocurrency solutions. Our cryptocurrency aggregator, B2BX, emerged as a fully-fledged crypto-exchange for institutional clients, a marketplace for accredited and regulated brokerage companies and financial institutes, enabling them to trade in cryptocurrencies. With a clear-cut schedule to build on our early successes we then conducted an ICO to drive the development of B2BX. The project received strong interest from around the industry and raised over €8 million which will be used to obtain licenses, to open local offices which are required for optimal work with liquidity and to connect cryptocurrency exchanges. As the demand for cryptocurrency trading continues to grow with more and more brokerages looking to join and profit from the trend, B2Broker has established a 2-year plan to build on its recent ICO success. This year we have already opened an office in Malaysia. Our focus now is on getting licenced, connecting no less that 5% of the brokerage market (200 brokers) to our aggregator and opening more offices in London, Tokyo and Limassol in order to expand our global reach.