Making Your Own Crypto Exchange – How Do You Start?
Articles
November 10, 2023
Upd on November 21, 2023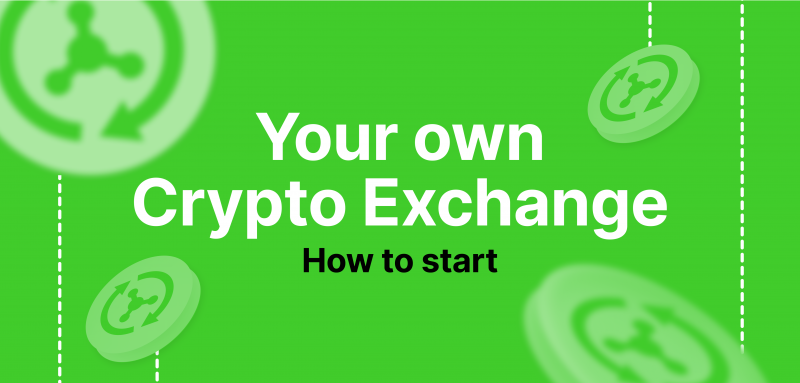 The crypto landscape has undergone numerous changes and turbulent times in its early existence. This fledgling industry has taken the world by storm, introducing a new way to interact with the digital environment. In 2023, the crypto market will be a bastion for secure, speedy, low-cost cross-border transactions.
Despite the early doubts, the general public can't deny the self-evident improvements of utilising crypto as a primary transaction method. Thus, cryptocurrency exchanges have become one of the most popular business ideas. But is making your own crypto exchange actually a good idea? Let's explore.
Key Takeaways
The crypto exchange market thrives due to increased crypto transaction demand and global adoption. 

Technological disruptions and digital accessibility have made it simpler to enter this sector in 2023. 

Constructing a successful crypto exchange business depends on numerous factors, including a strong business plan, reliable software partner, relentless customer support and swift adaptability. 

While this market is lucrative and has massive upside, starting your own crypto exchange is still challenging.
The Basics of Crypto Exchanges
Before addressing the potential benefits, upsides and considerations of crypto exchange development, it's essential to understand the concept of decentralised exchanges. In simple terms, crypto exchanges are digital platforms that facilitate online crypto trading for registered users. Most platforms of this kind are set up like traditional trader's rooms, presenting comprehensive dashboards filled with essential information and trading options.
The digital dashboards include various information related to the crypto market, including price movements, different analytical charts and price quotes for the most popular trading pairs. Every platform includes the simplest option for a straightforward crypto purchase or sale, but many platforms go above and beyond this simple concept.
The best platforms offer advanced trading mechanisms like margin trading and derivatives. Some platforms feature automated trading opportunities, including mirror and copy trading, to accommodate newcomer traders. Thus, the newly minted crypto exchange sector is already varied, diverse and competitive, offering numerous options for traders and investors. This young market shows no signs of slowing down, evolving alongside its growing audiences worldwide.
The digital revolution has further assisted this surging market, as small and mid-sized companies can now enter the exchange business without requiring massive capital investment. White label providers, outsourcing specialists and an increased supply of developers have simplified the cryptocurrency exchange development considerably. Today, even scrappy startup companies can realistically consider developing a fully-fledged digital exchange platform.
Why Should You Consider Making Your Own Crypto Exchange?
With a global demand, massive upside and potential for growth, the crypto exchange sector is a ripe ground for fresh investments and startups. However, the common misconception surrounding this field is that tackling such an ambitious idea takes substantial capital and debt. The lion's share of the biggest crypto exchange providers today was conceived and launched by modestly budgeted startups.
As discussed above, it has never been easier to enter the niche of digital exchange platforms due to various technological disruptions. In 2023, developing a massive and highly functional platform is no longer a luxury predicated on large-scale corporations. Thus, constructing your cryptocurrency exchange platform is undoubtedly feasible from the technical point of view, not requiring massive investments, extensive development cycles and overwhelming manpower.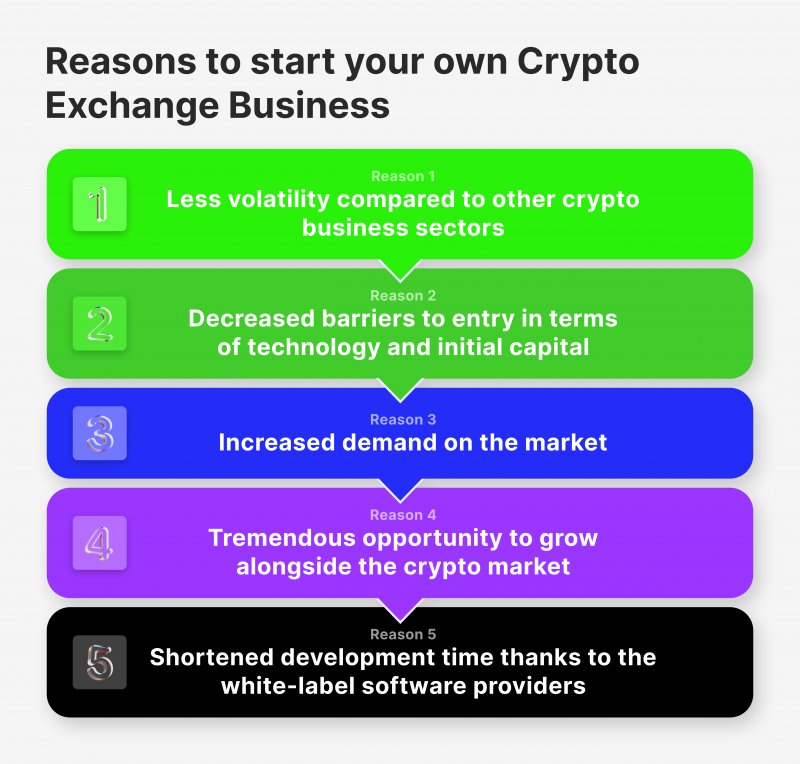 But is entering the crypto exchange sector in the current climate profitable? With diligent research, appropriate preparations and a well-designed business plan, this market can reward investors handsomely. Additionally, running an exchange platform in the crypto landscape is a surprisingly risk-averse investment, as it can reliably withstand massive fluctuations in the market. The key aspect here is the volume of transactions, as crypto exchanges profit from commission charges on processed transactions.
Naturally, this niche is not risk-free, as the entire crypto market still suffers from instability and frequent growth roadblocks. However, the industry development has stabilised in the last twelve months, showing impressive growth projections. If this trend continues, crypto exchanges will become even more popular and in demand across the globe.
Finally, every investment must be juxtaposed with the relative capital costs and respective challenges it will face on the road toward success. As outlined above, recent technological advancements have shrunk the barriers to entry in this niche, levelling the playing field for small and mid-sized businesses.
How To Set Up a Crypto Exchange
Considering all the above-mentioned factors, jumpstarting a brand new crypto exchange is a highly lucrative venture that can be achieved without devoting massive amounts of capital. But what are the specific steps to achieving success in this field? Let's explore.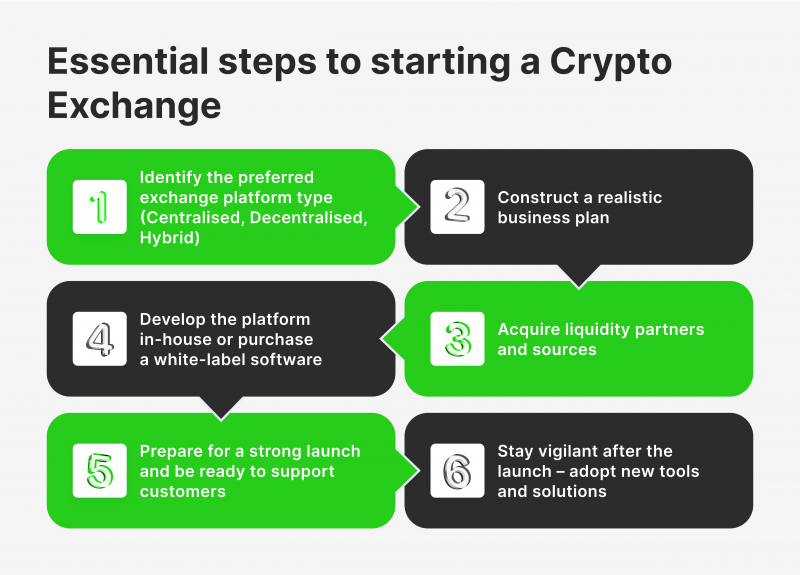 Step # 1 – Determine the type of Exchange Platform You Want
The first consideration for up-and-coming crypto exchange owners should be deciding between the three fundamental types of exchange platforms – centralised, decentralised, or hybrid. All three versions have their merit and are highly demanded on the market. Centralised exchanges offer convenience and swift order matching to their clients, ensuring their trading experience is smooth and effortless. However, this variation sacrifices the underlying principle of blockchain, pooling all customer assets in a single system and exposing their funds to cyber threats.
Conversely, decentralised platforms allow clients to exchange trading pairs directly, elevating security and anonymity compared to their decentralised counterparts. The benefits mentioned above come at the cost of convenience for the users, as decentralised platforms are notoriously more complex to operate and adopt for average customers. In many cases, decentralised platforms also experience problems with order matching and execution, which leads to transaction delays and reduced liquidity.
Finally, hybrid platforms try to fuse both sides of the coin into a single optimised package. They offer peer-to-peer transactions without ever storing the client funds on the central system but provide a centralised order-matching algorithm that controls the overall exchange circulation. While extremely promising in concept, the hybrid variation of crypto exchanges is still an unproven technology with many technical downsides.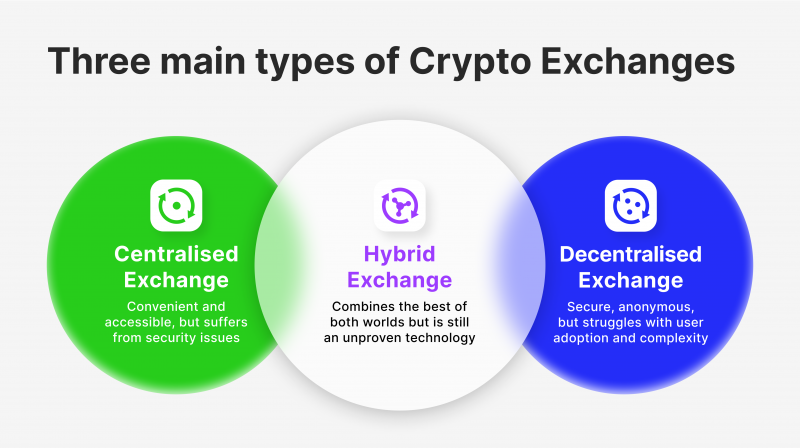 Deciding between these versions depends on business owners' specific goals and values. As highlighted above, each type offers unique benefits mixed with respective downsides, and there is no obvious answer. Startups can further specialise themselves by adopting a specific exchange niche. For example, they can start a Bitcoin exchange determined to deliver the best possible services revolving around Bitcoin. Business owners must decide what is more important and profitable for their circumstances.
Step # 2 – Don't Forget The Marketing And Business Planning
After determining the most suitable type, the next step is creating an air-tight, fool-proof business plan that considers all relevant variables. This is arguably the most critical stage for any fledgling business since a well-constructed business plan sends excellent signals to investors and ensures smooth execution. A realistic business plan will also guide the following months of business development, letting business owners be prepared for the worst-case scenarios and act diligently instead of being unpleasantly surprised. 
Forging a robust and reliable business plan requires quite a lot of experience, industry knowledge and a deft understanding of financial management. While it is recommended to have professionals in all domains listed above, business owners can acquire outside support in some instances. After all, crafting a solid business plan is not as complex as quantum physics, but it requires maximum effort, relentless research and diligent analysis.
Ideally, the marketing strategies should be featured in the business plan. However, in most cases, decision-makers can draft a basic outline of their preferred marketing tactics and delve into the details once the platform launch is only a few months away. Still, it is crucial to dedicate substantial energy to branding the exchange platform correctly from day one. With increased competition in the exchange field, clever marketing and branding choices could separate a great exchange business from the average. 
Step # 3 – Figure Out Crypto Exchange Liquidity Sources
The last crucial step before commencing development is finding the appropriate liquidity sources to facilitate the trading volumes on the digital exchange. Unlike large market makers and other financial institutions, smaller companies don't have the luxury to finance their liquidity pools and support large volumes of transactions. Thus, regardless of the preferred platform type, every crypto exchange must find affordable, reliable and secure options to finance their activities.
In the past, finding liquidity in such large volumes was extremely difficult, as businesses needed to convince private sector investors. In most cases, the answer was a simple no since the investors found it risky to fund an up-and-coming exchange startup. Thus, only a fraction of startups ever took off. Today, liquidity options have become plentiful and more accessible thanks to mid-sized liquidity providers entering the market.
As of 2023, it is possible to acquire ample liquidity sourcing from reputable providers without any luck being involved. Liquidity will no longer be an issue if business owners are ready to take up the respective commission charges and other expenses. However, choosing the right liquidity provider for your purposes is crucial. Reputation and reliability are essential here since liquidity is a continuously demanded factor that serves as a lifeblood of digital exchange platforms.
Step # 4 – Find An Excellent White Label Provider or Do It In-House
It is time to turn the extensive planning into reality and start constructing the crypto exchange software. While there are numerous software options, technical details and variables to consider, the general choice boils down to two major options – acquiring a pre-made software, commonly known as white label software, or developing the platform with a dedicated in-house team.
Constructing completely custom software from scratch with talented developers is a great decision, but most small and mid-sized companies don't have the funds or workforce to achieve it. On the other hand, white-label solutions might not be as infinitely customisable. Still, they are considerably cheaper and, in some instances, much less technically troublesome than in-house solutions. Thus, white-label exchange software is perfect for bootstrapped companies that wish to finalise the exchange platform development in a fraction of the time and dramatically reduce expenses.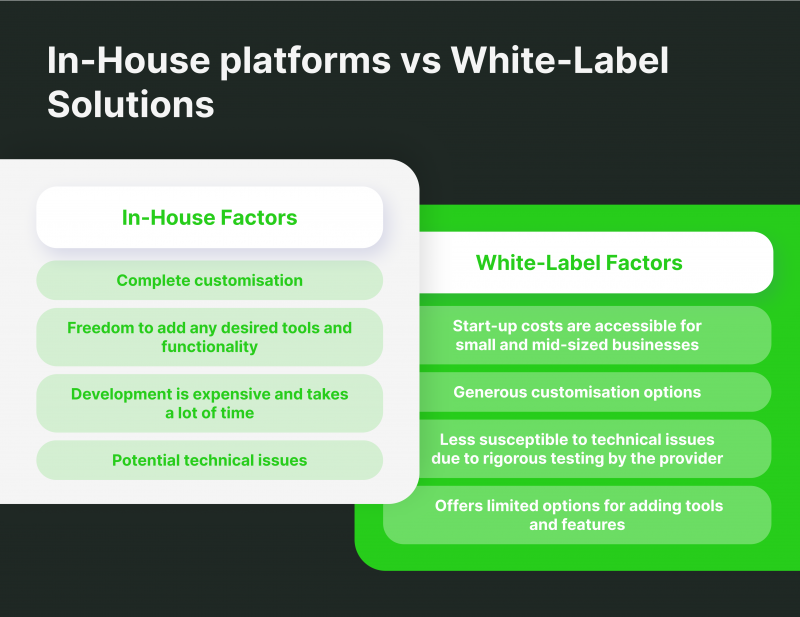 In-house development is quite challenging on several different fronts. It takes a sizable team to get the project off the ground. Business owners also need to hire a comprehensive team of engineers instead of just programmers. That includes QA testers, product supervisors, system architects and other specialists who will run up the development costs. Finally, since the custom software is the first version of itself, businesses should always expect certain technical complications in the form of bugs, errors and performance issues.
In most cases, tackling the in-house development with a modest budget is practically unfeasible. Thus, most small and mid-sized companies utilise the white-label solutions. With smart branding and personalisation, even template software can become a unique product for customers. Moreover, the recent white-label solutions are catching up to custom software products with functionality and depth of customisation.
So, the white label has become a viable alternative to replace in-house software, but carefully choosing the respective provider is paramount. Business owners must thoroughly vet their potential providers, ensuring that they offer a diverse range of digital currencies, robust security measures and convenient trading options. Then, there's the depth of customisation to consider. After all, a cookie-cutter platform will be a hard sell even for the most talented marketers, as it will be challenging to stand out from the competition.
Step # 5 – Make An Outstanding First Impression
Now, it's time to prepare for the launch date. Remember, the first impressions of interacting with a product are often the most impactful. Many businesses have fallen through due to faulty launch days, failing to deliver a smooth and convenient user experience. Thus, business owners should circle the launch day on their calendars and try their hardest to ensure everything goes as planned.
From rigorous QA testing, polishing features and fixing the user experience bottlenecks to developing instantaneous customer support, everything must be near-perfect when the exchange platform hits the market. Users should be able to enter the platform and start trading without complications or inconvenience. It is also advisable to adopt CRM for trading solutions, simplifying the customer feedback process and swiftly addressing any problems even if the customers don't directly complain.
Since customers will transfer their hard-earned money to the platform, every technical issue will be amplified. While no company has managed to have a flawless launch day, business owners should try to minimise technical difficulties and promptly help every customer. Since numerous crypto exchange options are available, even small inconveniences might persuade customers to switch to a different platform.
Step # 6 – Evolve With The Needs Of Your Customers
If all previous steps are successfully implemented and executed, chances are you have a profitable crypto exchange. However, a strong launch and first months are just beginning a long journey with many ups and downs. The crypto market is fiercely competitive and evolves at a breathtaking pace.
Thus, staying in the loop of the latest developments and technological advancements in this field is vital. It is recommended to analyse the crypto exchange market overview every few days, concisely identifying all major news and trends. Business owners should make swift adjustments to their product offerings in case of any significant developments.
For example, social trading and its subset strategies have become extremely popular in 2023. The same is true for derivatives contracts, and crypto exchange platforms should adhere to the public by offering highly demanded tools and services. While not every new development is worth exploring, crypto platform owners should consider all relevant options carefully. Otherwise, they risk being out of touch with their industry and promptly losing their market share.
However, crypto products and trading mechanisms aren't the only thing to consider here. Business owners should consistently strive to enhance the user experience however they can. This applies to providing learning resources, simplifying account dashboards and lowering the degrees of complexity for newcomers. If your crypto exchange convinces first-time crypto users to join, they will likely stick with your platform in the long term. Simply put, you should never stop evolving once you start a crypto exchange business.
Final Thoughts
As discussed above, constructing a competitive crypto exchange platform is quite a tall order. It requires tremendous effort, industry knowledge, critical decision making and a bit of luck. So, considering all the hassle described above, is making your own crypto exchange still a good idea?
While the market conditions will favour sturdy new startups, the answer to this question is still not trivial. It is essential to remember that even the most promising ideas require excellent implementation and execution. Therefore, the success of a crypto exchange will heavily depend on the expertise, adaptability and overall determination of its founders.
FAQ
Can I create my own crypto exchange?
Yes, you can create your own crypto exchange, but it requires technical expertise, compliance with regulations, and a secure infrastructure.
How long to create a crypto exchange?
The time to create a crypto exchange can vary from a few months to over a year, depending on the complexity and resources available.
Is it hard to build a crypto exchange?
Building a crypto exchange can be challenging due to the need for robust security measures, a user-friendly interface, and compliance with financial laws.
What is the cheapest way to build a crypto exchange?
Using white label solutions is often the most cost-effective way to build a crypto exchange, as they offer ready-made platforms that you can brand and customise at a fraction of the cost of building one from scratch.