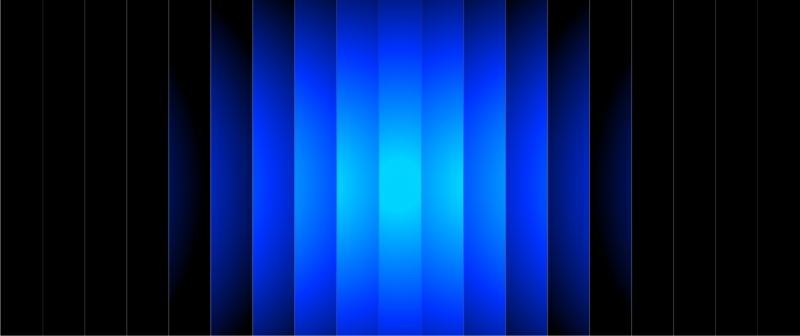 B2Core iOS App Introduces Trading Terminal Integration and Internal Transfers
B2Broker, a technology and services provider for the FX and crypto industry, has just released an update for the B2Core iOS application. This latest update aims to provide end-users with an even better trading experience and make it easier for them to manage their accounts. Thus, the team added the following two new features:
1.
MetaTrader 4 and MetaTrader 5 trading terminal integration
In addition to these features, this update includes several improvements and enhancements. These include:
1.
Upgraded Dashboard banners
2.
Reworked and enhanced Profile page with increased personalization, account management settings, and security settings
3.
System-recommended, balance-based wallet for deposits and withdrawals.
These changes will make it easier for end-users to manage and monitor their accounts and provide a better and more convenient trading experience overall. With this update, B2Broker demonstrates its commitment to providing traders with cutting-edge technology and services.
MetaTrader 4/5 Trading Terminal Integration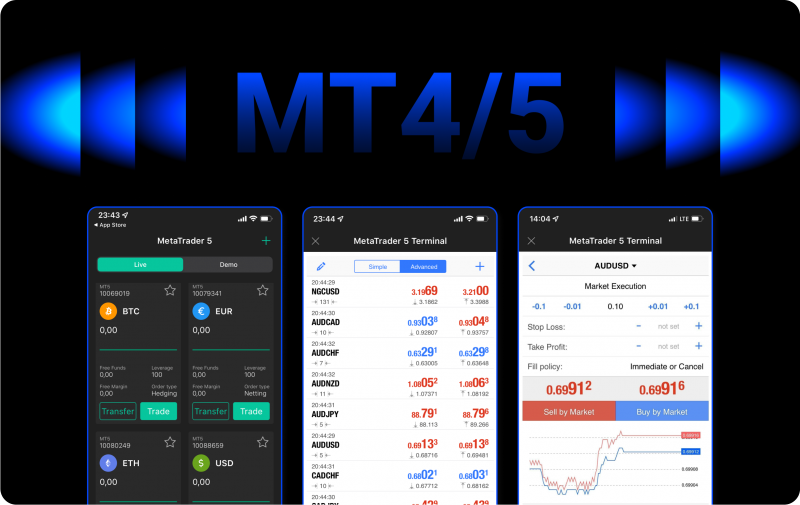 The latest update to the B2Core app makes trading even easier with the addition of integrated support for MetaTrader 4 and 5 directly from the account card. With this update, end-users have the ability to manage trade requests without ever leaving the app, making it a more efficient process. The new update provides access to the MetaTrader Web Trading terminal directly from the B2Core app. Furthermore, when the user accesses the trading terminal through the B2Core app, authorization is only required once; afterward, automatic login occurs so users can start managing and trading on their account immediately.
Internal Transfers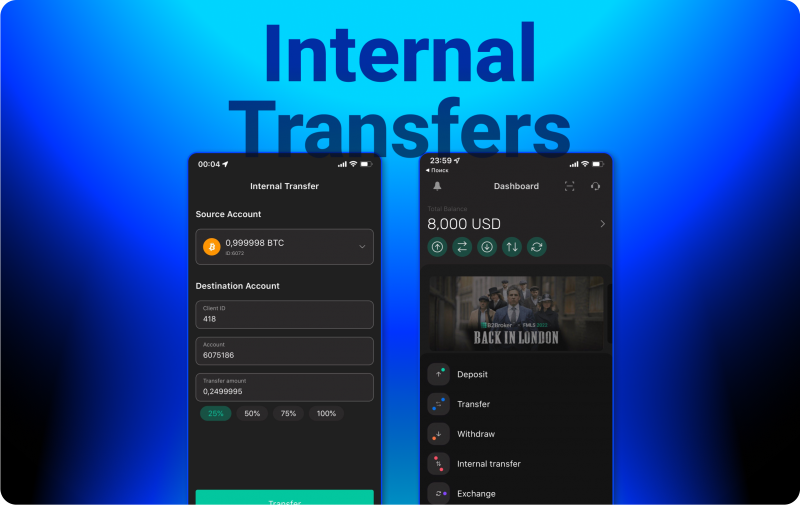 The latest update also adds support for safe, quick, and secure internal transfers between all different types of accounts and between users! This allows customers a greater degree of flexibility and control over their finances. Whether users want to transfer money between their own accounts or transfer to another person, this new feature makes those transactions convenient, fast, and secure.
Further Improvements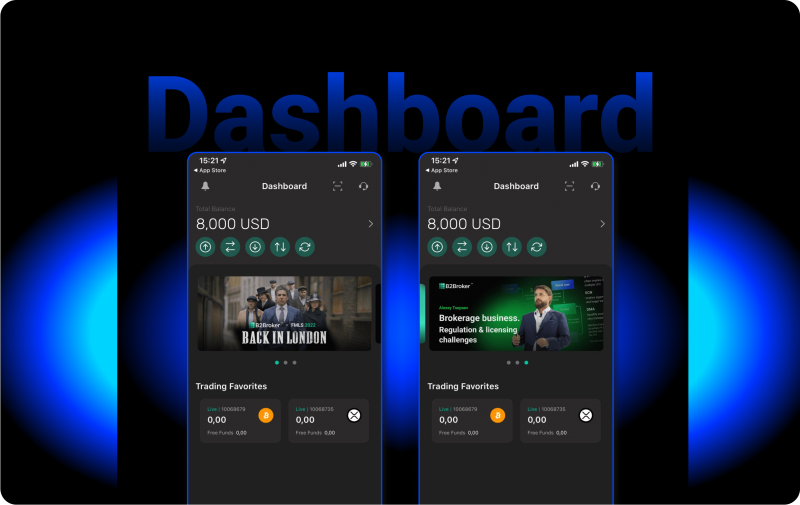 The team made a number of improvements to the Dashboard design to create a smoother user experience. As part of these changes, the banners on the app's mobile version have been redesigned to be larger and easier to read. Mobile app banners feature their designs, so they are tailored to smaller screens while allowing plenty of space for important information. Additionally, tapping on the banner now launches a preview modal window with an easy-to-use link directly from the banner. The team also amended the banner navigation so users can access relevant external links, such as YouTube videos showcasing new B2Broker products, with one tap.
Personalization and Account Settings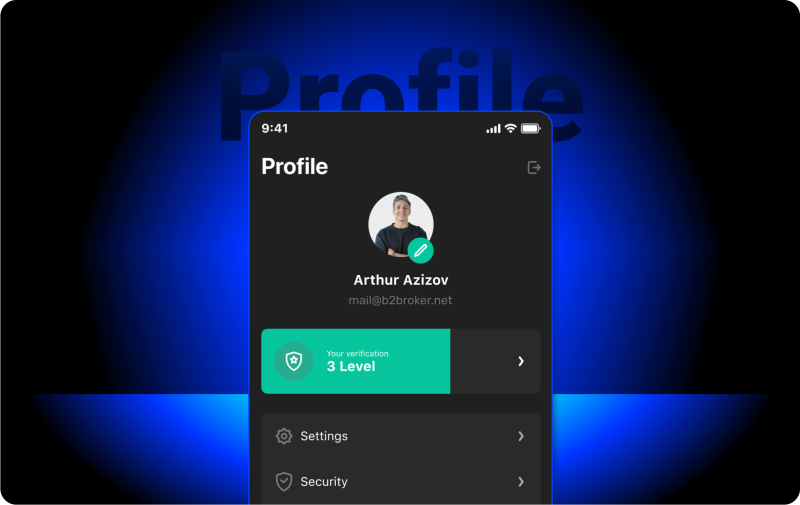 The application's user experience has been improved with new features that make it quicker and more efficient. Users can now upload an avatar to provide a personalized identity while logging into the application. Users will also be able to see their personal identifier (email address) under their avatar, allowing them to be sure they are signed in to the correct account. Furthermore, implementing the verification widget helps to ensure customers complete all the Know Your Customer (KYC) procedures. Users will appreciate that All app settings have been conveniently grouped in one area along with the current version of the application and essential information, such as Privacy & Agreements.
Enhanced Security Settings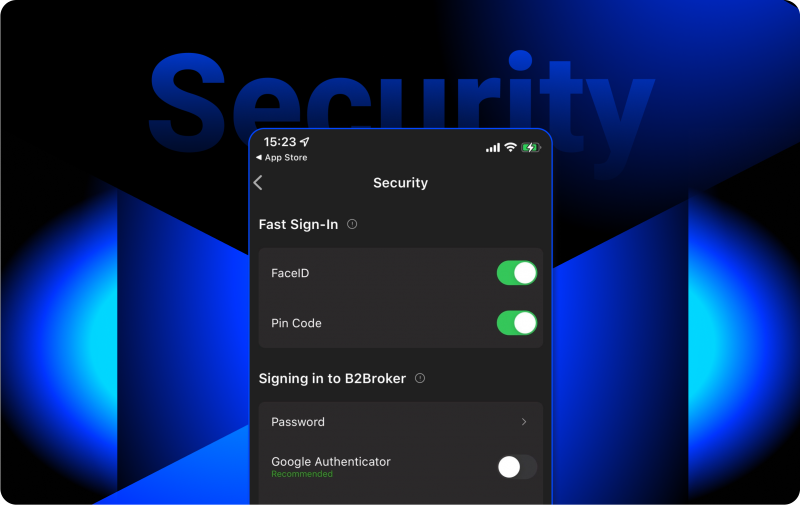 In order to provide users with the best experience possible, the B2Core team has created a new security section that conveniently houses all of the fast sign-in methods, such as FaceID and Pin Code. Since the Fast Sign-In methods are the default way to sign in to the application, this change allows users to manage and secure their accounts quickly.
The "Signing in to B2Broker" section was updated to include your password and two-factor authorization settings. To ensure the highest security levels, the team marks the "recommended" settings. In addition, they also moved the management of the Anti-Phishing Code and the devices that have access to the account to this new screen.
Default Wallet for Deposits and Withdrawals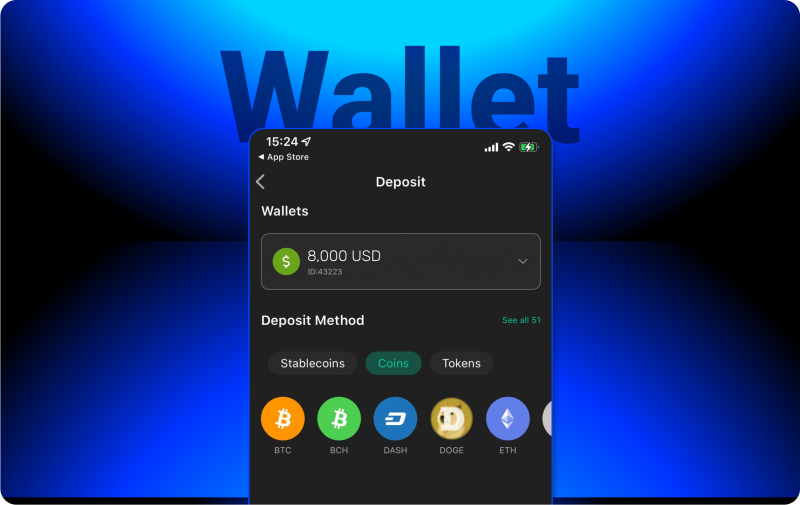 The latest B2Core update makes managing deposits and withdrawals even easier! Now, the app automatically recommends a wallet for all transactions in the Deposit and Withdrawal screens, thus saving time and simplifying transactions.
Conclusion
The B2Core App update combines a range of new features to enhance user experience and security. The new Trading Terminal Integration allows for quick access, while Internal Transfers make transactions more convenient than ever. Further improvements such as the redesigned Dashboard Banner, Profile Screen updates, and Default Wallet settings offer users plenty of options to personalize their accounts quickly and safely. With all these enhancements, managing your investments with B2Broker has never been easier!
Whether you're an experienced trader or just getting started, B2Core is the perfect app to help manage your finances. Try it now!