It's coming: First Cryptocurrency Exchange for Institutions
Product Updates
July 31, 2017
Upd on February 21, 2023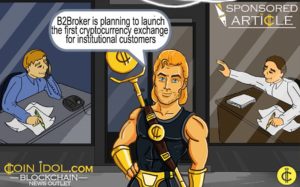 There is nothing of its kind in the cryptocurrency market.  B2Broker is planning to launch B2BX – the first cryptocurrency exchange for institutional customers. It will become a marketplace for regulated and certified brokers.
This new platform will give broker customers access to comprehensive information about listing participants and cryptocurrency trading through the usual trading terminals, where you will be able to buy, sell, deposit and withdraw your profit in cryptocurrency fr om the trading accounts of brokers.
Cryptocurrency Market Headaches
Let's build a context. The cryptocurrency market is so thin now that it just lacks liquidity. Practically, it's non-existent. A broker has to collect liquidity bit by bit from different markets, and what's more, every marketplace requires an agreement and a deposit which drives expenses and labor costs. The solution developed by B2Broker cryptocurrency exchange may resolve not only this problem but many others including the issues of regulation and software development aiming to facilitate the integration with any broker or exchange system.
Figure 1. Crypto economy potential regarding the demand from broker customers. 
B2Broker Comes to the Rescue
This is the very issue that B2Broker is committed to resolving, and it has all the required products for building a single marketplace. As soon as the program B2BХ starts, five "mastodons" of the industry and another 35 brokers will launch the opportunity of cryptocurrency trading, as well as selling and buying through the broker company. That will be the start of a new era of cryptocurrency liquidity. B2BХ aggregator is planned to be developed into a full-fledged market for institutional customers, wh ere only approved participants and their clients may work. Brokers, custody, clearing houses – all the participants will be regulated by the exchange and financial regulators.
How It's Gonna Make It?
B2BX exchange will explode the market. Now, institutional customers have to aggregate the liquidity bit by bit, and we give the fullest market depth and volume for selling and buying. Fiat market has everything under control now, but the cryptocurrency space is just starting to be discovered," comments Arthur Azizov, the CEO of B2Broker. Huge sums of money are required to build and develop the B2BX aggregator of cryptocurrency liquidity. To have a really high-quality product, sparking interest from market participants and meeting all the needs of clients, we need to meet some major challenges requiring time and money. That's why in the nearest future ICO will be launched. Raised through ICO funds will support the development of comprehensive ecosystem of B2BX significantly increasing the cryptocurrency scope of work, speed up the software development, give the opportunity to connect the maximum number of exchanges to the aggregator of cryptocurrency liquidity, will help to get Japanese license for cryptocurrency liquidity provision, increase the sales staff, and build company offices in major financial centers. B2BX tokens will become fully valid participants of cryptocurrency exchanges with which B2Broker already partners.
Who is B2Broker?
B2Broker is the platform for companies which want to launch its broker or trading business. We offer "turnkey" projects for start-ups, beginners and large institutional customers. But we can also offer individual solutions. Since 2014, we have helped to kick start from the ground more than 30 hi-tech broker companies in Hong Kong, Malaysia, Czech Republic, Russia, Ukraine, India, Australia and Cyprus. We integrated specific software for online trading and set up IT infrastructure. Now we keep going in two directions: 1. Tech solutions provider. We build technological base – IT and trading infrastructure for broker companies and other financial institutes. 2. Liquidity provider. We aggregate Forex and cryptocurrency liquidity. With fiat currencies, we have Integral as an aggregator, and in cryptocurrency field, we work as an aggregator ourselves.
B2Broker
 mission is to provide brokers and all institutional customers with cryptocurrency liquidity, to give good market depth for cryptocurrencies and to unite brokers at one market place. The company is committed to make crypto industry transparent and open the market of cryptocurrencies for the general market, facilitating trading, investment and cryptocurrency exchange at any broker, exchange and exchanger. This is what the market needs right now.