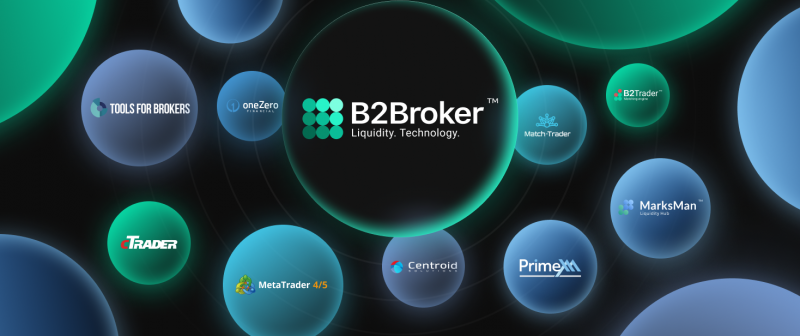 B2Broker's Partner-Verse Built for Most Effective Fintech Solutions
As a leader in financial technology, B2Broker is the powerhouse that empowers businesses to succeed. Their vast selection of transferable solutions and industry insights tailored for any size or model business – from startups to enterprises – makes them a true giant and leader in the FinTech sector. The company already supports nine trading technology providers in its products, including integrations for CFD brokers, spot exchanges, securities brokers, and margin trading platforms.
For CFD Brokers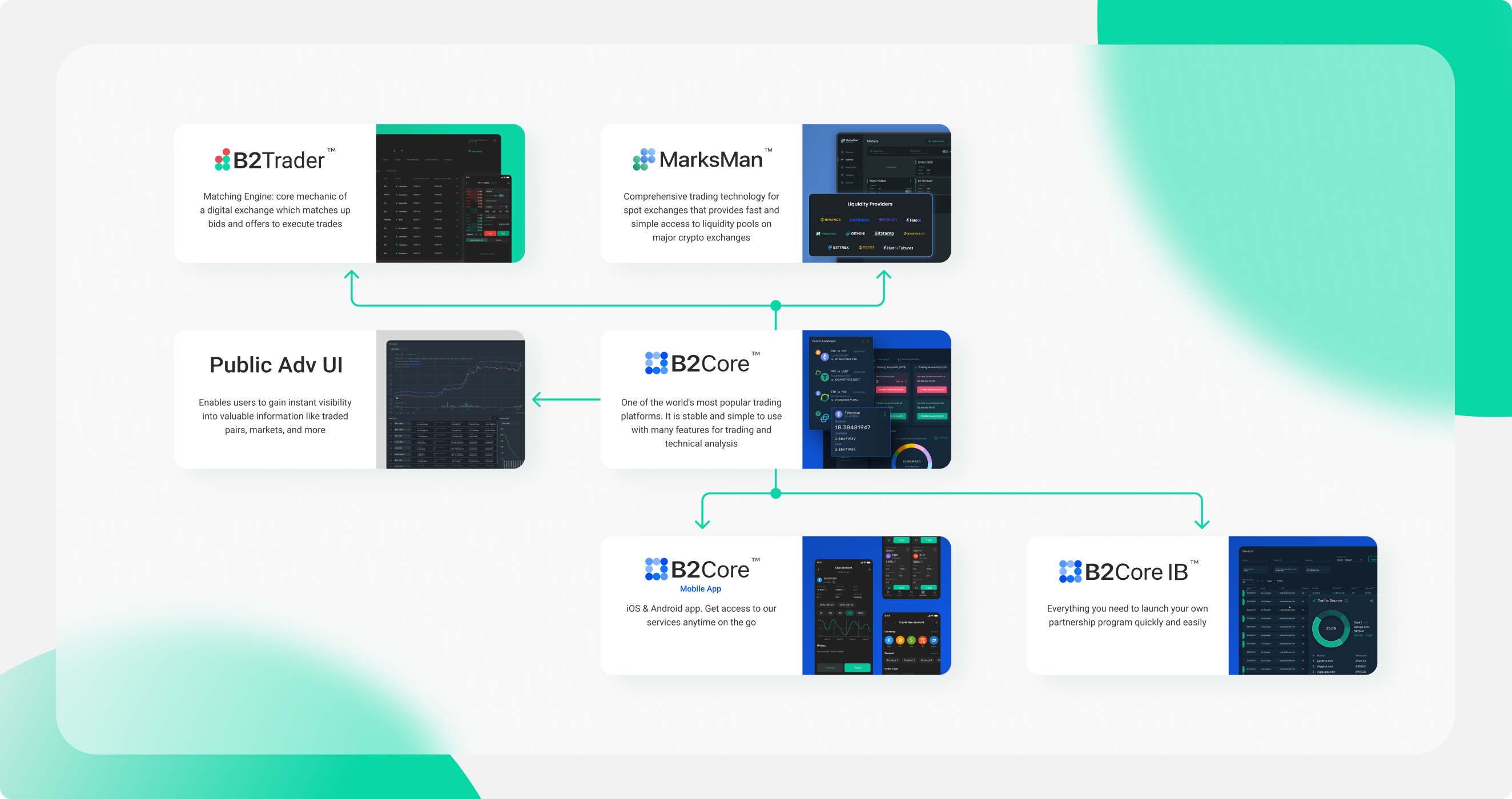 B2Broker provides comprehensive integration with MetaTrader 4 and MetaTrader 5 for CFD brokers. B2Broker's support extends to integration with the advanced B2Core CRM solution, which streamlines communication between customers, brokers, and other stakeholders. In addition, brokers can enjoy the benefits of our in-house integrated referral program with reward calculations based on lot sizes, markups, commissions, and spreads. On top of this, it offers two convenient mobile integration solutions – integrating with B2Core Mobile for iOS & Android users and supporting MetaTrader Mobile iFrame.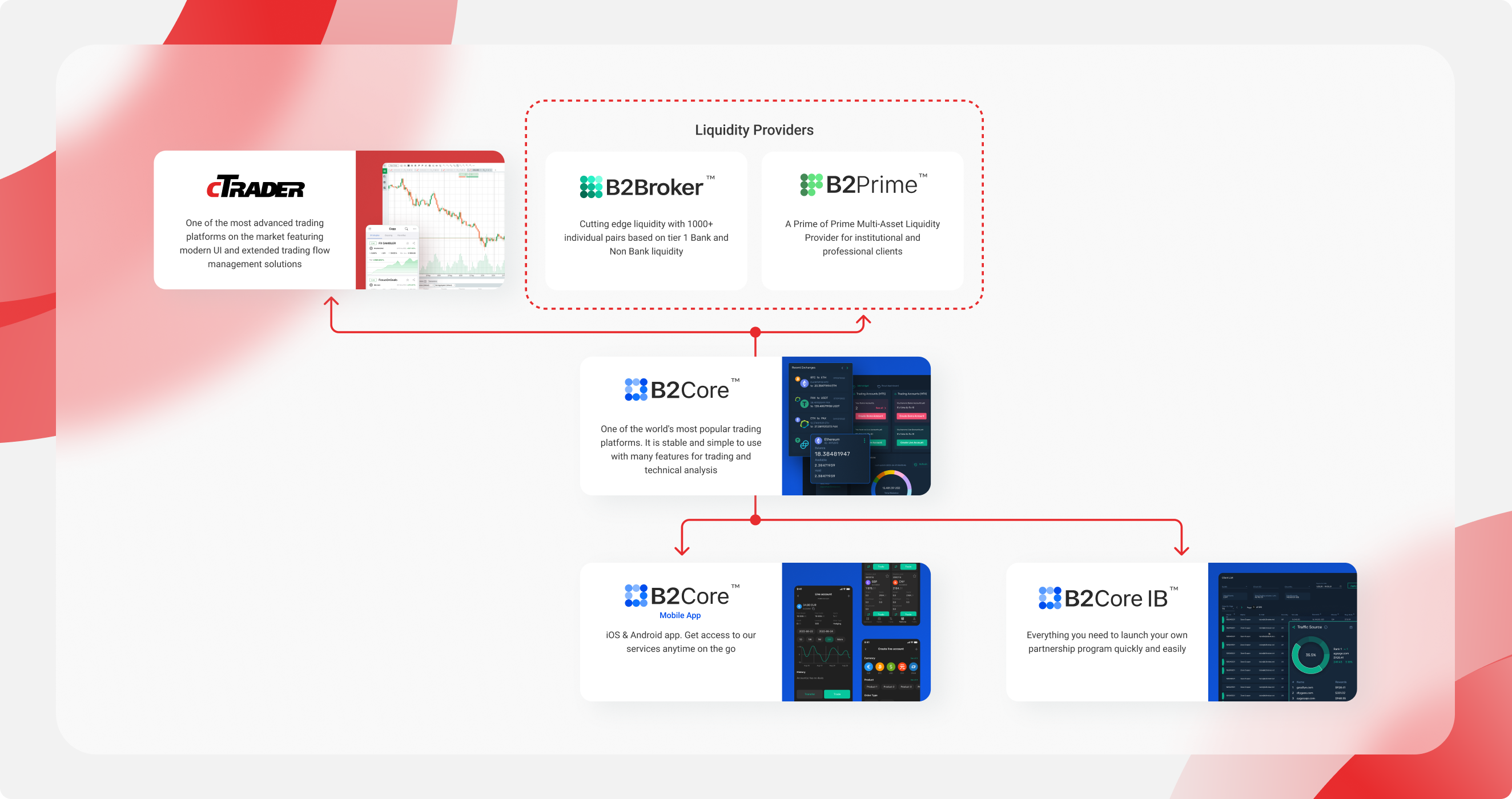 B2Broker also offers a complete integration package for the cTrader trading platform that includes white label support and its integrated platform, IB software solution, and B2Core, a superior CRM solution for CFD brokers and traders. This powerful integration gives users of all backgrounds access to sophisticated solutions. Not only will you have full support for managing trading settings, markups, and commissions through B2Core IB, but traders on your platform can also benefit from complete native Trading UI across iOS and Android using the B2Core Mobile app.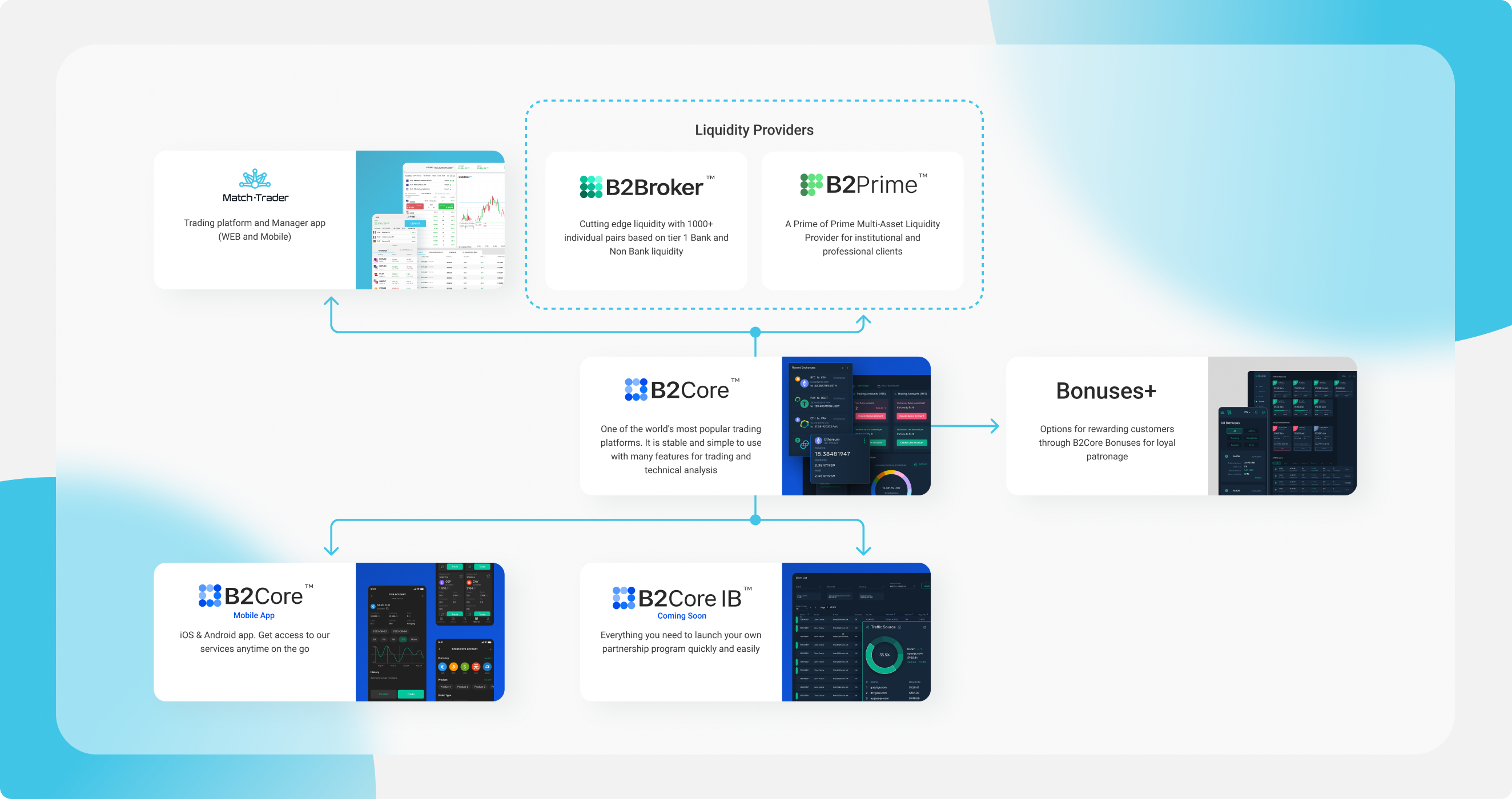 The Match-Trader platform, also available to CFD brokers through integration with B2Broker, is an excellent option for brokers that want to provide their clients with a comprehensive suite of trading tools with highly competitive commercials and volume charges. Match Trader can be an attractive solution for those seeking full White Label support, and with its integration into the existing B2Core CRM, this can also be beneficial from an efficiency perspective. Furthermore, soon it will even be possible to integrate with B2Core IB to enhance functionality even further.
For Spot Exchanges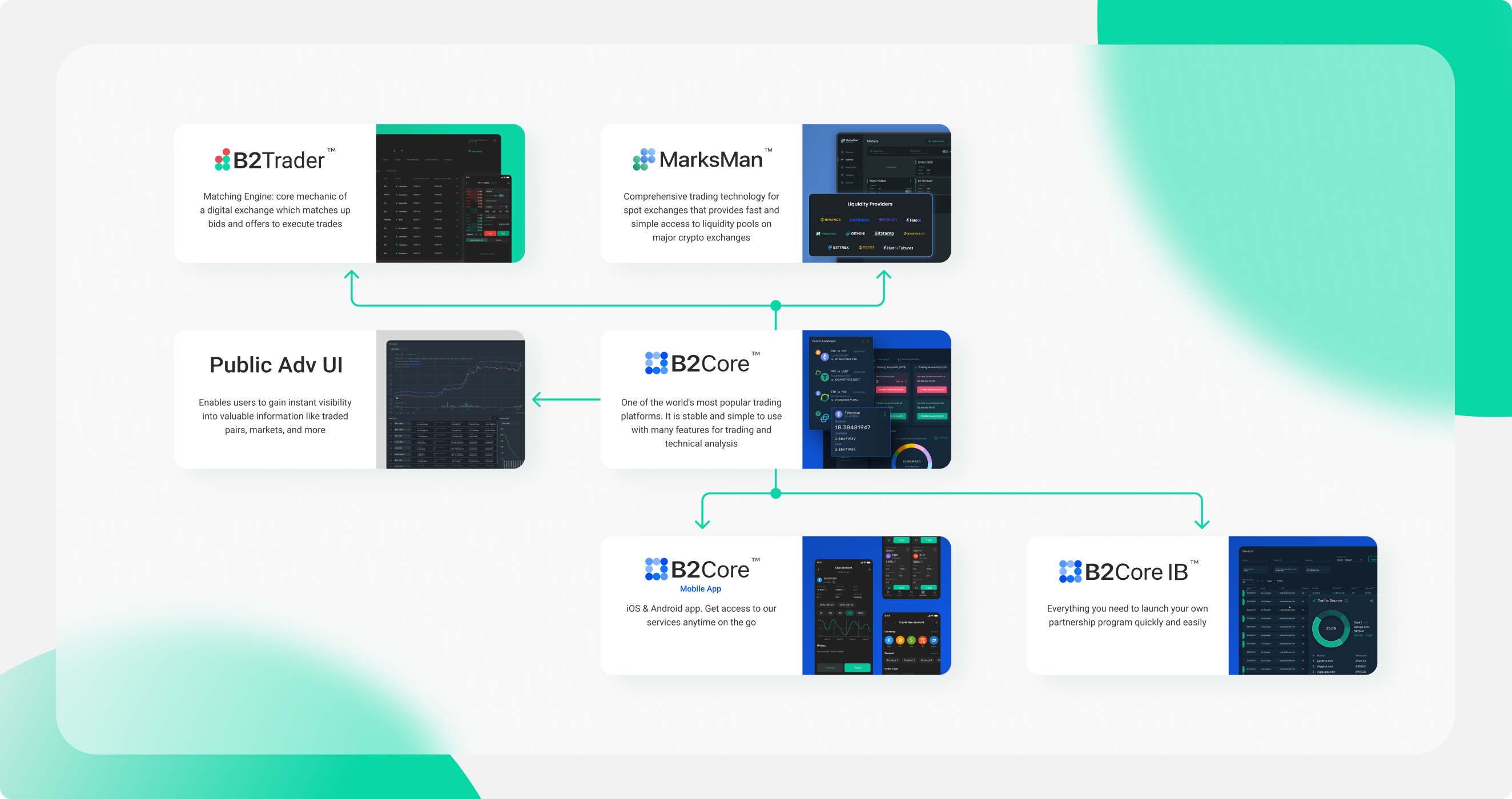 B2Broker offers a comprehensive B2Trader matching engine integration for spot exchanges. This powerful algorithmic technology processes and records all open orders in a market before intelligently matching them up when both buy/sell criteria are fulfilled, resulting in successful trades! Not only does B2Broker offer White Label (WL) support and the ability to integrate B2Trader with B2Core, facilitating commissions and mobile trading on iOS and Android devices. Advanced public UI is a powerful feature of B2Trader which enables users to gain instant visibility into valuable information like traded pairs, markets, and more – all without having to create or log in to an account!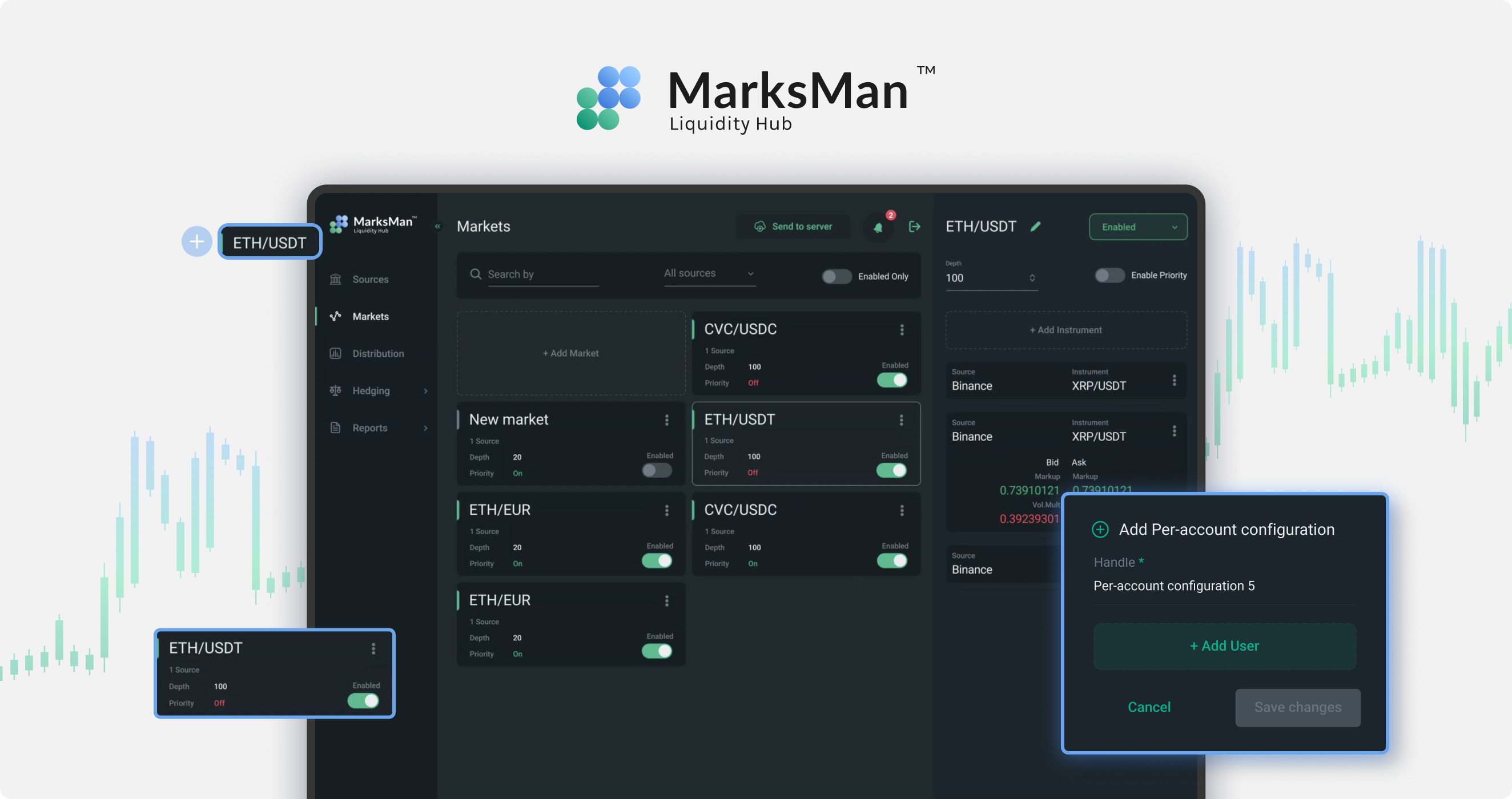 The Marksman Liquidity Hub is a comprehensive trading technology for spot exchanges that provides fast and simple access to liquidity pools on major crypto exchanges, including Binance, Coinbase, Kraken, Bitfinex, Huobi, Gemini, Bitstamp, Bittrex, Poloniex, and B2BX. Its advanced technology helps reduce costs, increase efficiency, and free up time focused on other markets. With features such as aggregation, hedging, mapping of symbols, synthetic instruments, and risk parameters, traders of all experience levels can enhance their risk management capabilities while stabilizing their positions and protecting against potential losses.
Margin Liquidity Provision (FIX API)For Margin Accounts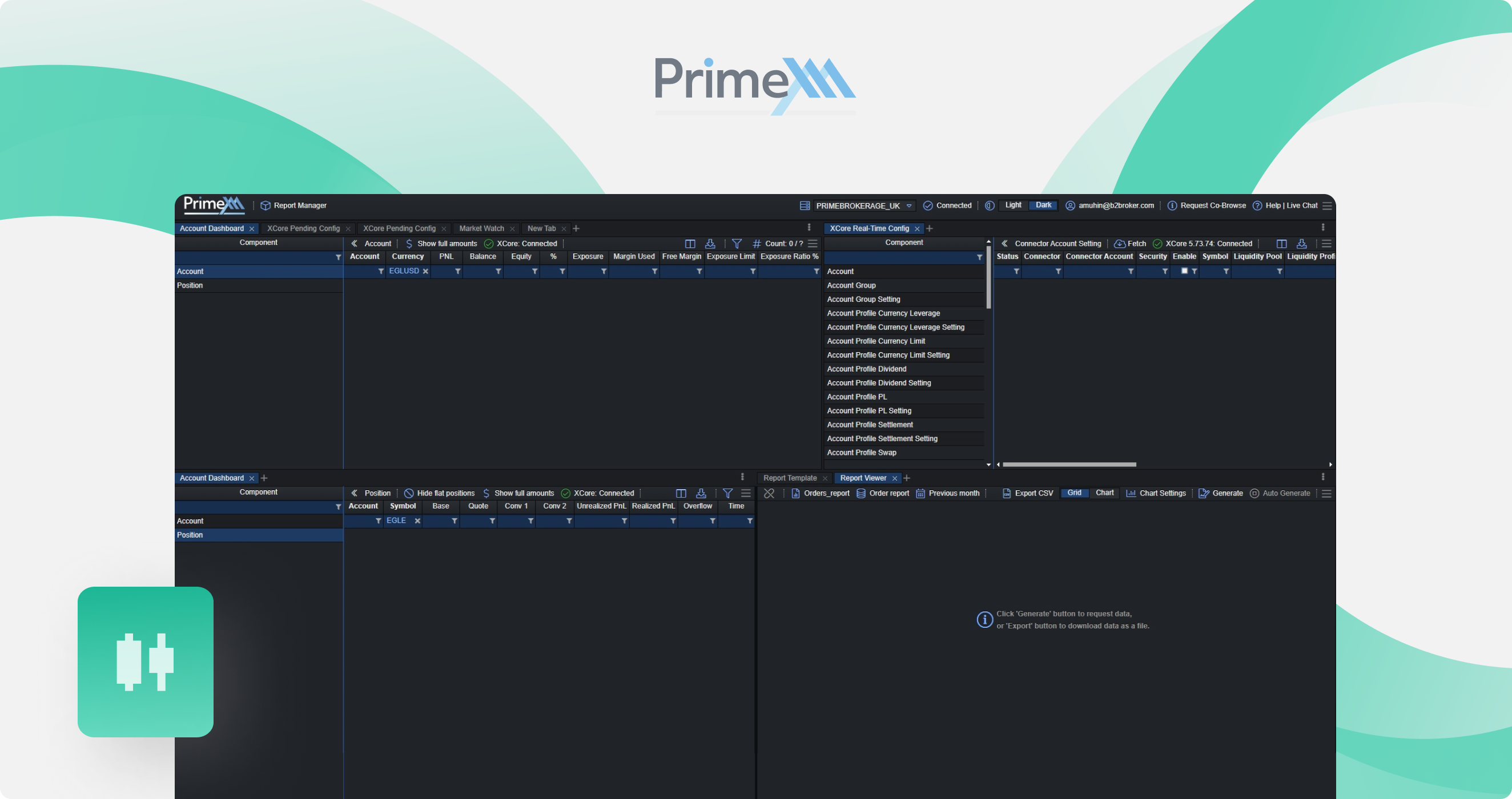 PrimeXM is one of the leading technology innovators for the financial industry, with cutting-edge aggregation software, ultra-low-latency connectivity, and institutional-grade hosting solutions. Customers of B2Broker have access to an extensive variety of asset classes for trading in 9 markets, with options such as Forex, spot metals, indices, and CFDs. Full integration provides seamless access to these markets through aggregation technology. With B2Broker, you can access more than 1000 trading products with sensible margin requirements, the lowest spreads in the market and top-tier liquidity.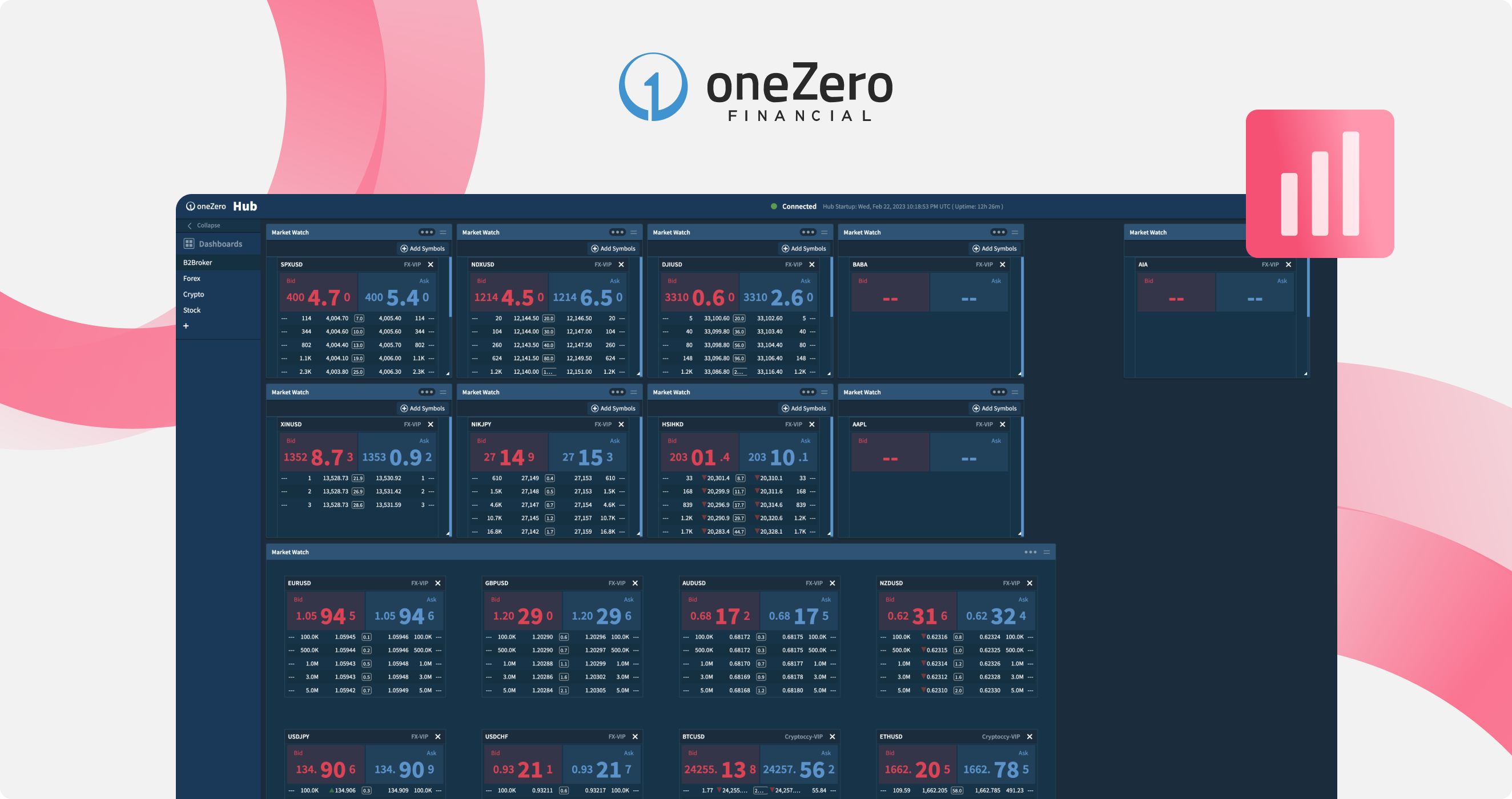 B2Broker also offers OneZero integration for margin accounts. This integration provides clients with access to robust institutional-level technology and expertise and facilitates the provision of various features, such as the ability to trade from a customizable user interface (UI) and integration with B2Core for faster and more efficient management of financial operations, including displaying account data in real-time. B2Broker offers not only cryptocurrency, but also unparalleled liquidity for FX (103 pairs), CFDs on Indices & Commodities (16 pairs), Metals (13 pairs) and single stocks (803 pairs). OneZero offers numerous institutional and retail broker-dealers a unique combination of technology and expertise, ensuring they are optimally equipped to compete in today's complex global markets.

Through integration with Centroid for margin accounts, B2Broker provides clients with seamless access to world markets. Thanks to Centroid's advanced technology, traders can take on over 1000+ instruments and seven asset classes across the board with first-class liquidity management tools and analytics capabilities.

Tools 4 Brokers is an ideal platform for liquidity distribution. With B2Broker's integration with Tools 4 Brokers for margin accounts, users receive an array of benefits that make managing their investments even easier. The trades are opened on T4B either through our FIX API or via gateway for traders using MetaTrader.
Conclusion
B2Broker is an innovative liquidity and technology provider that has developed many partnerships with trading service providers. With integration and support for CFD brokers, Spot Exchanges, and Margin Accounts, there is a wide range of features and capabilities available to accommodate brokerage owners of any size. With its growing list of partnerships, turnkey solutions for Forex and crypto brokers, crypto exchanges, and spot converters, it provides you with the tools you need to provide excellent customer service and stand out from the competition. Make sure to check out the available options from B2Broker today.